[ESP-ENG] Atalanta no pudo llevarse la victoria porque se encontró a un Cristiano Ronaldo acertado. | Atalanta were unable to win the match because they found a Cristiano Ronaldo scorer.
Solskjær aún no tiene la fórmula para exprimirle todo el rendimiento a su plantilla. | Solskjær still doesn't have the formula to squeeze the full performance out of his squad.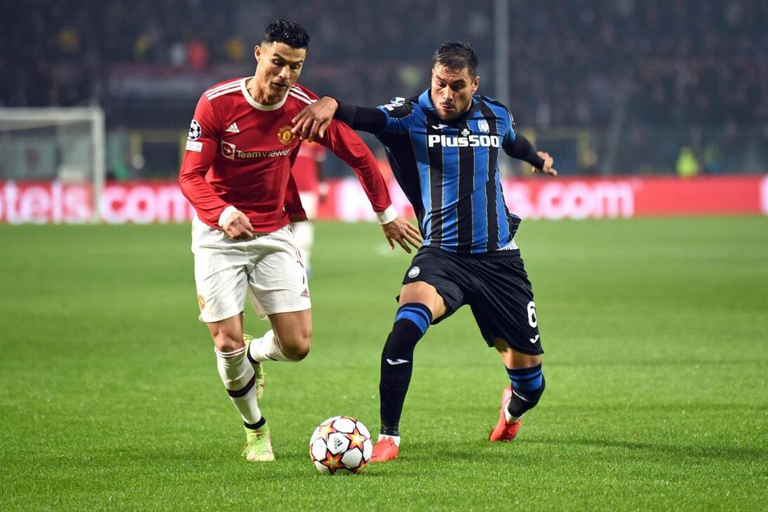 Fuente
Hola amigos de la comunidad de Hive! ¿Cómo les va? El Atalanta ya no está desequilibrando como en las temporadas anteriores, siguen en la línea de marcar muchos goles pero encajan más que antes, lo cual considero un aspecto preocupante, sobre todo que te remonten. La salida de Alejandro Gómez, que a mi parecer ha sido un engranaje fundamental en el proyecto de crecimiento competitivo del Atalanta, hizo que la escuadra italiana perdiera en la faceta de creación. Solskjær salió al escenario con un 3-4-2-1. Varane pudo cerrar los contragolpes de Zapata, prediciendo los movimientos hábiles del delantero colombiano con preferencia a retención con pierna izquierda, eso le generó incomodidad de cara a portería, no obstante ese rol de salvador quedó manchado por una lesión tempranera del central Francés en la primera parte. Maguire cumplió en las recepciones, cuando se mantuvo en el área, sin embargo en el momento que adelantaba su línea, dejó mucho que desear, lentitud como la de un caracol, se le puso cuesta arriba igualar el ritmo de Iličić y Zapata. Maguire abandonó la zaga central para cabecear a través de la pelota quieta, reconozco que tardó en el regreso a su posición correspondiente, por ende en el preciso momento en el que el United perdió la posesión, los automatismo del Atalanta se ejecutaron, es decir, pase largo al mediocampo desde el área, dos o tres toques, y luego balonazo para encontrarse con la delantera. Wan-Bissaka y Bailly los habilitaban, mientras que Maguire era una espectador más. Zapata puso a prueba los reflejos del portero David de Gea; el Colombiano se atrevió a rematar con su pierna menos hábil desde una distancia de más de 35 metros con dirección al palo izquierdo, el Portero del United repeló dicha intención.
Hello friends of the Hive community, how are you doing? Atalanta is no longer unbalancing like previous seasons, they are still scoring a lot of goals but conceding more than before, which I consider worrying, especially when they come back at you. The departure of Alejandro Gomez, who in my opinion has been a fundamental cog in Atalanta's competitive growth project, caused the Italian squad to lose in the creative facet. Solskjær came out with a 3-4-2-1 formation. Varane was able to close Zapata's counterattacks, predicting the Colombian striker's skillful movements with a preference for left-footed holding, which made him uncomfortable in front of goal, but his role as a savior was tainted by an early injury to the French center-back in the first half. Maguire was good on receptions, when he stayed in the box, however when he advanced his line, he left much to be desired, slow as a snail, it was hard for him to match the pace of Iličić and Zapata. Maguire left the central backline to head through from the still ball, I admit he was late in returning to his corresponding position, hence at the precise moment when United lost possession, Atalanta's automatics were executed, i.e. long pass to the midfield from the box, two or three touches, then ball to meet the forward. Wan-Bissaka and Bailly set them up, while Maguire was just another spectator. Zapata tested the reflexes of goalkeeper David de Gea; the Colombian dared to shoot with his less skilful leg from a distance of more than 35 meters towards the left post, the United goalkeeper repelled the intention.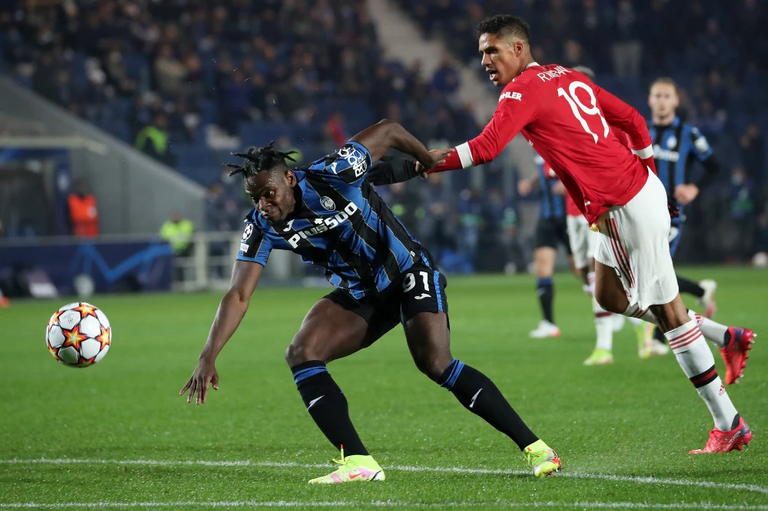 Fuente
Luke Shaw precavido en las transiciones de Iličić del mediocampo al lateral. Buena determinación hacia al ataque, robando balones desde la mitad de la cancha, posteriormente ubicándose a los costados del Atalanta, dio un pase destacado al medio para Fernandes. El volante la baja para Rashford. Luego se mete al área y es interceptado por la defensa del Atalanta. Rashford recorta hacia la izquierda, se detiene e insiste en el disparo con su pierna predilecta, lastimosamente el balón choca contra Koopmeiners. Pogba recibe el balón, amaga simulando un tiro a puerta, entonces se la otorga a McTominay. El mediocampista dispara, por consiguiente impacta contra el central Palomino. Efecto rebote que pega en el travesaño. Shaw me agrada, por lo versátil que es; apoya en las dos facetas, un carrilero llegador al área, que recibió centros desde la derecha pero no pudo concretarlas. Wan-Bissaka no tuvo claridad para asociarse, centros de mala gana sin destinatarios, como también tuvo una respuesta deficiente en las anticipaciones, Mæhle y Palomino filtraban pases a su espalda, poco trabajo de Wan-Bissaka para evitarlo, era como una fiesta de balones aéreos por ese sector.
Luke Shaw cautious in Iličić's transitions from midfield to full-back. Good determination towards the attack, stealing balls from the midfield, subsequently positioning himself on the flanks of Atalanta, gave an outstanding pass into the middle for Fernandes. The midfielder brings it down for Rashford. He then gets into the box and is intercepted by the Atalanta defense. Rashford cuts back to the left, stops and insists on shooting with his favorite leg, unfortunately the ball hits Koopmeiners. Pogba receives the ball, feigns a shot on goal, then gives it to McTominay. The midfielder shoots, consequently it hits the central defender Palomino. The rebound hits the crossbar. I like Shaw, because of his versatility; he is a two-pronged attacking midfielder, who received crosses from the right but could not finish them. Wan-Bissaka did not have clarity to associate, reluctant crosses without recipients, as he also had a poor response in the anticipations, Mæhle and Palomino leaked passes behind his back, little work of Wan-Bissaka to avoid it, it was like a party of aerial balls in that sector.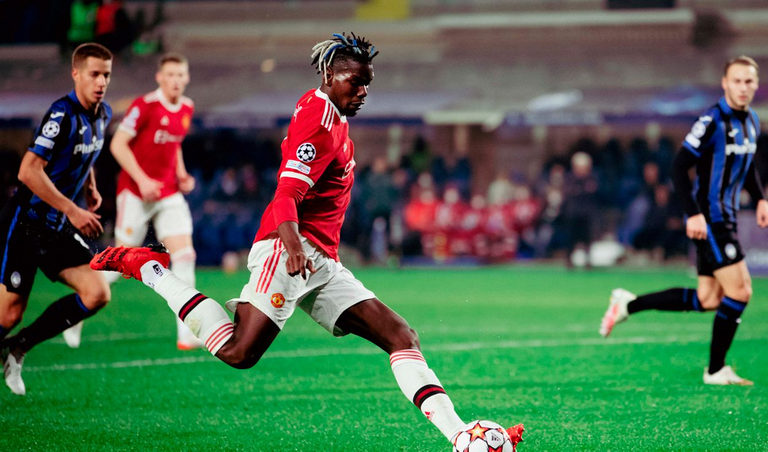 Fuente
Partido regular de Pogba, otorgando seguridad en corto pero sus entregas en largo fueron intervenidos por la línea medular del Atalanta, también mostrando poca contundencia en los cortes hacia Pašalić. En una jugada arriesgada, Teun Koopmeiners asfixiaba a Pogba cerca del área del United, por lo tanto el volante francés toma la decisión de retrasar la redonda para que el defensa Bailly tuviera el control. Zapata supera a Bailly en el balón dividido, pero cuando se perfila, el defensor del United tiene reacción inmediata, rectificando y alcanzando a despejársela. Un error de comunicación. De igual manera, Pogba asiste a Cristiano producto de un centro desde la derecha, el delantero define de cabeza pero se va desviado por el ángulo izquierdo de la portería.
Pogba had a regular game, providing security in short but his long deliveries were intervened by the Atalanta midfield, also showing little forcefulness in the cuts to Pašalić. In a risky move, Teun Koopmeiners smothered Pogba near the United box, so the French midfielder makes the decision to delay the ball so that defender Bailly would have control. Zapata outpaces Bailly on the split ball, but when he takes his line, the United defender has an immediate reaction, rectifying and reaching to clear it for him. A miscommunication. Similarly, Pogba set up Cristiano from a cross from the right, the striker headed the ball but it went wide of the left corner of the goal.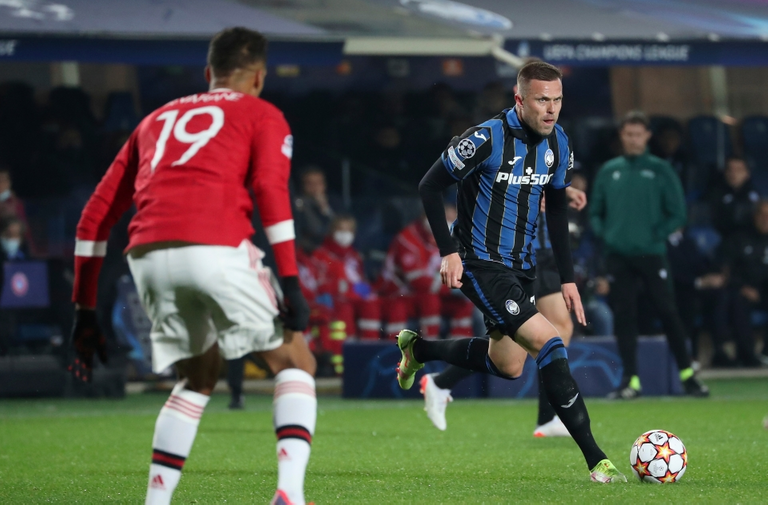 Fuente
Bajo mi punto de vista, el Atalanta hizo que fuera un completo martirio el poder ingresar a su área. Al United no le quedó mas remedio que empezar a hacer pases continuos en el borde del área, con la mente puesta en encontrar los espacios y chutar a portería. De Miral y Palomino achicaron los remates lejanos de Rashford y Fernandes, terminando por impactar contra el cuerpo de esos defensores. Excelente centro del carrilero por derecha Davide Zappacosta directo al área, Zapata lo cabecea no obstante el balón pasa por encima de la portería de David de Gea.
From my point of view, Atalanta made it a real pain to get into their area. United had no choice but to start making continuous passes on the edge of the box, with their mind set on finding space and shooting at goal. De Miral and Palomino blocked long-range shots from Rashford and Fernandes, which ended up hitting the defenders' bodies. Excellent cross from right winger Davide Zappacosta into the box, Zapata headed the ball over David de Gea's goal.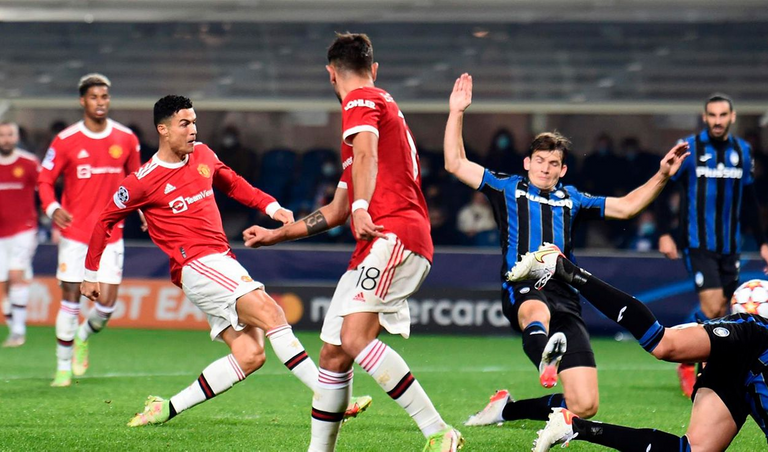 Fuente
Primer gol del Atalanta: Jugada colectiva construyendo desde atrás; Salida del defensa central Marten de Roon, dirige el pase al volante Koopmeiners, Rashford ejerce presión, por ende regresa la esférica a de Roon, el central del Atalanta genera pase al sector izquierdo para Freuler. El mediocampista conduce la redonda, luego lanza un pase largo para el delantero Zapata. El colombiano le gana la espalda a Bailly en el marcaje, por consiguiente usa la velocidad a su favor para dejarlo atrás. Zapata se integra al área, Wan-Bissaka lo persigue, el delantero del Atalanta frena con su correspondiente recurso técnico. Por lo tanto se abren los espacios; Zapata direcciona el pase al semi circulo del área en donde Iličić lo estaba esperando. El delantero del conjunto de Bérgamo, remata de primera al palo derecho. Luke Shaw llega tarde al corte. Considero que la defensa estuvo muy aglomerada por izquierda en alerta para arrebatarle el balón a Zapata, no supieron distribuirse las responsabilidades, al menos Maguire se encargó de marcar a Pašalić dentro del área. Luke Shaw no marcó a ningún jugador del United, básicamente estaba a la expectativa de la acción de Zapata, ese descuido por parte del carrilero Red, le permitió a un Iličić libre de marca, poder rematar con plena seguridad. Primer gol del United: Pase de McTominay para Bruno Fernandes, el mediocampista portugués produce un pase para Cristiano. El delantero del United es un imán para las marcas, Freuler, Pašalić y Zapata van al corte, no obstante Cristiano prefiere dársela a Greenwood, antes que perderla. Greenwood realiza pase largo hacia el área del Atalanta, Bruno Fernandes efectivo en la recepción. De Miral trata de incomodarlo, por consiguiente el jugador del United retrasa el pase con la ayuda del taco de sus guayos, Cristiano acomoda el balón, y dispara al ángulo izquierdo de la portería defendida por Musso. El técnico Gasperini entiende que darle la tarea a un único jugador de ir en el uno contra uno contra el Portugués, no era viable. Segundo gol del Atalanta: Palomino desde el centro del campo, filtra pase a Zapata. Bailly vuelve a fallar una vez más en la anticipación. Zapata se moviliza al área, Maguire no lo pudo alcanzar, como última instancia se barre por detrás pero no logra desestabilizarlo. El Colombiano le pega al primer palo. Segundo gol del United: Sancho no encuentra a quien dársela en el área. De esta manera, opta por generar el pase a Cristiano hacia la izquierda. El portugués mete pelota larga al área para Donny Van de Beek. El holandés dentro del área, emite pase a la derecha para Greenwood, sin embargo De Miral llega primero al choque, se estira y retira la esférica del área. Cristiano recupera, desciende levemente por el borde del área, Freuler insiste con presión alta, pero la robustez de Cristiano impera en el enfrentamiento, pudiendo mantener el control. Zapata se barre de frente, generando rebote. La pelota queda en pies de Greenwood, que posteriormente ejecutaría un pase de volea para Cristiano. CR7 le pega de primera al palo izquierdo. En mi opinión, Solskjær fue al estadio Atleti Azzurri d'Italia, con una mentalidad de improvisación absoluta; pasivo a la espera de la propuesta del Atalanta, sufriendo para contenerlos, cuando estamos claros que la plantilla del United es obviamente superior. La realidad es que a pesar de que siguen siendo líderes de su grupo, dudo bastante de que puedan llegar lejos a otras instancias, con esa clase de evidentes dependencias como la de Cristiano, falencias por montón.
Atalanta's first goal: Collective play building from the back; Marten de Roon starts from the center back, directs the pass to midfielder Koopmeiners, Rashford exerts pressure, therefore returns the ball to de Roon, the Atalanta center back generates a pass to the left sector for Freuler. The midfielder drives the ball, then throws a long pass to the striker Zapata. The Colombian wins the back of Bailly in the marking, therefore he uses his speed to his advantage to leave him behind. Zapata enters the area, Wan-Bissaka chases him, the Atalanta striker slows down with his corresponding technical resource. Therefore the spaces open up; Zapata directs the pass to the semi-circle of the area where Iličić was waiting for him. The striker of the Bergamo side, shoots a first time shot to the right post. Luke Shaw arrives late to the cut. I think the defense was too crowded on the left on the alert to snatch the ball from Zapata, they did not know how to distribute responsibilities, at least Maguire was responsible for marking Pašalić inside the box. Luke Shaw did not mark any United player, he was basically on the lookout for Zapata's action, that carelessness on the part of the Red full-back, allowed an unmarked Iličić to be able to finish in complete safety. United's first goal: McTominay's pass to Bruno Fernandes, the Portuguese midfielder produces a pass for Cristiano. The United striker is a magnet for marks, Freuler, Pašalić and Zapata go to the cut, however Cristiano prefers to give it to Greenwood, rather than lose it. Greenwood makes a long pass towards Atalanta's area, Bruno Fernandes is effective in the reception. De Miral tries to make him uncomfortable, so the United player delays the pass with the help of the heel of his gloves, Cristiano settles the ball, and shoots into the left corner of the goal defended by Musso. Coach Gasperini understood that giving a single player the task of going one-on-one against the Portuguese was not feasible. Second Atalanta goal: Palomino from midfield passes to Zapata. Bailly once again fails to anticipate. Zapata moves into the box, Maguire could not reach him, as a last resort he sweeps behind but fails to destabilize him. The Colombian hits the near post. Second United goal: Sancho can't find anyone to give it to in the box. Thus, he chooses to generate the pass to Cristiano to the left. The Portuguese player sends a long ball into the box for Donny Van de Beek. The Dutchman, inside the box, sends a pass to the right to Greenwood, but De Miral gets to the ball first, stretches and pulls the ball out of the box. Cristiano recovers, descends slightly on the edge of the area, Freuler insists with high pressure, but the robustness of Cristiano reigns in the confrontation, being able to maintain control. Zapata sweeps in front, generating a rebound. The ball is left at the feet of Greenwood, who would later execute a volley pass to Cristiano. CR7 hits a first-time shot to the left post. In my opinion, Solskjær went to the Atleti Azzurri d'Italia stadium with an absolute improvisation mentality; passive waiting for Atalanta's approach, struggling to contain them, when we are clear that United's squad is obviously superior. The reality is that even though they are still leaders of their group, I doubt they can go far in other instances, with that kind of dependencies like Cristiano's, there are plenty of flaws.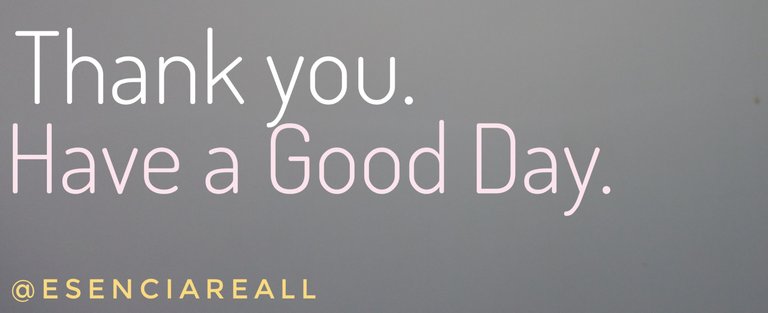 ---
---