[ESP-ENG] El Athletic se frustra contra un Diego López que maquilla el nefasto momento del colectivo. | Athletic is frustrated against Diego Lopez, who makes up for the bad moment of the team.
Un Espanyol con deficiencias en la propuesta hacia el ataque, es arrinconado y forzado a defenderse dentro de su área. | Espanyol with deficiencies in their attacking approach, is cornered and forced to defend inside their own area.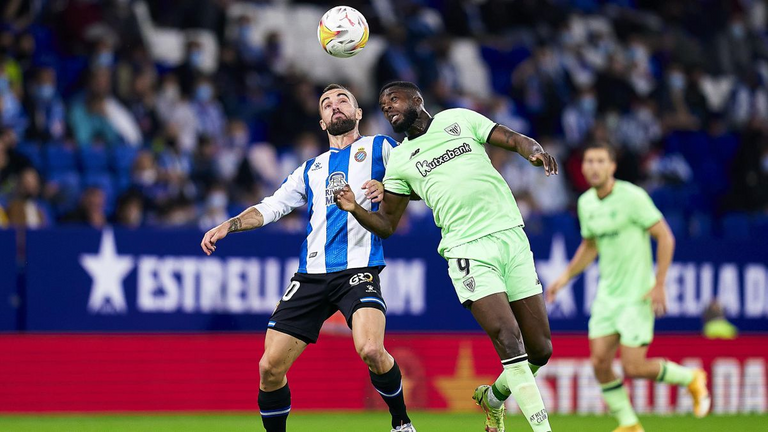 Fuente
Hola amigos de la comunidad de Hive! ¿Cómo les va? Los pupilos de Marcelino venían de cosechar 6 puntos fundamentales en el Estadio San Mamés ante el Deportivo Alavés y el Villarreal, sin embargo en su último encuentro como visitante se toparon con un amargo empate, la meta es clara e innegociable; alcanzar como mínimo el quinto lugar de la tabla, y de esta manera participar en la próxima edición de la Europa League, eso conllevaría a que el club de Bilbao obtuviera una prima importante dentro de su presupuesto. Por otra parte, las aspiraciones del Espanyol son más modestas; mantener la categoría, debido a que son conscientes de que no pueden implementar un fútbol de pleno dominio a raíz de las limitaciones técnicas presentes en la plantilla. El Athletic de Bilbao desempeñó un 4-4-2; Unai Simón en la portería, buen uso de los puños en los despejes, involucrado permanente en la construcción intercambiando pases con los defensores, promoviendo que Raúl de Tomas, Embarba y Melendo corrieran en busca del balón, una estrategia efectiva para agotar a los delanteros, aunque reconozco que el riesgo es alto, porque si el rival hipotéticamente recupera la pelota a pocos metros de la portería del Athletic, es casi un gol seguro para el Espanyol, pero le doy un voto de confianza porque se nota como entrenan exhaustivamente la salida con los pies.
Hello friends of the Hive community, how are you doing? Marcelino's pupils came from harvesting 6 fundamental points at the San Mames Stadium against Deportivo Alaves and Villarreal, however in their last away game they were held to a bitter draw, the goal is clear and non-negotiable; to reach at least fifth place in the table, and thus participate in the next edition of the Europa League, that would lead to the Bilbao club to get a significant bonus within its budget. On the other hand, Espanyol's aspirations are more modest; to maintain the category, due to the fact that they are aware that they cannot implement a soccer of full dominance as a result of the technical limitations present in the squad. Athletic Bilbao played a 4-4-2 formation; Unai Simon in goal, good use of his fists in the clearances, permanently involved in the construction exchanging passes with the defenders, promoting Raul de Tomas, Embarba and Melendo to run in search of the ball, an effective strategy to exhaust the strikers, although I recognize that the risk is high, because if the opponent hypothetically recovers the ball a few meters from Athletic's goal, it is almost a sure goal for Espanyol, but I give them a vote of confidence because it is noticeable how they train exhaustively the exit with their feet.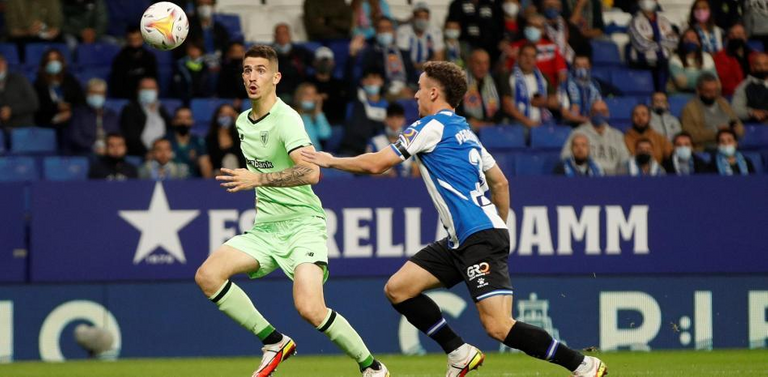 Fuente
Álvarez y Vivian le exigieron en todo el transcurso del encuentro a un Raúl de Tomas merodeador, que no pudo aprovechar los espacios. Anularon los movimientos del delantero del Espanyol dentro del área, por ende tuvo poco margen para acomodarse y disparar a portería de Unai Simón, las ocasiones creadas mayormente fueron remates desviados ligeramente o terminarían encima del travesaño, una cuestión de imprecisión y asimismo a la falta de apoyo por parte de los de arriba, pretendían que el resolviera solo. El Espanyol es dependiente de Raúl de Tomas; maniobras predecibles, balonazos desde las bandas hacia el área rival, con el objetivo de que De Tomas pudiera finalizar. Los centrales del Athletic estuvieron un paso por delante en las anticipaciones, pudiendo repeler dichos centros y retirar los balones de su área. A pesar de los 19 años de edad de Nico Williams, tiene mucha naturalidad como si hubiera jugado en la Elite toda su vida, es explosivo desbordando a los rivales, sobre todo a su víctima el lateral Giner. Nico Williams se mete al área, Giner le espera, el jugador del Athletic se lo saca de encima con un recurso técnico como lo es la bicicleta, realiza un cambio de pierna, luego dispara al primer palo pero se desvía pocos centímetros. Me gusta ese atrevimiento, esas ganas de buscar el córner o el rebote, tiene seguridad para chutar a portería, adelantar a sus rivales, esta aprendiendo de su hermano Iñaki, que por cierto jugaron juntos desde el inicio. Un juvenil con destellos, que tiene un inmenso margen de mejora y que puede convertirse en goleador si se lo propone, calidad tiene de sobra para triunfar pero considero que si se enfoca en la puntería, va a ser un jugador diferencial.
Álvarez and Vivian made demands throughout the match on a marauding Raúl de Tomas, who was unable to exploit the spaces. The Espanyol striker's movements inside the area were nullified, so he had little room to settle and shoot at Unai Simón's goal, the chances created were mostly shots slightly deflected or ended up over the crossbar, a matter of inaccuracy and also the lack of support from those above, who wanted him to solve the problem alone. Espanyol is dependent on Raul de Tomas; predictable maneuvers, balls from the flanks into the opponent's area, with the goal that De Tomas could finish. Athletic's center backs were one step ahead in anticipation, being able to repel such crosses and remove the balls from their area. Despite Nico Williams' 19 years of age, he is as natural as if he had played at the Elite level all his life, he is explosive and overflows his opponents, especially his victim, the full back Giner. Nico Williams gets into the box, Giner is waiting for him, the Athletic player takes him off with a technical resource such as the bicycle, makes a leg change, then shoots at the near post but it is deflected a few inches. I like that boldness, that desire to look for the corner or the rebound, he has confidence to shoot at goal, overtaking his opponents, he is learning from his brother Iñaki, who by the way played together from the beginning. A youth with flashes, who has a huge margin for improvement and can become a goal scorer if he sets his mind to it, he has plenty of quality to succeed but I believe that if he focuses on the goal, he will be a differential player.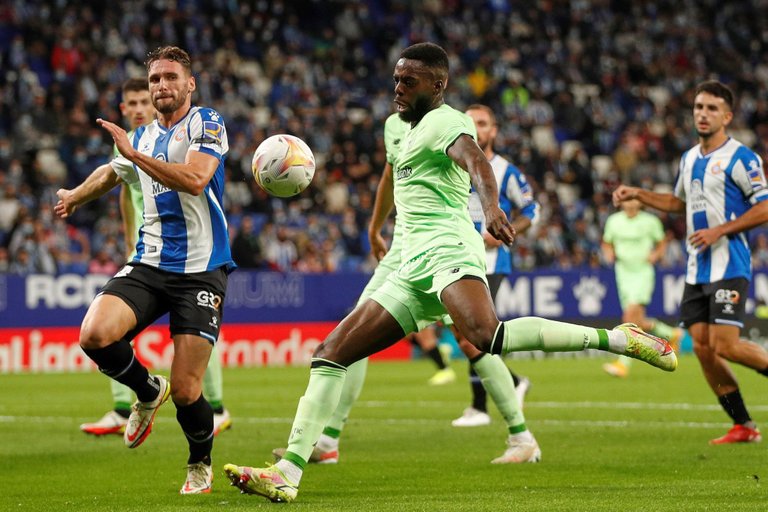 Fuente
Sancet tiene visión para estar en espacios reducidos, fue participe de un contragolpe a pura velocidad, pero que Sergi Gómez lo alcanza y logra darle freno, el portero Diego López se lanza para reducir espacios, entonces el jugador del Athletic decide dársela a Muniain, posteriormente le pega de primera a portería, el central Cabrera se mete al arco, y usa su rodilla para despejar de esa intención. Lekue falló adivinando las gambetas de Embarba, le ganaron la posición, pero por suerte esos centros no fueron buenos, que poco preocuparon. Muniain desde la izquierda es presionado por el lateral Aleix Vidal, el jugador de Bilbao se la da Sancet para robarse la atención del lateral, el delantero se la devuelve, Munian amaga y sube al medio para encontrar espacios, pero el Espanyol se compacta en bloques limitando el margen de puntería, el disparo termina centrado a manos de Diego López. Jugada clave: Centro de Munian al área, el defensor Cabrera despeja en corto, Sanset recibe, controla y le pega al palo derecho, López con una espléndida estirada la ataja. Menos mal que los reflejos del portero Perico estuvieron sobresalientes, porque pintaba para goleada.
Sancet has vision to be in tight spaces, he was part of a counterattack at pure speed, but Sergi Gomez reaches him and manages to stop him, the goalkeeper Diego Lopez throws himself to reduce spaces, then the Athletic player decides to give it to Muniain, then he hits it first to goal, the central Cabrera gets into the goal, and uses his knee to clear that intention. Lekue failed to guess Embarba's dribbles, he was beaten, but luckily those crosses were not good, they were of little concern. Muniain from the left is pressed by the fullback Aleix Vidal, the Bilbao player gives it to Sancet to steal the attention of the fullback, the striker returns it to him, Munian feints and goes up the middle to find spaces, but Espanyol is compact in blocks limiting the margin of aim, the shot ends up centered in the hands of Diego Lopez. Key play: Munian's cross into the area, the defender Cabrera clears short, Sanset receives, controls and hits the right post, Lopez with a splendid save. Fortunately, the goalkeeper Perico's reflexes were outstanding, because it looked like a heavy defeat.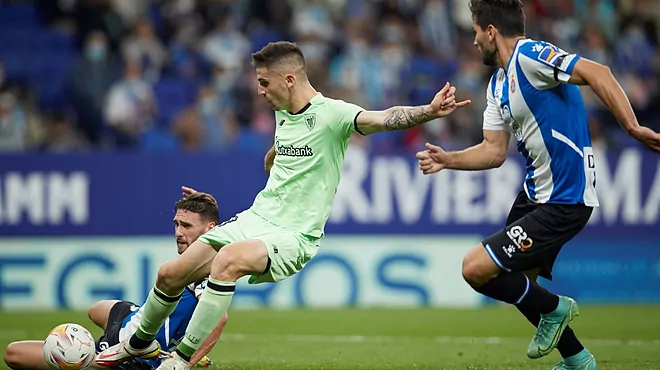 Fuente
Lekue en una jugada individual desde la banda izquierda le gana en velocidad a Embarba, se mete por dentro y centra dentro del área, Nico Williams le gana el salto a un defensor, no obstante su cabezazo fue bastante débil, lo que permitió que el portero pudiera controlar. Vencedor y Vesga se complementaron, diría que son un equilibrio. Vencedor es más llegador al área, recibiendo pases desde el sector por izquierda hacia el medio, aunque sus lanzamientos no tuvieron frutos. Compromiso defensivo de Vesga, evitó que Melendo le filtrara pases verticales a Raúl Tomas. De igual manera, demostró tener criterio en la toma de decisiones, a penas recuperaba la redonda, aceleraba conduciendo el balón, levantaba la cara para tener noción de la situación de sus compañeros y realizaba un pase rápido para iniciar potenciales contra ataques. De Marcos desde la banda derecha, generaba pases profundos a espaldas de Darder, con el propósito de que Nico Williams llegara con su buen sprint, lastimosamente los pases fueron exageradamente largos y salían de la línea de fondo. Asociación entre Muniain e Iñaki Williams por banda, Gómez y Vidal se unen para detenerlos. Consiguen desordenar la defensa. Iñaki Williams centra pero López interviene en la salida, abrazando la redonda. Yangel Herrera tuvo escasa participación, pases en corto, su equipo no fue generoso en darle la pelota, cuando iba al corte, ya otro jugador del Athletic tenía la pelota. Es especialista en jugar en los bordes del área, Raúl de Tomas no tenía espacios para integrarse al área rival, por lo tanto opta por entregársela a Herrera, el mediocampista observa detalladamente como sus compañeros se encuentran marcados, por consiguiente toma la decisión de rematar lejano, buena puntería pero demasiada potencia que se direcciona por encima de los palos. En resumen, el equipo dirigido por Vicente Moreno, no cumplió, no hubo argumentos válidos ni conceptos que pudieran sobrepasar la muralla de Bilbao, perdieron balones en el centro del campo y su único punta en el eje de ataque fue asfixiado ante la recepción rival, incluso fue expulsado en los últimos minutos del partido por una reacción sumamente infantil no apta para esta categoría. Una discusión típica de la calentura que da el fútbol, que finalizó en un cabezazo de Raúl de Tomas a Muniain.
Lekue in an individual play from the left flank beats Embarba in speed, gets inside and crosses inside the box, Nico Williams beats a defender to the jump, however his header was quite weak, allowing the goalkeeper to control. Vencedor and Vesga complemented each other, I would say they are a balance. Vencedor is more of a finisher in the box, receiving passes from the left to the middle, although his shots were not fruitful. Vesga's defensive commitment, prevented Melendo from filtering vertical passes to Raúl Tomas. Likewise, he showed criteria in decision making, as soon as he recovered the ball, he accelerated driving the ball, lifted his face to be aware of the situation of his teammates and made a quick pass to initiate potential counterattacks. De Marcos from the right flank, generated deep passes behind Darder's back, with the purpose of Nico Williams to arrive with his good sprint, unfortunately the passes were exaggeratedly long and went out of the baseline. Association between Muniain and Iñaki Williams on the flank, Gómez and Vidal join forces to stop them. They manage to disorganize the defense. Iñaki Williams crosses but López intervenes at the exit, hugging the round. Yangel Herrera had little participation, short passes, his team was not generous in giving him the ball, when he went to the cut, another Athletic player already had the ball. He is a specialist in playing on the edges of the area, Raúl de Tomas had no space to get into the rival area, so he opted to give the ball to Herrera, the midfielder observed in detail how his teammates were marked, so he decided to shoot from a distance, good aim but too much power that was directed over the posts. In short, the team coached by Vicente Moreno did not perform, there were no valid arguments or concepts that could overcome Bilbao's wall, they lost balls in the center of the field and their only forward in the attacking axis was suffocated by the rival reception, he was even sent off in the last minutes of the match for a very childish reaction not suitable for this category. A discussion typical of the heat of soccer, which ended in a headbutt by Raúl de Tomas to Muniain.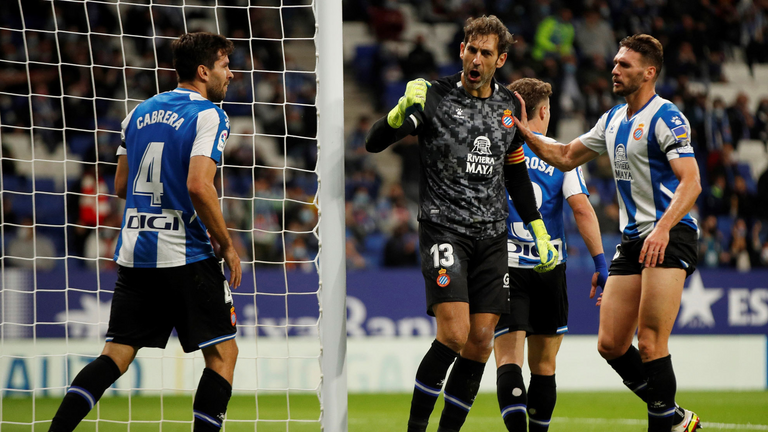 Fuente
Anotación del Espanyol: Tiro de esquina a favor del equipo Perico, Embarba centra con dirección al área del Athletic, la esférica choca contra la mano del volante Vesga. El arbitro decreta penal a favor del Espanyol, ya que determina que esa acción con el miembro superior del cuerpo obstruye el ritmo del juego. Raúl de Tomas dispara con pierna derecha hacia el lado izquierdo, el portero Unai Simón acierta, pero no alcanza a detener dicho remate. Anotación del Athletic: Pase largo del mediocampista Vencedor desde el medio hacia el costado izquierdo para Lekue, no obstante Aleix Vidal llega primero a la pelota, el lateral del Athletic estira la pierna, y de esta forma le arrebata el balón. El lateral zurdo sigue corriendo, posteriormente controla, entra al área bajando pegadito por la línea de fondo. Aleix Vidal forcejea desde atrás, el central Sergi Gómez abandona el marcaje del delantero Iñaki Williams, con la intención de acorralar al lateral. Gómez abre las piernas, Lekue emite un pase que atraviesa su miembro inferior, Iñaki Williams finaliza al segundo palo. Diego López le dejó la portería prácticamente libre porque estuvo anclado al palo derecho tratando de achicar a Lekue. Paridad 1 a 1, resultado que obviamente no le conviene a ninguno de los dos conjuntos, tengo la sensación de que si Diego López mantiene ese destacado rendimiento durante lo que resta de temporada, su llamado a la selección de España, no suena un acontecimiento descabellado. El punto obtenido tuvo sello de portero.
Espanyol score: Corner kick in favor of the Perico team, Embarba crosses towards Athletic's area, the ball hits the hand of midfielder Vesga. The referee decrees a penalty in favor of Espanyol, as he determines that this action with the upper limb of the body obstructs the rhythm of the game. Raúl de Tomas shoots with his right foot to the left side, the goalkeeper Unai Simón is right, but does not manage to stop the shot. Athletic score: Long pass from Vencedor midfielder from the middle to the left side for Lekue, however Aleix Vidal gets to the ball first, the Athletic fullback stretches his leg, thus snatching the ball. The left-back continues to run, then controls, enters the box down the baseline. Aleix Vidal struggles from behind, the central defender Sergi Gomez leaves the marking of the striker Iñaki Williams, with the intention of cornering the winger. Gomez spreads his legs, Lekue sends a pass through his lower limb, Iñaki Williams finishes at the far post. Diego Lopez left his goal practically free because he was anchored to the right post trying to deny Lekue. Parity 1-1, a result that obviously does not suit either side, I have the feeling that if Diego Lopez maintains this outstanding performance during the rest of the season, his call-up to the Spanish national team does not sound a far-fetched event. The point obtained had the goalkeeper's stamp.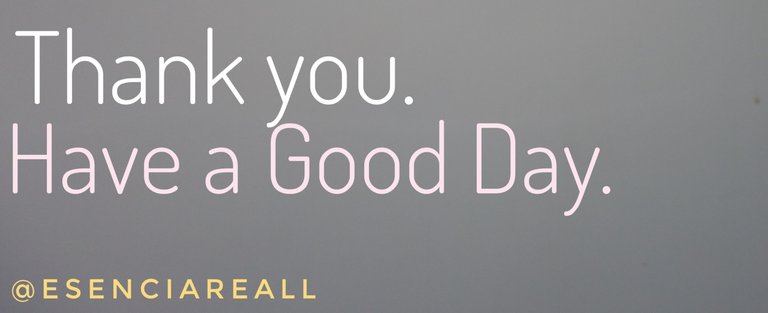 ---
---