[ESP-ENG] El Atlético comienza con excelente andar el 2022 venciendo al Rayo. | Atletico gets off to a good start in 2022 by defeating Rayo.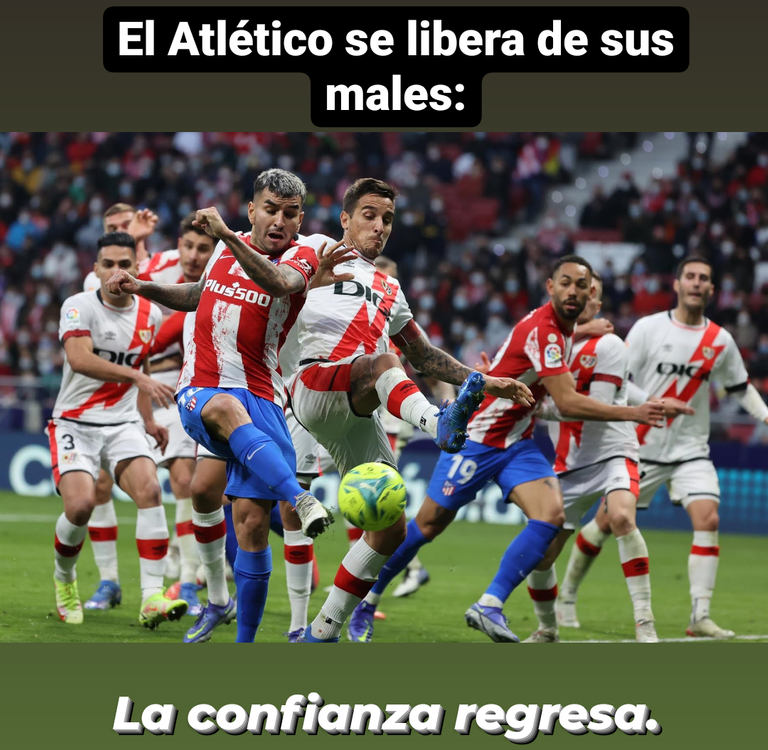 Fuente
Hola amigos de la comunidad de Hive! ¿Cómo les va? Los dirigidos por el Cholo Simeone siguen aferrándose a la cuarta plaza, a pesar de haber acumulado tres caídas seguidas, un descuido adicional podría alejarlos de sus proyecciones en relación a participar en la Champions, el Barcelona aprieta duro, actualmente la diferencia está a tan solo un punto. Simeone planteó un esquema 4-4-2; la tarea consistía en tener dos contenciones (De Paul y Kondogbia) que estuvieran atentos en el marcaje de Unai López, es realmente peligroso en los últimos tramos de cancha, siendo un media punta que tiene la capacidad de romper la presión de los defensas, asociarse y otorgar el último pase-gol a Sergi Guardiola. Fue neutralizado, el Rayo perdió verticalidad. El conjunto rojiblanco cumplió en este inicio de año, debido a que se impusieron ante un Rayo Vallecano de baja intensidad, cuyos centrales repetían errores en la salida con el balón en corto, no soportaban la presión constante de la delantera del Atlético, por consiguiente les interceptaban los pases cerca del área, honestamente les pudo haber costado una goleada pero Suárez falló sus chances. El técnico Andoni Iraola sabía que no les convenía que Suárez o Correa tuvieran la pelota, ni que sus defensores se enfrentaran contra ellos porque evidentemente no tienen la misma calidad, de este modo ordenó en el segundo tiempo a su portero sacar en largo.
Hello friends of the Hive community, how are you doing? The team coached by Cholo Simeone continues to hold on to fourth place, despite having accumulated three consecutive defeats, a further slip could take them away from their projections in relation to participate in the Champions League, Barcelona is pressing hard, currently the difference is just one point. Simeone set up a 4-4-2 scheme; the task consisted in having two defenders (De Paul and Kondogbia) who were attentive in the marking of Unai Lopez, he is really dangerous in the last stretches of the field, being a midfielder who has the ability to break the pressure of the defenders, associate and give the last pass-goal to Sergi Guardiola. He was neutralized, Rayo lost verticality. The red and white team fulfilled in this beginning of the year, because they won against a Rayo Vallecano of low intensity, whose central defenders repeated mistakes in the exit with the short ball, they could not withstand the constant pressure of the Atlético's forward, therefore they intercepted the passes near the area, honestly it could have cost them a goal but Suárez missed his chances. Coach Andoni Iraola knew that it was not convenient for Suarez or Correa to have the ball, nor for his defenders to play against them because they obviously do not have the same quality, so he ordered his goalkeeper to play long in the second half.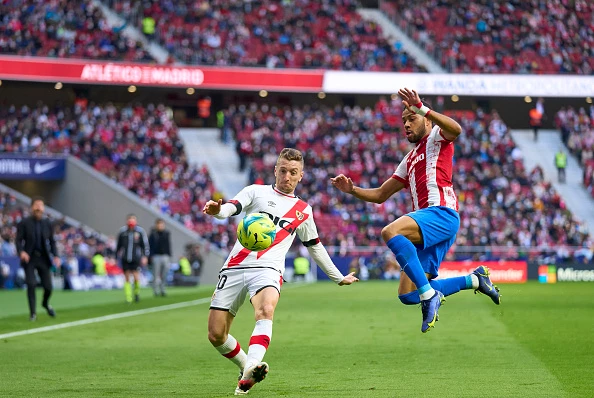 Fuente
Mala comunicación y confusión; Saque de Luca Zidane a Maraš, luego el defensor se la regresa al portero. Zidane decide dársela a Saveljich, Suárez corta la intención y se mete al área, por suerte Maraš interviene en el momento justo y se la saca a la línea de fondo. Palazón emite pase para Comesaña. Suárez le mete la pierna y Correa se queda con el control de la redonda. El argentino avanza al borde del área y genera pase a la izquierda para Suárez. El uruguayo trata de rematar al segundo palo pero se resbala. El hijo de Zidane tiene mucho por mejorar sobre todo en las decisiones a la hora de crear juego desde atrás, yo considero que tuvo buenas atajadas.
Miscommunication and confusion; Luca Zidane's kick to Maraš, then the defender gives it back to the goalkeeper. Zidane decides to give it to Saveljich, Suarez cuts the intention and gets into the area, luckily Maraš intervenes at the right time and takes it out of the back line. Palazón passes to Comesaña. Suarez gets his leg in and Correa keeps control of the ball. The Argentinian advances to the edge of the area and generates a pass to the left for Suarez. The Uruguayan tries to shoot at the far post but slips. Zidane's son has a lot of room for improvement, especially in his decisions when it comes to creating play from the back, but I think he made some good saves.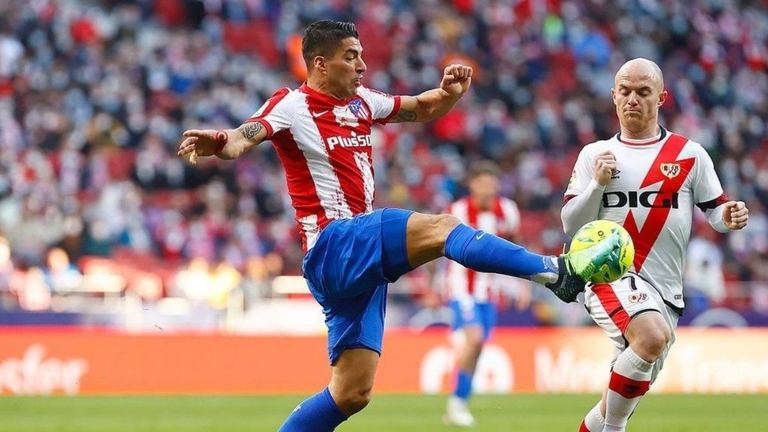 Fuente
Comesaña en el carril derecho, la retrasa para Saveljich causado por el forcejeo de Kondogbia, hay que admitirlo el francés impuso una gran labor en la faceta defensiva. El central del Rayo se enreda con los pies y le da margen a Suárez de quitársela. El delantero charrúa avanza hacia la portería y Zidane sale a achicar. Suárez ejecuta un tiro de volea, que se desvía por la izquierda. La lectura del partido también expresa que los laterales del Rayo sufrieron para frenar a Carrasco y a Lemar, fueron penalizados en el choque individual, siendo regateados y con reacción tardía en recuperación.
Comesaña, on the right flank, delayed the ball for Saveljich caused by Kondogbia's struggle, the Frenchman did a great job in the defensive facet. The Rayo center-back gets tangled up with his feet and gives Suarez room to take the ball away. The Charrúa striker advances towards goal and Zidane comes out to save. Suarez takes a volley shot, which is deflected to the left. The reading of the match also shows that Rayo's full-backs struggled to stop Carrasco and Lemar, they were penalized in the individual clash, being dribbled and with late reaction in recovery.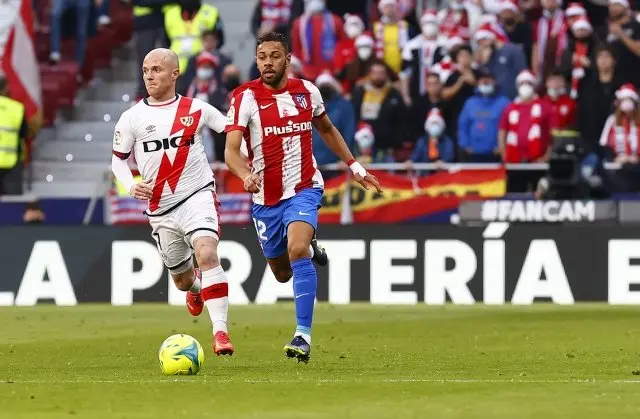 Fuente
Correa en el mediocentro, lanza pase al costado derecho para Carrasco, Fran García llega al robo. Carrasco gambetea a la izquierda mientras que García se anticipó a la derecha, el belga se lo quitó de encima y accede al área visitante, entonces remata al palo contrario pero pega con el poste. Falcao entró con el propósito de descontar la ventaja del local, buscaba el desmarque en los espacios sin embargo aún así no le llegaban los balones para asustar al rival con su definición que le ha dado muchos puntos al Rayo. El lateral Balliu por el costado derecho produce un centro, para Falcao, no obstante Giménez evita ese remate aéreo. Lodi acelera desde la banda, luego se acopla por dentro en el medio, posterior ejecuta pase entre líneas al costado izquierdo para Cunha que rompe la presión de Balliu y Saveljich. El jugador brasileño se mete al área, sin embargo el lateral y el central del Rayo reaccionan, se unen para cerrarlo, por ende no tuvo más remedio que verse forzado a chutar, que se desviaría.
Correa in midfield, throws a pass to the right flank for Carrasco, Fran Garcia arrives to steal. Carrasco dribbles to the left while Garcia anticipated to the right, the Belgian got rid of him and accesses the visitors' area, then shoots at the opposite post but hits the post. Falcao came in with the purpose of reducing the home team's advantage, he was looking for the clearance in the spaces, but still the balls did not reach him to scare the opponent with his definition that has given Rayo many points. The winger Balliu on the right flank crosses for Falcao, but Giménez avoids the aerial shot. Lodi accelerates from the flank, then he runs inside in the middle, then he makes a pass between the lines to the left flank for Cunha who breaks the pressure of Balliu and Saveljich. The Brazilian player gets into the box, but the Rayo's fullback and centerback react and join forces to close him down, so he had no choice but to take a shot, which was deflected.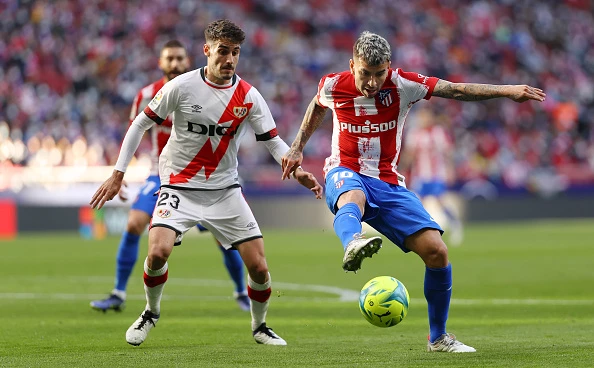 Fuente
Primer gol del Atlético de Madrid: Geoffrey Kondogbia en el sector por derecha emite pase al medio para De Paul. El volante argentino le gambetea a Comesaña, por ende lo adelanta posicionándose al costado derecho, posteriormente le intercepta el lateral Fran García, De Paul encara y avanza a la línea de fondo. De Paul retiene el balón, mientras que García estira la pierna izquierda para arrebatársela, el argentino genera un caño. Carrasco la recibe. El mediocampista belga desciende desde el costado e ingresa al área, luego se la entrega a Mario Hermoso. El central dispara de primera, no obstante el remate choca contra Nikola Maraš. Correa se adueña de la esférica y engancha para anotar. Segundo gol del Atlético: Trippier en el carril derecho, ejecuta pase para Kondogbia, después el mediocentro defensivo realiza pase para Lemar. El volante por izquierda acelera, Andrés Martín le presiona por la espalda, sin embargo la velocidad del francés lo deja muy atrás. El lateral derecho Balliu se mueve de la banda al medio para reducir espacios y robarle el balón al francés, ya que se aproximaba a pisar área. Lemar se da cuenta que Lodi está libre de marca por la banda, entonces decide darle la redonda. El lateral brasileño centra desde el costado izquierdo hacia el área chica del Rayo. El delantero Correa la empuja con un derechazo, el argentino se anticipó a Saveljich y a Maraš. En las dos jugadas se notó que estaban despistados en los marcajes, cabe señalar que el Rayo Vallecano es la tercera escuadra junto con el Villarreal que menos goles encajan en lo que va de torneo, una solidez que no demostraron en este partido, ni siquiera tuvieron un remate a la portería de Oblak, corresponde espabilar. Aunque recordemos que hubieron ausencias por COVID, que comprometieron el rendimiento del plantel visitante.
Atlético de Madrid's first goal: Geoffrey Kondogbia on the right side passes to De Paul in the middle. The Argentine midfielder dribbles to Comesaña, thus overtaking him by positioning himself on the right side, then intercepted by the fullback Fran García, De Paul faces and advances to the back line. De Paul retains the ball, while Garcia stretches his left leg to snatch it, the Argentine generates a spout. Carrasco receives it. The Belgian midfielder comes down the flank and enters the area, then gives it to Mario Hermoso. The center back shoots first time, but the shot hits Nikola Maraš. Correa gets hold of the ball and hooks it in to score. Atletico's second goal: Trippier on the right flank passes to Kondogbia, then the defensive midfielder passes to Lemar. The left midfielder accelerates, Andrés Martín presses him from behind, but the Frenchman's speed leaves him far behind. The right back Balliu moves from the wing to the middle to reduce space and steal the ball from the Frenchman, as he was approaching the area. Lemar notices that Lodi is unmarked on the flank, so he decides to give him the ball. The Brazilian winger crosses from the left flank into the Rayo's six-yard box. The striker Correa pushes it with a right-footed shot, the Argentine anticipated Saveljich and Maraš. It is worth noting that Rayo Vallecano is the third team along with Villarreal that conceded the fewest goals so far in the tournament, a solidity that they did not show in this match, they did not even have a shot at Oblak's goal, it is up to them to wake up. Although let's remember that there were absences for COVID, which compromised the performance of the visiting team.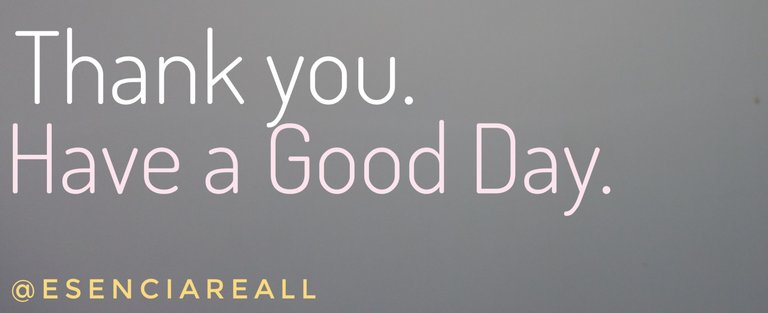 ---
---