[ESP-ENG] El Inter de Milán regresa a la efectividad en Liga Italiana y el Empoli cayó. | Inter Milan returns to effectiveness in the Italian League and Empoli fell.
Los dirigidos por Inzaghi mostraron una química tremenda, la táctica funcionó para mantener controlados a los atacantes del Empoli. | Inzaghi's men showed tremendous chemistry, the tactics worked to keep Empoli's attackers in check.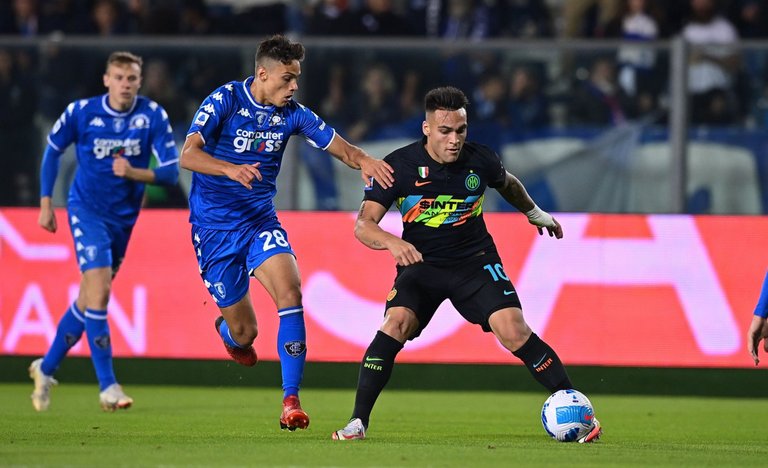 Fuente
Hola amigos de la comunidad de Hive! ¿Cómo les va? Parece que el Inter de Milán no tiene aspiraciones reales de repetir el campeonato en la Liga local, aunque es comprensible teniendo en cuenta las salidas de peso que ha tenido; un técnico ganador como Conte, un lateral que sabe proyectarse mediante el juego por bandas como Achraf y un goleador nato como lo es Lukaku. El club no se reforzó a la altura, por lo que están pagando los platos rotos de la negligencia. Observando cada detalle del encuentro pude llegar a la conclusión de que la pelota parada fue el argumento futbolístico más empleado por el conjunto de Inzaghi, repetitivo pero al final de cuentas cumple con el propósito de ser letal. 3-5-2; Handanovič en la portería, estuvo coordinado con la línea de 3 defensores, asimismo cuando las dos piezas en ataque del Empoli: Cutrone y Pinamonti ingresaban al área del contrario, los centrales del Inter se encargaron de asfixiarlos en un duelo frenético de 3 defensores contra 2 atacantes, es decir, aplicar la superioridad numérica. Un Handanovič inspirado pudo detener una potente volea que se posicionaba al ángulo derecho de su portería, fabricada desde fuera del área por el lateral Stojanović. De resto, vi a un Empoli sin una propuesta seria por querer llevarse la victoria, plasmándose como una escuadra sumamente inferior y a la dulce espera de que el Inter cometiera fallos garrafales, y de esta forma ellos responderian con un contundente contragolpe.
Hello friends of the Hive community, how are you doing? It seems that Inter Milan have no real aspirations of repeating the championship in the local league, although it is understandable considering the weighty departures they have had; a winning coach like Conte, a winger who knows how to project through the game on the wings like Achraf and a natural goalscorer like Lukaku. The club was not reinforced to the height, so they are paying for the broken dishes of negligence. Watching every detail of the match I could come to the conclusion that the set piece was the most employed footballing argument by Inzaghi's side, repetitive but at the end of the day it fulfills the purpose of being lethal. 3-5-2; Handanovič in goal, was coordinated with the line of 3 defenders, also when the two pieces in attack of Empoli: Cutrone and Pinamonti entered the opponent's area, Inter's central defenders were responsible for suffocating them in a frantic duel of 3 defenders against 2 attackers, that is, applying the numerical superiority. An inspired Handanovič was able to stop a powerful volley that was positioned to the right corner of his goal, manufactured from outside the box by full-back Stojanović. Otherwise, I saw an Empoli without a serious proposal to take the victory, looking like an extremely inferior team and sweetly waiting for Inter to commit blunders, and thus they would respond with a strong counterattack.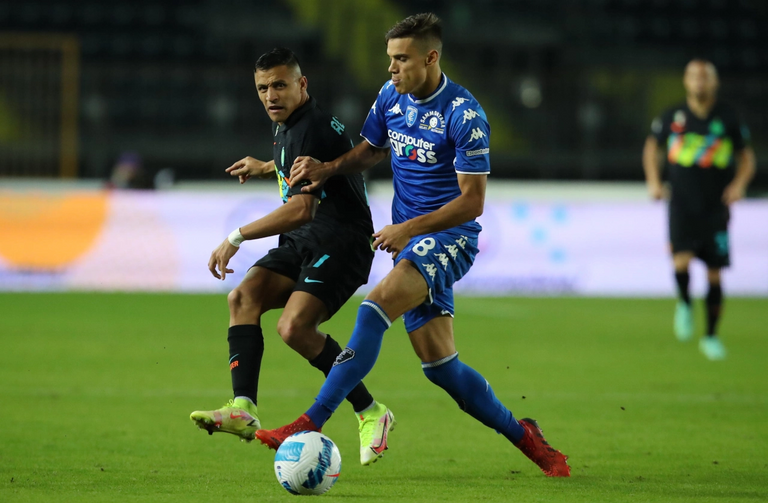 Fuente
El Empoli arriesgó haciendo subir a sus defensores, sin embargo les faltaba chispa, ya que no concretaban; Bajrami desde el sector derecho, elude al mediocampista Brozović con un recurso técnico, el jugador del Empoli realiza un pase rastrero desde el costado derecho hacia el área del Inter. El central Luperto recibe, tarda en perfilarse con pierna izquierda, cosa que permitiría a la defensa del Inter reaccionar. El defensor del Empoli engancha y el disparo es detenido por la pierna de D'Ambrosio. Gagliardini eficiente en las distribuciones a los atacantes; se asoció con Martínez por el medio, el delantero del Inter se la devuelve, Gagliardini la baja para Darmian, el mediocampista derecho centra y Sánchez cabecea a la izquierda, el portero Vicario adivina el sitio y la tapa.
Empoli took risks by sending their defenders forward, but they lacked spark, as they failed to score; Bajrami from the right side, eludes midfielder Brozović with a technical resource, the Empoli player makes a raking pass from the right side towards Inter's area. The center back Luperto receives, he is slow to profile with his left foot, which would allow the Inter defense to react. The Empoli defender gets on the ball and the shot is stopped by D'Ambrosio's leg. Gagliardini is efficient in the distributions to the attackers; he teams up with Martinez in the middle, the Inter striker gives it back to him, Gagliardini brings it down to Darmian, the right midfielder crosses and Sanchez heads to the left, the Vicario goalkeeper guesses the place and covers it.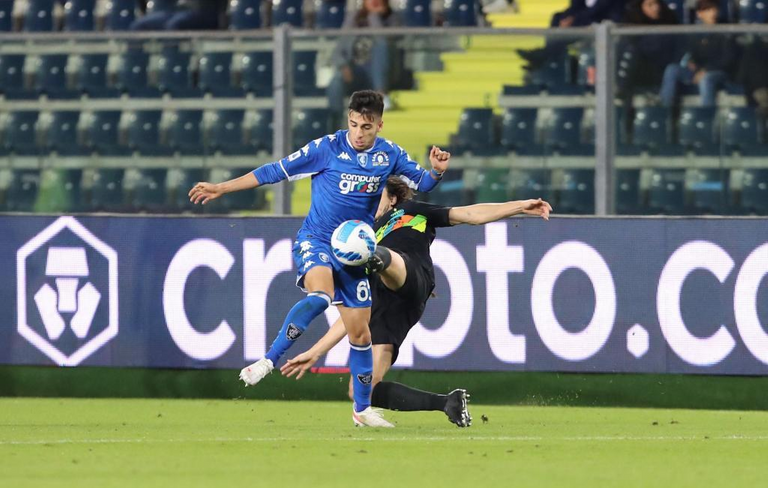 Fuente
D'Ambrosio es una pieza interesante, actuando como un componente híbrido, no solo fue un defensor que complicó las llegadas del Empoli a su sector, también jugó por dentro colaborando en el ataque con la mentalidad de gritar gol, un depredador de área en toda regla. Jugada colectiva; Sánchez genera pase corto a D'Ambrosio, el defensor emite pase a Brozović, el volante se la regresa y D'Ambrosio remata con un misil centrado desde fuera del área al tercer palo, Vicario vuelve a lucirse por todo lo alto, estirando el brazo para desviar ese remate.
D'Ambrosio is an interesting piece, acting as a hybrid component, he was not only a defender who complicated Empoli's arrivals to his sector, he also played inside collaborating in the attack with the mentality of shouting goal, a full-fledged penalty area predator. Collective play; Sanchez generates a short pass to D'Ambrosio, the defender passes to Brozović, the midfielder returns it to him and D'Ambrosio shoots with a missile from outside the box to the third post, Vicario once again excels himself, stretching his arm to deflect the shot.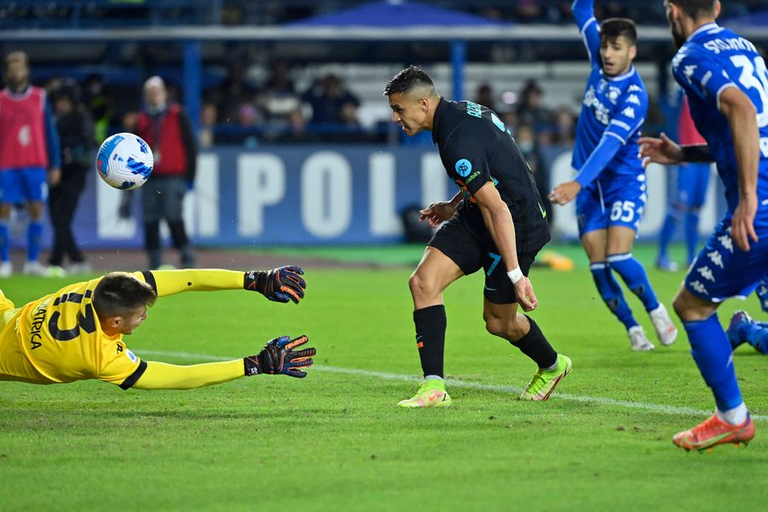 Fuente
Alexis Sánchez en el semi circulo del área, produce un pase rastrero hacia la banda derecha, Matteo Darmian busca la forma de centrar pero Bandinelli le disminuye los espacios presionando con el cuerpo, Darmian regatea en dirección línea de fondo, posteriormente lanza el pelotazo y Gagliardini cabecea ferozmente, venciendo en la anticipación al defensa Ismajli, la pelota choca contra el travesaño. El dúo Parisi-Bandinelli fue un completo fiasco, no tuvieron personalidad, demostrando poca intensidad a la hora del corte, los jugadores del Inter los adelantaban sin tanto esmero en la lucha por la posesión, permitieron que centraran reiteradas veces por la banda en la que defendían. Inzaghi lo sabía a la perfección, había que hacer daño por ese sector, esos dos jugadores en especial son lentos en la toma de decisiones (inseguros) y tampoco se compenetran. En resumen, el partido del Inter estuvo basado en remates lejanos para conseguir el córner, como también la de ejercer transiciones rápidas por las bandas, tratando de que hubiera un asistidor al costado que hiciera llegar la pelota a la zona central del área del Empoli, preferiblemente de carácter desequilibrante como lo son los carrileros Darmian y Dimarco. La plantilla del Inter está hecha para trabajar con esa metodología, muy al estilo Italiano.
Alexis Sanchez in the semi-circle of the box, produces a raking pass towards the right flank, Matteo Darmian looks for a way to cross but Bandinelli reduces the spaces by pressing with his body, Darmian dribbles towards the back line, then throws the ball and Gagliardini heads fiercely, beating in anticipation the defender Ismajli, the ball hits the crossbar. The Parisi-Bandinelli duo was a complete fiasco, they had no personality, showing little intensity when it came to cutting, the Inter players overtook them without much care in the fight for possession, allowing them to cross repeatedly on the flank on which they defended. Inzaghi knew it perfectly, they had to do damage in that sector, those two players in particular are slow in their decision making (insecure) and they don't get on well with each other. In short, Inter's game was based on long-range shots to get the corner, as well as quick transitions on the flanks, trying to have an assisting player on the flank to get the ball to the middle of the Empoli box, preferably with an unbalanced character such as the wingers Darmian and Dimarco. Inter's squad is made to work with this methodology, very much in the Italian style.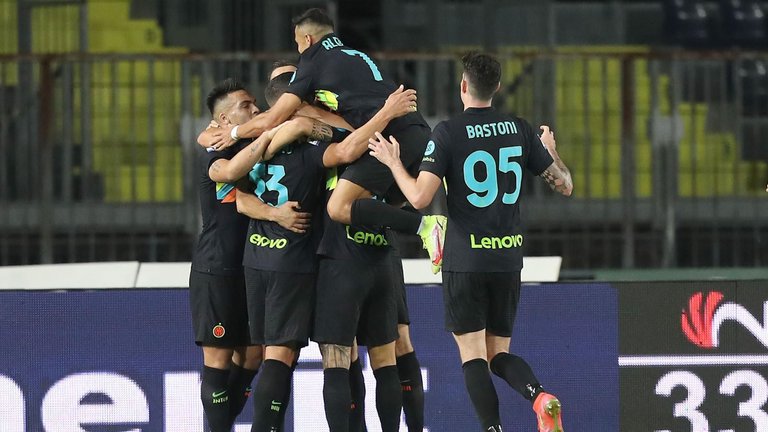 Fuente
Primer gol del Inter: Jugada dentro del área del Empoli: Bandinelli a la salida se encuentra presionado por Barella, por ende realiza un pase hacia atrás para el lateral Parisi, el jugador del Empoli ejecuta un pase largo en profundidad con dirección a la banda izquierda. El delantero Pinamonti recibe y cuando estaba controlando, Danilo D'Ambrosio le intercepta por la espalda, se la roba e inicia la aceleración. Pinamonti corre para detenerlo pero lastimosamente no iguala la velocidad del lateral del Inter. D'Ambrosio genera un pase entre líneas que supera la anticipación de Ricci. Alexis Sánchez se queda con la posesión de la redonda en la línea fuera del área, Ricci intenta cubrirlo sin embargo Sánchez recorta con un amague, logra acomodarse y centrar. El defensa Luperto estaba confiado en que iba a despejar esa pelota aérea, pero D'Ambrosio realiza un salto con más elevación que Luperto, por consiguiente dicho disparo termina en el segundo palo de la portería de Vicario. Merecida anotación de D'Ambrosio, considero que fue un trabajo muy completo tanto en defensa como en ataque; recupera mediante la presión, conduce para encontrarse con los delanteros, y finalmente se integra en el área del Empoli, incomodando a los defensas, con el objetivo de chutar a portería. Ambición en estado puro. Segundo gol del Inter: Matteo Darmian desde la banda derecha se la entrega hacia arriba a Barella, posteriormente emite pase a Brozović, el mediocentro del Inter conecta con el delantero Lautaro Martínez, a través de un espacio que separaban a Nicolas Haas y a Bandinelli. Correcta recepción de Martínez, luego se direcciona hacia el costado por derecha, Nicolas Haas forcejea, sin embargo Martínez protege la pelota con la ayuda de su miembro superior, por lo tanto evade el marcaje. Entonces pisa el borde del área y centra al medio. El carrilero por izquierda Dimarco empuja la redonda con la pierna izquierda. Una sucesión de pases que el Empoli no pudo entorpecer. A pesar de sumar 3 puntos en un campo dificultoso como lo es el Carlo Castellani, no hay mucho por festejar, actualmente se localizan a 7 puntos de diferencia entre sus dos primeros contendientes en la tabla, debo destacar que a pesar de las inconsistencias presentes con 3 empates y derrota incluida, siguen en plaza Champions, sinónimo de aumento en los ingresos para el año 2022. Si el Milán y el Napoli se descuidan, y el Inter sigue enlazando victorias, la disputa de la Serie A estará de infarto.
Inter's first goal: Play inside Empoli's box: Bandinelli is pressured by Barella, so he makes a back pass to the fullback Parisi, the Empoli player makes a long deep pass towards the left flank. The striker Pinamonti receives it and when he was controlling it, Danilo D'Ambrosio intercepts him from behind, steals it and starts the acceleration. Pinamonti runs to stop him but unfortunately does not match the speed of the Inter winger. D'Ambrosio generates a through ball that beats Ricci's anticipation. Alexis Sanchez is left with possession of the ball on the line outside the box, Ricci tries to cover him but Sanchez cuts back with a feint, manages to settle and cross. Defender Luperto was confident he was going to clear that aerial ball, but D'Ambrosio makes a leaping leap with more elevation than Luperto, consequently the shot ends up at the far post of Vicario's goal. D'Ambrosio deservedly scored, I think it was a very complete job both in defense and in attack; he recovers through pressure, drives to meet the strikers, and finally integrates into the Empoli area, making the defenders uncomfortable, with the aim of shooting at goal. Ambition in its purest form. Second Inter goal: Matteo Darmian from the right flank delivers it upwards to Barella, then issues pass to Brozović, the Inter midfielder connects with striker Lautaro Martinez, through a space separating Nicolas Haas and Bandinelli. Correct reception by Martinez, then he heads to the side on the right, Nicolas Haas struggles, however Martinez protects the ball with the help of his upper limb, therefore evades the marking. He then steps on the edge of the box and crosses into the middle. The left-footed forward Dimarco pushes the ball with his left foot. A succession of passes that Empoli could not stop. Despite taking 3 points in a difficult field as the Carlo Castellani, there is not much to celebrate, they are currently 7 points behind their first two contenders in the table, I must emphasize that despite the present inconsistencies with 3 draws and defeat included, they are still in the Champions League, synonymous with increased revenues for the year 2022. If Milan and Napoli are careless, and Inter continues to string together victories, Serie A will be a thriller.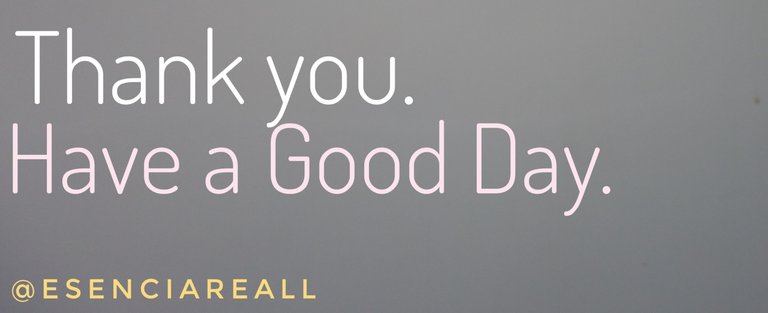 ---
---