[ESP-ENG] El Salernitana no logra salir del hoyo liguero; Juventus gana en un partido en el que el rival generó poco. | Salernitana can't get out of the hole in the Italian League; Juventus wins in a match in which the opponent generated little.
El conjunto dirigido por Stefano Colantuono, optó por encerrarse en su sector, enfocándose en un fútbol directo de limitada elaboración y de completa improvisación, cuya única aspiración era mantener la portería a 0.
The team coached by Stefano Colantuono, opted to stay in their own sector, focusing on a direct soccer of limited elaboration and complete improvisation, whose only aspiration was to keep a clean sheet.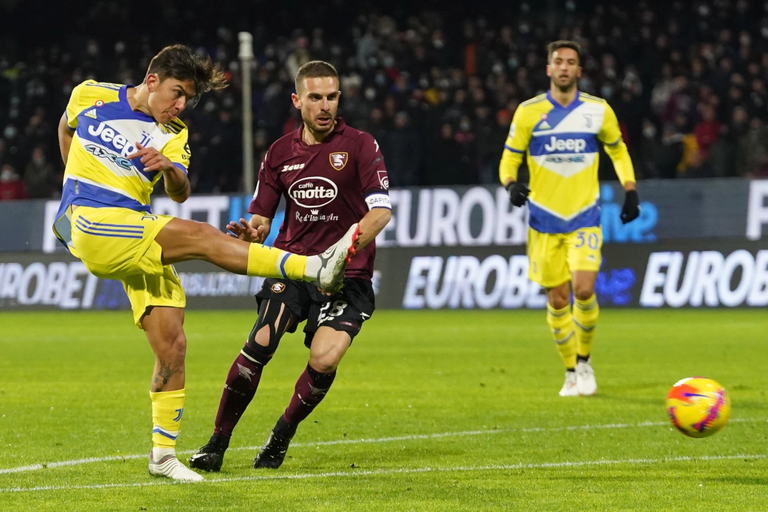 Fuente
¡Hola amigos de la comunidad de Hive! ¿Cómo les va hoy? La Juventus sigue sumando victorias, no obstante aún se localiza bastante lejos de los primeros puestos del torneo liguero, a raíz de haber concedido 5 derrotas durante el transcurso del torneo, la irregularidad les pasa factura. Allegri planteó un 4-2-3-1; un esquema que cuenta con la particularidad de poseer un número 10 explosivo que distribuye, 2 contenciones un poco más arriba de la línea de 4 y dos media puntas que tengan destrezas con la gambeta para desequilibrar a los laterales por las bandas. Dybala se acopló a las labores ofensivas, anotando un gol, construyendo la jugada del segundo gol, cabe resaltar que su participación se iba diluyendo, es decir, los otros remates que lanzó fueron débiles a manos del portero, además se resbaló en el momento que cobró un penal, en el último minuto.
Hello friends of the Hive community, how are you doing today? Juventus keeps on winning, but they are still far away from the top of the league, having conceded 5 defeats during the course of the tournament, the irregularity is taking its toll on them. Allegri set up a 4-2-3-1 formation; a scheme that has the particularity of having an explosive number 10 who distributes, 2 defenders a little further up the line of 4 and two midfielders who have the dribbling skills to unbalance the fullbacks on the flanks. Dybala joined the offensive work, scoring a goal, building the play for the second goal, it should be noted that his participation was diluting, that is, the other shots he launched were weak at the hands of the goalkeeper, and he slipped at the time he took a penalty, in the last minute.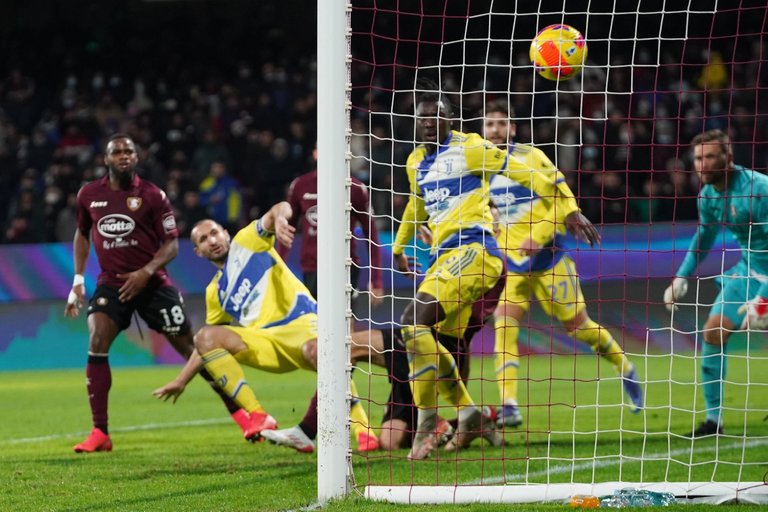 Fuente
Hubo una mala sintonía entre los dos centrales que casi cuesta un gol; Frédéric Veseli en el sector derecho, nota como el lateral Luca Pellegrini no estaba cubriendo el costado sino el mediocentro como si fuera carrilero, por lo tanto filtra pase para Wajdi Kechrida. Chiellini no tiene más opción que moverse al lateral e intervenir, sin embargo Kechrida sale airoso del forcejeo entre el defensa, posteriormente centra al área. Matthijs de Ligt no pudo contener el juego aéreo de Simeon Nwankwo. El nigeriano remata de cabeza, el balón termina a pocos centímetros del palo derecho. Otra ocasión del Salertinata: Veseli elabora un pase globeado dentro del área a espaldas de Locatelli, Chiellini la despeja. Balón dividido entre Cuadrado y Andrea Schiavone, ninguno de los dos se queda con la pelota. Luca Ranieri en el sector izquierdo, engancha al segundo palo, lastimosamente choca contra el palo.
There was a mismatch between the two centerbacks that almost cost a goal; Frédéric Veseli on the right, notices how the fullback Luca Pellegrini was not covering the flank but the midfield as if he were a winger, so he passes to Wajdi Kechrida. Chiellini has no choice but to move to the wing and intervene, but Kechrida comes out of the tussle between the defender, then crosses into the box. Matthijs de Ligt was unable to contain Simeon Nwankwo's aerial play. The Nigerian headed the ball just inches wide of the right-hand post. Another chance for Salertinata: Veseli makes a lofted pass into the box behind Locatelli's back, Chiellini clears it. Split ball between Cuadrado and Andrea Schiavone, neither of them gets the ball. Luca Ranieri on the left side, he gets the ball to the far post, but it hits the post.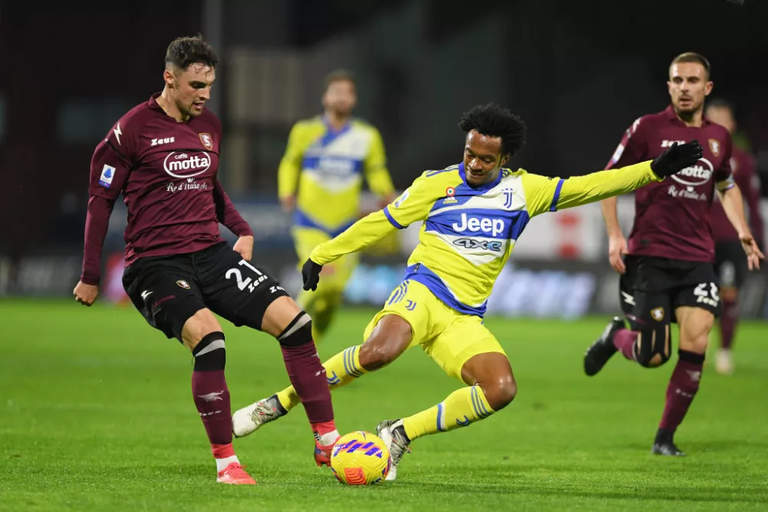 Fuente
El club Salernitana carece de táctica a la hora de anticipar al contrincante, Leonardo Capezzi y Nadir Zortea no consiguen la fórmula para otorgarle buenas entregas a sus dos puntas en los últimos tramos de cancha, ofensivamente ambos dejaron mucho que desear, también hay que señalar la baja intensidad en la presión, sobre todo en el mediocentro, la verdad que no hubo contundencia en el robo del balón, en mi opinión se mareaban de tanto perseguir el balón, definitivamente sufrieron recuperándola. En cambio la Juventus cuenta con calidad técnica, Manuel Locatelli y Bentancur armando jugadas en corto con preferencia a la verticalidad para encontrarse con Dybala y por las bandas para Bernardeschi y Kulusevski. El Salertinata mueve piezas hacia la siguiente línea, insistiendo en quedarse con el control de la esférica y en ese momento, los volantes se descompensan, porque se separan uno del otro y por consiguiente generan espacios a lo largo de la cancha, los jugadores de la Vecchia Signora tuvieron capacidad cognitiva y visual para elaborar pases entre líneas, como también ubicarse en zonas que pudieran hacer al daño, primordialmente el borde del área.
The Salernitana club lacks tactics when it comes to anticipating the opponent, Leonardo Capezzi and Nadir Zortea do not have the formula to give good deliveries to their two strikers in the final stretches of the field, offensively both left much to be desired, also note the low intensity in the pressure, especially in the midfield, the truth is that there was no forcefulness in stealing the ball, in my opinion they were dizzy from chasing the ball so much, they definitely suffered recovering it. Juventus, on the other hand, has technical quality, Manuel Locatelli and Bentancur set up short plays with a preference for verticality to meet Dybala and on the flanks for Bernardeschi and Kulusevski. The Salertinata moves pieces to the next line, insisting on keeping control of the ball and at that moment, the midfielders become unbalanced, because they separate from each other and therefore generate spaces along the field, the players of the Vecchia Signora had cognitive and visual ability to develop passes between lines, as well as position themselves in areas that could do damage, primarily the edge of the area.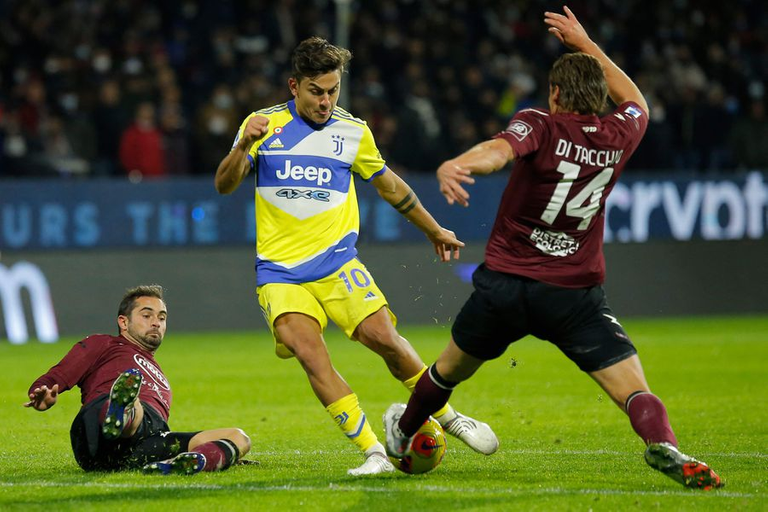 Fuente
En relación al jugador de la casaca número 10 considero que debería haber sido más agresivo, perdonar menos, podría haber marcado el tercero. Falta directa; Federico Bernardeschi realiza pase hacia el centro del área, Leonardo Capezzi se la queda, pero Dybala reacciona interceptándosela. El jugador argentino remata con poca fuerza a portería. Cuadrado arrastra marca de Luca Ranieri y Nadir Zortea, luego se la entrega a Dybala, provocando otro mal disparo, centrado y rastrero. Kulusevski en el mediocentro, rompe líneas para dársela a Dybala, el argentino se la devuelve. El sueco la baja para Morata. El español cruza el pase entre la separación de Nwankwo y Veseli. Una vez más el creativo argentino genera tiro hacia el centro. A decir verdad, el portero Vid Belec no tuvo una ardua tarea en adivinar dichos remates, que se estaban tornando predecibles.
Regarding the player in the number 10 shirt, I think he should have been more aggressive, less forgiving, he could have scored the third. Direct free kick; Federico Bernardeschi makes a pass towards the center of the area, Leonardo Capezzi keeps it, but Dybala reacts by intercepting it. The Argentinian player shoots with little force at goal. Cuadrado drags the mark of Luca Ranieri and Nadir Zortea, then gives it to Dybala, causing another bad shot, centered and low. Kulusevski in midfield, breaks lines to give it to Dybala, the Argentine gives it back to him. The Swede brings it down for Morata. The Spaniard crosses the pass between Nwankwo and Veseli. Once again the creative Argentine generates a shot towards the center. To tell the truth, goalkeeper Vid Belec did not have a hard task in guessing such shots, which were becoming predictable.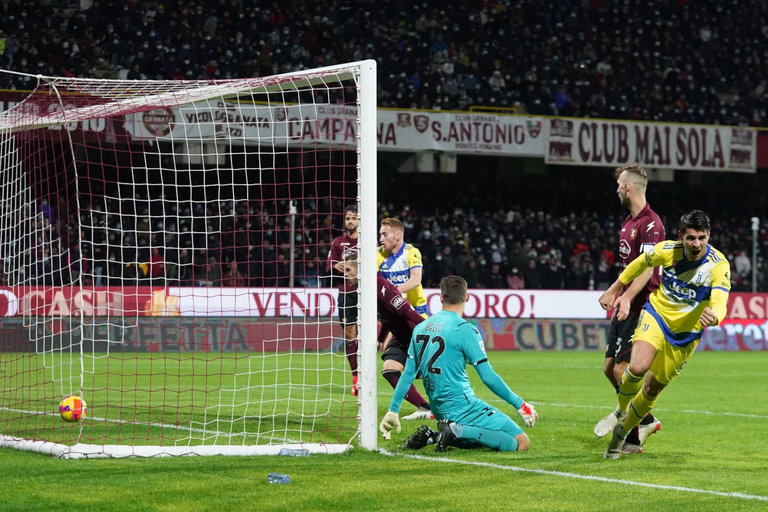 Fuente
Primer gol de la Juventus: Luca Pellegrini realiza un saque de banda hacia Locatelli. El volante italiano se la regresa al lateral juventino debido a la presión ejercida por Lassana Coulibaly. El mediocampista de Mali se dirige hacia Pellegrini. El lateral ejecuta un pase para Locatelli, de esta forma vence el anticipo del jugador del Salernitana. Locatelli genera pase a la derecha para Dybala. El media punta argentino fabrica pase al semi circulo del área. Dejan Kulusevski lanza el pase de primera, levemente hacia la izquierda. Dybala dispara con zurda en el borde del área hacia el palo derecho. Considero que Leonardo Capezzi falló, porque él estaba encargado del marcaje de Dybala, una vez el argentino se desprendió del balón, el volante del equipo local procedió a moverse de su posición para tratar de cortarle el pase Kulusevski. Por ende Dybala quedó libre para la recepción. Segundo gol de la Juventus: Dybala en el sector derecho cerca de la línea del área, se la da a Locatelli, el mediocampista italiano se la devuelve. El jugador argentino realiza un cambio de banda, filtra pase al costado izquierdo. Federico Bernardeschi controla y centra al área chica. Morata la empuja y la pelota transita por las piernas del portero Vid Belec, un gol con caño incluido. El responsable es el central Frédéric Veseli tenía de espaldas a Morata, no pudo interceptar dicho centro y tampoco intervino en su ejecución. Resultado final: 2-0. Admito que la situación deportiva del equipo local está lejos de ser positiva, pero no definitiva, es decir, están a 3 puntos de la salvación, restan muchas jornadas por disputarse y por supuesto reponerse de esta realidad. Ribéry forma parte de este equipo, no me gustaría verlo en la Serie B, cuando ya casi acaba su carrera.
First Juventus goal: Luca Pellegrini takes a throw-in to Locatelli. The Italian midfielder returns it to the Juventus full-back due to the pressure exerted by Lassana Coulibaly. The Mali midfielder makes his way towards Pellegrini. The fullback plays a pass to Locatelli, thus overcoming the Salernitana player's anticipation. Locatelli generates a pass to the right for Dybala. The Argentinian playmaker makes a pass to the semi-circle of the box. Dejan Kulusevski throws the pass first time, slightly to the left. Dybala shoots left-footed on the edge of the box towards the right post. I think Leonardo Capezzi missed, because he was in charge of marking Dybala, once the Argentine got off the ball, the home team midfielder proceeded to move out of position to try to cut off Kulusevski's pass. As a result, Dybala was left free for the reception. Second Juventus goal: Dybala on the right side near the box line, gives it to Locatelli, the Italian midfielder returns it to him. The Argentinian player makes a change of flank, passes to the left flank. Federico Bernardeschi controls and crosses into the penalty area. Morata pushes it and the ball goes through the legs of goalkeeper Vid Belec, a goal that includes a spout. The culprit is the central defender Frédéric Veseli who had his back to Morata, could not intercept the cross and did not intervene in its execution. Final score: 2-0. I admit that the sporting situation of the home team is far from positive, but not definitive, that is to say, they are 3 points from salvation, there are still many rounds to play and of course to recover from this reality. Ribery is part of this team, I would not like to see him in Serie B, when his career is almost over.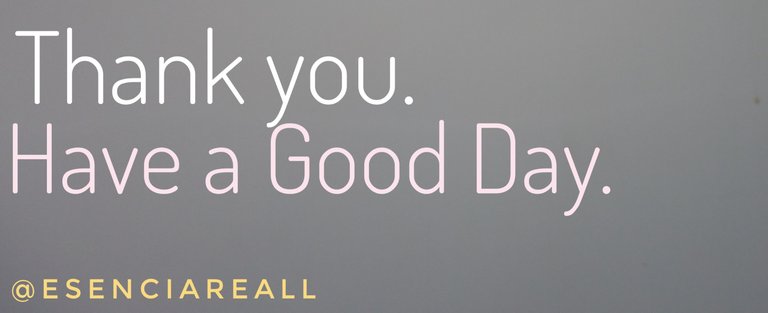 ---
---