[ESP-ENG] La superioridad en el control del juego aéreo, le otorga la victoria al West Ham. | The superior control of the aerial game gave West Ham the victory.

Los pequeños detalles dentro del área Red, hacen caer a los dirigidos por Klopp. ¡A trabajar la pelota parada! |

Small details inside the Red area, bring down Klopp's team. Let's work on the set piece!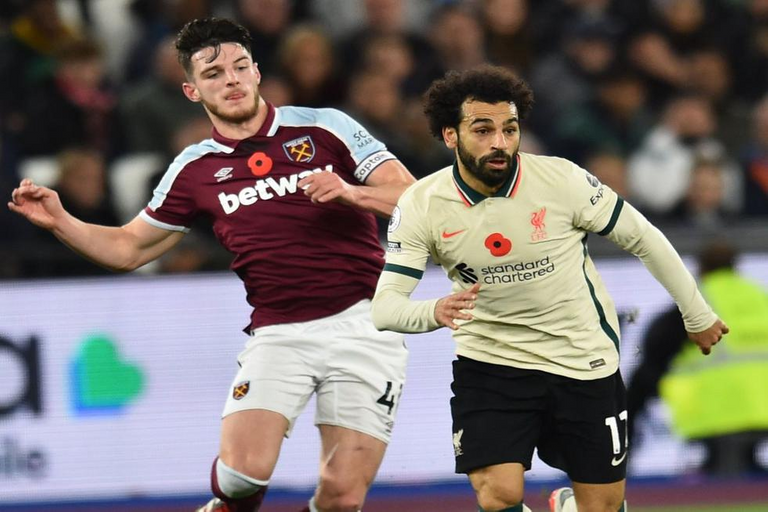 Fuente
Hola amigos de la comunidad de Hive! ¿Cómo les va? David Moyes ha puesto mucho empeño en lo que respecta a la planificación de la temporada de los Hammers, una gestión fructífera, conjunto insaciable, concentración a la hora de la recuperación, dos centrales veloces complicados de batir en el contragolpe, un estilo construido en beneficio de las pelotas largas para recepción de Antonio y que también han mejorado notoriamente en la definición de los remates en los últimos metros de cancha. Actualmente se localizan en el tercer puesto de la Premier League y asimismo van punteros en su grupo de la Europa League, nada mal si lo comparamos con el sexto lugar, la campaña anterior, un auge merecido. Van Dijk continua destacando en labor de quitar balones, se anticipa al posicionamiento de los delanteros, buen trabajo cubriéndolos, no pudieron adelantarlo con gambetas y físicamente los exigió en los trotes. Mané jugando por el costado izquierdo es interceptado por Johnson, Robertson se adelanta a la marca y recibe. El lateral inglés cruza el pase hacia el centro del área sin destinatario. Fornals recupera y sale corriendo desde el área, luego lanza pase filtrado a espaldas de central Joel Matip directo a Antonio, Van Dijk lo habilita. El delantero del West Ham acelera, Van Dijk forcejea. Antonio logra llegar al costado para centrar Benrahma, no obstante el central holandés corta dicha conexión, estirando su pierna. Matip cumplió con la tenencia de la pelota, reteniéndola y forzando al rival a adelantar líneas presionando. Matip conduce el balón por la mitad del campo, Benrahma incómoda, Rice y Antonio avanzan, dejando espacios entre su separación. Posteriormente el central del Liverpool lanza un pase entre líneas para Henderson. El mediocampista del conjunto rojo emite pase a la banda derecha para Salah. El extremo centra al área, pero el volante de contención Souček la repele. Antonio controla el despeje con la cabeza y Fabinho se la roba. El volante brasileño genera pase al sector por derecha hacia Henderson. El mediocampista del Liverpool centra para Jota. El delantero portugués cabecea pero se eleva levemente del ángulo derecho de la portería de Fabiański.
Hello friends of the Hive community, how are you doing? David Moyes has put a lot of effort into planning the Hammers' season, a fruitful management, an insatiable team, concentration when it comes to recovery, two fast center backs that are difficult to beat on the counter attack, a style built for the benefit of long balls for Antonio's reception and they have also improved notoriously in the definition of the shots in the last meters of the pitch. They are currently in third place in the Premier League and are also top of their Europa League group, not bad compared to sixth place last season, a well-deserved rise. Van Dijk continues to stand out in his work of taking balls away, he anticipates the positioning of the strikers, good job covering them, they could not overtake him with dribbles and physically he demanded them in the jogs. Mané playing on the left flank is intercepted by Johnson, Robertson gets ahead of the mark and receives. The English full-back crosses the pass into the center of the box with no recipient. Fornals recovers and runs out of the box, then throws a filtered pass behind the back of center back Joel Matip straight to Antonio, Van Dijk sets him up. The West Ham striker accelerates, Van Dijk struggles. Antonio manages to get to the flank to cross to Benrahma, but the Dutch center-back cuts off the connection, stretching his leg. Matip kept possession of the ball, retaining it and forcing the opponent to press forward. Matip drives the ball through the middle of the field, Benrahma makes Benrahma uncomfortable, Rice and Antonio move forward, leaving spaces between their separation. Subsequently the Liverpool center back throws a through ball to Henderson. The Reds' midfielder passes to the right flank for Salah. The winger crosses into the box, but the holding midfielder Souček repels it. Antonio controls the clearance with his head and Fabinho steals it. The Brazilian midfielder generates pass to the sector on the right to Henderson. The Liverpool midfielder crosses for Jota. The Portuguese striker heads but it rises slightly from the right corner of Fabiański's goal.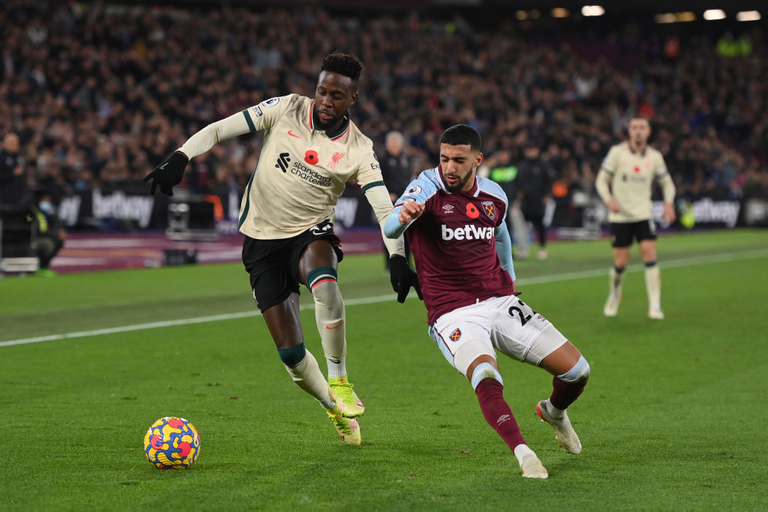 Fuente
Trent Alexander-Arnold fue merodeador, participando constantemente en las transiciones, con una actitud impecable tratando de darle pases claves a la delantera. Jugando por banda derecha para defender a Benrahma. Actuando como extremo regateando a Cresswell y conectando con Salah. Incluso jugó por dentro como si fuera volante de contencíon, dándole soporte en el mediocentro a Fabinho. Trent Alexander-Arnold filtra pase desde el mediocampo hacia el costado derecho para Salah. Dicho pase rompe las marcas de los centrales Ogbonna y Zouma. El extremo egipcio se ve acorralado por ellos dos, y retrasa la tenencia, luego la baja para Alexander-Arnold. El lateral derecho conecta con Robertson. Pase al costado izquierdo para Oxlade-Chamberlain. Intercepción de Johson, el extremo del Liverpool regatea y consigue espacio para centrar. Centro para Mané, anticipación del central Ogbonna que le gana la espalda al senegalés, despeje con dirección al semi circulo del área. Alexander-Arnold remata de primera pero la intención se va muy por arriba.
Trent Alexander-Arnold was marauding, constantly participating in transitions, with an impeccable attitude trying to give key passes forward. Playing on the right flank to defend Benrahma. Acting as a winger dribbling past Cresswell and linking up with Salah. He even played inside as if he were a holding midfielder, giving Fabinho support in midfield. Trent Alexander-Arnold filters a pass from midfield to the right flank for Salah. The pass breaks the markers of center-backs Ogbonna and Zouma. The Egyptian winger is cornered by the two of them, and delays the hold, then brings it down for Alexander-Arnold. The right-back connects with Robertson. Pass to the left flank for Oxlade-Chamberlain. Interception by Johson, the Liverpool winger dribbles and gets space to cross. Cross for Mané, anticipation from center-back Ogbonna who beats the Senegalese, clearance towards the half-circle of the box. Alexander-Arnold gets in a first-time shot but it goes just over the top.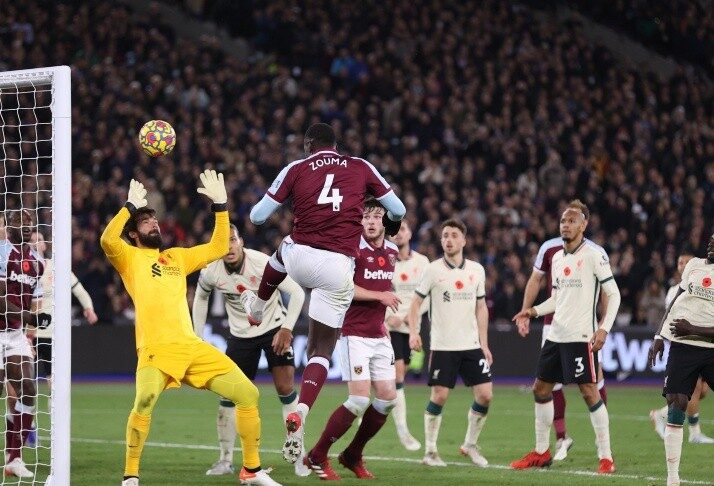 Fuente
Marcas personales de Henderson con Rice y Fabinho con Fornals, los dos volantes del Liverpool, asfixiaron la distribución de los dos jugadores del West Ham más letales de cara a asociarse con los delanteros. La táctica funcionó, fallaron muchos pases como también perdieron los balones en el corte. Buena intervención de Łukasz Fabiański; Trent Alexander-Arnold filtra globeado desde el medio al costado por izquierda. Robertson centra de primera al medio del área. Mané se anticipa a Ogbonna y le pega de inmediato al primer palo. Fabiański la detiene con los guantes.
Henderson's personal marking of Rice and Fabinho's marking of Fornals, the two Liverpool midfielders, stifled the distribution of the two West Ham players who were the most lethal at linking up with the strikers. The tactic worked, they missed many passes as well as lost balls in the cut. Good intervention by Łukasz Fabiański; Trent Alexander-Arnold dribbles from the middle to the left flank. Robertson crosses first-time to the center. Mané anticipates Ogbonna and hits it immediately to the near post. Fabiański makes a glove save.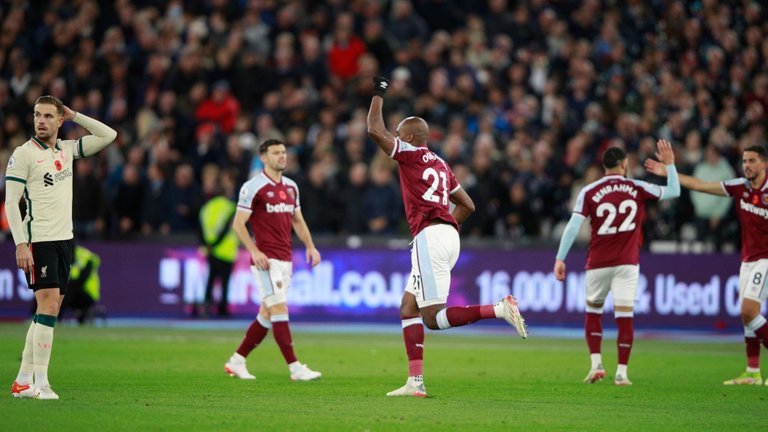 Fuente
Primer gol del West Ham: Córner ejecutado por Fornals a cabeza de Ogbonna. El central Italiano salta, mientras que Alisson se eleva con el propósito de despejársela. Finalmente el portero Red erra en la salida con los puños, la esférica impacta contra su mano y termina encajando. Un auto-gol que considero mala suerte. Primer gol del Liverpool: Declan Rice derriba a Salah en el semi círculo del área. Tiro libre cobrado por Trent Alexander-Arnold, el lateral inglés se la da en corto a Salah, el egipcio la acomoda. Remate potente con pierna derecha por encima de la barrera del West Ham, con dirección al tercer palo. Jugada colectiva con el objetivo de engañar al guardameta local. Segundo gol del West Ham: Fabinho en el centro de campo, genera un pase entre líneas para Mané. El central Craig Dawson lo anticipa por detrás. Fornals se queda con la posesión del balón. El español la entrega por derecha hacia Jarrod Bowen. El media punta inglés acelera con el balón quitándose de encima la presión ejercida por Fabinho y Oxlade-Chamberlain. Virgil van Dijk y Joel Matip se encargaron de cerrarle los espacios a Antonio. Fornals queda libre de marca. Jarrod Bowen emite pase largo para Fornals, el central Matip se detiene para cortar la jugada, sin embargo la pelota se le va larga. Fornals chuta desde fuera del área, zurdazo al palo derecho. Tercer gol del West Ham: Tiro de esquina lanzado por Jarrod Bowen. Centro largo al segundo palo que Zouma alcanza a rematar, cabe destacar que el central francés no tuvo marca. Considero que los jugadores del Liverpool fallaron al amontonarse por derecha, ya que dejaron muchos huecos para los rematadores del West Ham, en vez de trabajar la marca hombre por hombre. Segundo gol del Liverpool: Defensa adelantada; pase de Virgil van Dijk desde el mediocentro para Henderson. El volante inglés conduce la redonda, posteriormente genera un pase largo entre líneas con ingreso al área del West Ham, donde Trent Alexander-Arnold la recibe. Kurt Zouma la despeja con la pierna, generando un rebote dentro del área. Origi controla el rebote de espaldas, se voltea y posteriormente remata con la zurda al segundo palo. En estos momentos, el Liverpool está de cuarto, un punto por debajo de los Hammers y a 4 del liderato. Pienso que está derrota en el Estadio Olímpico de Londres será un buen punto de inflexión para hacer más énfasis en defender a pelota parada, marcar con intensidad y no dejar a nadie libre, básicamente dos goles del West Ham fueron idénticos en esa faceta del ataque, que se pueden prevenir, si se práctica más en lo táctico sin balón. Incluso el West Ham pudo haber aumentado la ventaja. Matip se vio superado en el salto contra Declan Rice en un córner. El cabezazo del volante del West Ham chocó contra el tercer palo. A mi parecer el Liverpool fue superior en el ritmo del partido pero el West Ham tuvo mayor tasa de acierto en la debilidad del conjunto de Klopp.
West Ham's first goal: Fornals takes a corner kick to Ogbonna's header. The Italian center back jumps, while Alisson rises with the purpose of clearing it. Finally the Red goalkeeper misses with his fists, the ball hits his hand and ends up conceding. An own goal that I consider bad luck. First Liverpool goal: Declan Rice brings down Salah in the half circle of the box. Free kick taken by Trent Alexander-Arnold, the English full-back gives it short to Salah, the Egyptian sets it up. Powerful right-footed shot over the West Ham wall, heading for the far post. Collective play with the aim of deceiving the home goalkeeper. Second West Ham goal: Fabinho in midfield, generates a pass between the lines for Mané. The central defender Craig Dawson anticipates him from behind. Fornals keeps possession of the ball. The Spaniard delivers it down the right to Jarrod Bowen. The English midfielder accelerates with the ball, taking the pressure off Fabinho and Oxlade-Chamberlain. Virgil van Dijk and Joel Matip closed the spaces for Antonio. Fornals is left unmarked. Jarrod Bowen sends a long pass to Fornals, the central defender Matip stops to cut the play, but the ball goes long. Fornals shoots from outside the box, left-footed shot to the right post. Third West Ham goal: Jarrod Bowen takes a corner kick. Long cross to the far post that Zouma manages to finish, it should be noted that the French center back was unmarked. I think the Liverpool players failed to bunch up on the right as they left a lot of space for the West Ham strikers, instead of working the man-to-man marking. Liverpool's second goal: Defense forward; Virgil van Dijk's pass from midfield to Henderson. The English midfielder drives the ball, then generates a long pass between the lines into the West Ham box, where Trent Alexander-Arnold receives it. Kurt Zouma clears it with his leg, generating a rebound inside the box. Origi controls the rebound with his back to the ball, turns and then shoots with his left foot to the far post. Liverpool are currently in fourth place, one point behind the Hammers and four points off the pace. I think this defeat at the Olympic Stadium in London will be a good turning point to put more emphasis on defending on set pieces, scoring with intensity and not leaving anyone free, basically two West Ham goals were identical in that facet of the attack, which can be prevented, if you practice more tactically without the ball. Even West Ham could have increased the lead. Matip was out-jumped by Declan Rice at a corner. The West Ham midfielder's header hit the far post. In my opinion Liverpool were superior in the pace of the game but West Ham had a better strike rate in the weakness of Klopp's side.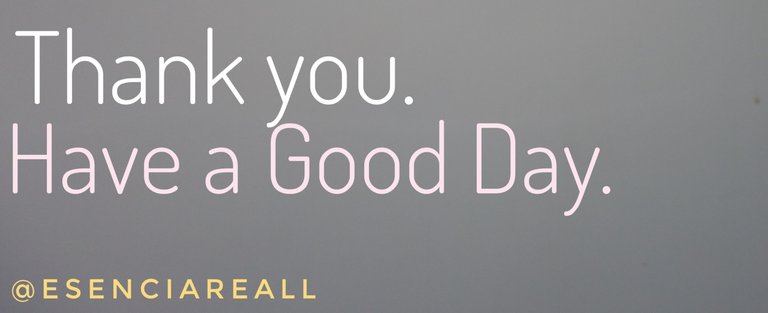 ---
---