[ESP-ENG] Mediocre partido de la Juventus: El Chelsea devora el planteamiento de Allegri. | Juventus' mediocre game: Chelsea devour Allegri's approach.

Stamford Bridge vibra al ritmo del vigente campeón. | Stamford Bridge vibrates to the rhythm of the reigning champions.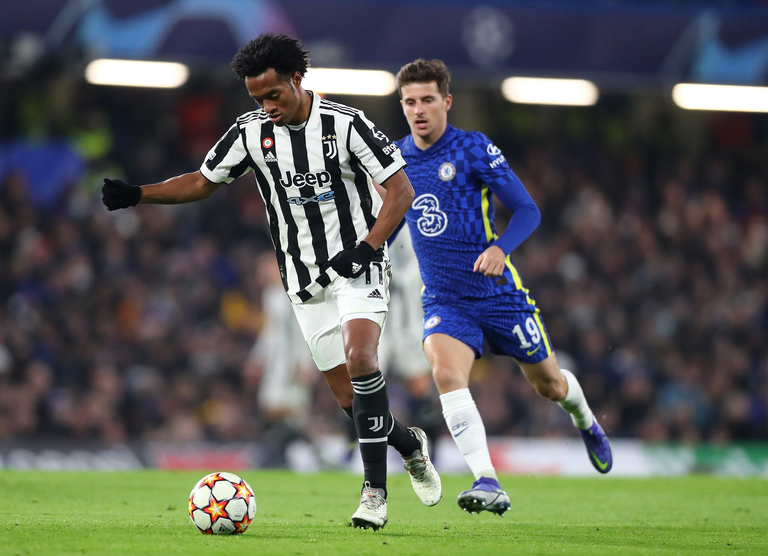 Fuente
Hola amigos de la comunidad de Hive! ¿Cómo les va? El Chelsea tiene argumentos válidos para ser candidata a alzar de nuevo la orejona. Una plantilla competitiva desde los habituales en el once hasta los que conforman el banquillo. El Chelsea empleó una formación 3-4-2-1, en mi opinión eso les da soltura y dominio desde el centro del campo hacia arriba, beneficiando al único punta, debido a que se pueden acoplar otros jugadores al ataque, entendiendo que no hay que dejarle la tarea exclusivamente al delantero de anotar. Comenzando con una línea defensiva conformada por 3 centrales de elevada calidad y por supuesto visión; efectivos a la hora de las intercepciones como en el desarrollo del juego con los pies, excelente retención, pocas perdidas, entregando balones en los espacios y manejando los tiempos del partido, debido a que se adelantaban para forzar el fuera de lugar ante un potencial contra-ataque por parte de la Juventus y como también asociarse con los volantes. Carrileros rápidos , físicamente consistentes, que cuenten con gambeta para adelantar rivales, con llegadas al área y buena definición en los remates lejanos pero sobre todo que dejen pocos espacios tanto por dentro como por fuera por las bandas y que tengan capacidad de defender exhaustivamente hasta recuperar.
Hello friends of the Hive community, how are you doing? Chelsea has valid arguments to be a candidate to lift the trophy again. A competitive squad from the regulars in the eleven to those who make up the bench. Chelsea used a 3-4-2-1 formation, in my opinion that gives them freedom and dominance from midfield upwards, benefiting the lone striker, because other players can be attached to the attack, understanding that the task should not be left exclusively to the striker to score. Starting with a defensive line formed by 3 central defenders of high quality and of course vision; effective at the time of interceptions and in the development of the game with the feet, excellent retention, few losses, delivering balls in the spaces and managing the times of the game, because they were ahead to force the offside in front of a potential counter-attack by Juventus and also to associate with the midfielders. Fast, physically consistent wingers, who have the dribbling ability to overtake opponents, who can get into the box, who have good definition in long-range shots, but above all who leave little space both inside and outside on the wings and who have the ability to defend exhaustively until they get back into the game.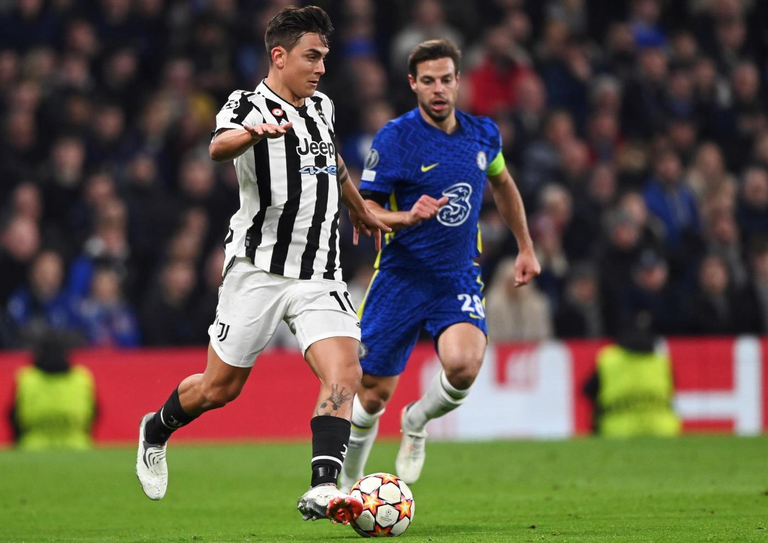 Fuente
Cuadrado desde el sector derecho genera pase largo al borde del área para Chiesa. El delantero italiano la retrasa para Locatelli. El mediocampista italiano lanza pase al costado izquierdo para Morata. Chalobah presiona y Kanté se la quita en la cobertura. Pleno compromiso defensivo, Kanté y Jorginho son volantes completos en la faceta defensiva, construir jugadas y dar el último pase en los últimos tramos del campo. Una pareja que comprende los conceptos de Tuchel, que se anticiparon a las acciones de la Juventus y que tomaron decisiones que ni el rival se esperó, lastimosamente el volante francés tuvo que salir sustituido en la primera parte, Loftus-Cheek entró a ocupar su función. La verdad, se notaba como había menos insistencia en el marcaje y en cortar balones, pero por otro lado había mas desborde y mayor integración con los efectivos de arriba: Pulisic y Ziyech. Pase de Ruben Loftus-Cheek para Jorginho. El Italiano filtra pase hacia dentro del área de la Vecchia Signora, al observar como Hudson-Odoi le gana la espalda a McKennie. El jugador del Chelsea se iba a perfilar para rematar, cuando de repente Bonucci reacciona rápidamente con un despeje mandándola hacia fuera de la línea de fondo. Intervenciones defensivas que valen oro.
Cuadrado from the right generates a long pass to the edge of the box for Chiesa. The Italian striker pulls it back for Locatelli. The Italian midfielder plays a pass to the left flank for Morata. Chalobah presses and Kanté takes it away from him in the cover. Full defensive commitment, Kanté and Jorginho are complete midfielders in the defensive facet, building plays and giving the last pass in the last stretches of the field. A pair that understands the concepts of Tuchel, who anticipated the actions of Juventus and made decisions that even the opponent did not expect, unfortunately the French midfielder had to be substituted in the first half, Loftus-Cheek came in to take his role. The truth was that there was less insistence in marking and cutting balls, but on the other hand there was more overflow and more integration with the upfront players: Pulisic and Ziyech. Ruben Loftus-Cheek passes to Jorginho. The Italian leaked a pass into the Vecchia Signora box, as Hudson-Odoi beat McKennie to the ball. The Chelsea player was about to shoot, when suddenly Bonucci reacts quickly with a clearance sending it out of the back line. Defensive interventions that are worth gold.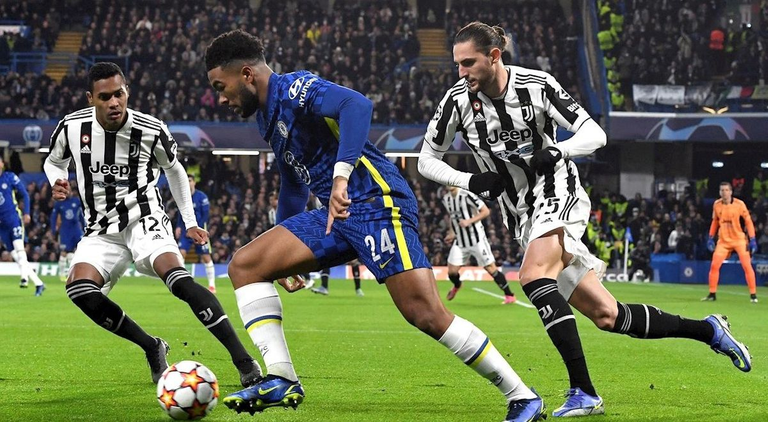 Fuente
Chiesa en el mediocentro lanza pase largo al costado izquierdo, Rabiot trata de controlar la esférica sin embargo Reece James desvía la pelota, luego Trevoh Chalobah la despeja. Bentancur intercepta y se la da a Locatelli. El volante italiano filtra pase hacia el área del Chelsea. Transitando a espaldas del central Thiago Silva. El portero Mendy se anticipa pero Morata alcanza a realizar un tiro globeado. Ambos caen al suelo. Thiago Silva corre y saca la pelota de la línea de la portería. Por cuestión de centímetros la Juventus no sumó una diana. Salida desde atrás de Thiago Silva, se la entrega a Rüdiger, pase por banda para Hudson-Odoi. El volante ofensivo genera pase de primera hacia abajo para Ziyech, con el propósito de anticipar el marcaje de McKennie. Posteriormente Hudson-Odoi acelera y deja atrás al volante McKennie. Ziyech lanza pase largo para el inglés. Hudson-Odoi ingresa al área y dispara pero Matthijs de Ligt lo repele con el cuerpo.
Chiesa in midfield throws long pass to the left flank, Rabiot tries to control the ball but Reece James deflects the ball, then Trevoh Chalobah clears it. Bentancur intercepts and gives it to Locatelli. The Italian midfielder slips the ball into the Chelsea box. He passes behind the back of center-back Thiago Silva. Goalkeeper Mendy anticipates but Morata manages to get a shot away. Both fall to the ground. Thiago Silva runs in and clears the ball off the goal line. Juventus missed a goal by a matter of centimeters. Thiago Silva comes out from the back, gives the ball to Rüdiger, passes to Hudson-Odoi. The attacking midfielder generates a first down pass to Ziyech, in order to anticipate McKennie's marking. Hudson-Odoi then accelerates and leaves McKennie behind. Ziyech throws a long pass to the Englishman. Hudson-Odoi enters the box and shoots but Matthijs de Ligt repels it with his body.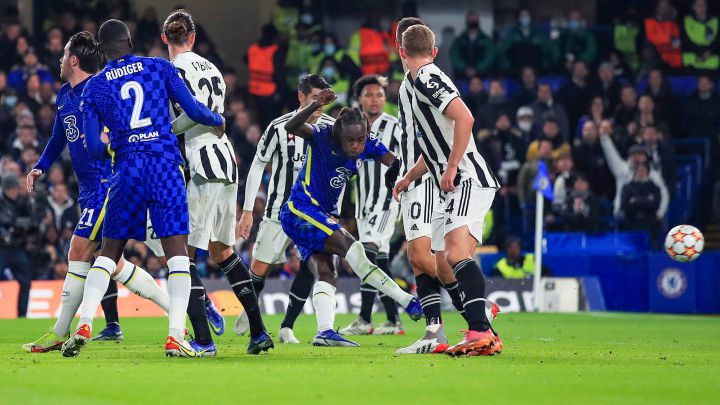 Fuente
Debo admitir que Reece James estaba desatado, es impresionante si tenemos en cuenta que tiene una posición hibrida con mayor enfoque en defensa, actualmente lleva 4 goles en la Liga Inglesa y 1 por Champions. Alex Sandro y Rabiot tuvieron un partido para el olvido, se les dificultó alcanzarlo y detenerlo por la derecha. Hudson-Odoi en el medio, produce pase a la banda derecha para Reece James. El volante ingresa al área, el lateral Alex Sandro presiona, el carrilero del Chelsea recorta y dispara al segundo palo, buena estirada de Szczęsny. También tuvo un destacado tiro libre que se direccionó al palo izquierdo pero Szczęsny adivinó y evitó su anotación. La Juventus no creó peligro, chocaron contra un equipo compacto que no les permitió tener claridad ni profundidad de cara al área Blue, los automatismo de Tuchel surtieron efecto. Allegri tiene un mediocampo débil, Bentancur y Locatelli que se supone que deben cortar balones, no se compenetran, dejando muchos espacios, considero que tuvieron un desenvolvimiento muy desordenado, en vez de ir hombre por hombre, se les veía presionando entre los dos a un solo jugador del Chelsea, por consiguiente el equipo local tenía jugadores libres de marca. Tampoco arriesgaron mucho en los últimos tres cuartos de cancha.
I must admit that Reece James was unleashed, it is impressive considering that he has a hybrid position with a greater focus on defense, he currently has 4 goals in the English League and 1 in the Champions League. Alex Sandro and Rabiot had a game to forget, they struggled to reach him and stop him on the right. Hudson-Odoi in the middle, produces a pass to the right flank for Reece James. The midfielder enters the box, full-back Alex Sandro presses, the Chelsea winger cuts back and shoots to the far post, good save by Szczęsny. He also had an outstanding free kick that was directed to the left post but Szczęsny guessed and prevented his goal. Juventus did not create danger, they clashed against a compact team that did not allow them to have clarity or depth facing the Blue area, Tuchel's automatism took effect. Allegri has a weak midfield, Bentancur and Locatelli who are supposed to cut balls, do not get along, leaving many spaces, I think they had a very disorderly development, instead of going man for man, they were seen pressing between the two of them to a single Chelsea player, therefore the home team had free players to mark. They also did not take many risks in the last three quarters of the pitch.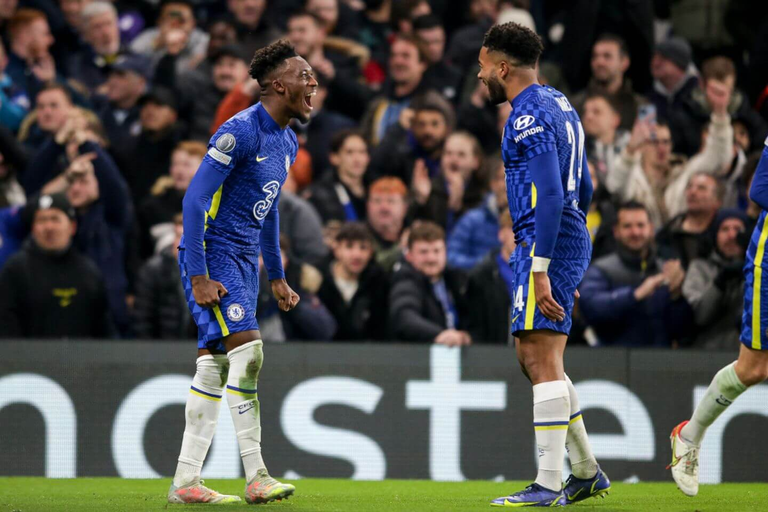 Fuente
Primer gol del Chelsea: Tiro de esquina que ejecuta Hakim Ziyech. Rüdiger la desciende con ayuda del hombro, Trevoh Chalobah le pega de primera de primera con dirección al segundo palo. Segundo gol del Chelsea: Pase retrasado de Christian Pulisic para Rüdiger, el central la entrega para Hudson-Odoi. El mediocampista ofensiva genera pase que entre líneas que rompe la presión ejercida por Locatelli y Bentancur. Loftus-Cheek recibe. El volante inglés emite pase en corto para Pulisic. El delantero estadounidense filtra pase al sector por izquierda. Reece James centra al medio del área Juventina. Cuadrado logra despejarla, retirándola del área. Jorginho controla y se la da a Rüdiger. El central alemán emite pase a banda izquierda para Ben Chilwell. El carrilero inglés centra con dirección al área contraria. De Ligt la desvía levemente con la cabeza hacia la derecha . Reece James realiza un excelente control del balón con ayuda de su pecho y dispara al palo izquierdo de la portería de Wojciech Szczęsny. Chiesa llegó tarde al anticipo, ya que James chutó de inmediato. Tercer gol del Chelsea: Ziyech en el centro del campo, realiza un pase entre líneas que atraviesa la separación de Locatelli y Bentancur con destinatario a Callum Hudson-Odoi. El volante ofensivo lanza pase largo al costado derecho para Ruben Loftus-Cheek. El mediocampista inglés trata de ingresar al área pero el central holandés De Ligt se lo impide achicándole los espacios. Loftus-Cheek no tiene más opción que salir del área y retrasar el pase para Ziyech, no obstante Rabiot corta el pase. Chiesa se dirige a la búsqueda del balón, sin embargo Jorginho acelera y logra robársela. La pelota queda en pies de Ziyech. El jugador marroquí emite pase hacia la izquierda para Rüdiger. El central alemán ejecuta un cambio de banda, pase filtrado hacia el costado derecho. Reece James detiene la esférica con el taco, y luego se la entrega a Ziyech. El mediocampista de Marruecos realiza pase en corto para Loftus-Cheek. El volante inglés regatea hacia la izquierda con el objetivo de abrir los espacios ante un inminente pase, de esta forma se quita de encima a Bonucci, De Ligt y a Locatelli. Intercepción frontal de Bentancur, el volante defensivo estira la pierna para disputar la pelota. Loftus-Cheek genera un pase a la izquierda gracias a la apertura del miembro inferior del uruguayo. Hudson-Odoi remata al palo derecho. Cuarto gol del Chelsea: Ziyech centra desde el córner. Dejan Kulusevski se eleva para rechazarla, por consiguiente la pelota se ubica en el borde del área. Dybala filtra pase al mediocentro. El delantero italiano Moise Kean acelera para el contragolpe, no obstante Reece James lo derriba con el cuerpo. El carrilero diestro recupera y posteriormente genera pase aéreo hacia el costado izquierdo. Weston McKennie intenta parar la pelota, pero se le va larga. Ziyech se adueña del balón e ingresa al área, por lo tanto procede a lanzar un pase largo con miras a la portería de Szczęsny. El revulsivo Timo Werner adelantó a Alex Sandro en lo que refiere al posicionamiento, y finalmente la empuja. Resultado final: 4-0 a favor del local. Chelsea y la Vecchia Signora, ya están clasificados a la siguiente fase con una amplia ventaja de 8 puntos en relación al tercer posicionado en la tabla, por lo tanto la última jornada será bastante ruda para ambos clubes, ya que darán hasta el último aliento para alcanzar el primer puesto del grupo H, y asimismo enfrentarse a un rival "menos complicado".
Chelsea's first goal: Hakim Ziyech takes a corner kick. Rüdiger brings it down with the help of his shoulder, Trevoh Chalobah hits it first time to the far post. Chelsea's second goal: Christian Pulisic's delayed pass to Rüdiger, the center back delivers it to Hudson-Odoi. The attacking midfielder generates a pass between the lines that breaks the pressure exerted by Locatelli and Bentancur. Loftus-Cheek receives. The English midfielder sends a short pass to Pulisic. The American striker filters a pass to the left. Reece James crosses into the middle of the Juventus box. Cuadrado manages to clear it, taking it out of the box. Jorginho controls and gives it to Rüdiger. The German center-back passes to the left wing for Ben Chilwell. The English winger crosses towards the opponent's area. De Ligt deflects it slightly to the right with his head. Reece James makes an excellent control of the ball with the help of his chest and shoots at the left post of Wojciech Szczęsny's goal. Chiesa was late to the anticipation, as James shot straight away. Chelsea's third goal: Ziyech in midfield, makes a through ball that goes through the separation of Locatelli and Bentancur with destination to Callum Hudson-Odoi. The attacking midfielder throws a long pass to the right flank for Ruben Loftus-Cheek. The English midfielder tries to get into the box but Dutch center back De Ligt stops him by closing down the space. Loftus-Cheek has no choice but to come out of the box and delay the pass for Ziyech, but Rabiot cuts off the pass. Chiesa goes in search of the ball, but Jorginho accelerates and manages to steal it. The ball is left at the feet of Ziyech. The Moroccan player passes to the left for Rüdiger. The German center back makes a pass to the right flank. Reece James stops the ball with his heel, then gives it to Ziyech. The Morocco midfielder makes a short pass to Loftus-Cheek. The English midfielder dribbles to the left in order to open up space for an imminent pass, thus clearing Bonucci, De Ligt and Locatelli. Bentancur's interception in front of goal, the defensive midfielder stretches out his leg to contest the ball. Loftus-Cheek generates a pass to the left thanks to the opening of the Uruguayan's lower limb. Hudson-Odoi shoots against the right post. Chelsea's fourth goal: Ziyech crosses from the corner. Dejan Kulusevski rises to deny him, so the ball is placed on the edge of the box. Dybala passes to the midfielder. Italian striker Moise Kean accelerates for the counter-attack, but Reece James brings him down with his body. The right winger recovers and then generates an aerial pass to the left flank. Weston McKennie tries to stop the ball, but it goes wide. Ziyech gets hold of the ball and enters the box, so he proceeds to throw a long pass towards Szczęsny's goal. The revulsive Timo Werner overtakes Alex Sandro as far as positioning is concerned, and finally pushes it in. Final score: 4-0 in favor of the home side. Chelsea and the Vecchia Signora, are already qualified to the next phase with a wide advantage of 8 points in relation to the third positioned in the table, therefore the last matchday will be quite tough for both clubs, as they will give their last breath to reach the first place in group H, and also face a "less complicated" rival.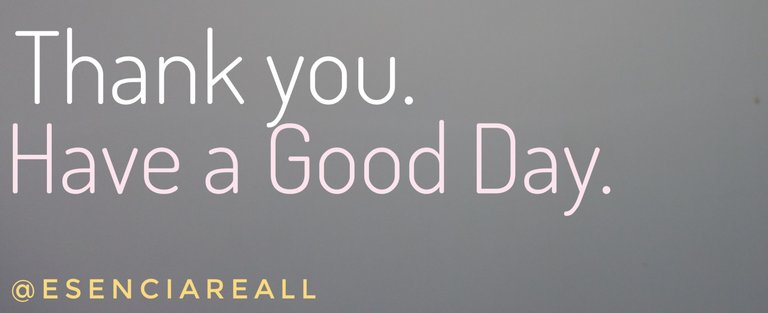 ---
---