[ESP-ENG] PSG se lleva la victoria ante el Saint Etienne y aumenta distancias con sus contrincantes en la Ligue 1. | PSG wins against Saint Etienne and increases the gap between themselves and their Ligue 1 rivals.
Messi no anotó, pero le aportó a su equipo la generación de asistencias por triplicado. Marquinhos se vistió de delantero. | Messi did not score, but provided his team with assists on 3 occasions. Marquinhos dressed as a striker.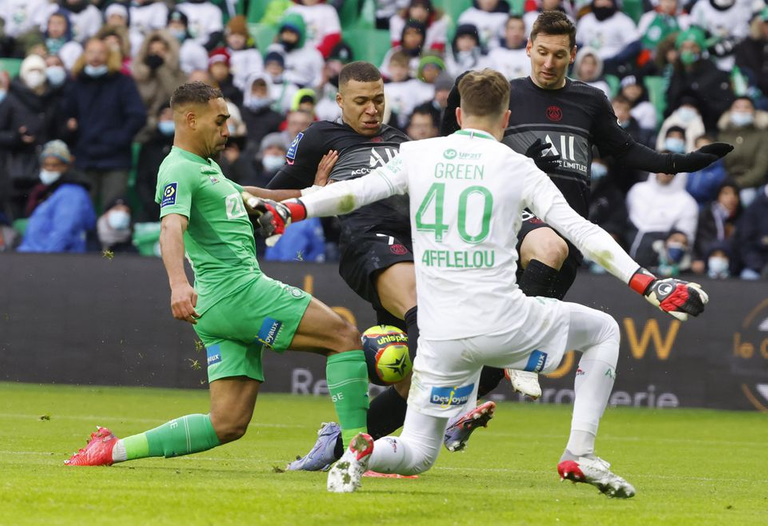 Fuente
¡Hola amigos de la comunidad de Hive! ¿Cómo les va? El PSG tiene dos realidades que afrontar esta temporada; domina indiscutiblemente el torneo francés, demostrando tener un menor compromiso en el aspecto defensivo, porque básicamente juegan con 3 delanteros que no bajan a recuperar el balón, no entiendo como Pochettino permite ese tipo de comportamientos en un vestuario, por más estrella que te consideres, lo mínimo que debes hacer es darle una mano a tus compañeros, lastimosamente descompensa demasiado el equilibrio del equipo, en palabras cortas; el PSG defiende con 3 jugadores menos, solo presionaron la defensa del área contraria para robar balones. Tal vez eso funcione para ganar la Ligue 1, ya que para nadie es un secreto que clubes como el Lille o el Olympique de Marsella fueron desarmados al vender piezas claves, disminuyendo la competitividad, opino que el PSG es un monopolio en Francia. Cabe destacar que la metodología del estratega argentino dista mucho de un plan serio para alzar la Champions, considero que si quieren tener opciones reales, es necesario articular la solidez del colectivo e insistir en el estilo de juego, de esa forma los automatismos se tornarán a naturalidad y la claridad de las acciones serán más contundentes. Pochettino planteó un 4-2-3-1: centrándose en desbordar por las bandas a Trauco y Sissoko, ganar espacios y encontrarse por el medio a Mbappé o a Messi, que son los mejores finalizadores. La novedad del encuentro fue la inclusión de Ramos en el once inicial, luego de varios meses sin ver minutos en lo que respecta a partidos oficiales. Era necesaria su presencia para que volviera a tener rodaje, preparación a los retos venideros.
Hello friends of the Hive community, how are you doing? PSG has two realities to face this season; they are unquestionably dominating the French tournament, showing less commitment in the defensive aspect, because they basically play with 3 strikers who do not go down to retrieve the ball, I do not understand how Pochettino allows that kind of behavior in a locker room, no matter how much of a star you consider yourself, the least you should do is to give a hand to your teammates, unfortunately it breaks down the balance of the team too much, in short words; PSG defended with 3 players less, they only pressed the defense of the opponent's area to steal balls. Maybe that will work to win Ligue 1, since it is no secret that clubs like Lille or Olympique de Marseille were dismantled by selling key players, decreasing competitiveness, I think PSG is a monopoly in France. It should be noted that the methodology of the Argentine strategist is far from a serious plan to win the Champions League, I believe that if they want to have real options, it is necessary to articulate the strength of the team and insist on the style of play, that way the automatisms will become natural and the clarity of the actions will be more forceful. Pochettino set up a 4-2-3-1 formation: focusing on overflowing the flanks with Trauco and Sissoko, gaining space and finding Mbappé or Messi in the middle, who are the best finishers. The novelty of the match was the inclusion of Ramos in the starting eleven, after several months without seeing minutes in official matches. His presence was necessary to get him back on track, in preparation for the challenges ahead.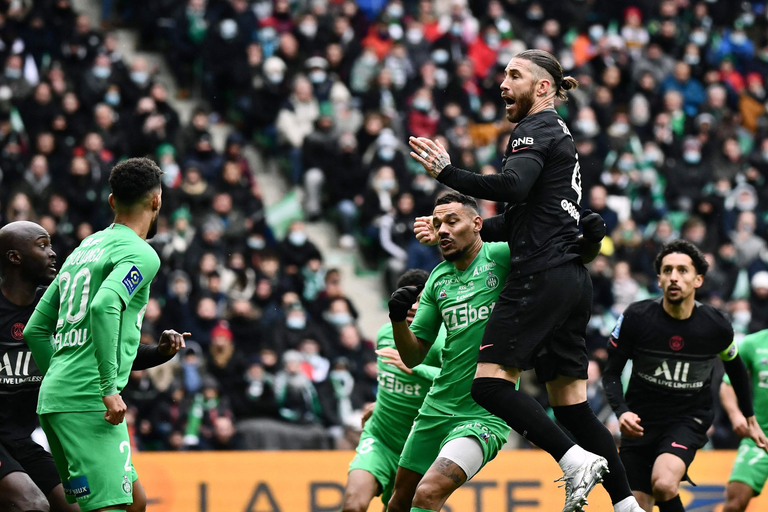 Fuente
El central español desempeñó un partido aceptable, tácticamente pudo cortar intenciones de pases sobre todo en el centro del campo y anticipar en la marca los movimientos de Khazri y Aouchiche, hay que señalar que se notó la falta de ritmo en las transiciones. El talento y el ojo para conectar los pases con suma precisión sigue en vigencia, siempre proactivo, se atrevió a filtrar pases por los costados para abrirle el juego a Neymar y a Di María. Incluso generó un pase globeado al área chica, pero el portero Green le achicó a Mbappé. No arriesgó en las salidas, cuando se daba cuenta que tenía la presión encima, se la entregaba a Donnarumma, también estuvo implicado en despejar los centros generados por el equipo local. Un dolor de dientes para el Saint Etienne en el uno contra uno, fue astuto al cometer faltas, el objetivo era evitar últimos pases a delanteros. Recuerdo que perdió un balón por intentar regatearse a un jugador contrario, pero menos mal llegó Marquinhos en la cobertura.
The Spanish center back played an acceptable game, tactically he was able to cut off pass attempts especially in midfield and anticipate the movements of Khazri and Aouchiche, it should be noted that the lack of rhythm in the transitions was noticeable. The talent and eye for connecting passes with extreme precision is still in force, always proactive, he dared to filter passes down the flanks to open the game to Neymar and Di Maria. He even generated a lobbed pass into the six-yard box, but the goalkeeper Green denied Mbappé. He didn't take any risks when coming out, when he realized he was under pressure, he gave it to Donnarumma, he was also involved in clearing the crosses generated by the home team. A toothache for Saint Etienne in the one on one, he was astute in committing fouls, the aim was to avoid last passes to strikers. I remember he lost a ball trying to dribble past an opposing player, but thank goodness Marquinhos was there to cover.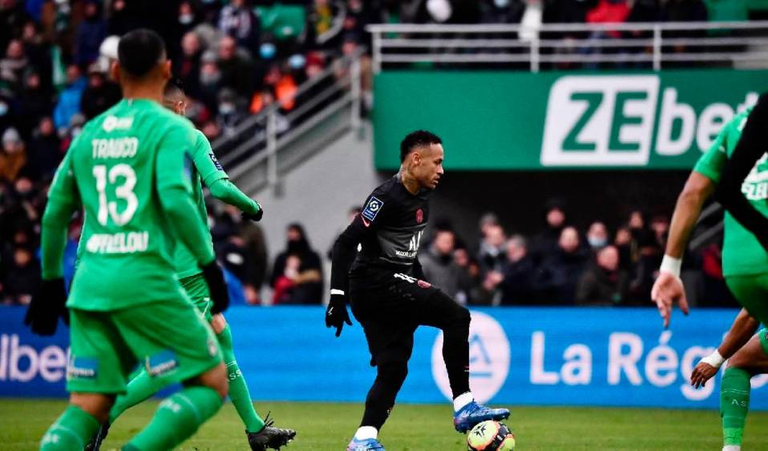 Fuente
El PSG tuvo un resultado desfavorable en la primera parte, pudo acercarse a chutar cerca de portería, pero se le dificultó porque el Saint Etienne se ordenó bastante bien para que no le llegaran las distribuciones de balón a Mbappé. Pase de Neymar por banda a Bernat, el lateral zurdo acelera y realiza un pase largo al medio, que Mbappé vence ampliamente a Mickael Nade en la corrida, el delantero francés se perfila al palo contrario pero Etienne Green se la despeja. Idrissa Gueye en el sector izquierdo, se la da a Sergio Ramos, el defensor español emite pase a la derecha para Di María. El delantero argentino produce un pase entre líneas para Marquinhos. La defensa del Saint Ettiene se aglomera para despojarle la redonda al central brasileño, por lo tanto Marquinhos de espaldas se la regresa a Di María. Al aglomerarse dejaron espacios, que el delantero argentino aprovechó con un pase al área grande. Mbappé con poco ángulo de disparo, engancha hacia el primer palo, pero vuelve a toparse contra un Green con reflejos de acero. El partido comenzó a balancearse a favor del club parisino cuando Timothée Kolodziejczak vio la tarjeta roja y el elenco verde se quedó con 10 futbolistas. Desde el mediocentro, Di María ejecuta un pase largo para que Mbappé se dirigiera al contragolpe, el central Kolodziejczak se barre por detrás y desestabiliza al joven delantero francés, el arbitro lo expulsa por considerarlo último hombre. 2 minutos luego de que el Paris Saint-Germain tuviera superioridad numérica lograría empatar la desventaja e ir hacia la senda de la remontada.
PSG had an unfavorable result in the first half, they were able to get close to shooting close to goal, but it was made difficult because Saint Etienne arranged themselves well enough to prevent Mbappé's ball distributions from reaching him. Neymar's pass down the wing to Bernat, the left-back accelerates and makes a long pass into the middle, which Mbappé beats Mickael Nade wide on the run, the French striker shapes to the opposite post but Etienne Green clears it away. Idrissa Gueye on the left side, gives it to Sergio Ramos, the Spanish defender issues a pass to the right for Di Maria. The Argentine striker produces a through ball for Marquinhos. The Saint Ettiene defense crowds to take the ball away from the Brazilian center-back, so Marquinhos returns it to Di Maria with his back turned. The Argentinian striker took advantage of the space by passing into the penalty area. Mbappé with little shooting angle, hooked towards the near post, but again came up against a Green with reflexes of steel. The match began to swing in the Parisian club's favor when Timothée Kolodziejczak was shown the red card and Green was reduced to 10 men. From midfield, Di Maria played a long pass for Mbappé to head on the counter-attack, the center-back Kolodziejczak swept behind and destabilized the young French striker, the referee sent him off for being considered the last man. Two minutes after Paris Saint-Germain had numerical superiority, they managed to equalize the deficit and go on the road to a comeback.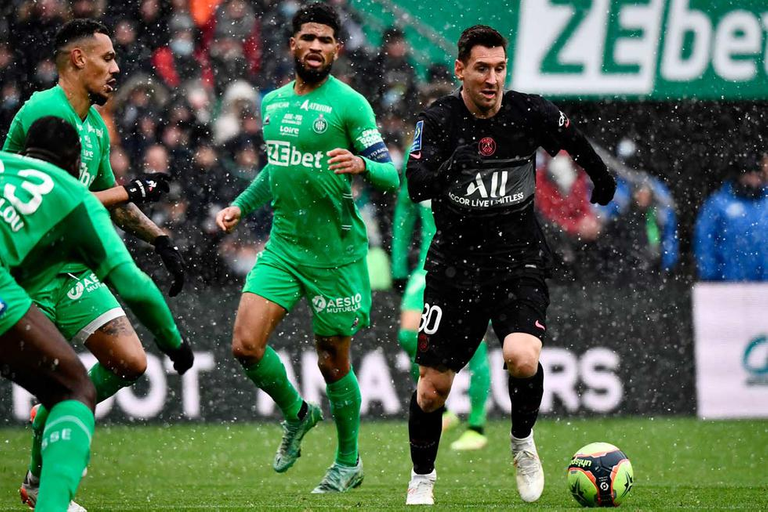 Fuente
No fue el día certero de Messi para anotar, también hay que comprender que Pochettino decidió retrasar su posición hacia espaldas del delantero, para favorecer el aspecto creativo. Pase filtrado de Gueye para Neymar hacia el costado izquierdo, el delantero brasileño ingresa al área y el portero Green la detiene con la pierna, no obstante produce efecto rebote. La pelota queda en el medio y Messi le pega de primera al palo derecho pero la intención terminaría desviándose.
It was not Messi's day to score, but it is also important to understand that Pochettino decided to delay his position behind the striker, to favor the creative aspect. Gueye's filtered pass to Neymar to the left side, the Brazilian striker enters the area and the goalkeeper Green stops it with his leg, however it produces a rebound effect. The ball is left in the middle and Messi hits it first time to the right post but the intention would end up deflecting.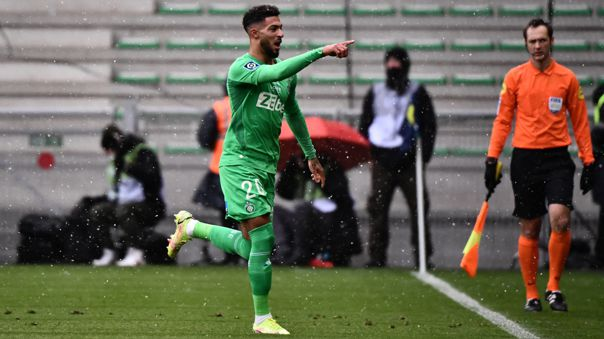 Fuente
No todo fue de color rosas, Neymar salió del césped por una lesión, el jugador del club parisino en un control con el balón, erra al pisar y termina doblándose el tobillo cuando estaba afincando la pierna al suelo. Los pronósticos son pesimistas y apuntan a que no tendrá más participación en lo que resta del presente año, el PSG ya está clasificado a la siguiente ronda de Champions y los octavos inician en febrero, por lo que considero que habrá margen para recuperarlo de cara a un choque trascendental.
Not everything was rosy, Neymar left the field due to an injury, the player of the Parisian club in a control with the ball, errs when stepping and ends up bending his ankle when he was putting his leg to the ground. The forecasts are pessimistic and suggest that he will not have more participation in the remainder of this year, PSG is already qualified for the next round of Champions League and the round of 16 starts in February, so I think there will be room to recover him for a transcendental clash.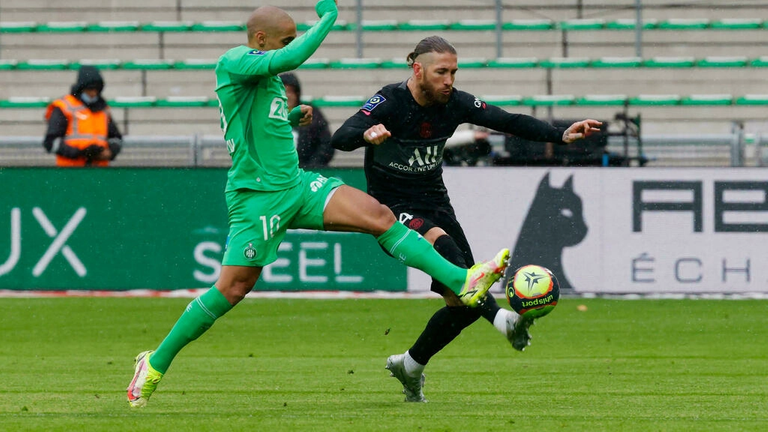 Fuente
Primer gol del Saint Etienne: Tiro de esquina ejecutado por el media punta Aouchiche, Marquinhos despeja la esférica. Wahbi Khazri controla el balón desde fuera del semicírculo del área. Di María lo intercepta, el delantero tunecino se voltea de espaldas, luego gira y posteriormente sube un poco para filtrar con dirección al área parisina. Ramos trata de elevarse para interceptarla en el aire, sin embargo no alcanza a tener contacto con el balón. El central Kolodziejczak dispara al primer palo, Donnarumma la ataja, pero la redonda rebota. Denis Bouanga remata. El lateral derecho estaba ausente, debido a que Achraf se encargó de marcar a Mahdi Camara en el centro del área, por lo tanto no hubo presión en esa zona del campo. Por otra parte Denis Bouanga, Kolodziejczak y Mickael Nade se anticiparon a Sergio Ramos y a Marquinhos. El defensor español y el brasileño no estuvieron alertas a sus espaldas, por consiguiente no tuvieron margen para detener la jugada. Primer gol del PSG: Tiro libre a favor del conjunto visitante, Messi centra con destino al área. Marquinhos le gana en el juego aéreo a Mahdi Camara. El central brasileño empuja la pelota con la cabeza hacia el palo derecho. Segundo gol del PSG: Danilo Pereira emite pase para Neymar. El delantero es presionado por dos defensores dentro del área, entonces opta por regresársela al volante portugués, posteriormente se la entrega a Messi. El central Mickael Nade trata de taparle el perfil izquierdo, de esta forma evitaría hipotéticos lanzamientos. Messi se lo quita de encima gambeteando hacia la derecha. Saint Etienne empieza a defender en bloque, Trauco forcejea y Denis Bouanga comete el grave error de abrirse y dejar sin marca a Di María por el sector derecho para darle cobertura al peruano en el medio, es decir, ambos se unieron para reducirles espacios al astro argentino. Messi crea un pase globeado al sector derecho del área. Di María la detiene y posteriormente engancha con la zurda al palo contrario. Tercer gol del PSG: Di María en el sector izquierdo, realiza un pase para Leandro Paredes. El volante argentino genera pase a la derecha para Achraf. El lateral marroquí, lanza el pase para atrás. Ramos recibe y se la entrega a Di María. El delantero argentino produce paso largo hacia el costado izquierdo. Messi supera en velocidad a Lucas Calodat. Messi centra y Marquinhos anota en el área chica con la cabeza. El central brasileño salta con mayor altitud que Miguel Trauco en la disputa por la tenencia de la esférica. Honestamente no me impresionó el doblete de Marquinhos, porque lo he visto salvar a su equipo en los momentos más delicados, el juego aéreo es una virtud que supo explotar, sabe encontrar huecos y sincronizar su cuerpo en los segundos idóneos para tener contacto con el balón. Resultado: 3-1. El Saint Etienne sigue de último en la tabla, y parece que la tendencia no va a cambiar al corto plazo.
Saint Etienne's first goal: A corner kick by midfielder Aouchiche, Marquinhos clears the ball. Wahbi Khazri controls the ball from outside the six-yard box. Di Maria intercepts it, the Tunisian striker turns his back, then turns and then goes up a little to filter towards the Parisian box. Ramos tries to rise to intercept it in the air, but fails to make contact with the ball. Center-back Kolodziejczak shoots at the near post, Donnarumma saves, but the ball bounces back. Denis Bouanga shoots. The right-back was absent, due to Achraf marking Mahdi Camara in the center of the box, so there was no pressure in that area of the field. On the other hand Denis Bouanga, Kolodziejczak and Mickael Nade anticipated Sergio Ramos and Marquinhos. The Spanish defender and the Brazilian were not alert at their backs, so they had no room to stop the play. PSG's first goal: Free kick for the visitors, Messi crosses into the box. Marquinhos beats Mahdi Camara in the air. The Brazilian center-back heads the ball into the right-hand post. PSG's second goal: Danilo Pereira passes to Neymar. The striker is pressured by two defenders inside the box, then chooses to pass it back to the Portuguese midfielder, then gives it to Messi. The centerback Mickael Nade tries to cover his left profile, this way he would avoid hypothetical shots. Messi gets rid of him by dribbling to the right. Saint Etienne starts to defend in a block, Trauco struggles and Denis Bouanga makes the serious mistake of opening up and leaving Di Maria unmarked on the right to cover the Peruvian in the middle, that is, both joined forces to reduce space for the Argentine star. Messi creates a lofted pass to the right side of the box. Di Maria stops the ball and then hooks a left-footed shot to the opposite post. PSG's third goal: Di Maria, on the left, plays a pass to Leandro Paredes. The Argentine midfielder generates a pass to the right for Achraf. The Moroccan full-back throws the pass back. Ramos receives and gives it to Di Maria. The Argentine striker produces a long pass to the left side. Messi outpaces Lucas Calodat. Messi crosses and Marquinhos scores in the six-yard box with his head. The Brazilian center back jumps higher than Miguel Trauco in the contest for possession. Honestly, I was not impressed by Marquinhos' brace, because I have seen him save his team in the most delicate moments, the aerial game is a virtue that he knew how to exploit, he knows how to find gaps and synchronize his body in the ideal seconds to have contact with the ball. Result: 3-1. Saint Etienne remains at the bottom of the table, and it seems that the trend will not change in the short term.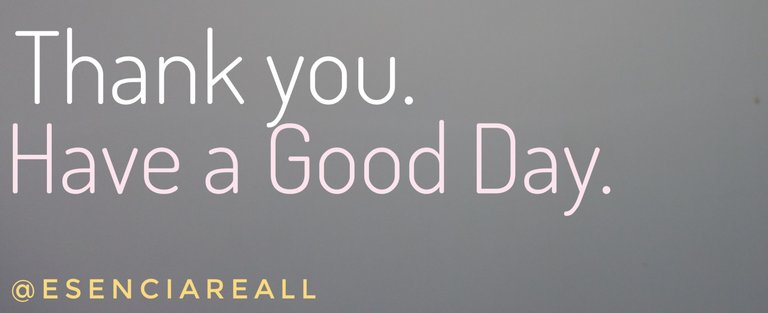 ---
---