[ESP-ENG] Tottenham no pudo llevarse el partido a su favor, con uno más. Conte encerró el equipo, para frenar contraataques. | Tottenham could not take the game in their favor, with one more. Conte locked up the team, to stop counterattacks.

Robertson participativo para levantar el resultado. Una imprudencia lo alejó del terreno de juego. | Robertson was involved to lift the score. A recklessness took him off the field.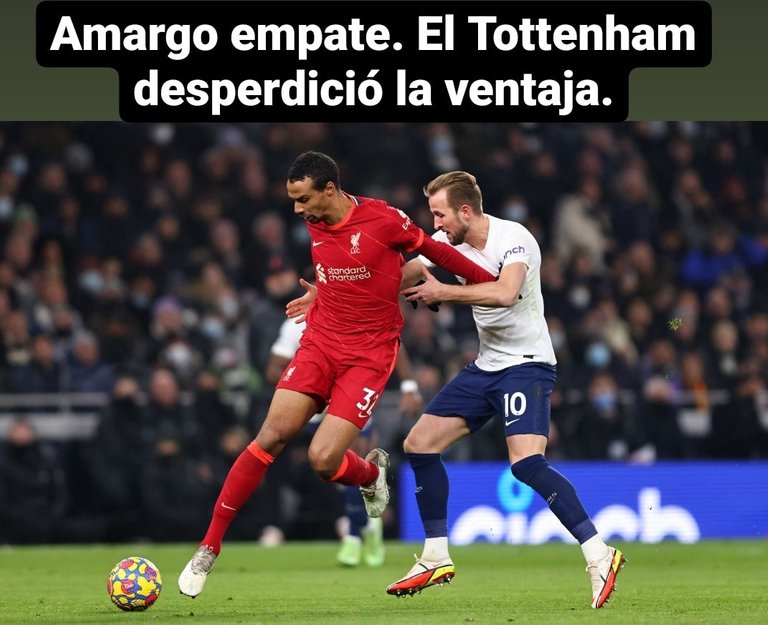 Fuente
Hola amigos de la comunidad de Hive! ¿Cómo les va? Antonio Conte está reestructurando a los Spurs, inculcando un plan de juego similar a lo que mostró en el Inter de Milán, "proteger el balón a lo italiano", generalmente con línea de 3 centrales físicos atrás, que tengan características de bloquear el juego aéreo, al igual que poseer carrileros por banda, o en cambio cuando el rival tiene jugadores de jerarquía y velocidad como lo son Mané y Salah, corresponde implantar una línea de 5, como en este caso; 5-3-2, de pocos espacios para compactar y enfocar la defensa a centralizar, se descuida un poco los costados porque usan laterales ofensivos como Emerson. La idea de contener esa clase de jugadores, salió al pie de la letra, el Liverpool se dedicó a disparar desde lejos y a centrar para provocar rebotes que les permitieran tener chances de rematar.
Hello friends of the Hive community, how are you doing? Antonio Conte is restructuring Spurs, instilling a game plan similar to what he showed at Inter Milan, "protect the ball Italian style", usually with a line of 3 physical center backs, who have characteristics to block the aerial game, as well as having wingers on the flank, or when the opponent has players of hierarchy and speed as are Mané and Salah, it is appropriate to implement a line of 5, as in this case; 5-3-2, with few spaces to compact and focus the defense to centralize, the flanks are neglected a bit because they use attacking fullbacks like Emerson. The idea of containing that kind of players, went to the letter, Liverpool was dedicated to shoot from distance and to center to cause rebounds that allowed them to have chances to finish.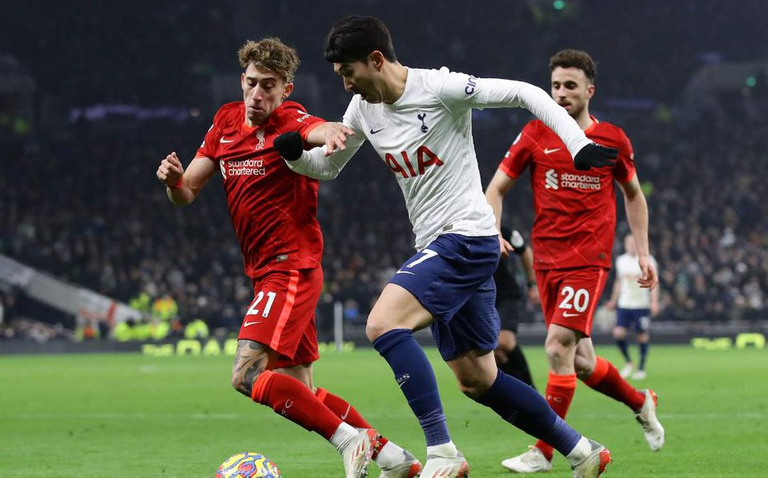 Fuente
El Liverpool empezó avisando que iba en serio; Mané localizado por sector izquierdo filtra pase al medio para Alexander-Arnold. El Inglés centra al área chica del Tottenham, Robertson cabecea pero se desvía, el central Sánchez había quedado muy mal parado ante esa inesperada jugada. Luego el equipo de Londrés respondería: Ndombélé pase largo al costado derecho para Emerson, el brasileño encara a Robertson y logra abrir espacios, posteriormente se la entrega a Kane, pero el delantero inglés controla mal y dispara de primera, el balón choca contra Konaté.
Liverpool started with a warning that they meant business; Mané was found on the left side and passed to Alexander-Arnold in the middle. The Englishman crossed into the heart of the Tottenham box, Robertson headed but it was deflected, the center back Sanchez had been very badly stopped by this unexpected move. Then the London team would respond: Ndombélé long pass to the right flank for Emerson, the Brazilian faces Robertson and manages to open spaces, then gives it to Kane, but the English striker controls poorly and shoots first, the ball hits Konaté.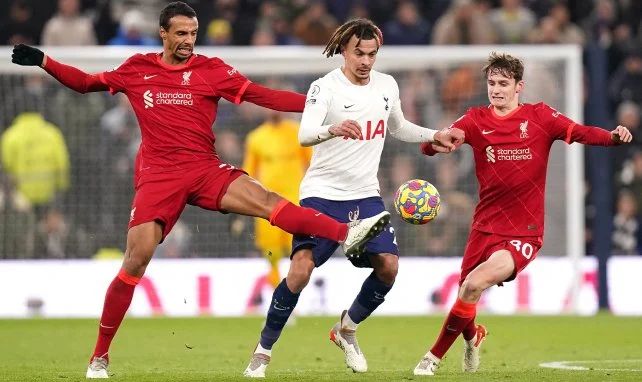 Fuente
El Tottenham tuvo las más claras, pisaron área pero la definición fue horrenda; Pase de Heung-Min a Kane, Tyler Morton forcejea pero cae al suelo. El delantero inglés acelera en el contra-ataque, el central Matip trata de cerrar el ingreso de Kane por el medio, mientras que Heung-Min queda libre de marca al tener a Alexander-Arnold muy atrás. Kane se posiciona a la derecha y centra para el surcoreano, no obstante el remate sale de la línea de fondo.
Tottenham had the clearest chances, they stepped into the box but the finishing was horrendous; Heung-Min's pass to Kane, Tyler Morton struggles but falls to the ground. The England striker accelerates on the counter-attack, center-back Matip tries to close down Kane's entry through the middle, while Heung-Min is left unmarked as he has Alexander-Arnold deep behind him. Kane positions himself on the right and crosses for the South Korean, but his shot goes wide.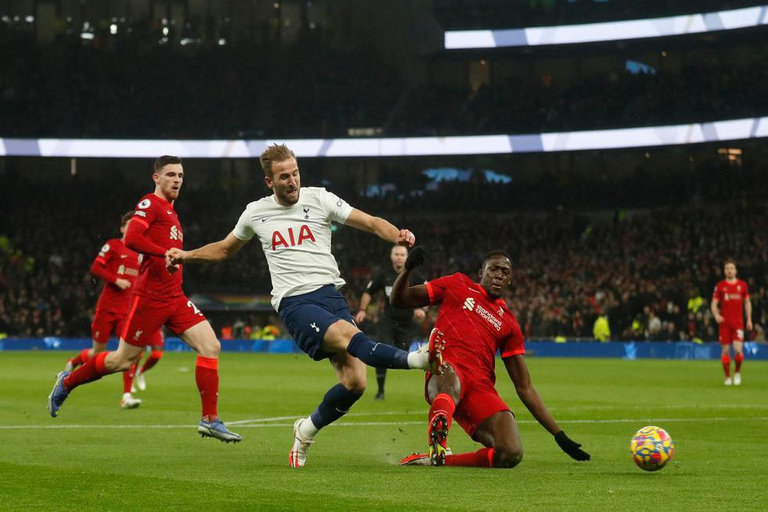 Fuente
Pase filtrado a Heung-Min, el jugador de los Spurs se frena en los últimos tres cuartos de cancha, debido a que 3 defensores lo alcanzaron, el único jugador que tenía opciones de recibir era Dele Alli. Por ende, el jugador surcoreano retiene la redonda, espera a que se le acerquen y consigue ejecutar un pase entre líneas, precisamente en el espacio entre la separación de Matip y Tyler Morton. Dele Alli engancha sin embargo le pega muy fuerte al palo derecho, Alisson se estira y desvía la intención. Eric Dier desde el mediocampo lanza pelotazo a espaldas de los defensores Red, Heung-Min maneja el balón y cruza el pase suavemente a la derecha para Kane. El portero del Liverpool tuvo tiempo de tomar decisiones y le cierra el disparo. Un partido frenético, en el cual Robertson se está llevando los focos, terminaría por irse al vestuario; El lateral escocés le mete una dura patada en el tobillo a Emerson, para quedarse con el balón, el arbitro entiende que casi pudo haberlo fracturado. Klopp ante tanta complejidad en los minutos claves, por quedarse sin un defensor que protegía los costados ante el peligro de Kane, opta por sacar a un efectivo de la zona de ataque como Mané e ingresar a Tsimikas.
Heung-Min, the Spurs player slows down in the last three quarters of the pitch, because 3 defenders reached him, the only player who had a chance to receive was Dele Alli. As a result, the South Korean player holds the ball, waits for the ball to come to him and manages to execute a pass between the lines, precisely in the space between Matip and Tyler Morton. Dele Alli gets on the end of it but hits it too hard at the right post, Alisson stretches and deflects it wide. Eric Dier from midfield lofts a ball behind the Red defenders, Heung-Min handles the ball and crosses the pass softly to the right for Kane. The Liverpool goalkeeper had time to make his decision and blocks his shot. A frenetic match, in which Robertson is taking the spotlight, would end up going to the dressing room; The Scottish full-back kicks Emerson hard in the ankle, to keep the ball, the referee understands that he could have almost fractured it. Klopp, faced with so much complexity in the key minutes, and without a defender to protect the flanks against the danger of Kane, opted to take out an effective attacking player like Mané and bring on Tsimikas.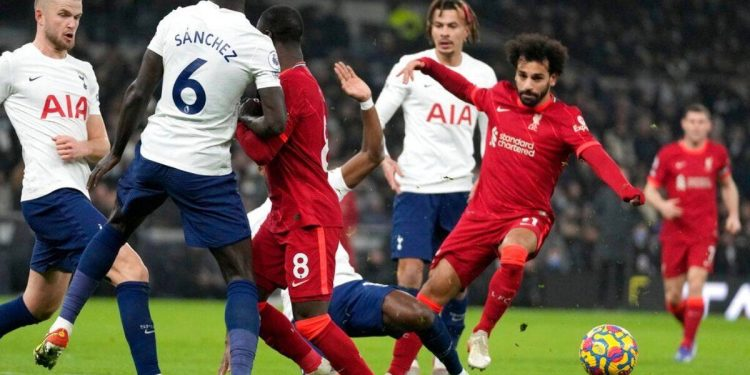 Fuente
Considero que el mayor error que el conjunto de Conte cometió fue no haber despejado los balones dentro de su área, debido a que recuperan pero luego le roban el balón con agresividad, probablemente se confiaron, pero los dos goles encajados repiten el patrón; no puedes defender cerca de tu portería contra un equipo dirigido por Klopp, te hará sufrir.
I consider that the biggest mistake Conte's side made was not clearing balls inside their area, due to the fact that they recover but then steal the ball aggressively, they were probably overconfident, but the two goals conceded repeat the pattern; you can't defend close to your goal against a team managed by Klopp, you will pay for it sooner or later.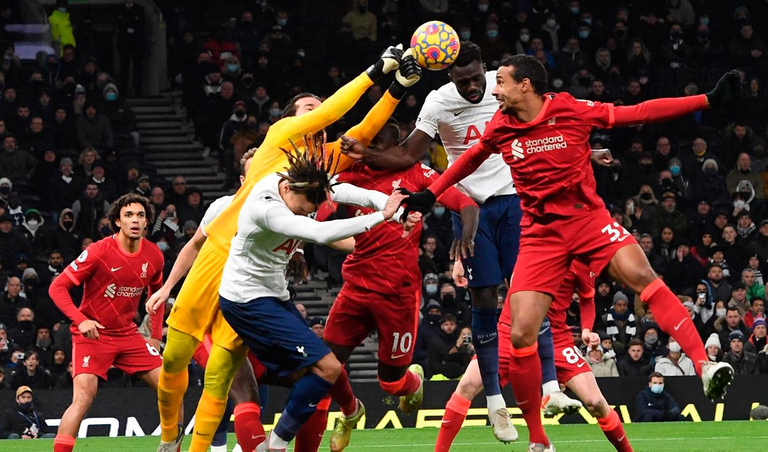 Fuente
Primer gol del Tottenham: Pase largo de Trent Alexander-Arnold para Keïta. Harry Winks intercepta la recepción con una barrida. El balón queda en los pies de Dele Alli. El volante inglés retrasa la pelota para el central Sánchez. El Colombiano genera pase largo para Ndombélé. El francés comprende que Kane supera levemente en la posición a Konaté y a Robertson, por ende ejecuta pase entre líneas. El delantero inglés ingresa al área y chuta con pierna derecha al palo izquierdo. Robertson tardó en reaccionar y Konaté presionó por la espalda pero el físico de Kane se impuso, el posicionamiento táctico prevaleció para abrir el marcador. Primer gol del Liverpool: Robertson por el sector izquierdo, filtra pase a espaldas de Davinson Sánchez. Mané recibe la esférica. El delantero senegalés centra al área desde el costado izquierdo. Ben Davies la corta y controla. Corre Robertson y se la arrebata. El lateral escocés centra y Jota convierte de cabezazo. Segundo gol del Liverpool: Diogo Jota se la entrega a Robertson por la izquierda. El lateral escocés se la devuelve al portugués con un magnifico pase entre líneas que rompe la presión de Skipp y Emerson. Jota centra. Salah remata con el pecho, Lloris la tapa pero provoca rebote. El lateral Sessegnon iba a despejarla lejos de su área, sin embargo Alexander-Arnold llega primero a la disputa de la redonda y logra centrar al área chica. Robertson anota con la cabeza. Segundo gol del Tottenham: Transición rápida al contragolpe; Winks desde el mediocentro lanza pase con dirección de destino al área del Liverpool. Heung-Min acelera, dejando atrás al central Matip. El guardameta Alisson arriesga saliendo de la portería con el objetivo de achicar y que el jugador contrario pierda su chance de concretar, no obstante en el choque, el balón igual le queda al surcoreano. Heung-Min remata con zurda a portería sola. Resultado: 2-2, el empate cosechado distancia a los dirigidos por Klopp de la disputa por la punta de la tabla, mientras que Conte se va acercando a puestos de Europa League. Necesidades totalmente distintas. Saludos.
Tottenham's first goal: Trent Alexander-Arnold's long pass to Keïta. Harry Winks intercepts the reception with a sweep. The ball is at the feet of Dele Alli. The English midfielder delays the ball for the center back Sanchez. The Colombian generates a long pass for Ndombélé. The Frenchman understands that Kane is slightly ahead of Konaté and Robertson, so he passes between the lines. The English striker enters the area and shoots with his right foot to the left post. Robertson was slow to react and Konaté pressed from behind but Kane's physicality won out, tactical positioning prevailed to open the scoring. Liverpool's first goal: Robertson on the left side, passes behind Davinson Sanchez's back. Mané receives the ball. The Senegalese striker crosses into the box from the left flank. Ben Davies cuts it back and controls. Robertson runs on to the ball. The Scottish full-back crosses and Jota converts with a header. Liverpool's second goal: Diogo Jota plays it to Robertson on the left. The Scottish full-back returns it to the Portuguese with a superb through ball that breaks the pressure of Skipp and Emerson. Jota crosses. Salah chests down the ball, Lloris covers it but it bounces back. Full-back Sessegnon was going to clear it away from his area, but Alexander-Arnold gets to the ball first and manages to cross into the six-yard box. Robertson scores with his head. Tottenham's second goal: Quick transition to the counter-attack; Winks from the center of midfield sends a pass towards Liverpool's box. Heung-Min accelerates, leaving center-back Matip behind. Goalkeeper Alisson takes a risk by coming out of his goal to deny the opposing player, but in the clash, the ball still falls to the South Korean. Heung-Min left-footed the ball into an empty net. Result: 2-2, the draw distances Klopp's men from the race for the top of the table, while Conte moves closer to the Europa League places. Totally different needs. Greetings.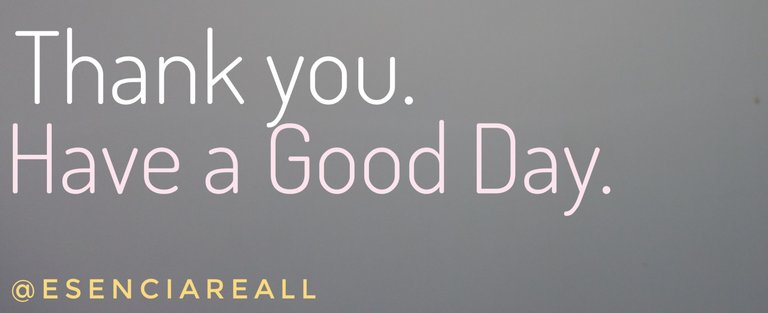 ---
---