Casemiro with another Red card...😥
Good evening everyone and I want to wish you all a wonderful week. It's been a while and I hope am welcomed.
For the Nigerian in this community, I would love to say that we all should do the right thing in the up coming governorship elections and don't sell your votes
You are worth more than the little they offer you even those food material they share you are more than that.
Know your right, make the right choice for the state and for the future. Let's build a better future. We are one and let's do the right thing.
Away from that I want to wish you all Nigerians a happy election week and be safe. Avoid violence.
Sunday was quite a day for Manchester united at Old Trafford as they played against Southampton in the English premier league.
It was not a good one for Manchester united although before they went down to 10 men, Southampton were really pressing united.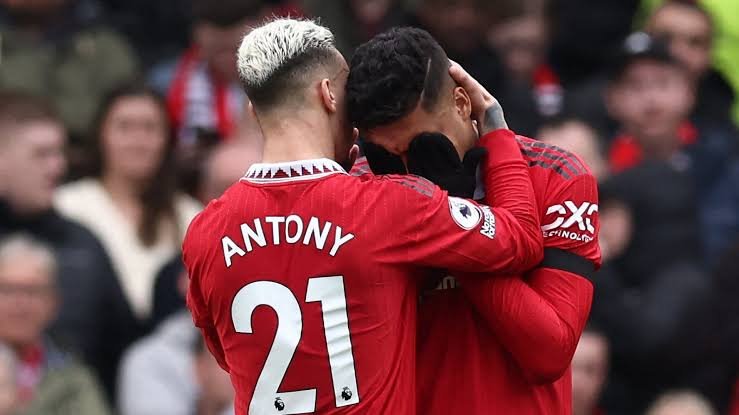 Image source
Casemiro broke down in tears after he received ths red card ànd Anthony was one of the first to console him before leaving the pitch alongside David de gea.
But all the same both teams went home with 1 point each as they were both held in a 0-0 draw at the north London derby.
Casemiro was sent off after he wasn't able to retrieve the ball from the attacker with the face of his boots facing up which was not looking nice.
He was given a yellow card at first but VAR called to check if there was any possible red card somewhere and the referee saw there was.
The yellow card was cancelled and Casemiro sent off with a four match ban after he had already gotten one red card earlier this season.
United will now focus on Playing without Casemiro, Sabitzer and garnarcho who was injured just 15 minutes after substituted into the game.
Bruno Fernandes made a close range attempt which hit the goal keeper on the hand to hit the bar. Also, did the Southampton captain James Ward prowse did the same from a free kick that landed on top of the post.
Very dangerous especially as David de gea watched the ball hit overnthe bar. Fans where really scared to see such a dangerous attempt.
But all the same they still have a lot to do especially has they have to face their injury blows and work in how to win the up coming matches.
Thanks for being my guest on this blog and I wish you a great day...🖐️✌️!!
---
---