Erling Haaland got 5 goals against Leipzig
It's the champion league this evening and I want to welcome you all to another interesting episode.
With all the second leg taking place I'm the round of 16 it's indeed a very tough games to watch.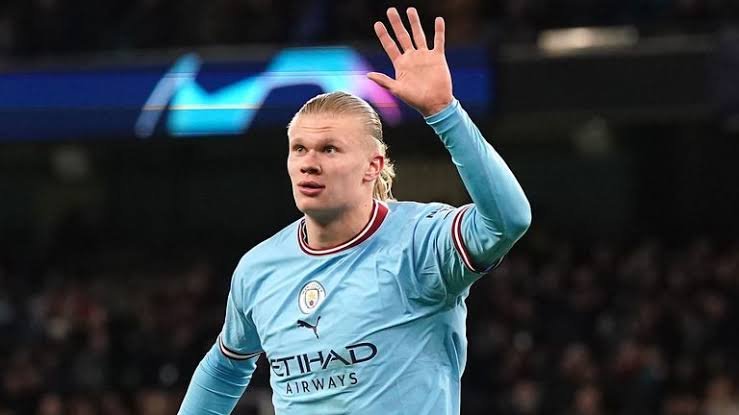 Image source
Manchester city met with Leipzig last three weeks and they where held to a 1-1 draw away from home and it was not a good results expected from Guardiola.
Just yesterday night, in the second leg of the competition at the ethiad stadium Pep Guardiola turned it around with his team.
It was a joy to watch because Haaland in particular couldn't stop scoring as he netted five (5) goals in the game.
His first came from the penalty spot which was awarded ten minutes into the game. And he scored the second from a rebounce of the ball from Kevin De Bruyne strike which hits the post and Haaland didn't hesitate to head it in.
Akanji provided two assist for Haaland and it was all at the position of a corner kick.
Jack Grealish also assisted the captain of Manchester city for the night, gudogan who scored a splendid goal. Beating teo defenders and of course the goalkeeper to find the left side of the net.
Haaland had a hat trick in the first half of the game and he continued in the second half. But was substituted and denied a chance to make a double hat trick.
Which would have made history in the UFEA champion league, as the first player to score a double hat trick ever in the champion league.
But I believe Pep Guardiola has a betrer reason for doing that and I want to congratulate Erling Haaland as he becomes Manchester city highest goal scorer in a single season.
Moving up to 39 goals in all competition so far this season and I hope he keeps doing well and betrer days ahead as the fans also expect more from him as well
Cheers to you all...✌️
---
---