Manchester united bounced back in the Europa league
Hello and a good morning to you all my friends in rhis world of sports. I have been trying to figure out something about United.
But I can't still understand what really happened at anfield that Manchester united where humiliated so badly.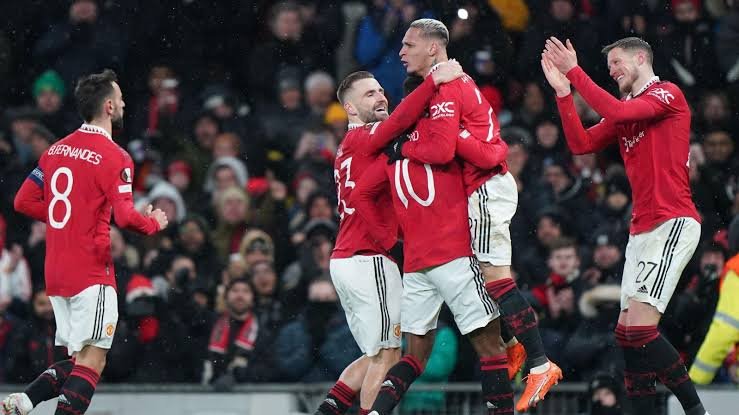 Image source
So many people still insists that the players where fatigued from a run of challenges of trophies from Sunday last week till the match against Liverpool.
But all the same they have learnt their lessons from the game and i see no reason for people to be firing blames on Bruno Fernandes.
He wasn't the only one at fsult or even on Casemiro. They played butnit wasn't good enough, so for me I see no reason why people should request for thd captain ban taken from Bruno Fernandes.
Away from that now, it was a big night for Manchester united in the Europa league round of 16 first leg which took place at Old Trafford.
Manchester united played against real betis and it all ended in a victory for the red devils. United once again showed their class.
Marcus Rashford with the scoring opener in the 6 minutes of the game and Real betis bounced back just few minutes before half time which took it to a first half draw.
2 minutes into the second half Anthony found the top corner beating the goal keeper with the full strech to save the ball.
There after Bruno Fernandes the captain of the team had a goal for himself with a header in from a corner kick well taken by Luke Shaw.
Wout wergoust registered his second goal after Scott mctomminay tried to find the back of the net which was denied by the goal keeper and an opportunity offered to wergoust which didn't miss out.
All from the pass from pelistric who came off the bench to replace Anthony. And it was a big one for united as they look forward to the second leg and of course the game coming up on Sunday against Southampton.
Up up United ✌️...!
---
---