Bangladesh get their first Women's Cricket World Cup win in their debut tournament !!
This year, the Bangladesh women's team qualified for the ODI World Cup for the first time. Today, Bangladesh women's team played its third match in ODI World Cup against Pakistan women's team. Bangladesh women made history by defeating Pakistan in that match in the World Cup. Nigar Sultana Jyoti's team won against Pakistan by 9 runs in their first World Cup. The Tigers won their first World Cup in 1999 by defeating the Pakistan men's team. It was repeated in the Women's World Cup again.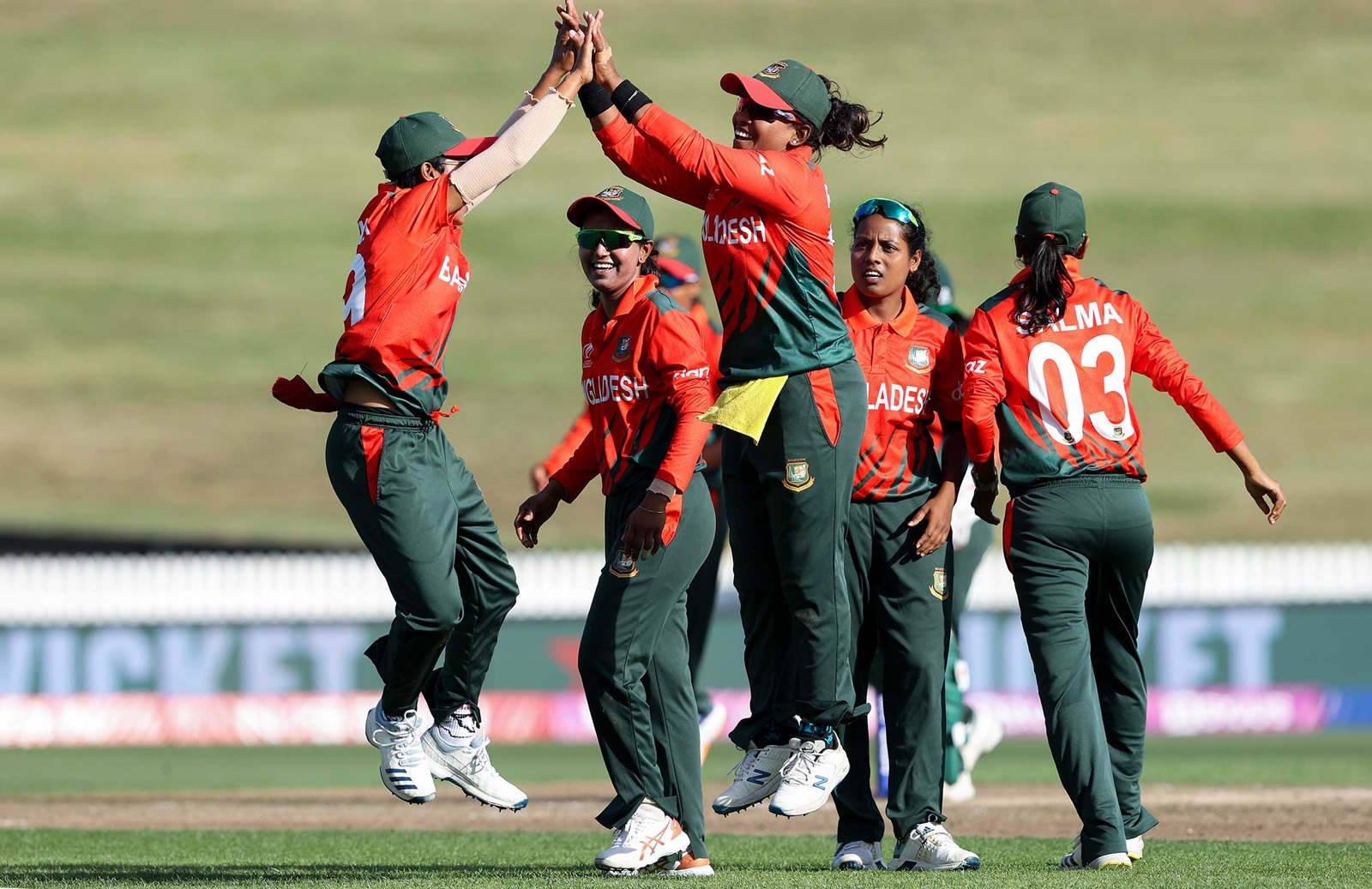 img
At the very beginning, Bangladesh lose the toss at hamilton Sedenpark & scored 234 runs by losing eight wickets in 50 overs. In reply, Pakistani women's managed to score 225 runs losing 9 wickets in Bangladesh bowling cannon. As a result, Bangladesh girls won by 9 runs. On the other hand, Pakistan has lost three matches in a row. After the batting, Bangladesh has won the inaugural World Cup with the extraordinary skills of the bowlers.
Two openers Shamima Sultana and Sharmin Akter Supta got off to a great start by batting at the invitation of Pakistan at Sedenpark in Hamilton. The duo scored 38 runs in the opening. Shamima left with 17 runs in the ninth over and the pair broke up. Farzana Haque Pinky came to the crease after Shamima's departure. With the help of Sharmin-Farzana's bat, Bangladesh is moving towards a good total. The duo put on 42 runs on the second wicket. Later, Supta returned to the dressing room by getting out.
Captain Nigar Sultana made a partnership with Pinky after the departure of Jyoti Supta. Bangladesh started fighting with these two batsmen. Pinky-Jyoti made 96 off 124 balls for the third wicket.
When Jyoti was out for 165 runs of team total, the two became separated. Nigar Sultana played a great inning of measured strike rate before being out. She scored only one boundary in an innings of 46 off 64 balls.
Rumana has been playing aggressively since the beginning to increase the run. However, Rumana returned with 16 runs off 13 balls. Farzana picked up a half-century off 89 balls. After New Zealand in the World Cup, Farzana also completed fifty against Pakistan today. Through this, Farzana got 9 fifty in ODI.
She is the highest run-getter in ODIs for the Tigers in the Fifties. After returning with 71 runs off 115 balls in 5 fours, Farzana's total runs stood at 972. Earlier, the highest run-scorer Rumana Ahmed. In the end, Ritumani and Salma Khatun made 7/234 for 11 runs. Nashra Sandhu took 3 wickets for 41 runs for Pakistan. Besides, Fatima, Nida, and Omaima got 1 wicket each.
In this match, Bangladeshi women passed their previous highest score against Pakistan. Earlier, the Tigers' highest collection against Pakistan was 211 runs. The Pakistanis haven't chased so many runs against Bangladesh before. Their previous highest against Bangladesh was 227 runs. The Pakistanis couldn't score more than 217 runs in this World Cup. As a result, the Tigers were dreaming of victory at the end of the first innings.
Pakistan was putting pressure on Bangladesh by forming a big pair in the opening partnership. Pakistanis were taking advantage of the catch miss and sloppy fielding of the women Tigers. However, the Tigers got the desired success with the help of Rumana Haque. Chasing the target, Pakistan scored 89 runs in 23 overs. However, Rumana bowled Pakistan opener Nahida to get Bangladesh back on track. Nahida went to the pavilion with 43 runs from 67 balls. However, after Bismah was out, Pakistan's innings collapsed like a house of cards. No one but Sidra could stand in front of the Tigers' spin.
Bangladeshi women's dream of the country's first victory in the World Cup by picking up one Pakistani batsman after another. Sidra Amin, who scored a century at one end, was out and that dream came true for the Tigers. The only consolation was Sidra's century! Fahima Khatun took a maximum of three wickets for Bangladesh. Fahima took 3 for 38 and Rumana took 2 for 29. Besides, Salma and Jahanara took 1 wicket each. Fahima, who got Bangladesh back in the game with great bowling, got the match-best award.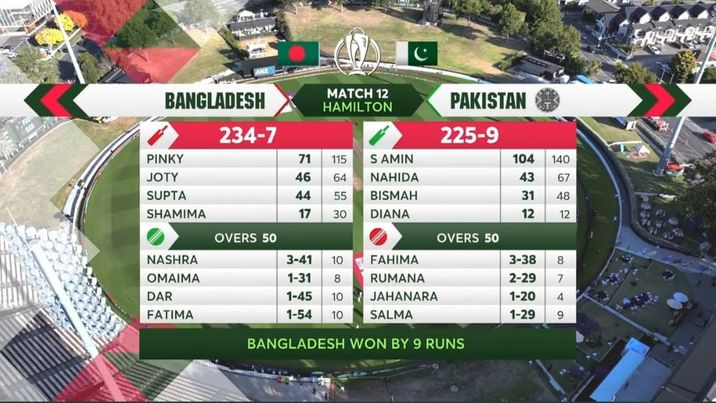 [SS Taken from ICC page]
At last, I want to say, that was a great comeback from the bowlers - Pakistan went from 183-2 to 188-7 to 215-9.
HISTORY HAS BEEN MADE !!
---
---