Mohammad Rafique : The Cricket legend of Bangladesh.

Do you know, Who is Mohammad Rafique? If you are a true cricket fan & if you have any knowledge about Bangladesh cricket, then you should have know him. He is a former Bangladeshi cricketer, who played all formats for Bangladesh. Rafique is one of the best spinners to ever have played for Bangladesh national team. Mohammad Rafique was one of the Bangladeshi players in the ICC bowling ranking in Top 50. Also he is a man with great heart, did many work for his villagers.
Mohammad Rafique was born in 1970 at Dhaka in Bangladesh. From his childhood, he was interested to play cricket. But he belongs from a poor family, that's why he worked very hard to become a professional cricketer.In his time Bangladesh cricket wasn't well established. So, It was very difficult for him to do something exceptional. Rafique started his career as a left arm seamer but after few days he started to bowl slow orthodox spin bowling by the influence of Pakistani All-rounder Wasim Haider.
By his consistent performance, he called up for Bangladesh national team & in December 1994, he bowled really with a figure of 3/25 to beat India 'A' in the 2nd SAARC cricket tournament.
We was excellent in international level with Bangladesh National cricket team. When Bangladesh won the 1997 ICC trophy, he played a major role in the whole tournament with both bat an ball. By playing 9 matches, he took 19 wickets at an average of 10.68 with best bowling performance of 4/25 against scotland. He scored valuable 26 runs from 15 balls at the final match which made the difference against Kenya. In his career, Rafique achieved the double of 100 wickets and 100 runs in both formats. He also played in Indian cricket League (ICL) in one time .
Also, he is a player with great heart. After wining ICC cup in 1997, all team members of the cticket team and managing committee meet with honorable prime minister of Bangladesh. In this programme, Prime Minister asked him, What he needed? He replied to make a bridge in his village area to remove the sufferings of his villagers. Also he spend his prize money to make a Hospital on his village. Such a pure hearted person he is !
Mohammad Rafique Batting Career :
TEST : In 33 mathes, by playing 63 innings he scored 1059 runs at an average of 18.58.
ODI: In 125 matches, By playing 106 innings, he scored 1191 runs at average of 13.38.
T20 : He played only one T20 match in which he scored 13 runs.
Mohammad Rafique Bowling Career :-
TEST : In 33 matches and 48 innings, he got 100 wickets at an average of 40.76. In this format, his best figure is 6/77.
ODI : By playing 125 matches, He got 125 wickets at an average of 37.91. In this format his best bowling is 5/47.
T20 : By playing only one match, he got one wicket, where his bowling economy is 22.0.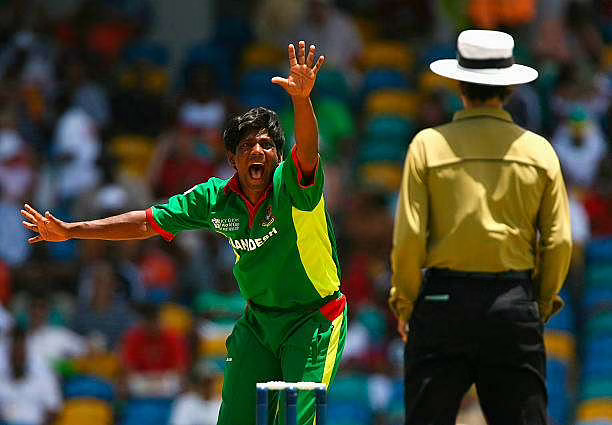 ---
---