Shakib AL Hasan : The pride of Bangladesh cricket.

Shakib AL Hasan is a Bangladeshi international cricketer. He is considered as a best cricketer of Bangladesh of all time. He is known for his all-round performance both in bowling and batting. Shakib AL Hasan's aggressive left - handed batting style in the middle order, controlled show left-arm orthodox bowling has made him a consistent player for Bangladesh. Shakib is considered to be one of the greatest all-rounders of all time. Shakib AL Hasan became the first and only cricketer in history in cricket to be ranked 'NO.1 all-rounder' by ICC in player rankings in all three formats.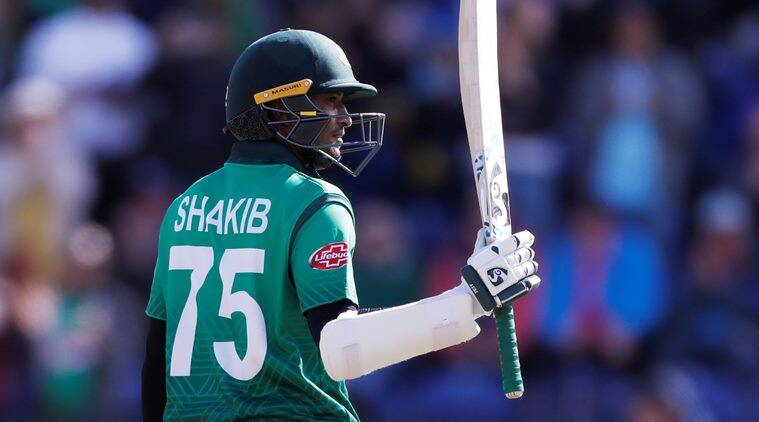 source
Shakib Al Hasan was born in 24March 1987 in Magura, Khulna. He has interest on cricket from his childhood and that's why he started playing cricket at an early age. For a Magura Cricket club, he batted aggressively and balled fast, but in spin bowling he is more effective on field. That's why he spent six months training at BANLADESH KRIRA SHIKKHA PROTISTHAN, which is a government-run sports institute. He impressed the coaches and selectors by his excellent all-round performance.
He made his first debut for Under-17 by a match against UAE-U-17 team in 2003 in a ACC cup where he got a 3-18( 8 overs) bowling figure. Shakib made his first-class debut for khulna in May 2004 at the age of seventeen where he took three wickets and scored some runs. His took wickets of Rakibul Hasan as his 1st first-class wicket. By consistence performance, he impressed the selectors of Bangladesh and he made his first represent for Bangladesh Under-19 in November 2005 in the 2005 Afro-Asia Under-19 Cup against India Under-19. In that match, he scored 24 valuable runs and also got 2 wickets in 10 over bowling. In that tournament, he played 5 matches where he scored 138 runs at an average of 38.5 and also taken five wickets of an average of 25.20.
By his excellent performance in all age-based teams he is called up for Bangladesh National team. He made his One Day International (ODI) debut against Zimbabwe on 6 August 2006 at Harare sports club. He was outstanding on that match where he taken his first wicket Elton Chigumbura and scored scored 30 runs and played a significant part in Bangladesh's Victory. Shakib made his first T-20 debut at 26 November 2006 against Zimbabwe and also made his Test debut on 6 May 2007 against India. He played really wel in every formats and became a No-1 player of all three formats according to ICC player ranking. He captained Bangladesh in all three formats and one of the successful captain of Bangladeshs history.
Shakib AL Hasan played for all franchise league cricket all around the world. He played in Indian Premier League (IPL), Carribbeam Premier League (CPL), Big Bash League, Pakistan Super League (PCL) and also in Bangladesh Premier League (BPL). He were outstanding in all leagues. Recently he played for Kolkata Night Riders in Indian Premier league. Shakib Al hasan also played really well in World cups for Bangladesh national team. In last T-20 and ODI world cup, he was brilliant. Scored 600+ runs and taken 10 wicket in ODI world Cup for Bangladesh team. He is also be a one of they key player for Bangladesh in recent T-20 world cup.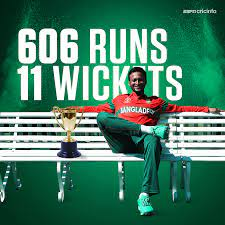 source
International and National record :
Shakib became the first and only cricketer in history to be ranked the 'No.1 all-rounder' by ICC in its Player Rankings in all three formats of the game
Only all-rounder to 6000 runs and 300 wickets double across all formats in a single country (Bangladesh)
Fastest and one of the fifth all-rounder to 3000 runs and 200 wickets double in Tests (54 matches).
Fastest and one of the fifth all-rounder to 5000 runs and take 250 double in ODI (in 199 matches).
He become the leading wicket taker in T20 World Cups taking his 40th dismissal, he surpassed Shahid Afridi
In August 2021, he became the first cricketer to take 100 wickets and score 1,000 runs in T20Is
Ranked as one of the world's most famous athletes by ESPN World Fame 100 in 2019.
---
---