November 9 2022
Today, after preparing the guests breakfast I walked the dogs, the served breakfast.
I had to go to the shop to let some workmen in.
Later, I cleaned the B&B room, walked the dogs then met friends for lunch.
Spent much of the afternoon dealing with a Facebook page for the Christmas pop up shop.
Walked the dogs again.
Did a bit of felting
Walked dogs again
Today, I wrote for 5 mins using @mariannewest's Freewriters community Freewrite prompt and used The Most Dangerous Writing App to write it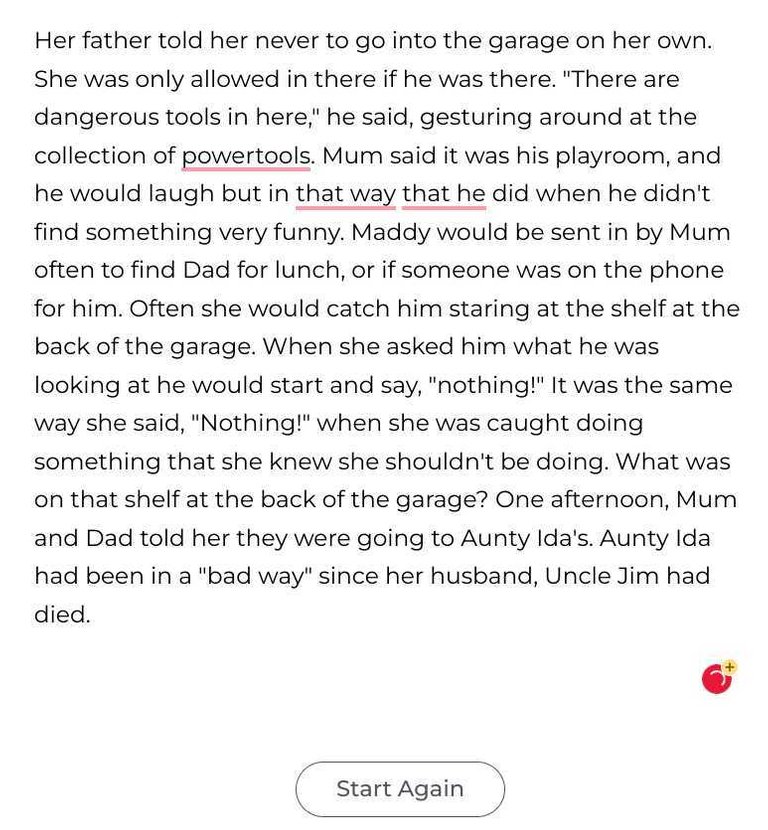 Her father told her never to go into the garage on her own. She was only allowed in there if he was there.
"There are dangerous tools in here," he said, gesturing around at the collection of powertools.
Mum said it was his playroom, and he would laugh but in that way that he did when he didn't find something very funny.
Maddy would be sent in by Mum often to find Dad for lunch, or if someone was on the phone for him.
Often she would catch him staring at the shelf at the back of the garage.
When she asked him what he was looking at he would start and say, "nothing!" It was the same way she said, "Nothing!" when she was caught doing something that she knew she shouldn't be doing.
What was on that shelf at the back of the garage?
One afternoon, Mum and Dad told her they were going to Aunty Ida's.
Aunty Ida had been in a "bad way" since her husband, Uncle Jim had died.
 <br/> _This report was published via Actifit app ([Android](https://bit.ly/actifit-app) | [iOS](https://bit.ly/actifit-ios)). Check out the original version [here on actifit.io](https://actifit.io/@felt.buzz/actifit-felt-buzz-20221109t215356502z)_ <br/> <br><img src="https://cdn.steemitimages.com/DQmXv9QWiAYiLCSr3sKxVzUJVrgin3ZZWM2CExEo3fd5GUS/sep3.png"><br><table>    <tr>        <img src="https://actifit.s3.us-east-1.amazonaws.com/ACTIVITYDATE.png"> </tr>   <tr>        <div class="text-center"><b>09/11/2022</b></div>    </tr></table><table>    <tr>        <img src="https://cdn.steemitimages.com/DQmRgAoqi4vUVymaro8hXdRraNX6LHkXhMRBZxEo5vVWXDN/ACTIVITYCOUNT.png"> </tr>   <tr>        <div class="text-center"><b>13427</b></div> </tr></table><table>    <tr>        <img src="https://cdn.steemitimages.com/DQmZ6ZT8VaEpaDzB16qZzK8omffbWUpEpe4BkJkMXmN3xrF/ACTIVITYTYPE.png">  </tr>   <tr>        <div class="text-center"><pre><b>Walking</b></div></pre></div>  </tr></table><div class="text-center"><img src="https://cdn.steemitimages.com/DQmNp6YwAm2qwquALZw8PdcovDorwaBSFuxQ38TrYziGT6b/A-20.png"><a href="https://bit.ly/actifit-app"><img src="https://cdn.steemitimages.com/DQmQqfpSmcQtfrHAtzfBtVccXwUL9vKNgZJ2j93m8WNjizw/l5.png"></a><a href="https://bit.ly/actifit-ios"><img src="https://cdn.steemitimages.com/DQmbWy8KzKT1UvCvznUTaFPw6wBUcyLtBT5XL9wdbB7Hfmn/l6.png"></a></div>
---
---