Blanqueadas, reivindicaciones y venezolanos [ESP] // Shutouts, claims and Venezuelans [ENG] || OPINION
      La primavera durante éste año está tardando en entrar, entiendan algo: está haciendo mucho frío todavía y quizás por eso, estamos asistiendo a un mes de apertura donde los bateadores no han conseguido el ritmo (.233 de bateo colectivo en MLB) y los lanzadores tampoco las han tenido todas consigo (4.03 de efectividad colectiva hasta ahora en las Grandes ligas). La diferencia ha estado en la cantidad de blanqueadas logradas hasta ahora por los lanzadores y coronadas por dos sin hits ni carreras.
Spring this year is taking a while to come in, understand something: it is still very cold and perhaps because of that, we are witnessing an opening month where hitters have not gotten into a rhythm (.233 collective batting average in MLB) and pitchers have not had it all their own way either (4.03 collective ERA so far in the majors). The difference has been in the number of shutouts achieved so far by the pitchers and capped by two no-hit, no-run.
      El primer jonrón de la temporada bateado por Miguel Cabrera hacia la banda contraria, hace ya dos semanas, bajo una inclemente nevada en Detroit, quizás era una advertencia de lo que venía y el frío ha estado haciendo estragos en los rosters de los equipos con muchísima gente lesionada o con problemas de COVID-19. Afortunadamente, los equipos tienen rosters extendidos que se mantienen jugando. Una especie de equipo titular "B" en sedes alternas. Menos mal que las Grandes Ligas previeron ésta posibilidad, porque la pandemia continúa.
Miguel Cabrera's first home run of the season to the opposite side two weeks ago under an inclement snowfall in Detroit was perhaps a warning of what was to come, and the cold has been wreaking havoc on team rosters with a lot of people injured or with COVID-19 problems. Fortunately, teams have extended rosters that keep playing. Sort of like a "B" starting team in alternate venues. Good thing Major League Baseball foresaw this possibility, because the pandemic continues.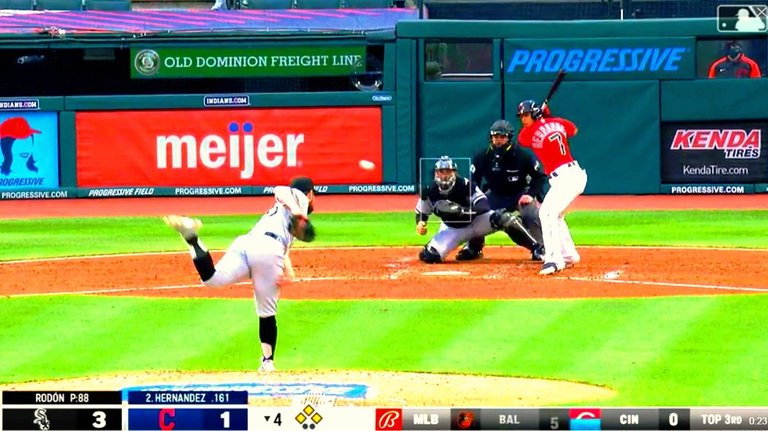 Screenshot from video: mlb.com

      Dicho esto, los jugadores anglosajones acostumbrados al frío de los países norteños, no se ven tan afectados como el jugador caribeño, quien generalmente decide por residenciarse en los estados sureños donde el clima es más benevolente. Los bates entran en calor, conforme la temporada y el frío comienzan amainar. Así ha sido siempre. Sin embargo, la situación de las blanqueadas ya se comenta en los pasillos de los equipos y de las redacciones de noticias. Podría establecerse un récord para un mes de Abril.
That said, Anglo-Saxon players accustomed to the cold of northern countries are not as affected as Caribbean players, who generally choose to reside in the southern states where the climate is more benevolent. The bats warm up as the season and the cold begin to subside. This has always been the case. However, the bullpen situation is already being talked about in the corridors of the teams and the newsrooms. A record could be set for the month of April.
      ¿Y los jugadores a reivindicarse con los fanáticos? César Hernández, el segunda base de los Indios de Cleveland, ganador del guante de oro la pasada temporada y líder en dobletes de las Mayores, ha decaído mucho su ritmo de bateo. Lo mostrado en 2.019 y 2.020 pareciera cosa del pasado. los indios le retuvieron por aquellas dos temporadas, pero en esta no le está dando la razón a quienes confiaron en el. Sin embargo, muestras signos de recuperación. El martes remolcó una carrera con sencillo y quizás pueda ser el comienzo de algo.
And the players to vindicate themselves with the fans? Cesar Hernandez, the Cleveland Indians' second baseman, last season's Gold Glove winner and the majors' leader in doubles, has fallen off the pace. The Indians retained him for those two seasons, but this season he is not proving right those who trusted him. However, he is showing signs of recovery. On Tuesday he towed in a run with a single and maybe it could be the beginning of something.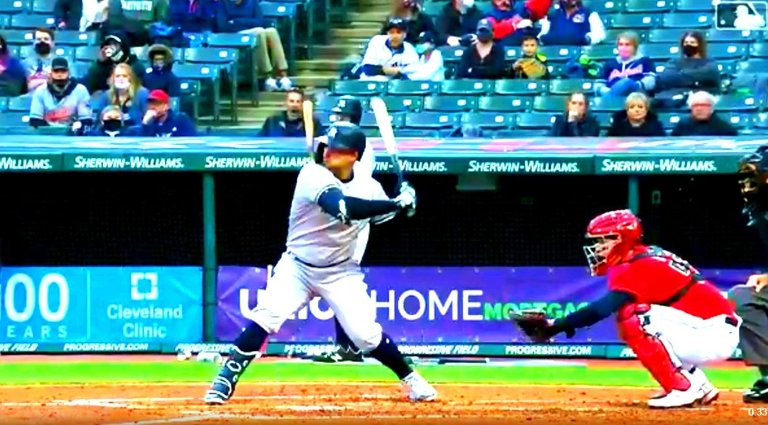 Screenshot from video: mlb.com

      Lo mismo pasa con Rougned Odor, patrullero de los Yankees de New York, quienes rescataron el contrato desde los Rangers de Texas y le dieron una oportunidad. El tipo estaba frío completamente, el martes impulsó una con sencillo y ayer la botó con uno en base para regresar a los Yankees al juego ¿Puede que se haya encendido? No lo sabemos. Pero ambos, Hernández y Odor tienen que apretar el paso si no desean salir de los equipos titulares e ir a los equipos alternos para ser olvidados.
Same goes for Rougned Odor, New York Yankees patrolman, who rescued the contract from the Texas Rangers and gave him a chance. The guy was completely cold, on Tuesday he drove one in with a single and yesterday he booted it with one on base to get the Yankees back in the game Could he have caught fire? We don't know. But both Hernandez and Odor have to step it up if they don't want to come out of the starting lineup and go to the alternates to be forgotten.
      Eduardo Rodríguez, lanzador de los Medias Rojas de Boston, ha sido lo mejor de Venezuela hasta ahora. Mantiene su hoja impecable con récord de 3-0 aunque con una efectividad que deja mucho por desear. Con un equipo tan bateador como Boston, él debe concentrarse más en mantenerse sano y repasar la mecánica de lanzamientos para entrar en calor antes que los bateadores entren en ritmo. Porque una efectividad como esa, no garantiza un balance de cero perdidos por mucho tiempo.
Eduardo Rodriguez, pitcher for the Boston Red Sox, has been the best of Venezuela so far. He keeps his record spotless with a 3-0 record but with an effectiveness that leaves much to be desired. With a team as hittable as Boston, he should concentrate more on staying healthy and brushing up on his pitching mechanics to warm up before the hitters get into rhythm. Because effectiveness like that doesn't guarantee a zero strikeout rate for long.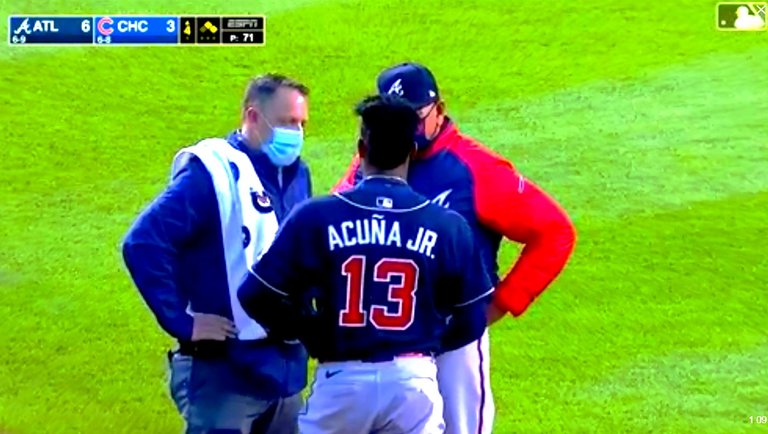 Screenshot from video: mlb.com

      Ronald Acuña encendió las alarmas del contingente Venezolano al salir por una distensión abdominal, producto de su dura manera de jugar al béisbol. El catcher de los Cachorros lo estaba cazando para que no se fuera al robo y en un lanzamiento para sorprender en primera base, Acuña tuvo que regresar de cabeza. Allí se produjo el tirón. Siguió en el juego, pero al deslizarse en la goma, producto de un fly de sacrificio el dolor no lo dejó jugar más. Salió del juego, pero los exámenes no revelaron nada grave. El tipo se encuentra líder en WAR con 1,6 (victorias sobre el reemplazo) a pesar de haber perdido cinco partidos, se cree que hoy o mañana vuelva la alineación.
Ronald Acuña set off alarm bells for the Venezuelan contingent when he left with an abdominal strain, a product of his hard-nosed baseball playing. The Cubs catcher was hunting him down to keep him from going for the steal and on a throw to surprise first base, Acuña had to come back upside down. That's when the pull occurred. He continued in the game, but when he slid on the rubber, as a result of a sacrifice fly, the pain did not let him play anymore. He left the game, but tests revealed nothing serious. The guy is leading in WAR with 1.6 (wins above replacement) despite having lost five games, it is believed that today or tomorrow the lineup will return.
      Lo mismo sucede con Miguel Cabrera y José Altuve, quienes con diferentes dolencias están por regresar a las alineaciones de sus equipos el fin de semana. Amanecerá y veremos.
The same goes for Miguel Cabrera and José Altuve, who with different ailments are set to return to their teams' lineups this weekend. It will be rise and we will see.
P.S. English is not my native language, apologize for that.
I used a web translator for english text (DeepL)
---
---