Efímeros campeones... // Short-lived champions... [ESP/ENG] || OPINION

      Una verdad meridiana se cierne sobre los resultados de las series divisionales: Con dinero y sabermetría, además de suerte, puedes hacer que un equipo sortee un calendario de 162 juegos y ganes la división con suficiente ventaja para no disputar partidos extras; sin embargo, esto no te servirá para pasar el escollo de las series de división ¿no lo creen? Miren a quienes han quedado afuera de la postemporada: Rays de Tampa, Medias Blancas de Chicago y Cerveceros de Milwaukee. Todos con ventajas extraordinarias que no dejaron dudas sobre la condición de campeones de su grupo geográfico.
A truism looms over the results of the divisional series: With money and sabermetrics, plus luck, you can have a team draw a 162-game schedule and win the division with enough of a lead to avoid extra games; however, that won't get you over the hurdle of the division series, will it? Look at those who have been left out of the postseason: Tampa Rays, Chicago White Sox and Milwaukee Brewers. All with extraordinary advantages that left no doubt about their status as champions of their geographic group.
      Y vamos a estar claros, no es que los oponentes fueran mancos. No. Si llegaron allí a fajarse para ganar su pase a la serie por el banderín de la liga, fue porque tenían el derecho y las herramientas. Es solo que quienes quedaron en el camino parecían favoritos indestructibles en el papel y no se comportaron como tales. Ninguna de las series particulares que los envolvió llegaron a los cinco juegos, terminando todas con balance de 3 ganados y uno perdido. Digamos que este último fue el de la vergüenza, para no irse barridos de la postemporada.
And let's be clear, it's not that the opponents were one-armed. No. If they got there to fight to win their way into the league pennant series, it was because they had the right and the tools. It's just that those who fell by the wayside looked like indestructible favorites on paper and didn't behave like it. None of the particular series that involved them reached five games, finishing all of them with a balance of three wins and one loss. Let's say that the latter was the one of embarrassment, so as not to get swept out of the postseason.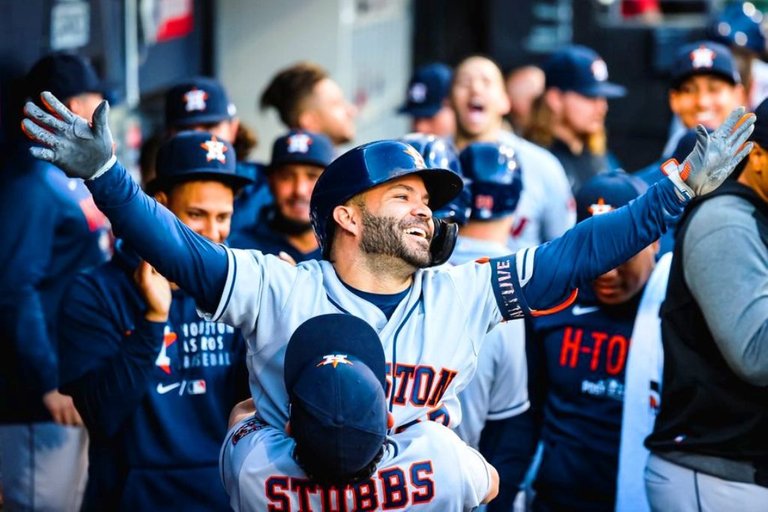 Source

      Antier escribimos suficientemente sobre lo sucedido con los Medias Rojas y los Rays. No vamos a ahondar en ello. El abridor estrella de los Astros de Houston Lance McCullers lanzó una joya el jueves pasado para adelantar a su equipo con marcador 6 carreras por una en la serie versus los Medias Blanca de Chicago. Al día siguiente, los Astros prendieron el carro de leña con todo lo que ello significa. Los Astros batean de verdad. Ha sido una constante toda la temporada. Para ser justos, quizás ésta sea la única serie donde el oponente no tenía oportunidad. Siempre vi favoritos a los siderales a pesar de las pitas que estuvieron sufriendo durante toda la temporada ¿Recuerdan 2017?
We wrote enough about what happened with the Red Sox and the Rays. We won't delve into it. Houston Astros star starter Lance McCullers pitched a gem last Thursday to put his team ahead 6 runs to 1 in the series against the Chicago White Sox. The next day, the Astros turned on the woodchuck wagon with all that it means. The Astros are hitting. It's been a constant all season. To be fair, this may be the only series where the opponent didn't stand a chance. I always saw the Sidereals as favorites despite the pitas they were suffering all season long, Remember 2017?
      El Domingo los Medias Blanca dieron señales de vida y batearon. Batearon mucho. El novato venezolano Luis García no aguantó la presión de la postemporada abriendo el compás para que la batería patiblanca lo maltratara. 12 carreras por seis y la serie se ponía 2 a 1 arriba los Astros todavía. Solo que la suspensión del lunes por lluvia le dió un día más de descanso a McCullers, quien vino el martes dispuesto a matar la partida. Y así fue. Los Medias Blancas solo pudieron hacer una carrera a un relevista, para irse sin pena ni gloria de la postemporada. Triste, la verdad.
On Sunday the White Sox showed signs of life and batted. They batted a lot. Venezuelan rookie Luis Garcia couldn't take the pressure of the postseason, opening the compass for the White Sox to batter him. 12 runs for six and the series was still 2-1 up for the Astros. Only Monday's rainout gave McCullers an extra day of rest, and he came in on Tuesday ready to kill the game. And so it was. The White Sox could only give up one run to a reliever, to go out of the postseason without glory. Sad.
      Entretanto, otro drama similar se desarrollaba en la serie entre los Bravos de Atlanta y los Cerveceros de Milwaukee. Y ésta serie es más fácil de analizar. Es decir, si durante TODA la temporada tu equipo no bateó (los Cerveceros estuvieron entre los cinco últimos equipos con porcentaje de bateo colectivo más bajo en las grandes ligas) ¿Cómo diablos esperas pasar la serie divisional? Y sí, los bates como siempre no respondieron. Lo que da risa, ha sido la actuación de los lupulosos en el primer juego del Viernes. Digno de una serie divisional. Victoria 2 carreras por una, pitcheo cerrado, ¿no?
Meanwhile, another similar drama was unfolding in the series between the Atlanta Braves and the Milwaukee Brewers. And this series is easier to analyze. I mean, if for the ENTIRE season your team didn't hit (the Brewers were among the bottom five teams with the lowest collective slugging percentage in the majors), how the hell do you expect to get through the divisional series? And yes, the bats as usual did not respond. What is laughable, was the performance of the hoppers in the first game on Friday. Worthy of a divisional series. Victory 2 runs to 1, close pitching, right?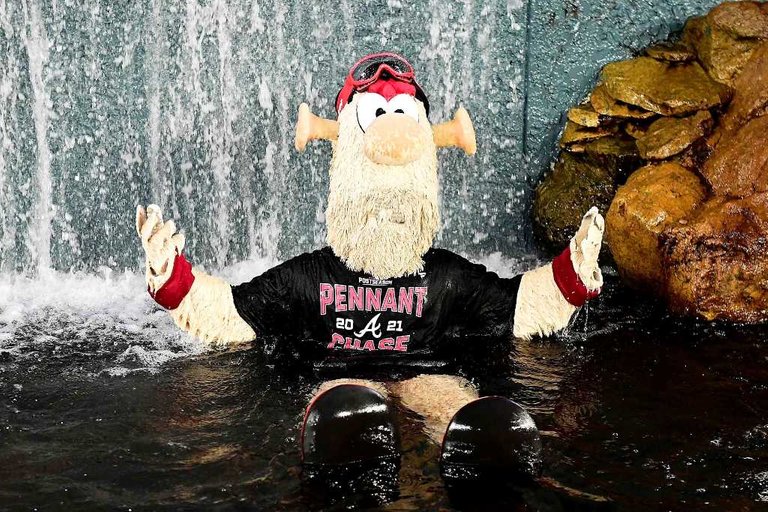 Source

      Y bueno, nada más, porque hasta allí llegaron. Al día siguiente, el pitcheo siguió siendo bueno (una constante en la temporada de los Cerveceros, de hecho tienen al candidato más fuerte para llevarse el Cy Young de la liga), pero los Bravos hicieron las carreras: 3-0. Blanqueo, o como decimos acá, nueve arepas. Con la serie empatada, viajaron hacia Atlanta donde los Bravos les repitieron la dosis: idéntico marcador y otro blanqueo. Con la serie arriba dos por uno, lo patético que se vió a Milwaukee daba lástima. Lo lamento, pero tengo que decirlo. Los lupulosos quisieron aplicar la misma receta de Oakland. Pero ya ven.
And well, nothing more, because that's as far as they got. The next day, the pitching continued to be good (a constant in the Brewers' season they have the strongest candidate to win the Cy Young of the league), but the Braves made the runs: 3-0. Blanking, or as we say here nine arepas. With the series tied, they traveled to Atlanta where the Braves repeated the dose: identical score and another shutout. With the series two to one, Milwaukee looked pathetic. I'm sorry, but I have to say it. The hoppers wanted to apply the same recipe as Oakland. But you see.
      Y por mucho que lo intentaron en el cuarto juego con un emocionante partido empatado a cuatro carreras en el octavo, Milwaukee permitió en el cierre del octavo la carrera, que les enviaría a las duchas y de vuelta a su ciudad con las manos vacías. Las historias de éxito de los Medias Rojas, los Astros y los Bravos son una entelequia a la constancia de creer que se puede. De ellos, solo pude predecir el éxito de los siderales. Un emocionante quinto partido de la serie divisional entre Dodgers y Gigantes, no espera en la bahía hoy. Y éstos últimos dos equipos no son campeones efímeros.
And as hard as they tried in the fourth game with a thrilling four-run game tied in the eighth, Milwaukee allowed the run in the bottom of the eighth that would send them to the showers and back home empty-handed. The success stories of the Red Sox, Astros and Braves are an entelechy to the constancy of believing you can. Of those, I could only predict the success of the Steelers. A thrilling Game 5 of the divisional series between the Dodgers and Giants does not await in the Bay today. And the latter two teams are not short-lived champions.
---
P.S. English is not my native language, apologize for that.
I used a web translator for english text (DeepL)
---
---