Ganar sin batear... // Winning without batting... || OPINION

      ¡Oh, el béisbol..! Tan dador de todo... Por ello, nuestro querido lector nunca conseguirá una descripción tácita de lo que se vivió en el terreno en nuestro blog. Conseguirá crónicas de lo extraordinario, lo remarcable, lo digno de ser analizado o de emitir alguna opinión. Ya bastante tenemos con las descripciones de los medios. Ellos lo hacen muy bien. Acá leerán pequeñas situaciones del día a día de la temporada y los milagros que se suceden entre las rayas de cal de los terrenos en las grandes ligas.
Oh, baseball...! Such a giver of everything... Therefore, our dear readers will never get a tacit description of what was experienced in the field in our blog. He will get chronicles of the extraordinary, the remarkable, the noteworthy, the worthy of analysis or opinion. We already have enough with the media descriptions. They do it very well. Here you will read small day-to-day situations of the season and the miracles that happen between the lime stripes of the fields in the big leagues.
      Estamos por comenzar la cuarta semana de acción y solo nos ha motivado a escribir un post el hit número 3000 de Miguel Cabrera y el pase del testigo a su sucesor en la primera base. Imaginen lo selectivo que nos hemos vuelto. Y tiene que ver con la magia de un suceso dentro del campo. Es decir, las jugadas o situaciones de rutina no atraerán nuestra atención y tampoco haremos perder el tiempo a nuestros seguidores con necedades. Por ello, es que un deporte pierde fans, por los necios.
We are about to begin the fourth week of action and we have only been motivated to write a post by Miguel Cabrera's 3000th hit and the pass of the baton to his successor at first base. Imagine how selective we've become. And it has to do with the magic of an on-field event. In other words, routine plays or situations will not attract our attention, nor will we waste our followers' time with nonsense. That is why a sport loses fans, because of the fools.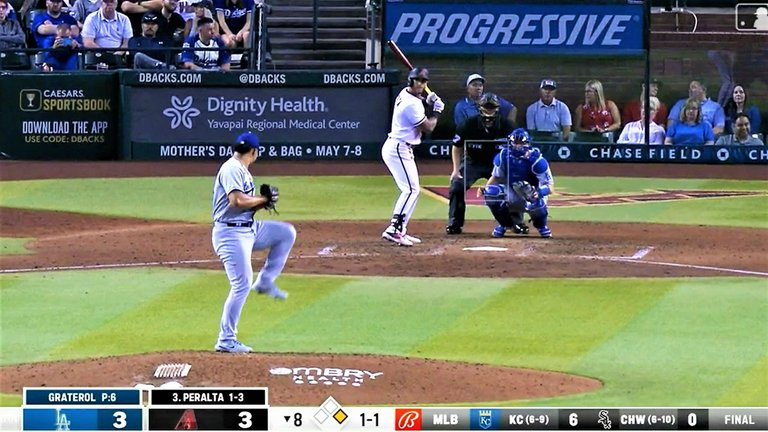 Screenshot: Source

      Ayer se produjo en el Chase Field de Phoenix, Arizona, uno de esos milagros. Más allá del movimiento de carreras, pongamos las cosas en contexto: se enfrentaban el equipo con el peor récord de la temporada pasada y que ocupa el último lugar de la tabla en cuanto a bateo colectivo de la presente zafra (D-backs de Arizona), contra el equipo que jugó la serie mundial del año pasado, es decir, los sub-campeones (Dodgers de los Ángeles).
Yesterday at Chase Field in Phoenix, Arizona, one of those miracles occurred. Beyond the run movement, let's put things in context: the team with the worst record last season and last place in the league in terms of collective batting this season (Arizona D-backs) was facing the team that played in last year's World Series, i.e. the runners-up in the World Series (Los Angeles Dodgers).
      Y la cosa no pintaba nada bien cuando los visitantes barrieron las bases con un doble, en el mismo primer inning, para irse arriba por tres. El bateo pródigo de los esquivadores nunca ha sido puesto en duda. Un equipo con una nómina de ciudad grande siempre se las arregla para conseguir un orden al bate decente y que los mantenga en el juego. Pero además, se traen los mejores brazos que puedan pagar y así, desde hace algunos años, la rotación de los Dodgers siempre ha tenido potenciales y reales ganadores del Cy Young (premio único que se entrega al final de la temporada al mejor pitcher de la liga)
And it didn't look good when the visitors swept the bases with a double in the same first inning to go up by three. The prodigal batting of the Dodgers has never been in doubt. A team with a big city roster always manages to get a decent batting order to keep them in the game. But in addition, they bring in the best arms they can afford and so, for some years now, the Dodgers rotation has always had potential and actual Cy Young winners (a unique award given at the end of the season to the best pitcher in the league).
      El caso fue que a los muchachos de Arizona no les importó. Ellos se aparecieron en el diamante obligados por su contrato a jugar béisbol. Solo que su pírrico bateo no les ayudó. Entonces acudieron a los errores del contrario y a su defensa proverbial para frenar a la toletería californiana, además de espaciar 9 hits ¿cómo? ¡Cinco doble plays! Incluyendo el del octavo inning con las bases llenas ¿No es maravilloso? Entre tanto, Arizona bateó menos hits (4) que la cantidad de doble plays ¿Cómo fue posible que ganaran el partido cinco carreras a tres?
The thing was, the Arizona boys didn't care. They showed up on the diamond bound by their contracts to play baseball. Only their pyrrhic hitting didn't help them. So they relied on their opponents' errors and their proverbial defense to slow down the California hitters, besides spacing 9 hits, how? 5 double plays! Including the one in the eighth inning with the bases loaded, isn't it wonderful? Meanwhile, Arizona hit fewer hits (4) than the number of double plays, How was it possible for them to win the game five runs to three?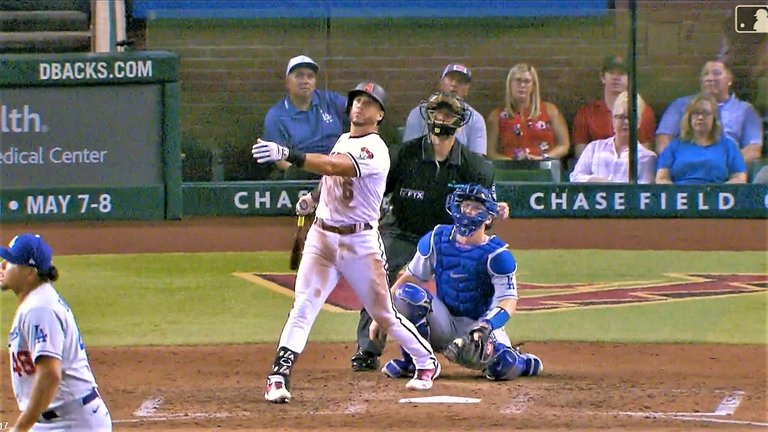 Screenshot: Source

      Arizona tiene a un solo pelotero bateando sobre .300 en todo el roster. Y Los Ángeles tiene solo a dos por debajo de .200. Bueno, los de Arizona anotaron en el tercero dos carreras por error del contrario, agregarían otra para empatar dos innings más tarde con hit impulsor y la mesa quedó servida para el venezolano David Peralta en el octavo con uno en base. Una curva cayendo en la esquina de afuera del home, fue pescada por el bate de Peralta y la pelota salió del parque con las dos carreras para poner arriba a la pírrica ofensiva de los ofidios.
Arizona has only one player batting over .300 in the entire roster. And Los Angeles has only two under .200. Well, Arizona scored two runs in the third on an error by the opposition, added another to tie it two innings later on a leadoff hit and the table was set for Venezuela's David Peralta in the eighth with one on base. A curve falling on the outside corner of the home-plate was caught by Peralta's bat and the ball left the park with the two runs to put the pyrrhic offense on top.
      Cuatro hits para anotar cinco carreras ¿no es justicia poética? Claro, a la larga, tales milagros no ayudarán a los D-Backs a salir del foso de la división donde se encuentran, pero no dejará de ser un aliciente para la moral alicaída del equipo; mientras, los Dodgers verán la derrota como algo producto del juego y algo digno de ser relatado como una patada de ahogado. Así son los equipos de mercado grande. Pero siempre nos entra un fresquito cuando cosas como ésta suceden y por ello el béisbol es hermoso.
Isn't four hits to score five runs poetic justice? Sure, in the long run, such miracles won't help the D-Backs climb out of the division ditch they find themselves in, but it will be a boost to the team's sagging morale nonetheless; meanwhile, the Dodgers will see the loss as a product of the game and something worthy of being recounted as a kick in the pants. That's the way big-market teams are. But we always get a chill when things like this happen, and that's why baseball is beautiful.
---
P.S. English is not my native language, apologize for that.
I used a web translator for english text (DeepL)
---
---