Un genio en Seattle // A genius in Seattle || OPINION

      Cuando Eugenio Suárez firmó contrato con los Marineros de Seattle, en la temporada baja de éste año, me dije: "Atrás quedaron años de frustraciones, ahora vienen años de rabietas". Y no por nada en particular, pero conozco la historia de ésta ciudad en el béisbol profesional y la época de Ichiro Suzuki se fue para no regresar. Tampoco tenemos absolutamente ninguna reserva con esta bella urbe del noroeste de los Estados Unidos, al contrario.
When Eugenio Suarez signed a contract with the Seattle Mariners in the off-season this year, I said to myself, "Gone are the years of frustration, now come the years of temper tantrums". And not for anything in particular, but I know the history of this city in professional baseball, and the Ichiro Suzuki era is gone, never to return. We also have absolutely no reservations about this beautiful city in the northwestern United States, on the contrary.
      La segunda capital tecnológica de USA se encuentra emplazada en una región al frente del pacífico norte muy rica y además posee bellezas naturales que serían la envidia de cualquier nación. Junto con el estado de Oregon, Washington se erige como el estado pulmón, por sus extensos bosques. Seattle es parecida en clima a Londres, pero más fría y tan lluviosa como la capital inglesa. Y el ambiente en la ciudad es muy bonito, nunca conocí una ciudad norteamericana mejor planificada que ésta.
The second technological capital of the USA is located in a region on the northern Pacific coast, rich in the natural beauty that would envy any nation. Along with the state of Oregon, Washington stands as the lung state, for its extensive forests. Seattle is similar in climate to London but colder and rainy than the English capital. And the atmosphere in the city is very nice, I have never known a better planned American city than this one.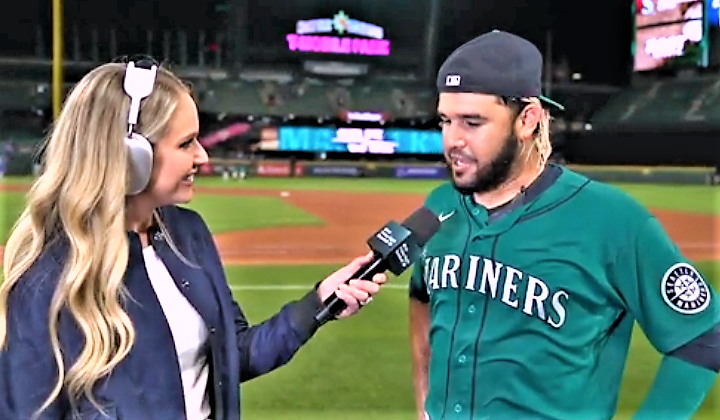 Source

      Dicho esto, Eugenio fue a parar a un estadio conocido por ser un cementerio de batazos largos. Mucho se habló en su momento, sobre Ken Griffey Jr. y la posibilidad de haber tenido una carrera en otro equipo, que jugara béisbol en un estadio más amigable con los bateadores ¿Cuántos jonrones le comieron esos jardines profundos? Nunca lo sabremos, pero lo cierto del caso es: quien no tienen verdadero poder en las muñecas, jamás podrá ser un jonronero reconocido en el T-Mobile Stadium.
*That said, Eugenio ended up in a stadium known for being a long hitter's graveyard. Much was said at the time about Ken Griffey Jr. and the possibility of having a career with another team, playing baseball in a more hitter-friendly stadium. How many home runs did those deep yards eat up? We'll never know, but the truth of the matter is: anyone without real power in their wrists can never be a home run hitter at T-Mobile Stadium.
      El tercer marinero más venerado acá, luego de Ichiro y Griffey, es el venezolano Félix Hernández. En el cénit de su extraordinaria carrera, lanzó un juego perfecto. La devoción por su espectacular estilo de lanzar y ponchar contrarios, le hizo ganar el mote del "Rey" Félix. Una sección del monstruoso estadio, ubicada en la esquina del jardín izquierdo, era especialmente dedicada a sus fanáticos, quienes vestían de franelas color amarillo y tenían impresas la letra "K" en el pecho (símbolo de notación para el ponche). La gente de ese sector deliraba cada vez que el "Rey" ponchaba a un oponente.
The third most revered sailor here, after Ichiro and Griffey, is the Venezuelan Felix Hernandez. At the zenith of his extraordinary career, he pitched a perfect game. Devotion to his spectacular pitching and strikeout style earned him the nickname "King" Felix. A section of the monstrous stadium, located in the left-field corner, was especially dedicated to his fans, who wore yellow T-shirts and had the letter "K" printed on their chests (notation symbol for the strikeout). The people in that sector were delirious every time the "King" struck out an opponent.
      Por todo lo mencionado respecto del estadio, fue que me sentí muy feliz y pensé dedicar ésta entrada a Eugenio, cuando en el juego de ayer, luego de una carrera que va por su novena temporada, bateó un salvaje jonrón por el jardín izquierdo con el juego empatado a 2 carreras por lado, en extra-innings, con cuenta de 2-1, sin outs, hombres en segunda y tercera, para dejar en el terreno a los Azulejos de Toronto, constituyendo la conexión en la primera vez que acaba un partido con un jonrón de oro (se le dice así cuando es conectado para ganar el juego, como última jugada del mismo).
Because of everything mentioned about the stadium, I was very happy and thought I would dedicate this entry to Eugenio, when in yesterday's game, after a career-high ninth season, he hit a wild home run to left field with the game tied at 2 runs apiece, in extra-innings, with a 2-1 count, with no outs, men on second and third, to leave the Toronto Blue Jays on the field, making the connection the first time he finished a game with a golden home run (it is called this way when it is connected to win the game, as the last play of the game).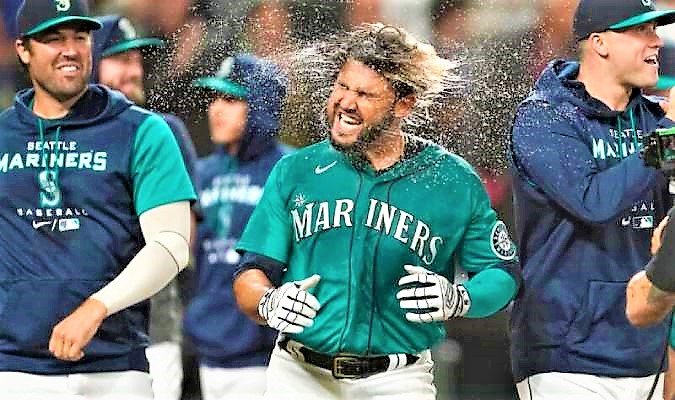 Source

      No podía creerlo ¿Un jonrón en ese estadio para acabar un partido? Guao..! En la repetición del batazo, puede mi lector darse cuenta de la elevación que tomó la pelota. Y es que si deseas botarla del diamante, debes poseer una fuerza muy especial. Pero me sentí feliz por el batazo y por darme cuenta que la mudanza de estadio no ha mermado las facultades de Suárez. Es decir, el tipo bateó su cuadrangular 15 de la campaña y estamos llegando justo a la mitad de la temporada.
I couldn't believe it. A home run in that stadium to end a game? Wow! In the replay of the hit, my reader can see the elevation the ball took. If you want to hit it off the diamond, you have to have a very special strength. But I was happy for the hit and for realizing that the stadium move has not diminished Suarez's powers. I mean, the guy hit his 15th home run of the season and we're only halfway through the season.
      Así las cosas, su proyección indica más de 30 jonrones para finales de Septiembre. Nada mal para alguien que pasó de un equipo perdedor a uno contendiente. Lo único malo es que los Astros están escapados en ésta división. Los ejecutivos de Seattle vieron en Eugenio Suárez, cualidades de jonronero para firmarlo y llevar sus batazos a un estadio que necesita hombres con poder real. Y es por todo esto que estamos viendo un genio en Seattle.
As it is, his projection indicates more than 30 home runs by the end of September. Not bad for someone who went from a losing team to a contender. The only bad thing is that the Astros are a runaway in this division. Seattle executives saw Eugenio Suarez as a home run hitter to sign him and bring his hitting to a stadium that needs real power guys. And that's why we're seeing a genius in Seattle.
---
P.S. English is not my native language, apologize for that.
I used a web translator for English text (DeepL)

Las estadísticas y referencias usadas para el artículo son extraídas de MLB // Statistics and references used for the article are extracted from MLB

---
---