Un marqués en Nueva York... // A Marquis in New York... || OPINION

     La emoción por la etapa cumbre en las grandes ligas, aumenta conforme se acerca el último mes de la zafra. La verdad, se nos hace difícil escoger el tema sobre el cual escribir y ello nos mete en problemas, simplemente porque ante la indecisión, pueden pasar minutos valiosos que nos dan desventaja en la ventana de curación. Eso sí, una vez que tenemos la sartén por el mango, las palabras fluyen como por arte de magia. Eso es algo que nos tranquiliza a la larga.
Excitement for the peak stage in the major leagues' increases as the last month of the season approaches. The truth is that it is difficult for us to choose the topic to write about, and this gets us into trouble, simply because in the face of indecision, valuable minutes can pass, putting us at a disadvantage in the healing window. Of course, once we have the frying pan by the handle, the words flow as if by magic. That's something that reassures us in the long run.
     ¿Escribir sobre el triunfo de los Astros para evitar la barrida ante los sorprendente Orioles? ¿Qué tal el triunfo de los Cardenales sobre los Bravos, ambos en medio de una lucha a muerte en sus respectivas divisiones? ¿Quizás sobre la blanqueada de los Marineros ante los Guardianes, ambos en la misma situación descrita en la pregunta anterior? ¿Comprenden de los que les hablo? Al final hemos decidido disertar sobre el triunfo de los Rockies de Colorado por sobre los Mets de Nueva York porque sucedió algo poco visto ésta temporada.
Write about the Astros' win to avoid a sweep against the surprising Orioles? How about the Cardinals' win over the Braves, both in the middle of a fight to the death in their respective divisions? Maybe about the Mariners' shutout of the Guardians, both in the same situation described in the previous question? Do you understand what I'm talking about? In the end, we have decided to discuss the Colorado Rockies' win over the New York Mets because something unseen this season happened.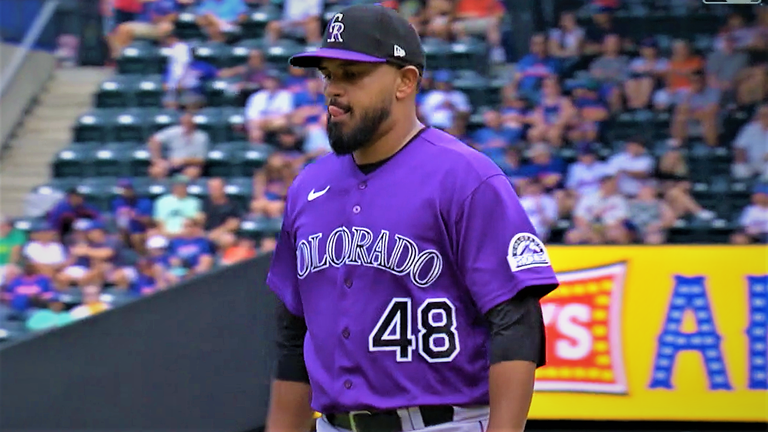 Screenshot from source

     Antes de comenzar queremos refrescar el suplicio de cualquier lanzador cuando juega como local en las montañas rocosas. Al encontrarse Denver en una altura de 1609 metros sobre el nivel del mar, la pelota lanzada enfrenta menor resistencia en el viaje de la mano al home-plate, por el aire enrarecido con menos oxígeno hallado en la altura. Los batazos, en consecuencia, salen con mayor velocidad y justamente por ello, esa ciudad de Colorado representa un paraíso para los bateadores. Tanto así que siempre ha sido sembrada la duda sobre los bateadores locales en su desempeño, si jugaran en otros parques.
Before we begin we want to refresh any pitcher's ordeal when playing home plate in the Rocky Mountains. As Denver is at an altitude of 1609 meters above sea level, the pitched ball faces less resistance on its journey from hand to home plate, due to the rarefied air of less oxygen found at altitude. As a result, the hits come out with greater velocity and, precisely for this reason, this Colorado city represents a hitter's paradise. So much so that doubts have always been raised about the performance of local hitters if they were to play in other parks.
     Y caso contrario, se entiende que la valía de un lanzador se pondrá a prueba cuando baje de las alturas infernales, enemigas del buen arte de abanicar contrarios. Ésto puede parecer poca cosa, pero como demostró el abridor venezolano Germán Márquez en los predios de Queens, podría tener algo de verdad ¿Saben ustedes a quien enfrentaba? Sí señor, a la batería terrorífica de los Mets de Nueva York y a su as del montículo Max Scherzer. Casi nada. Los chicos rocallosos jugaban contra el líder de la división este de la liga Nacional.
And if not, it is understood that the worth of a pitcher will be tested when he comes down from the infernal heights, enemies of the good art of fanning opponents. This may not seem like much, but as the Venezuelan starter Germán Márquez demonstrated in Queens, it could have some truth to it. Yes sir, the terrifying battery of the New York Mets and their ace of the mound Max Scherzer. Almost nothing. The Rockies were playing the National League East division, leader.
     Ellos en el foso detrás de la ambulancia, hundidos en el 5to. lugar de la división Oeste en la misma liga. Una historia de David contra Goliat se definía en un partido que podría haber significado la barrida de la serie. Márquez no es ningún stopper, pero ha podido ganar varios de estos partidos claves. Lanzó como un as. Lanzó pelota de un hit, evitando carreras durante siete innings, permitiendo dos bases por bolas y ponchando a cinco neoyorquinos. Dejó el juego ganando para que el holder sacara el octavo y el cerrador el noveno, lo que significó su séptima victoria de la temporada.
They are in the dugout behind the ambulance, sinking to 5th place in the West division in the same league. A David vs. Goliath story was defined in a game that could have meant the series sweep. Marquez is no stopper, but he was able to win several of these key games. He pitched like an ace. He pitched a one-hit ball, avoiding runs for seven innings, allowing two walks, and striking out five New Yorkers. He left the game-winning for the holder to get the eighth out and the closer the ninth, which was his seventh win of the season.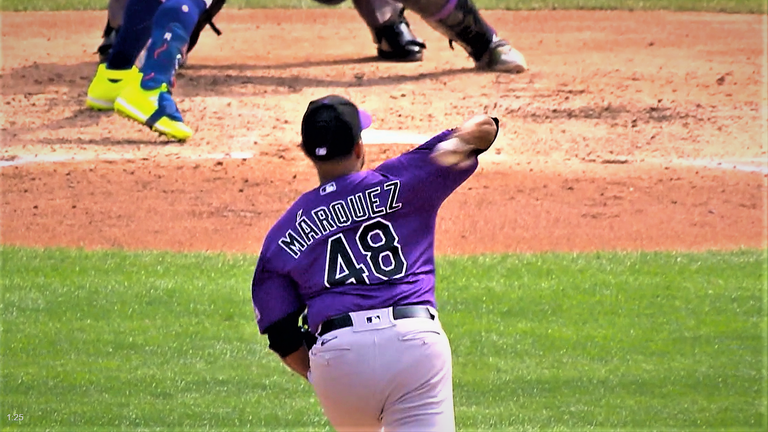 Screenshot from source

     Y ya sabe mi amado lector cuanto me gusta los partidos de pizarra uno-cero. Max Scherzer espació 4 hits, permitió una base por bolas, ponchó 11 oponentes y aceptó una carrera limpia. Nada mal. Sólo que Márquez permitió menos libertades y los juegos se ganan cuando haces más carreras, así de simple. Entonces ¿Es Márquez mejor lanzador que lo demostrado durante la campaña, en la carretera? ¿Está condenado a pasar como mediocre por pitchar a la altura de Denver?
And you know my beloved reader how much I love one-zero slate games. Max Scherzer spaced 4 hits, allowed one base on balls, struck out 11 opponents, and accepted one clean run. Not bad. Only Marquez allowed fewer liberties and games are won when you score more runs, simple as that. So is Marquez a better pitcher than he showed during the season, on the road? Is he doomed to go down as mediocre for pitching at Denver's level?
     Una pista podría estar en la salida previa a la de ayer, donde Márquez jugando en Colorado, permitió seis carreras limpias y ocho hits en seis episodios a la alicaída batería de Texas. Los Ranger no se han caracterizado por batear mucho ésta temporada (AVE colectivo .244), lo que le daría fuerza a nuestra teoría. En todo caso, poco importará porque lo remarcable del asunto es que ayer lanzó primores un marqués en Nueva York.
One clue could be in the outing previous to yesterday's, where Marquez, playing at Colorado, allowed six clean runs and eight hits in six episodes to the slumping Texas battery. The Rangers have not been known for hitting much this season (collective AVE .244), which would lend strength to our theory. In any case, it won't matter because the remarkable thing is that yesterday a marquis pitched primes in New York.
---
P.S. English is not my native language, apologize for that.
I used a web translator for English text (DeepL)

Las estadísticas y referencias usadas para el artículo son extraídas de MLB //
Statistics and references used for the article are extracted from MLB

---
---
---