¡Venezuela a segunda ronda..! // Venezuela to second round...! [ESP/ENG] || OPINION

      La lucha a muerte por los comodines y banderín de las divisiones en las ligas mayores, nos ha distraído de un evento que se está realizando en la ciudad de México. El campeonato mundial de Béisbol Sub-23 se celebra cada dos años y es sancionado por la Confederación Mundial de Softbol y Béisbol, organismo reconocido por el comité olímpico. Como todo lo que sucedió con los eventos deportivos de 2020, fue suspendido para ser retrasado un año. Se han jugado tres ediciones y en la del 2018, México (medalla de oro) y Venezuela (medalla de bronce) acabaron con la dictadura impuesta por los países asiáticos en los dos primeros torneos.
The fight to the death for the wild cards and division pennants in the major leagues has distracted us from an event taking place in Mexico City. The Under-23 Baseball world championship is held every two years and is sanctioned by the World Baseball and Softball Confederation, a body recognized by the Olympic committee. Like everything that happened with the 2020 sporting events, it was suspended to be held a year late. Three editions have been played and in the 2018 edition, Mexico (gold medal) and Venezuela (bronze medal) ended the dictatorship imposed by the Asian countries in the first two tournaments.
      Estos torneos sirven para mostrar el talento emergente que por cualquier razón, no se encuentra firmado en las ligas menores estadounidenses. A éste tipo de torneo, viajan los scouts de los equipos grandes para explorar cuáles jugadores son susceptibles de invitar a los try-outs con el fin de probar condiciones y capacidades para ser firmados. En otras palabras, sirven de semillero incidental de aquello que haya escapado a la vista de las organizaciones. A éste evento se llega por eliminatorias regionales.
These tournaments serve to showcase the emerging talent that, for whatever reason, is not signed in the U.S. minor leagues. To this type of tournament, the scouts of the major teams travel to explore which players are susceptible to be invited to the try-outs in order to test conditions and capabilities to be signed. In other words, they serve as an incidental seedbed for those who have escaped the organization's attention. This event is reached through regional qualifiers.
---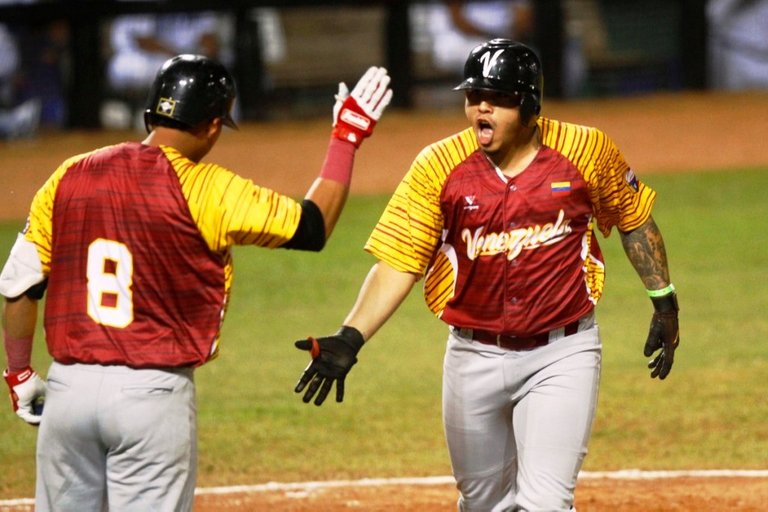 Source

      Asia está representada por Taipei y Corea; Europa clasificó a República Checa, Alemania y Holanda; por América del norte asiste México, por Centroamérica y el Caribe juegan Nicaragua, Panamá, Cuba y República Dominicana; finalmente, Sudamérica es defendida por Colombia y Venezuela. Dos grupos de seis países en una primera ronda de todos contra todos. Los tres primeros de cada grupo van a una Super Ronda de todos contra todos que determina los jugadores de la final y quienes juegan por el 3er y 4to puesto, además de los lugares 5to y 6to. Los tres últimos de cada grupo van a una ronda de consolación que determina los lugares del 6to al 12avo.
Asia is represented by Taipei and Korea; Europe qualified Czech Republic, Germany, and the Netherlands; North America is represented by Mexico; Central America and the Caribbean is represented by Nicaragua, Panama, Cuba, and the Dominican Republic; finally, South America is represented by Colombia and Venezuela. Two groups of six countries in the first round of round-robin play. The first three of each group go to a Super Round of all against all that determines the players of the final and who play for the 3rd and 4th places, as well as the 5th and 6th places. The last three of each group go to a consolation round that determines the places from 6th to 12th.
      Repasado el contexto del evento, Venezuela se vislumbra como uno de los favoritos al haber tenido un invicto en sus primeros cuatros partidos y con el juego versus Panamá en la mira (se juega hoy en la noche 10:30 p.m. hora venezolana y con transmisión en televisión nacional), podría culminar su primera ronda de manera impoluta. Venezuela comenzó su andar en el torneo el 23 de septiembre con victoria 9-4 sobre Holanda, con un partido de 13 imparables donde destacó el hijo de Robert Pérez, quien funge como coach de primera base. El equipo holandés, formado en su mayoría por naturales de las dependencias caribeñas de ese país, no pudo con la fuerte toletería criolla.
Reviewing the context of the event, Venezuela looks like one of the favorites, having been undefeated in its first four games and with the game against Panama insight (to be played tonight at 10:30 p.m. Venezuelan time and broadcast on national television), it could finish its first round in a flawless manner. Venezuela began its journey in the tournament on September 23 with a 9-4 victory over the Netherlands, with a game of 13 hits in which the son of Robert Perez, who serves as a first base coach, stood out. The Dutch team, made up mostly of natives of the Caribbean dependencies of that country, was unable to overcome the strong Venezuelan pitching.
      Al día siguiente, el 24, jugó su encuentro más difícil ante Colombia. En ésta oportunidad el pitcheo fue la clave para dominar a la peligrosa toletería colombiana. El partido fue emocionante y se decidió en el sexto inning (los partidos se juegan a siete innings) con una carrera que anotó el héroe del día anterior Robert Pérez Jr. El marcador final 3-2 a favor de Venezuela. Antes de ayer el rival de turno fue Nicaragua y la ofensiva criolla siguió bateando con su tercer partido al hilo, de más de nueve imparables. El héroe de la jornada fue Juan Fernández quien bateó de 3-2 con triple y jonrón incluídos. El pitcher abridor venezolano lanzó perfecto hasta el 4to episodio y Venezuela liquidó el partido a su favor 6-3.
The following day, on the 24th, they played their most difficult game against Colombia. On this occasion, pitching was the key to dominate the dangerous Colombian pitching. The game was exciting and was decided in the sixth inning (games are played in seven innings) with a run scored by the hero of the previous day, Robert Perez Jr. The final score was 3-2 in favor of Venezuela. The day before yesterday's opponent was Nicaragua and the Venezuelan offense has continued to hit with its third straight game of more than nine hits. The hero of the day was Juan Fernandez who batted 3-2 with a triple and home run included. The Venezuelan starting pitcher pitched perfectly until the 4th episode and Venezuela won the game 6-3.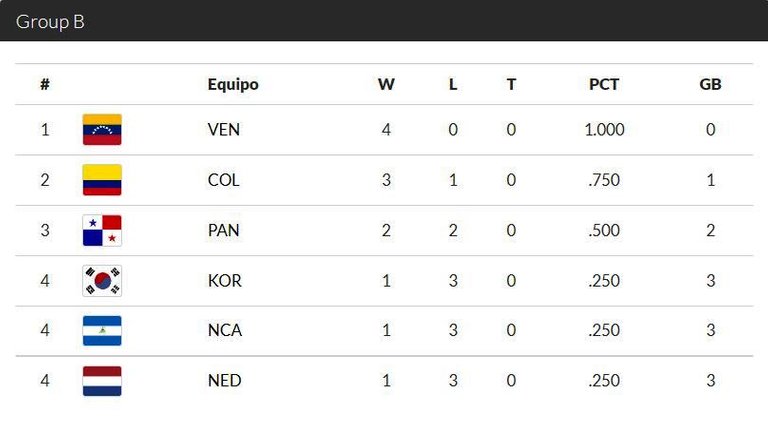 Source

      Ayer, Venezuela se enfrentó a quien, en el papel, era el equipo más fuerte del grupo, pero el pitcheo venezolano respondió en el duelo al blanquear a Corea del Sur 3-0. Ésta vez la ofensiva solo pudo batear seis hits, pero fueron suficientes para la producción de carreras en el marcador. El héroe fue de nuevo Robert Pérez Jr. quien con un doble barre bases puso las dos carreras que marcaron la diferencia. Con la victoria, Venezuela clasifica a la super ronda ya en el primer lugar, porque en el caso que Colombia gane y Venezuela pierda en el día de hoy para un empate en el primer lugar de la tabla, éste se definiría por el encuentro directo jugado entre ambas.
Yesterday, Venezuela faced who, on paper, was the strongest team in the group, but the Venezuelan pitching responded in the duel by blanking South Korea 3-0. This time the offense could only manage six hits, but they were enough for the production of runs on the scoreboard. The hero was again Robert Perez Jr. who with a bases-clearing double scored the two runs that made the difference. With the victory, Venezuela qualifies to the super round already in the first place, because in case Colombia wins and Venezuela loses today for a tie in the first place of the table, this would be defined by the direct match played between the two.
      Venezuela se encuentra dirigida por viejas glorias del béisbol venezolano: Carlos García como Manager, Alex Núñez es el coach de 3B, Omar Bencomo dirige como coach de pitcheo y Robert Pérez es el coach de 1B. Todos han hecho un brillante trabajo con éstos muchachos y solo queda saber lo que le depara a Venezuela en la Súper Ronda que comenzará el Miércoles 29 de Septiembre con transmisión nacional. Un nuevo título se encuentra en puertas ¡Adelante chicos!
Venezuela is led by old glories of Venezuelan baseball: Carlos Garcia as Manager, Alex Nunez is the 3B coach, Omar Bencomo is the pitching coach and Robert Perez is the 1B coach. All have done a brilliant job with these guys and all that remains to be seen is what is in store for Venezuela in the Super Round that will begin on Wednesday, September 29th with a national broadcast. A new title is on the doorstep. Let's go, guys!
---
P.S. English is not my native language, apologize for that.
I used a web translator for english text (DeepL)
---
---