[ENG-ESP] LEBRON JAMES DRAWING WITH COLORED PENCILS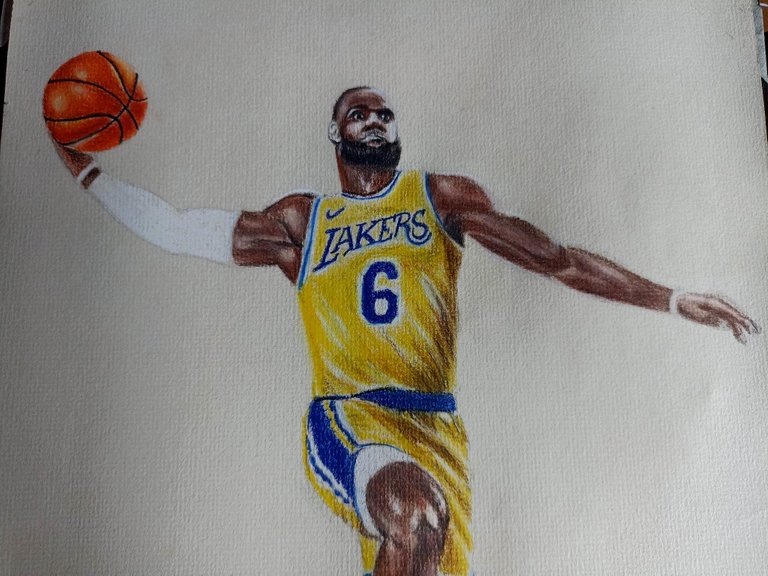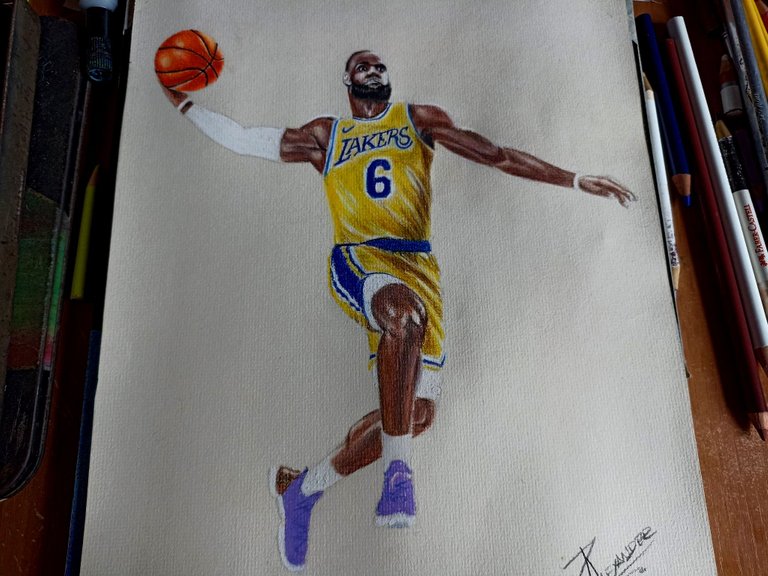 Hello dear friends, I hope you are very well, this time I want to show you my last drawing. This is the NBA star Lebron James, who this week broke the record for points scored for a player, who remained 38 years without anyone being able to pass him, said record was in the hands of Karem Abdul-Jabbar, another great star of the 80s who played for the Lakers. Although Lebron James is not my favorite player, nor is he in my top 3 best players of all time, I still consider him a great player who is leaving a great legacy for all generations, he is writing history by being one of the longest-lived players in the NBA, his game deserves all the respect in the world since he has given everything for basketball, which is my favorite sport and which I practice, without anything else to add in this presentation I leave you with my drawing.
Hola queridos amigos, espero que se encuentren muy bien, en esta oportunidad quiero enseñarles mi último dibujo realizado. Se trata de la estrella de la NBA Lebron James, quien esta semana rompió el record de puntos anotados para un jugador, que permaneció 38 años sin que nadie pudiera pasarlo, dicho record estuvo en manos de Karem Abdul-Jabbar, otra gran estrella de los años 80 que jugó en los Lakers. Si bien Lebron James no es mi jugador favorito, ni está en mi top 3 de mejores jugadores de todos los tiempos, de igual manera lo considero un gran jugador que está dejando un gran legado para todas las generaciones, esta escribiendo historia al ser uno de los jugadores más longevos de la NBA, su juego merece todo el respeto del mundo ya que ha dado todo por el basket, el cual es mi deporte favorito y el cual practico, sin más nada que agregar en esta presentación los dejo con mi dibujo.

First of all I did the sketch with simple lines using a light pencil, I made Lebron James in one of his iconic dunks, who has always been known for making powerful dunks. I did from the head, then going through the arms, the trunk and ending with the legs, these last areas took me a bit to do since I couldn't find a good frame, I felt that they were a bit disproportionate in size with respect to the rest of the body, but I reached a point of balance and left it at that.
En primer lugar hice el boceto con líneas simples utilizando un lápiz claro, hice a Lebrón James en una de sus icónicas clavadas, quien siempre se ha caracterizado por hacer clavadas potentes. Hice desde la cabeza, luego pasando por los brazos, el tronco y finalizando con las piernas, estas últimas zonas me costó algo hacerlas ya que no encontraba un buen encuadré, sentía que salían un poco desproporcionadas en tamaño con respecto al resto del cuerpo, pero logre un punto de equilibrio y lo dejé así.

I left the work of painting the face and the skin to my three favorite colors from the Faber Castell brand, in combination with these 6 tones is how I am arriving at a contrast to the skin tone. First, I paint the illuminated parts of the face with white, and then I gradually fade towards the dark. As this part is very small it was very difficult to paint, so little by little I was paying attention to every detail, especially to the expression of the eyes, which indicates that Lebron James will dunk with all his might, thus leaving his last abundant beard.
El trabajo de pintar el rostro y la piel se lo dejé a mis tres colores predilectos de la marca Faber Castell, en combinación con estos 6 tonos es como voy llegando a un contraste al tono de piel. En primer lugar pinto las partes iluminadas del rostro con color blanco, y después voy haciendo una degradación hacia lo oscuro. Como esta parte es muy pequeña fue muy difícil de pintar, así que poco a poco fui poniendo atención a cada detalle, especialmente a la expresión de los ojos, que indica que Lebrón James hará el mate con todas sus fuerzas, así de último dejando su abundante barba.

The next step is to start painting part of the uniform, as I'm painting in a cascade, that is, from the top of the drawing to the bottom, it's up to the Lakers shirt, in this case I draw the letters first Give him the team and then the number and then start painting with yellow. In doing so, I am also giving relief to the shirt due to the movement that Lebrón is making to spike the ball, so the bottom part of the flannel has folds that must be drawn. I also paint the letters and number using purple and blue color.
El siguiente paso es comenzar am pintar parte del uniforme, como estoy pintando en forma de cascada, es decir desde la parte de arriba del dibujo hasta la parte de abajo, le toca a la camiseta de los lakers, en este caso dibujo primero las letras dle equipo y luego el numero para después comenzar a pintar con color amarillo. Al hacerlo también le voy dando relieve a la camiseta por el movimiento que está haciendo Lebrón de clavar la pelota, así que en la parte de abajo la franela tiene pliegues que hay que dibujar. También pinto las letras y el número utilizando color púrpura y azul.

Next I begin to paint the arms, using the same previous colors but with the difference that I added a whole terracotta brown, which is a reddish brown color, I did this because the skin tone is not uniform but it changes with respect to the lightning. In the same way I am making the muscles for each arm and leaving the blank parts where the sweat of the moment makes its appearance. I also continue to paint part of the uniform, which in this case is the short.
Seguidamente comienzo a pintar los brazos, utilizando los mismos colores anteriores pero con la diferencia que agregué un todo de marrón terracota, que es un color café rojizo, esto lo hice porque el tono de piel no es uniforme sino que va cambiando con respecto a la iluminación. De la misma forma voy haciendo los músculos para cada brazo y dejando las partes en blanco donde el sudor del momento hace su aparición. También sigo pinstando parte del uniforme que en este caso es el short.

Then I continue drawing and painting the limbs, using the same range of colors and tones as before, here I emphasize the muscles of the legs and the shadows so that it can look very realistic. As always, the white color cannot be missing to draw the lighting. Lastly, I paint the sneakers that Lebron is wearing, which have a tone similar to the blue of the uniform.
Despues continúo dibujando y pintandoi las extremidades, utilizando la misma gama de colores y tonos anteriores, aquí hago énfasis en los músculos de las piernas y las sombras para que se pueda ver bien realista. Como siempre el color blanco no puede faltar para dibujar la iluminación. Por último pinto los tenis que lleva puesto lebron que tienen un tono parecido al azul del uniforme.

Last but not least was painting the ball, a professional spalding ball, with its slightly brownish orange color with its divisions in black and trying to give it realism with the lighting that every spherical shape should always have in the upper part. Later I corrected detail and added more layers of colors so that the drawing would be well filled with color, and in this way I considered the portrait finished.
Por último y no menos importante fue pintar la pelota, un balón spalding profesional, con su color naranja un tanto café con sus divisiones en color negro y tratar de darle realismo con la iluminación que siempre debe tener toda forma esférica en la aprte superior. Después corregí detalle y agregué más capas de colores para que el dibujo quedara bien relleno de color, y de esta manera di por finalizado el retrato.

FINAL WORK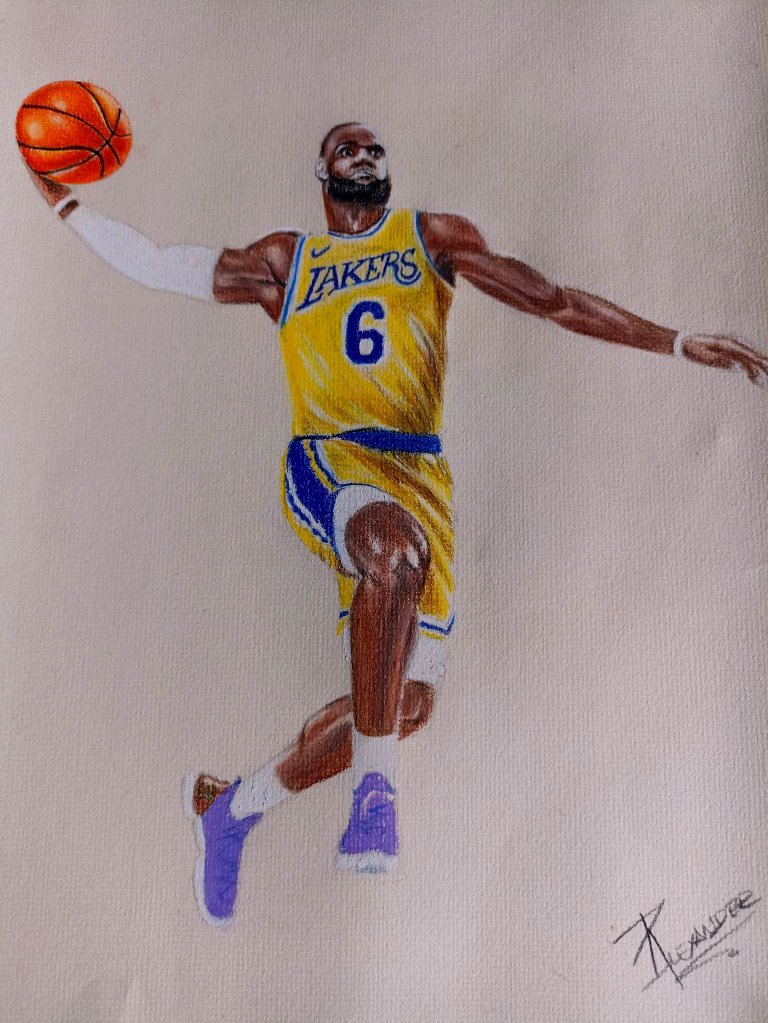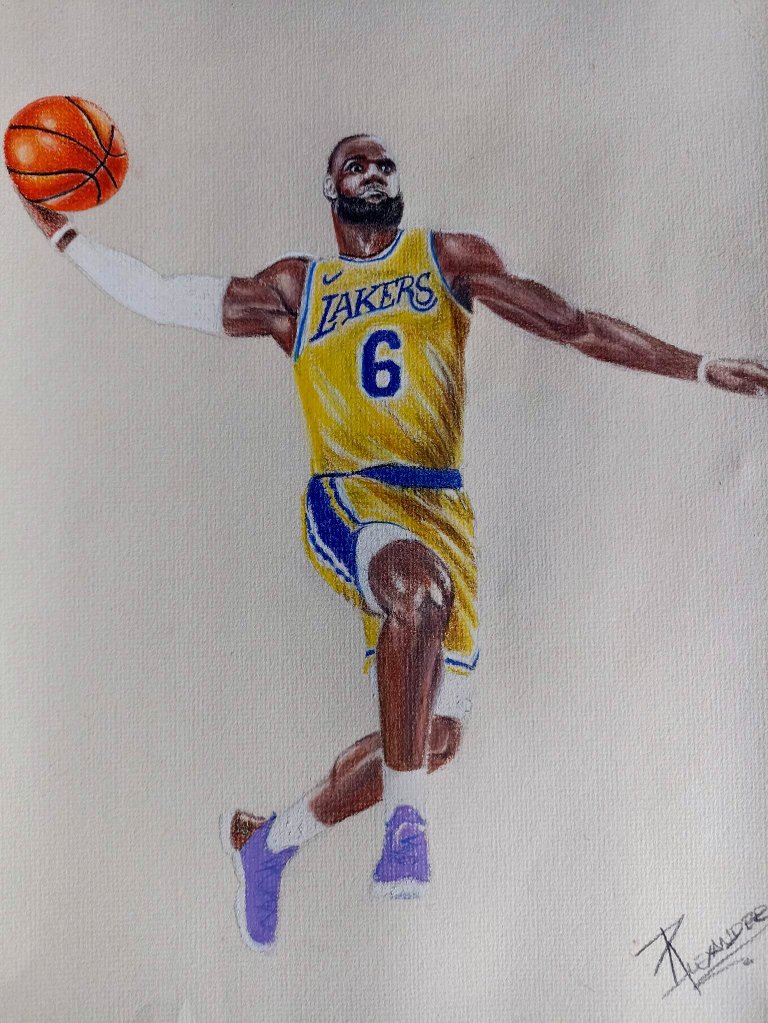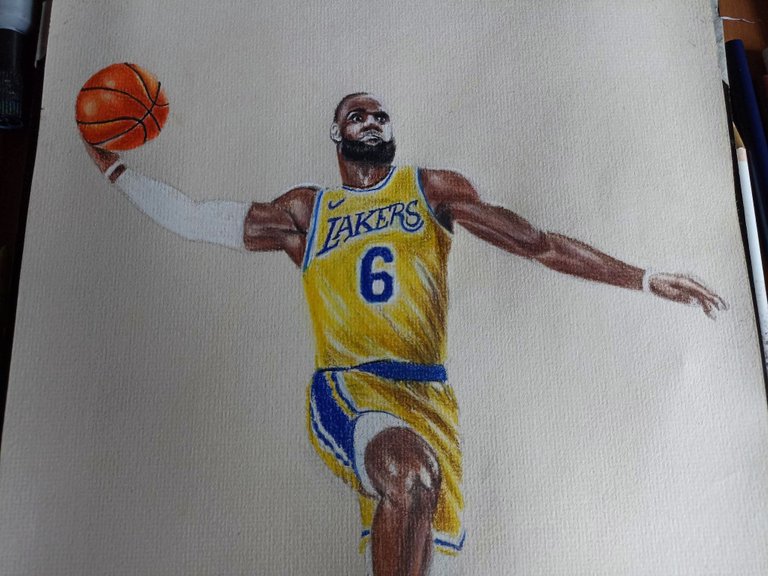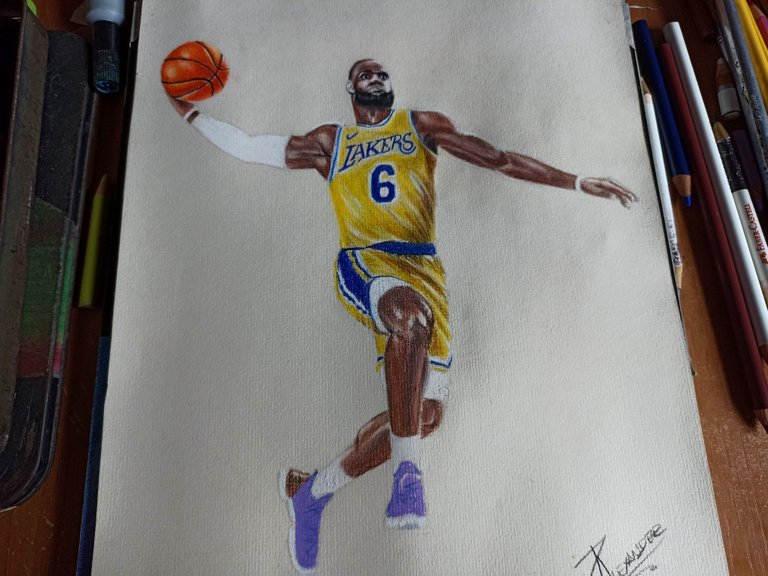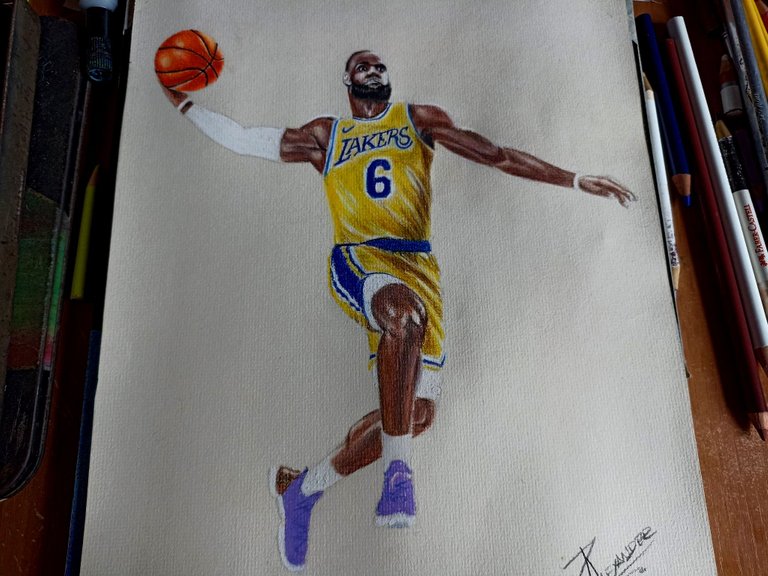 This is how the drawing of the record man was finished. He broke the mark of 38,388 points scored, now becoming the first on the list and for sure he will continue to count more points, I think that with one more season he will be able to reach 40,000 points scored by a player. Lebrón James has a lot of merit in his game and for investing in the care of his body over the years, which has led him to remain active among the top players today, and having had few injuries in his career Without a doubt a great legend. I hope you liked this drawing, I did it with great pleasure as a tribute to this sport that I like so much and the figure of Lebron James, and also to share my drawing technique. I say goodbye until a new opportunity, I wish you a nice weekend!
Así quedó finalizado el dibujo del hombre record. Rompió la marca de 38,388 puntos anotados convirtiéndose ahora el primero en la lista y de seguro seguirá contando más puntos, creo que con una temporada mas podrá llegar a los 40.000 puntos anotados por un jugador. Lebrón James tiene mucho mérito en su juego y por invertir en el cuidado de su cuerpo a lo largo de los años lo que lo ha llevado a manetenerse activo en el top de jugadores de la actualidad, y el haber contado con pocas lesiones en su carrera, sin duda una gran leyenda. Espero que este dibujo les haya gustado, lo hice con mucho gusto como homenaje a este deporte que tanto me gusta y la figura de Lebron James, y tambien compartir mi técnica de dibujo. Me despido hasta una nueva oportunidad, les deseo un lindo fin de semana!
---
---