Browns gave up a huge haul and they'll probably be paying millions in hidden costs for years to come.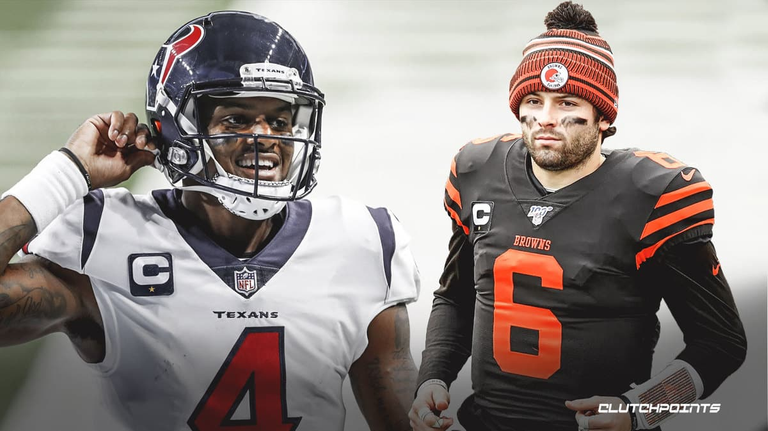 Obviously, what the Browns paid for Deshaun Watson on paper is huge. It's also not much of a surprise. It's uncommon that a franchise quarterback who's still in his mid-twenties hit the market; so, six draft picks including three first rounders and $230 million is about what one would expect.
We can also understand why the Browns handled the trade the way that they did and why their hands may have been forced. Watson had a no trade clause with the Texans and originally said that he wouldn't waive it to play for Cleveland. The Browns didn't want to trade Baker Mayfield unless they acquired Watson; but, of course, they managed to piss Mayfield off by simply inquiring about Watson.
What's more interesting is thinking about what Cleveland is giving up for Watson indirectly and that isn't on paper. The trade for Watson says something loud and clear about the Browns - they're desperate to trade Mayfield. When potential buyers know that you're desperate to sell, it dramatically reduces the price.
Since Mayfield is a former first overall pick, I wouldn't be surprised if the Browns would want a first round pick in exchange for him. Given his poor play last season, that would probably have too much of an asking price; but, I could see a team that's desperate for a quarterback trading a second or a third for him. Still, that would be if there wasn't certainty that the Browns are looking to unload him.
The situation for the Browns is complicated further by the fact that Mayfield is on the fifth year option of his rookie contract which is a price of $18.8 million fully guaranteed. So, everybody doing his or her homework knows that the Browns have to pay him that money whether or not he's on the roster. The only way that the Brown can get themselves off the hook for any of that money is if a team trades for him or signs him in free agency and takes on a portion of his contract.
Of course, it's noticeable that no trade for Mayfield has been made made and there doesn't even seem to be much buzz about teams inquiring about trading for him. There are teams that could use him like the Seahawks, the Falcons, the Steelers, the Panthers, even possibly the Lions; but, nobody seems to be picking up the phone and calling. So, my guess is that other teams are just sweating out the Browns. The longer Mayfield is sitting on their roster the closer the Browns are going to get to considering themselves lucky to get anything for him.
If a trade does happen, I'm guessing that'll be something like a seventh round pick and some portion of his contract. But, I don't think that a trade will happen. I think that the Browns are eventually going to cut him and a team will get him for free and have a quarterback that the Browns are going to pay for for a year.
Of course, it's possible that the Browns will just keep him; but, that comes with its own problems. Obviously, it's well known that having disgruntled players around isn't a recipe for success. It would clearly be a PR nightmare. Beyond all else, it'll tell other players something negative about how the franchise treats its players. If everybody in the NFL knows that Mayfield wants out and the Browns are treating him like a kid and putting him in a sort of timeout, that could have long term effects on the team. If players aren't confident that the team will do right by them, they're less likely to go to your team in free agency and they're less likely to take team-friendly contracts.
So, in addition to what the Browns paid to get Watson, they also gave up any compensation that they would have gotten for Mayfield. One could argue that Mayfield's $18.8 million that's going to a player who isn't going to play for them, if at all, was part of the trade. What's more, if they don't give Mayfield what he wants, the Browns could be paying extra money to bring in players for years to come as a result of how they handled the trade.
Bottom line, only time will tell whether or not it was worth it.
---
---