Nadal vs. Alcaraz : La batalla Generacional del Tenis Español Acaba de Empezar .Nadal vs Alcaraz : The Generational Battle of Spanish Tennis Has Just Begun . ESP/ENG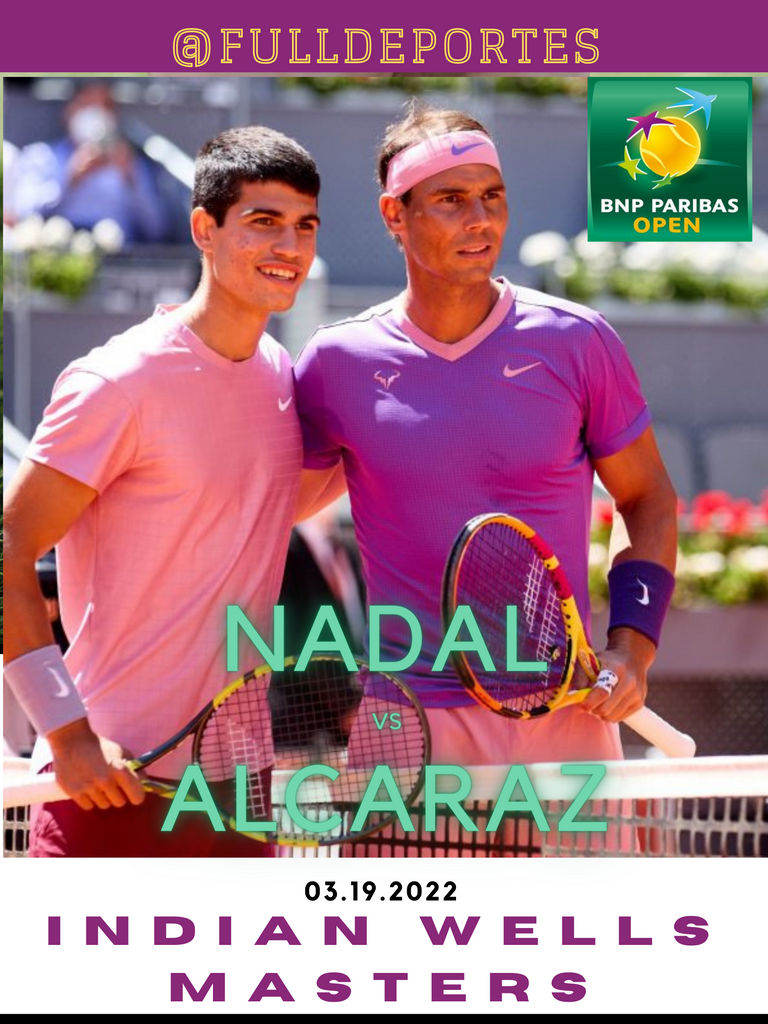 El pasado 5 de mayo, Carlos Alcaraz (120) cumplía dieciocho años de edad y los celebraba jugando la segunda ronda del Mutua Madrid Open y enfrentando a su ídolo Rafael Nadal (2). Ese día, el joven murciano recibió dos regalos: una torta de cumpleaños y una lección de tenis de Nadal, quien lo derrotó cómodamente con un marcador de 6-1/6-2. En ese juego, Alcaraz quedó helado ante el juego de la bestia de Manacor y sucumbió "fácilmente" antes él. Hoy, diez meses después, se enfrentan en las SEMIFINALES del Indians Wells, un juego que promete ser diferente y darnos muchas emociones.
      On May 5, Carlos Alcaraz (120) was celebrating his eighteenth birthday, and the best way to it was by playing the second round of the Mutua Madrid Open versus his idol Rafael Nadal (2). That day, the young player from Murcia received two gifts: a birthday cake and a tennis lesson from Nadal, who defeated him comfortably with a score of 6-1/6-2. In that game, Alcaraz got cold feet and could not play his best tennis; so he easily was defeated by the beast of Manacor. Today, ten months later, they will face against each other in the SEMIFINALS of the Indians Wells, a game that promises to be different and give us lots of emotions.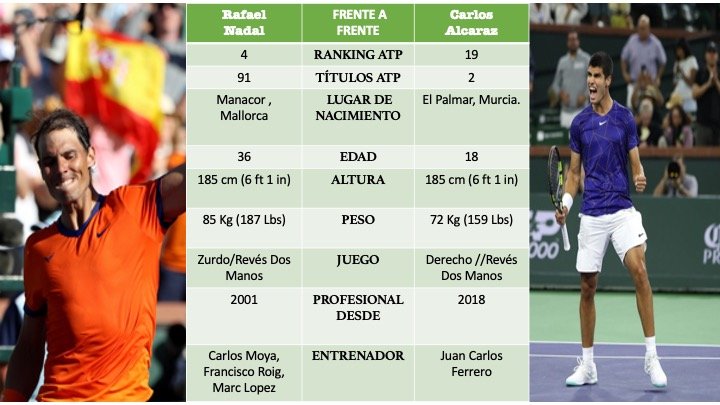 Infografía elaborada por @francisaponte25
Infographic elaborated by @francisaponte25
      La derrota en Madrid le sirvió a Carlos para romper el hielo que implica competir en los grandes escenarios del circuito ATP; es tanto así, que ya va a jugar una semifinal en el cuarto Masters 1000 de su carrera, y antes Nadal. Ya sin los nervios de la primera vez, y con la seguridad que da haber jugado un tenis demoledor en todo el torneo (No ha perdido un set aún), Carlos espera a Nadal con la confianza de que esta vez sí le competirá de "tú a tú".
      The defeat in Madrid helped Carlos to break the ice that involves competing on the big stages of the ATP World Tour; so much so, that he is already going to play a semifinal in the fourth Masters 1000 of his career, and against Nadal. Now, without the nerves of the first time, and with the confidence that comes from having played a devastating tennis throughout the tournament (he has not lost a set yet), Carlos awaits Nadal with the conviction that this time he will compete on "equal terms".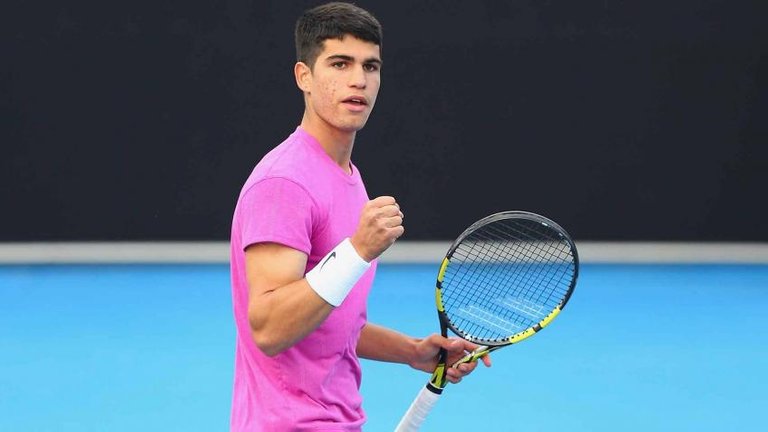 Para este partido, el favoritismo, por supuesto, recae en Rafael Nadal. Nadal ha tenido un comienzo de temporada espectacular. El de Manacor lleva 19 partidos ganados y cero derrotas, y ha ganado 3 títulos. Pero si hablamos de comienzo de temporada, la de Carlitos también ha sido para enmarcar: con once juegos ganados de diez disputados y un título ATP 500.
       For this match, favoritism, of course, goes to Rafael Nadal. Nadal has had a spectacular start to the season. The Manacor native has won 19 matches and has zero defeats. He has also won 3 titles. But talking about the great beginning of the season, Carlitos' has also has a good one to highlight:He has won 11 games won out of 10 played and he won his first ATP 500 title.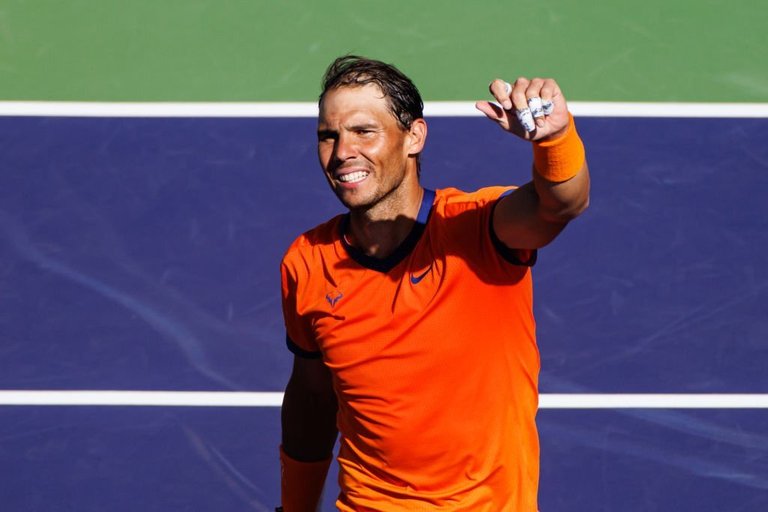 Fuente
      A pesar del amplio favoritismo del Nadal, hay una sensación en el ambiente de que hoy Alcaraz pudiera dar la sorpresa y derrotarlo. En este torneo, Carlos no ha cedido ningún set, mientras que Nadal ha perdido dos. Nadal ha tenido cuatro tie-breaks, mientras que Alcaraz no ha ido a ninguno aún. Carlos barrió a los dos top 20 que enfrentó.Por su parte Nadal, sufrió un mundo para ganarle a Opelka, el único top 20 que enfrentó.
      Despite Nadal's wide favoritism, there is a feeling in the air that today Alcaraz could surprise and defeat him. In this tournament, Carlos has not dropped a set, while Nadal has lost two. Nadal has had four tie-breaks, while Alcaraz has not gone to any yet. Carlos swept the two top 20 players he faced; while Nadal, on the other hand, suffered a world of pain to beat Opelka, the only top 20 player he faced.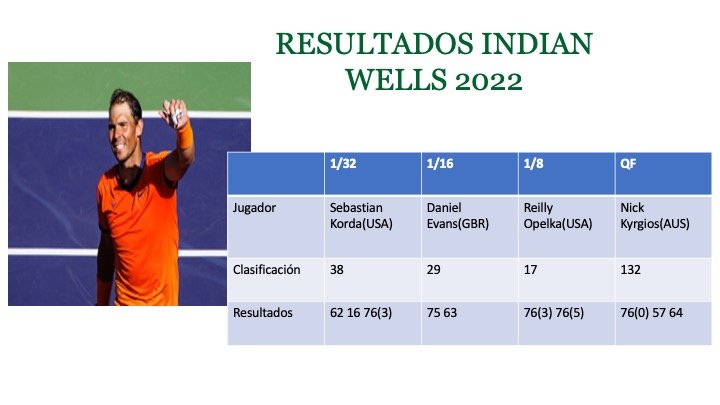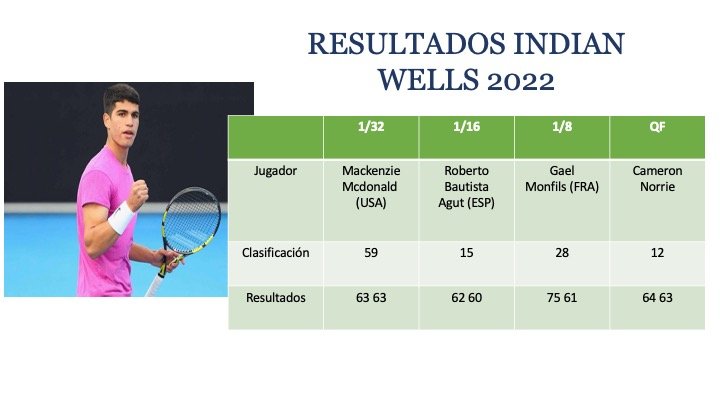 Infografía elaborada por @francisaponte25
Infographic elaborated by @francisaponte25
Fuente de Documentación 1
Fuente de Documentación 2
      Estas estadísticas, a simple vista, sugieren que Carlos pareciera, en estos momentos, encontrarse en mejor forma tenística y física que Nadal, ( quien también acusa una lesión de pie).
      These statistics, at first glance, suggest that Carlos seems, at this moment, to be in better tennis and physical shape than Nadal, (who is also suffering from a foot injury).
       Una cosa es cierta con respecto a esta partida: será mucho más cerrada que la que protagonizaron el año pasado en Madrid. Una vez superado el miedo escénico, el joven murciano asegura estar preparado para batallar y llegar a la final del certamen. Así, los fanáticos esperamos verlo usar su potente derecha y sus dobles reveses ganadores antes un gran defensor como Nadal. De igual modo, esperamos ver cómo Nadal trata de vencer el muro defensivo que es este jugador impone. Carlitos corre la cancha de lado a lado para defenderse de los ataques de su rival y saca tiros espectaculares. En fin, esperamos un juego emocionante que promete ser el pase de antorcha generacional del tenis español y quizás del tenis mundial.
¡A disfrutar, señores y señoras!
      One thing is certain about this match: it will be much tighter than the one they played last year in Madrid. Having overcome his stage fright, the young player from Murcia assures to be ready to battle and reach the final of the tournament. Thus, fans expect to see him use his powerful forehand and double backhand winners against a great defender like Nadal. Likewise, we expect to see how Nadal tries to overcome the defensive wall that this player imposes. Carlitos runs the court from side to side to defend against his opponent's attacks and hits spectacular shots. In short, we expect an exciting game that promises to be the passing of the generational torch of Spanish tennis and perhaps of world tennis.
Let's enjoy, ladies and gentlemen!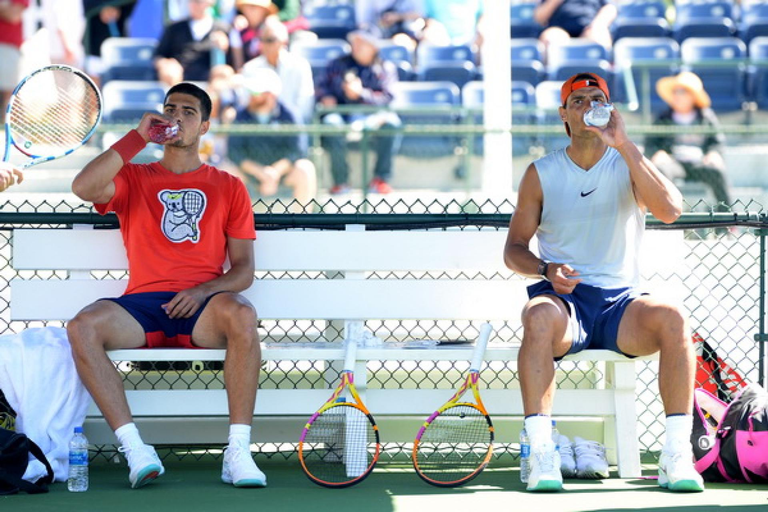 Otros Datos :
• Rafael Nadal posee 91 titulos ATP, Carlos Alcaraz tiene 2.
• En enero de 2020, Carlos estaba en la posición 490 del ranking ATP. Hoy, dos años después, se encuentra en el número 19.
• Carlos es el jugador más joven , después de Andres Agassi (1988) en alcanzar una semifinal del Indian Wells.
• Esta será la primera semifinal entre dos españoles en la historia del torneo.
• El inicio de la temporada 2022 con 19 triunfos y cero derrotas, ha sido el mejor comienzo de temporada para un jugador español en el circuito ATP World Tour. El mejor record histórico en este renglón , lo tiene Novak Djokovic quien ganó los primeros 41 partidos de la temporada 2011.
• Si Rafa gana este Indian Wells, igualará a Novak Djokovic con 37 títulos de Masters 1000 en su carrera.
More About this Match
Rafael Nadal has 91 ATP titles, Carlos Alcaraz has 2.
In January 2020, Carlos was in the 490th position of the ATP ranking. Today, two years later, he is at number 19.
Carlos is the youngest player, after Andres Agassi (1988) to reach an Indian Wells semifinal.
This will be the first semifinal between two Spaniards in the history of the tournament.
The start of the 2022 season, with 19 wins and zero losses, has been the best start of the season for a Spanish player on the ATP World Tour. The best historical record in this category is held by Novak Djokovic who won the first 41 matches of the 2011 season.
If Rafa wins this Indian Wells, he will equal Novak Djokovic with 37 Masters 1000 titles in his career.


Source
La portada fue elaborada con Canva.
The cover was made with Canva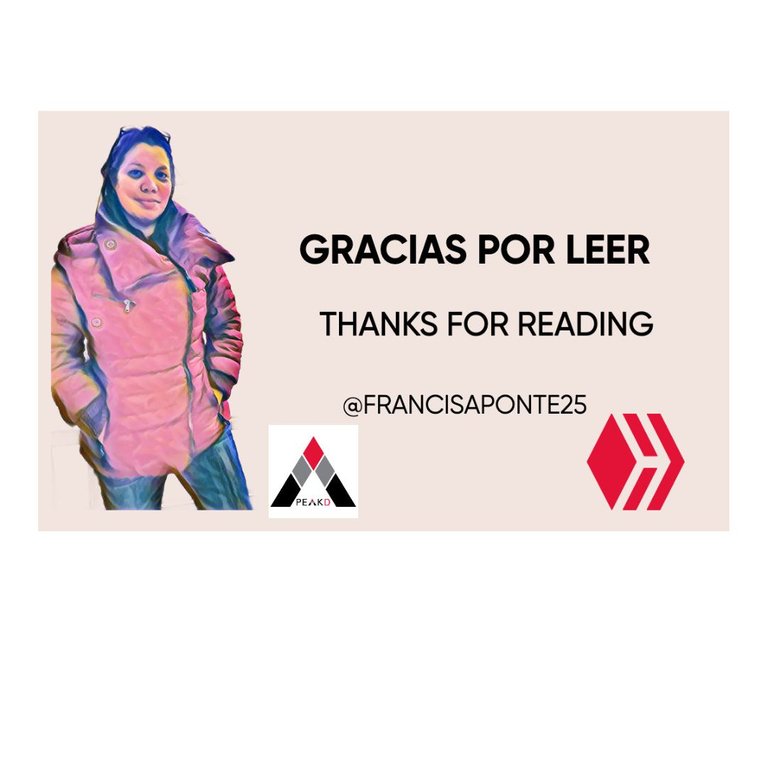 ---
---