Alex Bowman gana en NASCAR CUP Series en una carrera polémica | Alex Bowman wins NASCAR CUP Series in controversial race [ESP-ENG]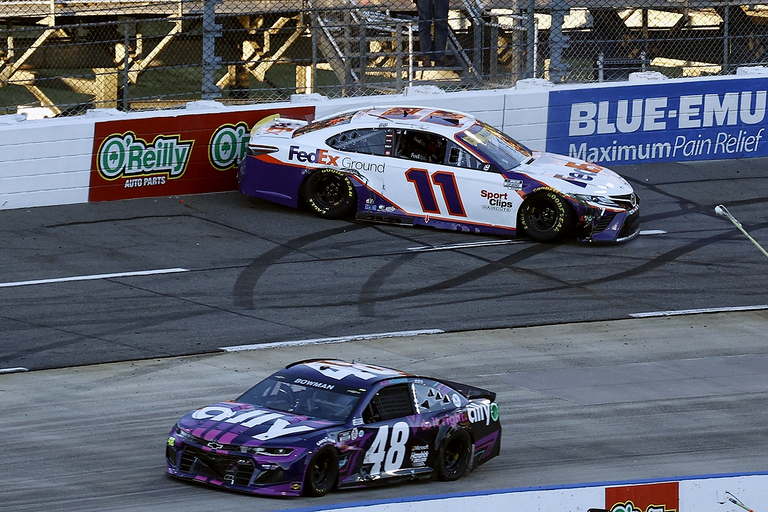 Fuente | Source

Bienvenidos todos a mi blog, en especial los amantes de las carreras, la comunidad #FullDeportes y los lectores en general. Con unas vueltas finales de polémica el piloto de Hendrick MotorSports, Alex Bowman del auto 48, se impuso en lo que fue la carrera de la XFINITY 500 en Martinsville Raceway, luego de que a falta de 6 vueltas para el final de carrera (vuelta 494), tocará y desplaza al piloto Denny Hamlin #11, quien perdió el control del auto, golpeando levemente el muro por lo cual tuvo que entrar a los boxes por neumáticos nuevos que estaban totalmente dañados por el trompo y la frenada brusca que tuve que hacer el impacto. Como todos saben NASCAR suele ser una categoría donde nos da muy emoción, donde los contactos entre los autos están a la orden del día y más en esta pista que por lo difícil que es adelante porque la línea ideal de carrera es la interna, por donde la mayoría de los competidores suelen transitar.
Welcome everyone to my blog, especially racing fans, the #FullSports community and readers in general. With some controversial final laps the Hendrick MotorSports driver, Alex Bowman in car 48, won the XFINITY 500 race at Martinsville Raceway, after with 6 laps to go (lap 494), he touched and displaced the driver Denny Hamlin #11, who lost control of the car, slightly hitting the wall so he had to enter the pits for new tires that were totally damaged by the spin and the sudden braking I had to make the impact. As you all know NASCAR is usually a category that gives us a lot of excitement, where contacts between cars are the order of the day and more on this track because of how difficult it is ahead because the ideal racing line is the inside, where most of the competitors usually drive.
Estos dos iban en una pelea dura a falta de muy pocas vueltas para el final, donde al alcanzar la curva 3 el piloto Bowman le metió el auto al Denny, donde el piloto del auto 48 subió un poco, tocando de esta manera a Hamlin lo que hizo que este trompeará y se le dañara así su carrera. La victoria de Alex le sirvió para sumar a sus estadísticas porque en realidad no estaba peleando por el campeonato ya que había sido eliminado en la anterior etapa de los playoffs. A pesar de este incidente ocurrido en pista, Denny Hamlin logró clasificarse para la ronda de 4 de campeonato, sin embargo este estuvo muy molesto al final de la carrera, mostrando su descontento al finalizar la carrera y tocando el auto 48 cuando este estaba celebrando su victoria, además que de que en entrevista con la televisión dio declaraciones dura en contra de Bowman. En fin NASCAR suele ser una categoría que nos da emoción y que en los cierre de los eventos suele haber mucha polémica entre los pilotos.
These two were in a tough fight with only a few laps to go, where when reaching turn 3 the Bowman driver put the car into Denny, where the driver of car 48 went up a little bit, touching Hamlin and causing him to spin and thus damaging his race. Alex's victory served to add to his stats because he was not really fighting for the championship since he had been eliminated in the previous stage of the playoffs. Despite this incident on the track, Denny Hamlin managed to qualify for the championship round of 4, however he was very upset at the end of the race, showing his dissatisfaction at the end of the race and touching the 48 car when he was celebrating his victory, besides that in an interview with the television he gave harsh statements against Bowman. In short, NASCAR is usually a category that gives us excitement and in the closing of the events there is usually a lot of controversy among the drivers.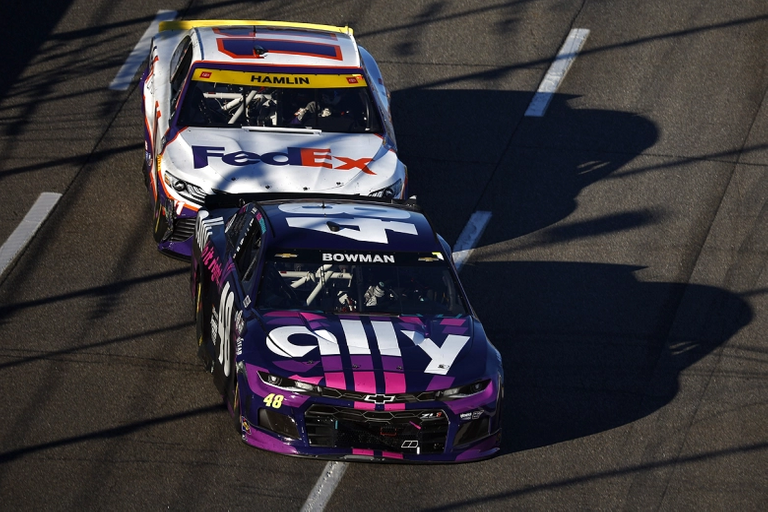 Fuente | Source
Los otros pilotos que acompañan a Denny Hamlin en la lucha por el título en PHOENIX RACEWAY son el ya clasificado desde hace dos carreras, Kyle Larson #5, chase Elliott #9 compañero de equipo de Larson en Hendrick Motorsports y finalmente Martin Truex, por lo cual conseguí predecir los clasificados, como lo puede ver en mi anterior publicación de la previa de esta carrera. Creo que este evento final va a ser una gran lucha entre estos 4 pilotos para ver quien logra coronarse, ¿será que Kyle Larson logro su primer campeonato en su año de regreso de la categoría?, luego de su suspensión y despido del equipo Chip Ganassi Racing o ¿Elliot repetirá el campeonato? luego de haberlo ganado la temporada pasada, ¿Hamlin logra su primer titulo en la serie? luego de muchos años de lucha o ¿Martin Truex se vuelve a coronar?, bueno todas estas incógnitas los tocaré en el siguiente post cuando les hablé de la previa al desenlace de la temporada 2021 de NASCAR CUP Series.
The other drivers that join Denny Hamlin in the fight for the title at PHOENIX RACEWAY are the already qualified from two races ago, Kyle Larson #5, Chase Elliott #9 teammate of Larson at Hendrick Motorsports and finally Martin Truex, so I managed to predict the qualifiers, as you can see in my previous publication of the preview of this race. I think this final event is going to be a great fight between these 4 drivers to see who gets crowned, will Kyle Larson get his first championship in his comeback year in the category? After his suspension and dismissal from Chip Ganassi Racing team or Elliot will repeat the championship after winning it last season, Hamlin wins his first title in the series after many years of struggle or Martin Truex is crowned again, well all these unknowns I will touch in the next post when I talked about the previous to the outcome of the 2021 NASCAR CUP Series season.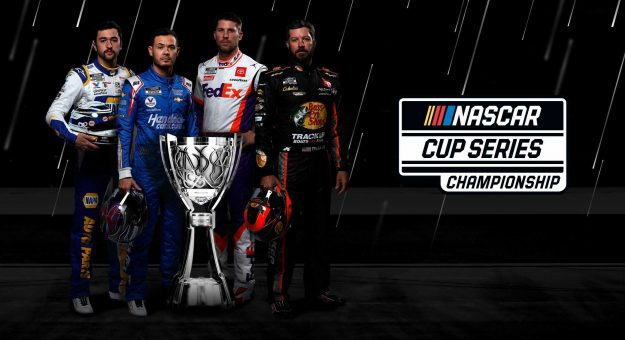 Fuente | Source
Entre los pilotos eliminados que no estarán peleando por el título el próximo domingo 7 del presente mes y año, son Kyle Busch #18, Brad Keselowski #2, Ryan Blaney #12 y Joey Logano #22. Busch estuvo bastante enfadado por no haber clasificado, donde el dos veces campeón de la serie estuvo bastante decepcionado y más aún cuando llego en el segundo lugar de la carrera, pero esto no le basto para lograr su boleto para la ronda de 4. En cuanto a los pilotos de Penske, les tenía fe a Brad y Joey quienes ambos se lograron coronar en la categoría en una ocasión cada uno pero este año no será donde ambos pilotos estén peleando por alcanzar la gloria en su segunda ocasión.
Among the eliminated drivers who will not be fighting for the title next Sunday 7th of this month and year, are Kyle Busch #18, Brad Keselowski #2, Ryan Blaney #12 and Joey Logano #22. Busch was quite angry for not having qualified, where the two-time series champion was quite disappointed and even more when he came in second place in the race, but this was not enough to get his ticket for the round of 4. As for the Penske drivers, I had faith in Brad and Joey who both were crowned in the category on one occasion each but this year will not be where both drivers will be fighting for glory in their second time.
En un resumen de lo que fue la carrera, el piloto Chase Elliot se llevó el primer segmento de la carrera, seguido de Kyle Larson, Martin Truex Jr, William Byron #24 y Brad Keselowski para cerrar el top 5. Mientras que de la posición 6 a la 10 culminaron Kyle Busch, Austin Dillon #3, Alex Bowman, Joey Logano y Aric Almirola #10. En el primer segmento solo hubo dos banderas amarillas y una de ellas fue para finalizar el segmento lo que nos dice que la carrera fue muy fluido en esta etapa con muy pocas neutralizaciones. El segundo segmento lo gano nuevamente Chase Elliot, seguido en esta oportunidad por Alex Bowman, William Byron, Martin Truex Jr, cerrando Denny Hamlin el top 5. Este segmento tan solo tuvo una bandera amarilla para cerrar el segmento. En fin los dos primeros segmentos fueron bastante fluidos y dominado por los pilotos de Hendrick Motorsports (5, 9, 24 y 48).
In a summary of the race, Chase Elliot took the first segment of the race, followed by Kyle Larson, Martin Truex Jr, William Byron #24 and Brad Keselowski to close the top 5. While from position 6 to 10 finished Kyle Busch, Austin Dillon #3, Alex Bowman, Joey Logano and Aric Almirola #10. In the first segment there were only two yellow flags and one of them was at the end of the segment which tells us that the race was very fluid in this stage with very few neutralizations. The second segment was won again by Chase Elliot, followed this time by Alex Bowman, William Byron, Martin Truex Jr, closing Denny Hamlin the top 5. This segment only had one yellow flag to close the segment. In short, the first two segments were quite fluid and dominated by Hendrick Motorsports drivers (5, 9, 24 and 48).
El tercer y último segmento quien determina el ganador del evento fue dominado por Bowman, seguido de Kyle Busch, Brad Keselowski, Martin Truex Jr y William Byron. El piloto que más lideró vueltas en esta carrera fue el auto de Elliott con 289, más de la mitad del evento, dicho piloto llegó en la posición número 16. Denny Hamlin quien tuvo el contacto con el ganador a pocas vueltas del final termino en la posición 24 con 103 vueltas lideradas, mientras que el ganador de la carrera tan solo lidero 9.
The third and final segment that determines the winner of the event was dominated by Bowman, followed by Kyle Busch, Brad Keselowski, Martin Truex Jr and William Byron. The driver who led the most laps in this race was Elliott's car with 289, more than half of the event. Denny Hamlin, who had contact with the winner a few laps from the end, finished in 24th position with 103 laps led, while the winner of the race only led 9 laps.

RESULTADO FINAL DE LA CARRERA
FINAL RACE RESULT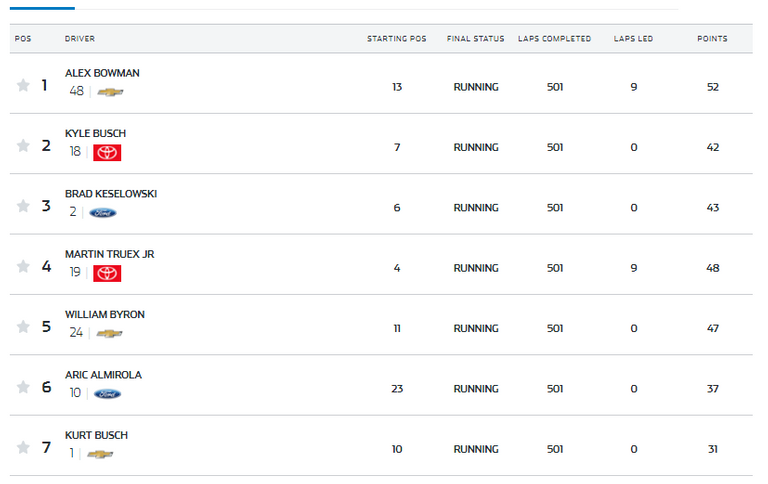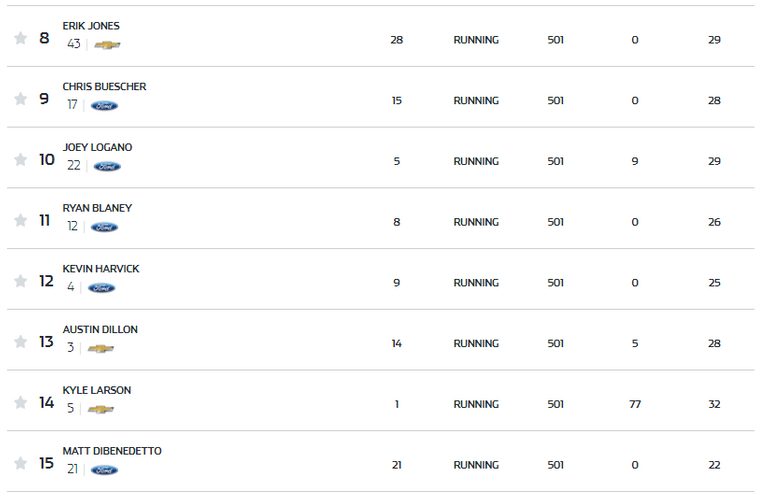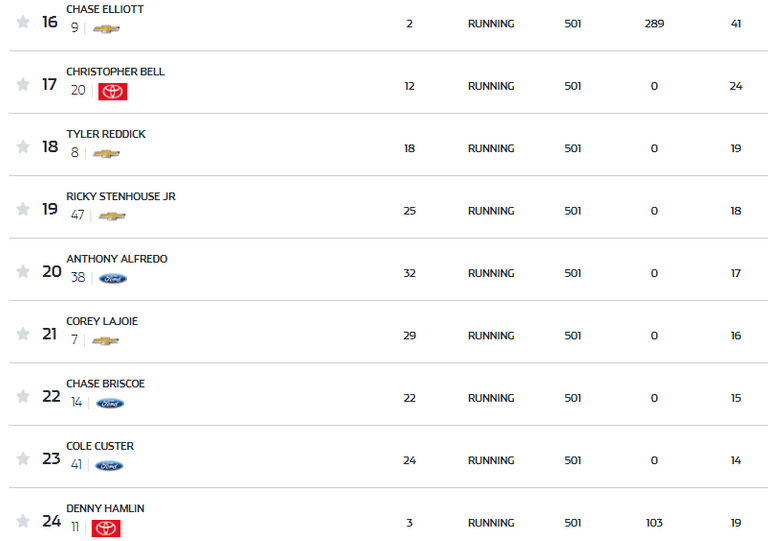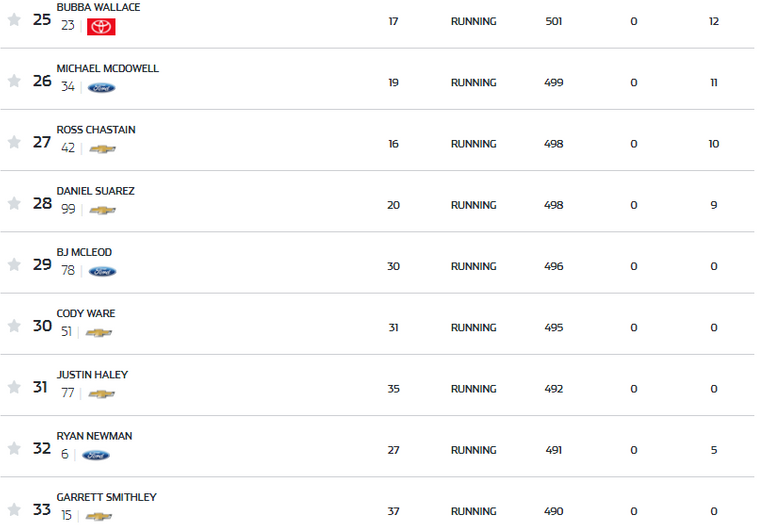 Fuente | Source
Estado del Campeonato luego del evento
State of the Championship after the event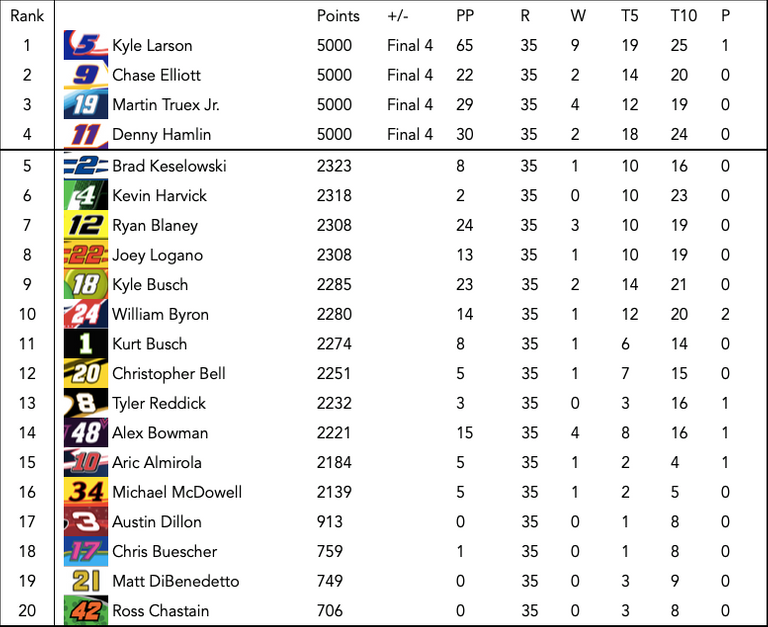 Fuente | Source

Fuente | Source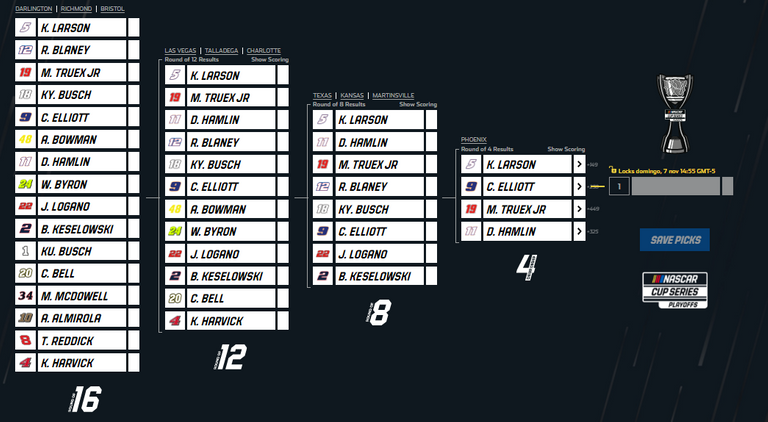 Fuente | Source

La próxima fecha es laNASCAR Cup Series Championship en PHOENIX RACEWAY,el domingo 7 de NOviembre a las 3 ET.
The next date is the NASCAR Cup Series Championship at PHOENIX RACEWAY, Sunday, November 7 at 3 ET.

Fuente | Source

Separador de textos tomador del Post // Post taker text separator : Lucho en la pista (RETA A @equipodelta. | @franz54 reta a @equipodelta a Dibujar) Caricatura.
Gracias por su visita. Espero que les haya gustado. // Thank you for your visit. I hope you liked it.
Hasta una próxima oportunidad // Till a next chance
Sin más que decir, se despide de ustedes, su cordial servidor @franz54. // Without further ado, he bids farewell to you, his cordial server @franz54.

---
---