Ben Rhodes es el campeón de las NASCAR Camping World Truck Series | Ben Rhodes is the NASCAR Camping World Truck Series champion [ESP-ENG]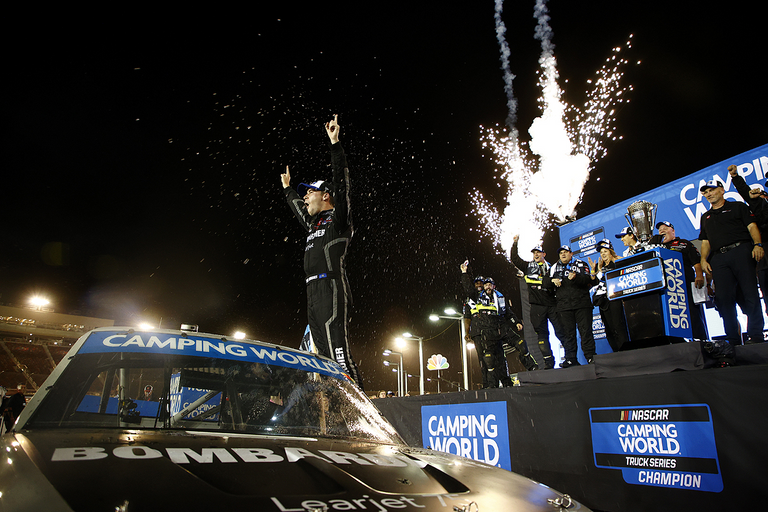 Fuente | Source

Bienvenidos todos a mi blog, en especial los amantes de las carreras, la comunidad #FullDeportes y los lectores en general.
Welcome everyone to my blog, especially racing enthusiasts, the #FullSports community and general readers.
El día de ayer por la noche se llevó a cabo la ronda final de campeonato de la NASCAR Camping World Truck Series, la cual es la tercera división la Categoría. El piloto campeón fue Ben Rhodes #98 del equipo ThorSport Racing Toyota, quien termino en el tercer lugar de la carrera, que fue ganada por el piloto de Chandler Smith #18 De Kyle Busch Motorsports Toyota. Si bien Ben no fue el mejor de la temporada en cuento a números o estadísticas se refiere, sin embargo fue el mejor auto de los 4 que se estaban disputando el título en este fin de semana de campeonato de las tres divisiones nacionales de NASCAR, que dio comienzo el día de ayer con la serie de la cual les estoy hablando el día de hoy. Esta serie es de las camionetas donde comienzan aquellos pilotos que vienen de las series regionales o semilleros, que no vienen más que a buscar una oportunidad para llegar a la máxima división, pero para ello deben pasar por esta serie y por la Xfinity, para agarrar experiencia y darse a conocer, cautivar patrocinios y equipos que le den una butaca para así dar el todo por el todo en las carreras.
Last night took place the final round of the NASCAR Camping World Truck Series championship, which is the third division of the category. The champion driver was Ben Rhodes #98 of ThorSport Racing Toyota, who finished third in the race, which was won by Chandler Smith's #18 Kyle Busch Motorsports Toyota. Although Ben was not the best of the season in terms of numbers or statistics, he was the best car of the 4 cars that were competing for the title in this championship weekend of the three NASCAR national divisions, which started yesterday with the series that I am talking about today. This series is one of the trucks where the drivers that come from the regional or seeded series start, that only come to look for an opportunity to get to the top division, but for that they must go through this series and the Xfinity, to gain experience and make themselves known, captivate sponsorships and teams that give them a seat to give their all in the races.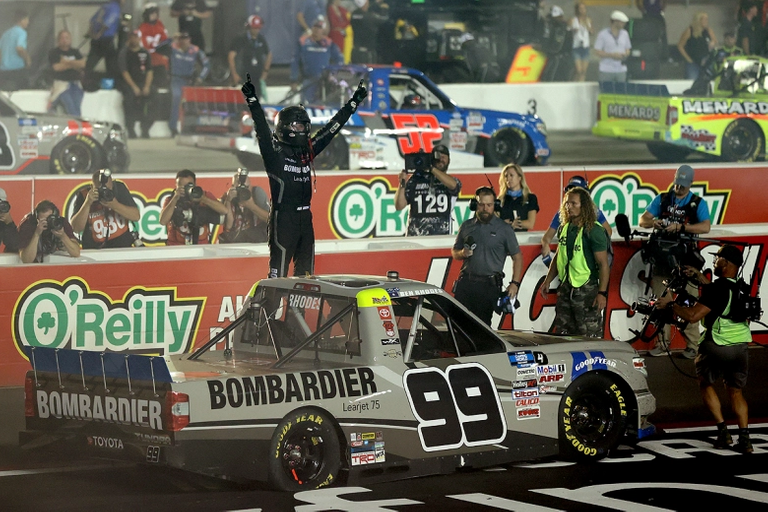 Fuente | Source
Ben Rhodes finalizó con buenos números esta temporada, alcanzando principalmente el título de la serie que es lo más importante, pero más allá de ello, logró dos ganes, 8 tops 5, 16 tops 10, 99 vueltas lideradas y tan solo dos etapas ganadas en la temporada, pero lo más importante de todo ello es que no tuvo ningún abandono, dicha regularidad en las carreras fue que le dio esta oportunidad de esta en la lucha final, y pues dichos esfuerzos con un trabajo duro cada fin de semana dio sus frutos, que no solo fue lograr el trofeo de campeón como piloto, sino que también le dio el campeonato de propietarios y fue equipo, lo cual le abre una gran oportunidad de ir avanzando y porque no, correr la próxima temporada en la Xfinity Series para un futuro lograr el objetivo de todo piloto que es llegar a la CUP series.
Ben Rhodes finished with good numbers this season, achieving mainly the series title which is the most important thing, but beyond that, he achieved two wins, 8 tops 5, 16 tops 10, 99 laps led and only two stages won in the season, but the most important of all is that he had no withdrawals, such regularity in the races was that gave him this opportunity to be in the final fight, And these efforts with hard work every weekend paid off, which not only was to achieve the championship trophy as a driver, but also gave him the championship of owners and team, which opens a great opportunity to move forward and why not, run next season in the Xfinity Series to achieve the goal of every driver is to reach the CUP series in the future.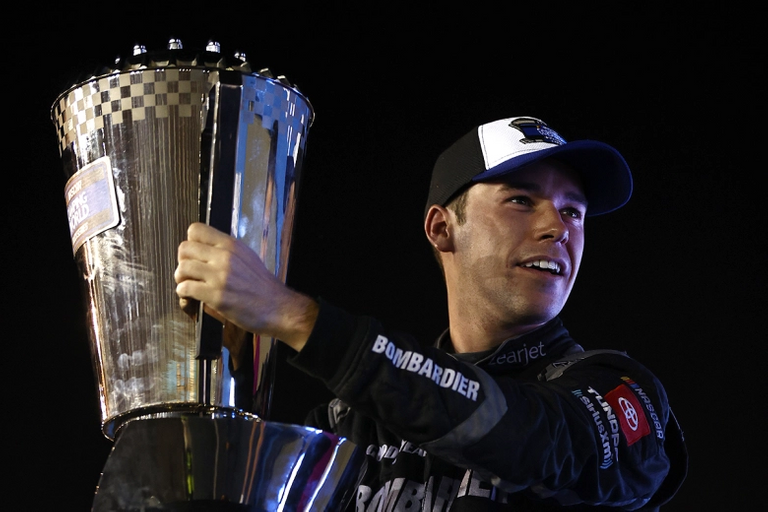 Fuente | Source
Rhodes es un joven piloto de 24 años de edad, que fue campeón de la ARCA Menards Series East en 2014, que es una serie regional de NASCAR, lo que le dio la oportunidad de correr a tiempo completo en esta serie y hacer algunas carreras en la NASCAR Xfinity Series. Este es un piloto que tiene talento, que si bien no es de los pilotos que vienen con mucho renombre por lo que han hecho en la categoría semilleros, pero si ha logrado grandes cosas y suma un título más a su palmarés.
Rhodes is a young 24-year-old driver, who was champion of the ARCA Menards Series East in 2014, which is a regional NASCAR series, which gave him the opportunity to run full time in this series and do some races in the NASCAR Xfinity Series. This is a talented driver, who although he is not one of the drivers who come with much renown for what they have done in the seed category, but if he has achieved great things and adds one more title to his record.
El día de hoy me quería concentrar solo en el piloto ganador de la carrera y campeón de la serie, pero sin embargo es importante mencionarles la decepción de quién era el piloto favorito para lograr el campeonato pero no tuvo una gran carrera lo cual nunca se le vio peleando por el título en esta carrera, lo que lo habrá dejado cabizbajo, por lo buenos números que dejo esta temporada como 5 victorias, el mayor número de victoria esta temporada, 12 tops 5, 16 tops 10, 572 vueltas lideradas y 11 etapas ganadas en toda la temporada (la mayor cantidad), con tan solo dos abandono. Si mal no recuerdo este piloto la próxima temporada pasa a correr en la Xfinity Series, que a pesar de no lograr el objetivo pero es un piloto con mucho talento y que puede lograr buenas cosas en las series superiores.
Today I wanted to focus only on the winning driver of the race and champion of the series, but nevertheless it is important to mention the disappointment of who was the favorite driver to win the championship but did not have a great race which was never seen fighting for the title in this race, which will have left him crestfallen, for the good numbers he left this season as 5 wins, the highest number of victory this season, 12 tops 5, 16 tops 10, 572 laps led and 11 stages won throughout the season (the most), with only two abandonments. If I remember correctly, this driver will race next season in the Xfinity Series, which despite not achieving the goal but is a very talented driver and can achieve good things in the top series.
En cuanto a la carrera el piloto ganador como ya les mencione fue Chandler Smith quien tuvo un gran dominio y se llevó todas la etapas, la primera, segunda y la final, donde en los segmentos 1 y 2 de la carrera, fue seguido por el piloto Sheldon Creed #2. En cuanto a los resultados finales de la carrera, en el segundo lugar quedo Stewart Friesen #52, seguido por el campeón Ben Rhodes, Sheldon Creed culmino finalmente en la cuarto posición, mientras que el top 5 lo cerró Zane Smith #21 quien fue el ganador del anterior evento. Esta carrera fue bastante fluido, con tan solo 4 banderas amarillas y dos de ellas para los cierres de los segmento 1 y 2, una gran carrera con muchas emociones como NASCAR nos suele brindar.
As for the race the winning driver as I mentioned was Chandler Smith who had a great domain and took all the stages, the first, second and final, where in segments 1 and 2 of the race, was followed by the driver Sheldon Creed #2. As for the final results of the race, in second place was Stewart Friesen #52, followed by the champion Ben Rhodes, Sheldon Creed finally finished in fourth place, while the top 5 was closed by Zane Smith #21 who was the winner of the previous event. This race was quite fluid, with only 4 yellow flags and two of them for the closing of segments 1 and 2, a great race with many emotions as NASCAR usually gives us.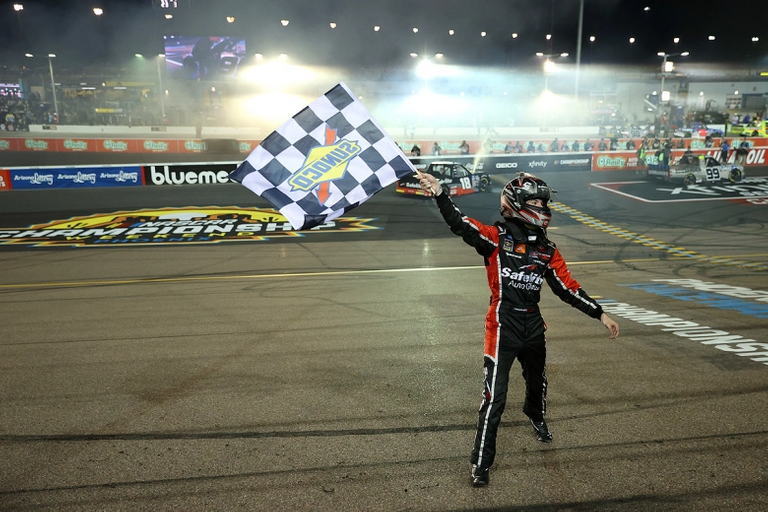 Fuente | Source

RESULTADO FINAL DE LA CARRERA
FINAL RACE RESULT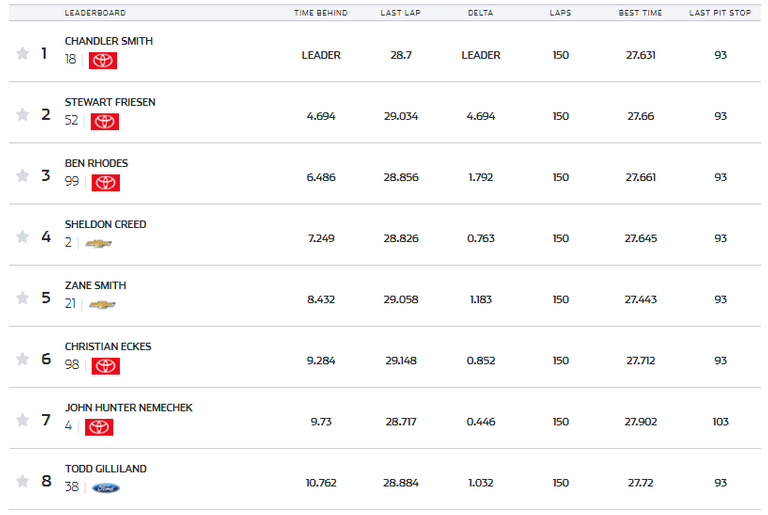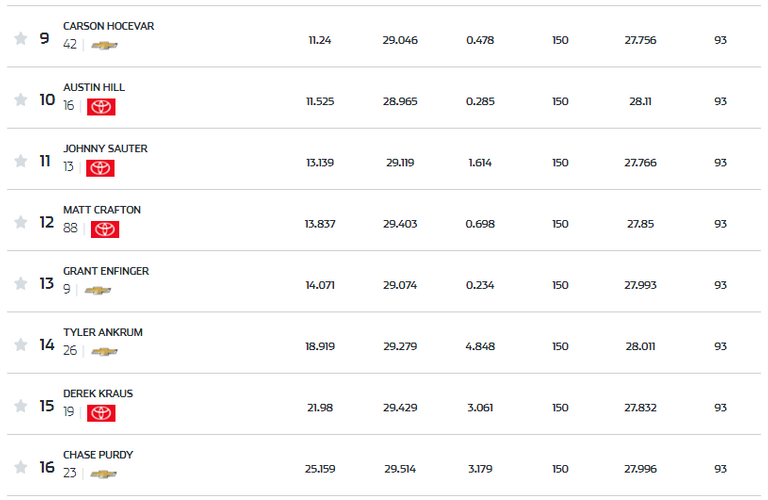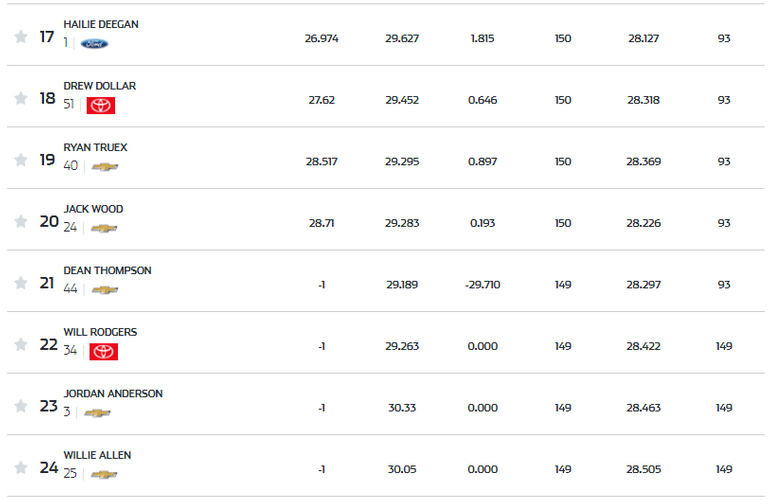 Fuente | Source
Promedio de Velocidad del ganador | Winner's Average Speed: 99.374 mph.
Tiempo de carrera | Running time: 1:30:34 horas.
Margen de victoria | Margin of victory: 4.694 seg.
Banderas amarillas | Yellow flags: 4 para 25 vueltas.
Cambios de líder | Changes in leadership: 12 entre 3 pilotos.
Estado Final del Campeonato
Final Championship Status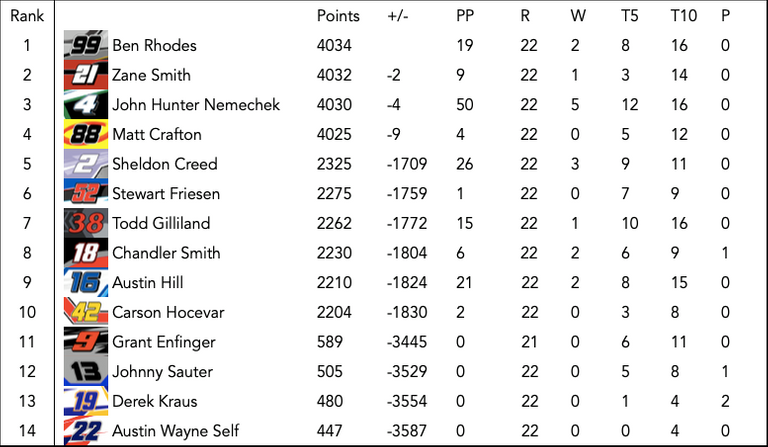 Fuente | Source

Ya finalizado el campeonato, la proxima fecha es la NextEra Energy 250 DAYTONA INTERNATIONAL SPEEDWAY, el Viernes 18 de febrero del año 2022 a las 7:30 PM ET. Nos vemos en el año que viene con más análisis y opiniones pre y pos de la NASCAR Camping World Truck Series en mi blog.
With the championship now over, next up is the NextEra Energy 250 DAYTONA INTERNATIONAL SPEEDWAY on Friday, February 18, 2022 at 7:30 PM ET. See you in the coming year with more pre and post NASCAR Camping World Truck Series analysis and opinions on my blog.

Fuente | Source

Separador de textos tomador del Post // Post taker text separator : Lucho en la pista (RETA A @equipodelta. | @franz54 reta a @equipodelta a Dibujar) Caricatura.
Gracias por su visita. Espero que les haya gustado. // Thank you for your visit. I hope you liked it.
Hasta una próxima oportunidad // Till a next chance
Sin más que decir, se despide de ustedes, su cordial servidor @franz54. // Without further ado, he bids farewell to you, his cordial server @franz54.

---
---