Cada vez está más cerca el inicio de los playoffs de NASCAR || The start of the NASCAR playoffs is getting closer and closer [Esp-Eng]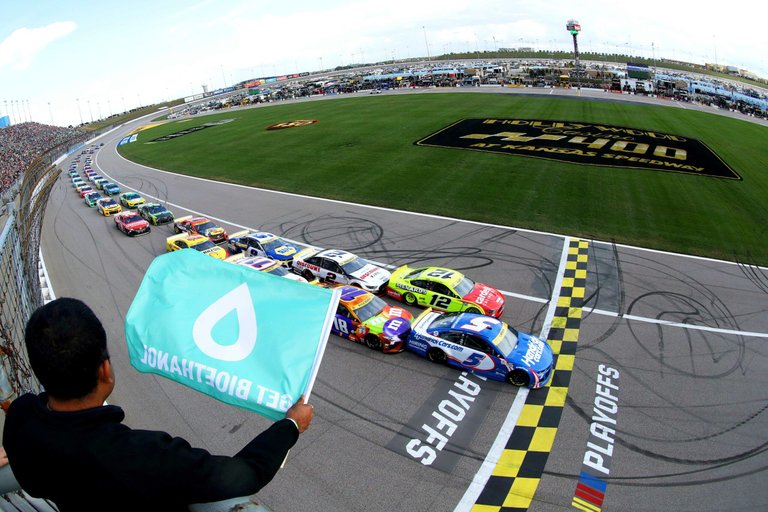 Fuente | Source

Cada vez falta menos para que finalice el campeonato regular y se dé inicio a los playoffs de NASCAR de sus tres divisiones nacionales, donde los pilotos estarán peleando por el título de la temporada 2022. En la NASCAR Cup Series aún quedan 5 carreras, mientras que la Xfinity Series son 7 las restantes, por otra parte es importante destacar que las camionetas (Camping World Truck Series) ya dió comienzo a los playofss en el óvalo Indianapolis Raceway Park, que se conocer como la pequeña Indianapolis. Normalmente les traigo reseñas de lo que es la NASCAR Cup Series, así que para el día de hoy les voy a compartir como se disputará los playofss de cada una de las series, aunque más enfocado en la serie de la copa. Siempre es importante conocer las generalidades de algún deporte para que así los lectores puedan conocer de qué estamos hablando, allí la importancia y el objetivo del tema de hoy.
The end of the regular championship and the start of the NASCAR playoffs of its three national divisions, where the drivers will be fighting for the title of the 2022 season, are getting closer and closer. In the NASCAR Cup Series there are still 5 races left, while the Xfinity Series has 7 races remaining, on the other hand it is important to note that the trucks (Camping World Truck Series) has already started the playoffs at the Indianapolis Raceway Park oval, which is known as the little Indianapolis. Normally I bring you reviews of what is the NASCAR Cup Series, so for today I will share with you how the playoffs of each of the series will be played, although more focused on the Cup Series. It is always important to know the generalities of a sport so that readers can know what we are talking about, there the importance and purpose of today's topic.
En cuanto a la NASCAR Cup Series el campeonato regular esta comprendida con 26 fechas de las 36 que nos trae el calendario ya que las 10 restantes son para los playoffs. Para estos últimos 10 eventos se clasifican 16 pilotos, donde los que logran victoria en la temporada regular logran su boleto directo, y los otros se determinan por puntos de ser necesario. A falta de 6 fechas ya se encuentran clasificados 14 pilotos ya que lograron ganar al menos una vez, estos son Chase Elliott, Ross Chastain, Joey Logano, William Byron, Kyle Larson, Denny Hamlin, Christopher Bell, Kyle Busch, Alex Bowman, Daniel Suárez (Mexicano), Tyler Reddick, Austin Cindric, Chase Briscoe y Kurt Busch, todos ellos lograron ganar. Por otro lado quedan dos cupos, que por lo momentos quedan en manos de Ryan Blaney y Martin Truex Jr quienes tienen una buena ventaja con respecto a Kevin Harvick quien se encuentra en la posición 17 de campeonato.
As for the NASCAR Cup Series, the regular championship is comprised of 26 of the 36 dates of the calendar, since the remaining 10 are for the playoffs. For these last 10 events 16 drivers qualify, where those who achieve victory in the regular season get their direct ticket, and the others are determined by points if necessary. With 6 dates left to go, 14 drivers have already qualified since they managed to win at least once, these are Chase Elliott, Ross Chastain, Joey Logano, William Byron, Kyle Larson, Denny Hamlin, Christopher Bell, Kyle Busch, Alex Bowman, Daniel Suarez (Mexican), Tyler Reddick, Austin Cindric, Chase Briscoe and Kurt Busch, all of them managed to win. On the other hand, there are two spots left, which are currently in the hands of Ryan Blaney and Martin Truex Jr., who have a good advantage over Kevin Harvick, who is in the 17th position of the championship.
Ahora bien, esos 16 pilotos avanzan y pelearan por el título de pilotos y equipos, que como les dije disputaran las últimas carreras, donde estas se dividen en rondas de eliminación. La primera ronda obviamente son de 16 pilotos a 3 carreras (óvalos de Kansas, Darlington y Bristol), donde los últimos 4 en la tabla de posiciones del campeonato luego de corrida estos tres eventos quedan totalmente eliminados de los playoffs, claro siguen disputando lo que queda del campeonato pero sin opciones para consagrarse campeón. Los otros doces avanzan a la siguiente ronda, donde disputan tres carreras (óvalos de Texas, Talladega y finalmente en el circuito de carretera del óvalo de Charlotte) al igual que la anterior quedan eliminados el mismo número (pilotos). Luego tenemos la ronda de 8 (participan los 8 pilotos que quedan con vida en la disputa por el título) donde se corren igual tres competiciones (Las Vegas, Homestead Miami y Martinsville) y los primeros 4 en el campeonato avanza a la ronde Final que se disputa en el óvalo de Phoenix. En la ronda de 4 el piloto que quede por delante de los otros será el campeón. Es importante destacar que en cada una de las rondas anteriores antes de la final quien gane la una carrera se asegura el pase a la siguiente, sin importar su estado en el campeonato.
Now, those 16 drivers will advance and fight for the drivers and teams title, which as I told you will compete in the last races, where these are divided into elimination rounds. The first round obviously consists of 16 drivers in 3 races (Kansas, Darlington and Bristol ovals), where the last 4 in the championship standings after running these three events are totally eliminated from the playoffs, of course they continue to dispute what is left of the championship but without options to become champion. The other twelve advance to the next round, where they compete in three races (Texas oval, Talladega and finally the Charlotte oval road course) and the same number of drivers are eliminated. Then we have the round of 8 (the 8 drivers that are still alive in the dispute for the title participate) where three races are run (Las Vegas, Homestead Miami and Martinsville) and the first 4 in the championship advance to the Final round that is disputed in the oval of Phoenix. In the round of 4, the driver who is ahead of the others will be the champion. It is important to note that in each of the previous rounds before the final, whoever wins a race is assured to advance to the next one, regardless of his status in the championship.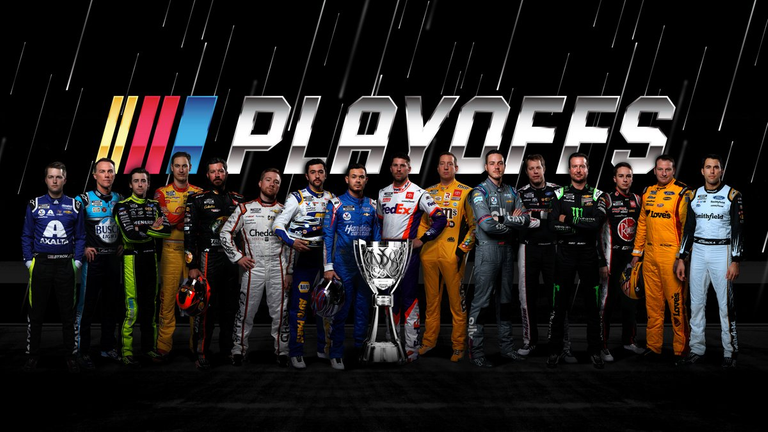 Pilotos clasificados a los playoffs en la temporada 2021 || Drivers qualifying for the playoffs in the 2021 season
Otro dato importante es que la temporada regular da punto para los playoffs, donde estos se reparten de la siguiente manera: Un punto para aquel piloto que gane etapas, ya que como saben las carreras de NASCAR se dividen en etapas que estas dan punto tanto para el campeonato normal como para la pos-temporada; por otra parte quien gane una carrera se lleva 5 puntos para los playoffs, mientras que ganar el campeonato regular de las primeras 26 carreras se lleva adicionalmente 15, el segundo 10, el tercer 8, y luego los puntos dados se reducen un punto hasta llegar a la décima posición. Estos puntos que son vitales a la hora de la lucha por el título en la pos-temporada. Si los pilotos no se clasifican, estos puntos no son tomados en cuenta. Al inicio de los playoffs se reinician los puntos, al igual que en las rondas, de tal manera que los pilotos eliminados no puedan alcanzar a los clasificados. Estas generalidades se cumplen para las tres divisiones nacionales.
Another important fact is that the regular season gives points for the playoffs, where these are distributed as follows: One point for that driver who wins stages, since as you know NASCAR races are divided into stages that these give point for both the regular championship and for the post-season; on the other hand whoever wins a race gets 5 points for the playoffs, while winning the regular championship of the first 26 races gets additionally 15, the second 10, the third 8, and then the points given are reduced by one point until reaching the tenth position. These points that are vital when it comes to the fight for the title in the post-season. If drivers do not qualify, these points are not taken into account. At the start of the playoffs, the points are reset, as in the rounds, so that the eliminated drivers cannot catch up with the qualified drivers. These generalities apply to all three national divisions.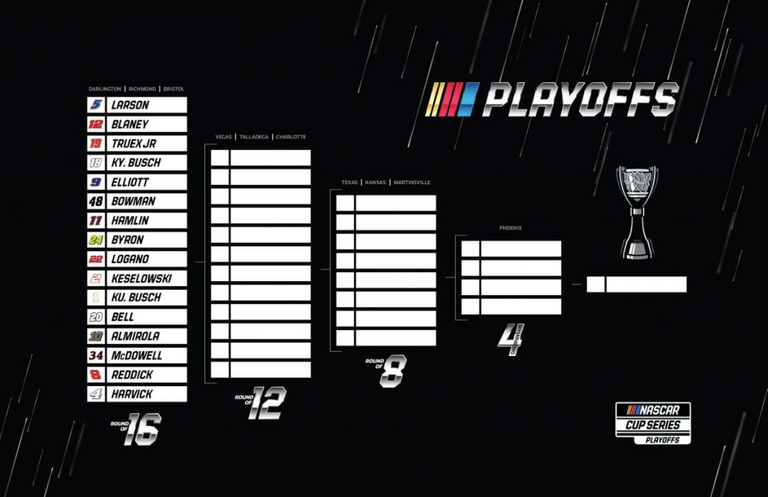 Lista de clasificados y rondas de la postemporada 2021 || List of qualifiers and rounds of the 2021 postseason

En la xfinity Series el proceso es similar a la serie de la copa; es decir, por rondas de eliminación hasta llegar a Phoenix que es la ronda final donde saldrá el campeón, solo que en esta los clasificados para los playoffs son 12 pilotos, donde disputan tres rondas. Estos dan comienzo el día 24 de Septiembre del presente año en el óvalo de Texas Motor Speedway con la ronda de 12, mientras que Talledega y Charlotte (Carretera) son las otras dos restantes. La Ronda de 8 las carreras se disputan en Las Vegas, Homestead y Martinsville. Hasta el momento hay 7 pilotos que han logrando el boleto para la postemporada, siendo ellos Ty Gibbs el mayor ganador de la temporada, Justin Allgaier, Noah Gragson, AJ Allmendinger, Josh Berry, Austin Hill y Brandon Jones, mientras que por el momento en los puntos van dentro de la línea de clasificación Sam Mayer, Daniel Hemric, Riley Herbst, Ryan Sieg y Landon Cassill.
In the xfinity Series the process is similar to the Cup series; that is, by elimination rounds until reaching Phoenix, which is the final round where the champion will emerge, only that in this one the qualified drivers for the playoffs are 12, where they compete in three rounds. These begin on September 24 of this year at the oval of Texas Motor Speedway with the round of 12, while Talledega and Charlotte (Road) are the other two remaining. The Round of 8 races will be held at Las Vegas, Homestead and Martinsville. So far there are 7 drivers who have punched their ticket to the postseason, being Ty Gibbs the biggest winner of the season, Justin Allgaier, Noah Gragson, AJ Allmendinger, Josh Berry, Austin Hill and Brandon Jones, while at the moment in the points are inside the qualifying line Sam Mayer, Daniel Hemric, Riley Herbst, Ryan Sieg and Landon Cassill.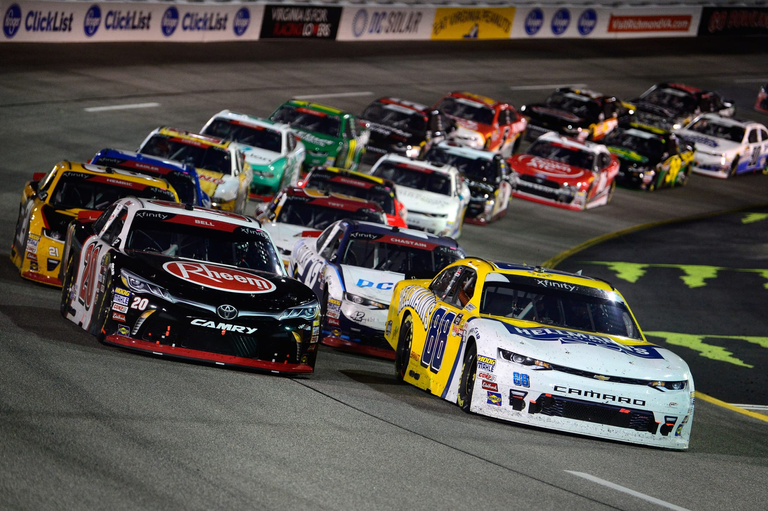 Fuente | Source
La serie de las camionetas (tercera división Nacional de NASCAR) el sistema es igual que las anteriores, es decir, por eliminación, solo que en esta los clasificados para los playoffs tan solo son 10, donde obviamente la primera ronda es de 10 pilotos siendo los criterios de eliminación los mismos ya mencionados hasta llegar a la carrera final en el desierto de Phoenix. La primera ronda se disputan en Indianapolis Raceway Park, Richmond Raceway y Kansas, donde quedan eliminados dos pilotos, mientras que la ronda de 8 se corren en Bristol, Talldega y Homestead, aquí son 4 los eliminados. Los playoffs de esta serie comenzaron el día de ayer, ya que el calendario es mucho más corto, ya que tan solo el calendario está conformado por 23 fechas, en comparación a la NASCAR Cup Series que son 36. El ganador de esta carrera inicial fue Grant Enfinger quien logró así su pase directo a la ronda de 8 por haber ganado esta carrera, sin importar lo que ocurra en las otras dos.
The Truck Series (NASCAR's third National division) the system is the same as the previous ones, that is to say, by elimination, only that in this one the qualifiers for the playoffs are only 10, where obviously the first round is of 10 drivers being the same elimination criteria already mentioned until reaching the final race in the desert of Phoenix. The first round is disputed at Indianapolis Raceway Park, Richmond Raceway and Kansas, where two drivers are eliminated, while the round of 8 are run at Bristol, Talldega and Homestead, where 4 drivers are eliminated. The playoffs of this series began yesterday, since the calendar is much shorter, as only the calendar is made up of 23 dates, compared to the NASCAR Cup Series which has 36. The winner of this initial race was Grant Enfinger who got his direct pass to the round of 8 for having won this race, regardless of what happens in the other two.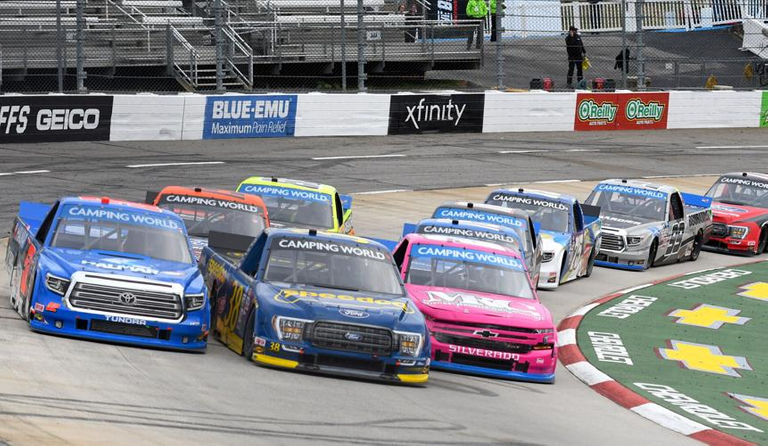 Fuente | Source
Es importante mencionar que el sistema para definir el campeón durante estos años ha campeonato. Incialmente no existía los playoffs o Chase como también se le conoció, ya que el campeón de determina por aquel que acumulara la mayor cantidad de puntos como ocurre actualmente en la F1 pero debido a que un piloto ganó el campeonato sin haber ganado al menos una carrera y debido a la polémica que causó, la categoría decidió implementar lo que se conoció como Chase donde clasificaban si mal no recuerdo los primeros 12 pilotos en el campeonato, se reiniciaban los puntos y quien acumulara la mayor cantidad de puntos en las últimas 10 carreras que eran el chase, quedaba campeón, donde la última carrera era en Homestead Miami. Esta formato no da lugar a errores o malas carrera, lo cual me parece que fue un acierto para NASCAR. Pero luego de un tiempo y con el dominio piloto ya retirado Jimmie Johnson 7 veces campeón (conocido como Superman), quien logró 5 campeonatos consecutivos desde el 2006 hasta el 2010, fue el dominar de la era del Chase, lo cual obligó nuevamente a la serie a realizar los cambios que tenemos actualmente que les acabo de explicar. ¿Porque se implementaron estas reglas? pues porque Johnson no era tan dominante en Homestead como en las otras pistas, claro que era muy constante en los 10 óvalos donde se disputaban esta postemporada, pero era más débil en la pista mencionada. Y bueno finalmente los cambios funcionaron ya que este no logró quedar más campeón.
It is important to mention that the system to define the champion during these years has been the championship. Initially there was no playoffs or Chase as it was also known, since the champion was determined by the one who accumulated the most points as currently happens in F1 but because a driver won the championship without having won at least one race and due to the controversy it caused, the category decided to implement what was known as the Chase where, if I remember correctly, the first 12 drivers in the championship qualified, the category decided to implement what was known as Chase where the first 12 drivers in the championship qualified, if I remember correctly, the points were restarted and whoever accumulated the most points in the last 10 races that were the chase, became champion, where the last race was in Homestead Miami. This format gives no room for mistakes or bad races, which I think was a good thing for NASCAR. But after a while and with the dominance of retired driver Jimmie Johnson 7 times champion (known as Superman), who achieved 5 consecutive championships from 2006 to 2010, was the dominator of the Chase era, which again forced the series to make the changes we have today that I have just explained. **Why were these rules implemented? because Johnson was not as dominant in Homestead as in the other tracks, of course he was very consistent in the 10 ovals where this postseason was disputed, but he was weaker in the mentioned track. And finally the changes worked because he was not able to become champion anymore.
¿Qué parece el formato de los playoffs?
En un principio este no me gusto, como he mencionado en varias oportunidades soy purista, no me gustan las cambios cuando estoy acostumbrado a algo, pero luego me dí cuenta que estos en muchos casos son necesarias, ya que los fanáticos se tienden aburrir de los mismo y al cabo de tiempo el campeonato de NASCAR se definían de una manera muy entretenidas, con finales de carreras geniales no aptos para cardíacos. Así que los cambios fueron positivos. ¿Cuál es tu opinión? me lo puedes dejar saber en un comentario en este post.
At first I didn't like this one, as I have mentioned several times I am a purist, I don't like changes when I am used to something, but then I realized that in many cases they are necessary, since fans tend to get bored of the same and after some time the NASCAR championship was defined in a very entertaining way, with great race finishes not suitable for the heart. So the changes were positive, what is your opinion, let me know in a comment in this post.

Separador de textos tomador del Post fue creado por mi persona en: Canva || Post taker text separator was created by myself at: Canva
Translated with www.DeepL.com/Translator (free version)
Hasta una próxima oportunidad || Till a next chance
Sin más que decir, se despide de ustedes, su cordial servidor @franz54 || Without further ado, he bids farewell to you, his cordial server @franz54.

---
---