Joey Logano gana una polémica carrera de NASCAR en Las Vegas || Joey Logano wins controversial NASCAR race in Las Vegas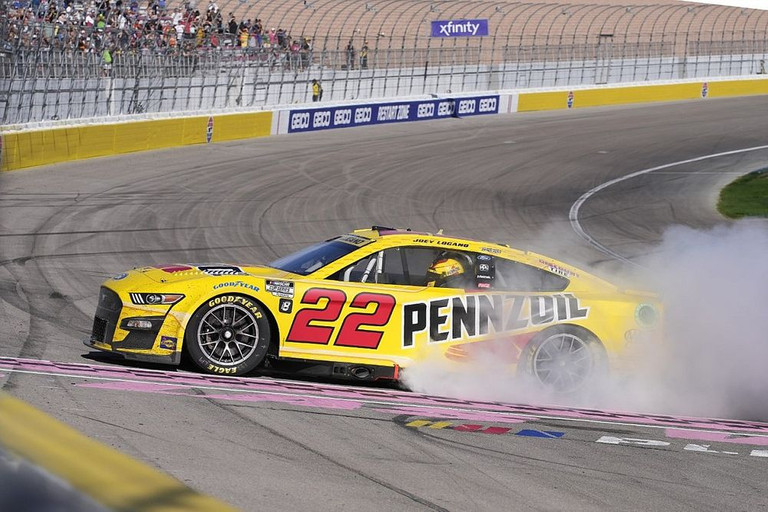 Source

El piloto del auto 22 del equipo Penske se llevó la victoria en la carrera en Las Vegas, siendo esta la primera fecha de la ronda de 8. El gane Logano lo obtuvo de una manera muy sensacional al adelantan a Ross Chastain a falta de dos vueltas para finalizar la competición. Pero la noticia no solo es la victoria de Joey, sino que también fue una carrera llena de polémicas por diversas razones que iré desarrollando a medida que avance en este escrito. Este es una importante victoria ya que de esta manera Logano se convierte en el primer piloto clasificado para la gran final que se correrá en Phoenix el próximo mes de Noviembre, donde se determinará el campeón de la temporada. Esta ronda se le conoce como la ronda de 4 y con el boleto del ganador de la carrera en las Vegas en las eliminatorias de la Copa NASCAR, aún quedan tres cupos disponibles y estos los conoceremos en las siguientes dos fechas.
The driver of car 22 of Team Penske took the victory in the race in Las Vegas, being this the first date of the round of 8. Logano won in a very sensational way when he overtook Ross Chastain with two laps to go to finish the competition. But the news is not only the victory of Joey, but it was also a race full of controversy for various reasons that I will develop as I progress in this writing. This is an important victory because this way Logano becomes the first driver to qualify for the grand finale to be run in Phoenix next November, where the season champion will be determined. This round is known as the round of 4 and with the ticket of the winner of the race in Las Vegas in the NASCAR Cup Series playoffs, there are still three spots available and we will know them in the next two dates.
NASCAR suele ser una categoría que nos brinda un gran espectáculo, por las excelentes carreras que vemos, donde muchos pilotos tienen la oportunidad de ganar. Pero no siempre todo es color de rosa, debido a que a veces se dan acontecimientos infortunados que empañan un poco lo que es esta hermosa disciplina, por algo es la más importante de los Estados Unidos. Claro que cuando hablamos del deporte motor. Esto lo sacó a relucir para explicar un poco por qué el título de polémica carrera. En el giro 95 hubo un contacto propiciado entre los pilotos Kyle Larson quien es el piloto campeón de temporada pasada y Bubba Wallace. Esto Ocurrió en la curva 4 cuando estaban batallando por la sexta posición, pero esto para nada resultó bien y ambos autos chocaron, que en mi opinión fue más culpa de Wallace ya que subió en poco. Dicho esto, lo principal no es la noticia del coche ya que esto es muy común en la categoría, lo que si paso es que cuando se bajan de sus coches ambos pilotos ya que debieron abandonar, Wallace fue a buscar a Larson para confrontarlo por lo sucedido, incluso hubo un encontronazo entre estos.
NASCAR is usually a category that gives us a great show, because of the excellent races we see, where many drivers have the opportunity to win. But not always everything is rosy, because sometimes there are unfortunate events that tarnish a little what is this beautiful discipline, which is why it is the most important in the United States. Of course, when we talk about motorsports. He brought this up to explain a bit why the title of controversial race. In turn 95 there was a contact between the drivers Kyle Larson who is the champion driver of last season and Bubba Wallace. This happened in turn 4 when they were battling for the sixth position, but this did not turn out well at all and both cars collided, which in my opinion was more Wallace's fault as he went up too low. That said, the main thing is not the news of the car since this is very common in the category, what did happen is that when both drivers got out of their cars since they had to abandon, Wallace went to look for Larson to confront him for what happened, there was even a clash between them.
La verdad es que esta clase de actos donde dos pilotos profesionales se van a los golpes, donde son vistos no solo en su país sino que en muchas partes del mundo, da un mal ejemplo para los jóvenes, así que creo que estas cosas no deberían pasar. En lo personal y dando un poco mi opinión, no entiendo a Bubba Wallace, si claramente fue un incidente de carrera y si tendría que culpar a uno de los dos, precisamente él se llevaría una mayor responsabilidad. Pero todo esto ocurre tal vez ya que recordar que Kyle Larson si mal no recuerdo en 2020 fue suspendido por NASCAR y despedido de su equipo por hacer comentarios racistas en una transmisión de una carrera online, lo que se conoce como eSports. Wallace es una persona de color que lucha encontrar de estos actos, así que tal vez de allí venga el asunto entre estos dos. ¿Cómo se resolverá este asunto? Lo más probable es que haya una sanción económica para ambos pilotos, aunque en lo personal se la daría más a Wallace porque fue quien busco a Larson, más bien este segundo trató de evitar el conflicto.
The truth is that this kind of acts where two professional drivers come to blows, where they are seen not only in their country but in many parts of the world, sets a bad example for young people, so I think these things should not happen. Personally and giving my opinion a little bit, I don't understand Bubba Wallace, if it was clearly a racing incident and if I would have to blame one of the two, precisely he would take more responsibility. But all this happens maybe since remember that Kyle Larson if I remember correctly in 2020 was suspended by NASCAR and fired from his team for making racist comments in an online race broadcast, what is known as eSports. Wallace is a person of color who struggles to find of these acts, so maybe that's where the issue between these two is coming from. How will this issue be resolved? Most likely there will be a financial penalty for both drivers, although personally I would give it more to Wallace because he was the one who sought Larson, rather this second tried to avoid the conflict.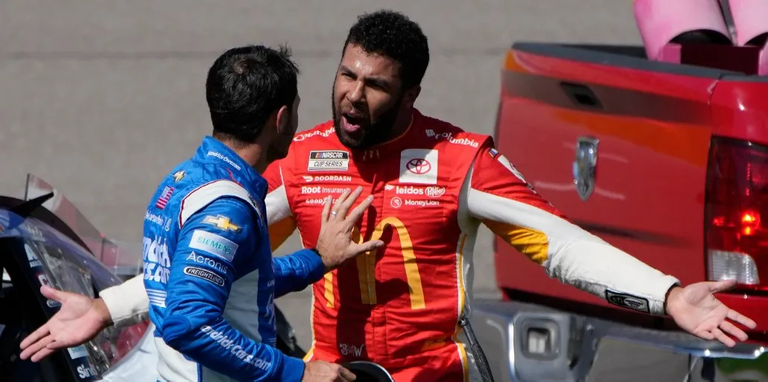 Source
En el siguiente Tweet publicado por NASCAR se puede apreciar como se dio en el incidente que luego trajo como consecuencia el conflicto en pista entre Bubba Wallace y Kyle Larson.
In the following Tweet published by NASCAR you can see how it happened in the incident that later resulted in the on-track conflict between Bubba Wallace and Kyle Larson.
https://twitter.com/NASCAR/status/1581750136350601216?s=20&t=NIcVPeHyFYSbaohZJjBSVw
Source

Ahora bien dejando un lado el tema este tema entre Larson y Wallace nos vamos a concentrar en lo que fue la carrera. Pero primera vamos a ver como se dieron cada una de los eventos previos antes de la carrera como eran la práctica libre y la clasificación donde se determinarían las líneas de salida para esta carrera en Las Vegas. Ryan Blaney fue quien lidero la única práctica, donde en total 31 vueltas al óvalo de Las Vegas Motor Speedway. El segundo en la tabla de esta práctica fue Ross Chastain que tenía buena pinto desde el inicio del fin de semana, por algo está entre mis favoritos para pasar a la ronda final de 4 en estas eliminatorias. En el tercer lugar de los entrenamientos culminó Erik Jones, AJ Allmendinger y Austin Cindric para el tops 5. Ahora bien la pole para la carrera y quien saldría en la primera posición fue Tyler Reddick con un tiempo de 29.252 segundos, mientras que en el segundo lugar quedo Austin Cindric a 5 milésimas del tiempo de Reddick, siendo estos dos pilotos los que ocuparían la primera línea para el evento principal del día domingo.
Now leaving aside this issue between Larson and Wallace we are going to concentrate on what was the race. But first we are going to see how each of the previous events took place before the race such as free practice and qualifying where the starting lines for this race in Las Vegas would be determined. Ryan Blaney was the one who led the only practice, where in total 31 laps to the oval of Las Vegas Motor Speedway. The second on the board in this practice was Ross Chastain who looked good since the beginning of the weekend, he is one of my favorites to pass to the final round of 4 in these playoffs. Erik Jones finished third in practice, AJ Allmendinger and Austin Cindric for the top 5. Now the pole for the race and who would start in the first position was Tyler Reddick with a time of 29.252 seconds, while in second place was Austin Cindric to 5 thousandths of Reddick's time, being these two drivers who would occupy the first line for the main event on Sunday.
El primer segmento de la carrera eran a a 80 vueltas de las 267 en total que se tenían que dar al óvalo de Las Vegas para completar la distancia pautada. El ganador de este segmento fue Bubba Wallace, de allí también parte el tema antes expuesto donde la frustración le ganó a este piloto luego de ver la carrera que estaba teniendo. Como datos que son importante mencionar para completar la información dada, es el hecho de que en esta etapa tan solo hubo una bandera de precaución, causada por Kyle Busch en la vuelta 77 tras perder su coche en la salida de la curva 4, yéndose así a la hierba, causando la salida del coche de seguridad. Pero lo más importante de todo es que Busch pudo recuperarse y finalmente terminar en el tercer lugar al final de la carrera, aunque con un auto bastante suelto que no le permitió luchar por la victoria.
The first segment of the race was 80 laps of the 267 total laps that had to be driven on the Las Vegas oval to complete the scheduled distance. The winner of this segment was Bubba Wallace, which is also the reason for the above mentioned issue where frustration won over this driver after seeing the race he was having. As data that are important to mention to complete the information given, is the fact that in this stage there was only one caution flag, caused by Kyle Busch on lap 77 after losing his car at the exit of turn 4, thus going to the grass, causing the exit of the safety car. But most important of all, Busch was able to recover and finally finish in third place at the end of the race, although with a rather loose car that did not allow him to fight for the victory.
Ya en el segundo segmento se disputarían las siguientes 85 vueltas, es decir, hasta el giro 165 de los totales. En esta etapa tan solo hubo una bandera de precaución que fue el incidente mencionado previamente entre Wallace y Larson. Esto lo que nos dice es que el trabajo realmente bueno que están haciendo los pilotos en esta temporada, donde algunos carreras tuvieron varios banderas amarillas pero más que todos por problemas en los compuestos de los neumáticos que se estaban usando para las carreras, sobre todo en Bristol y Texas de estas eliminatorias. El tercer segmento de este evento sí que fue más pausado donde en total fueron 4 las banderas de precaución. La razón que aumentaran las neutralizaciones es el hecho de que cada vez faltan menos vueltas y los pilotos arriesgan un poco más, las batallas en pista son mucho más agresivas.
Already in the second segment the following 85 laps would be disputed, that is to say, until the 165th lap of the total. In this stage there was only one caution flag which was the previously mentioned incident between Wallace and Larson. This tells us what a really good job the drivers are doing this season, where some races had several yellow flags but mostly due to problems in the tire compounds that were being used for the races, especially at Bristol and Texas of these heats. The third segment of this event was slower with a total of 4 caution flags. The reason for the increase of neutralizations is the fact that there are less and less laps to go and the drivers risk a little more, the battles on track are much more aggressive.
Joey Logano no es el piloto más querido de NASCAR pero lo que está demostrado es lo gran piloto que es. En mi previa para esta carrera debo confesar que deje fuera de mi pronóstico a Logano, pero sí que lo pensé por un rato cuando estaba haciendo el escrito, porque se lo realmente bien que se le da esta pista. Una victoria bastante merecida por parte de Logano. Otro piloto que debemos destacar mucho es a Ross Chastain, ya que fue quien lideró la mayor cantidad de vueltas con 68, pero tuvo una carrera excepcional solo que a falta de dos vueltas fue sobrepasado por Logano y a pesar que lo dio todo para adelantarlo, este no lo pudo lograr quedando a menos de un segundo del ganador de esta competición en las Vegas. Por otro lado tenemos a Kyle Busch quien perdió muchos posiciones tras perder su coche en el primer segmento, pero por suerte su coche no tuvo ningún daño, lo que le permitió quedar finamente en el tercer lugar de la carrera, aunque tal vez muy decepcionado porque se dejó pasar por Logano también en las vueltas finales. En fin la carrera en Las vegas fue muy sensacional, no me quiero imaginar cómo serán las restantes 3 que quedan para finalizar el campeonato.
Joey Logano is not the most loved driver in NASCAR but what he has proven is what a great driver he is. In my preview for this race I must confess that I left Logano out of my prediction, but I did think about it for a while when I was writing it up, because I know how good he is at this track. A well deserved victory for Logano. Another driver that we must highlight is Ross Chastain, as he led the most laps with 68, but he had an exceptional race, only with two laps to go he was overtaken by Logano and although he gave everything to overtake him, he could not achieve it, being less than a second behind the winner of this competition in Las Vegas. On the other hand we have Kyle Busch who lost many positions after losing his car in the first segment, but luckily his car had no damage, which allowed him to be finally in third place in the race, although perhaps very disappointed because he was passed by Logano also in the final laps. Anyway, the race in Las Vegas was very sensational, I don't want to imagine how will be the remaining 3 races to finish the championship.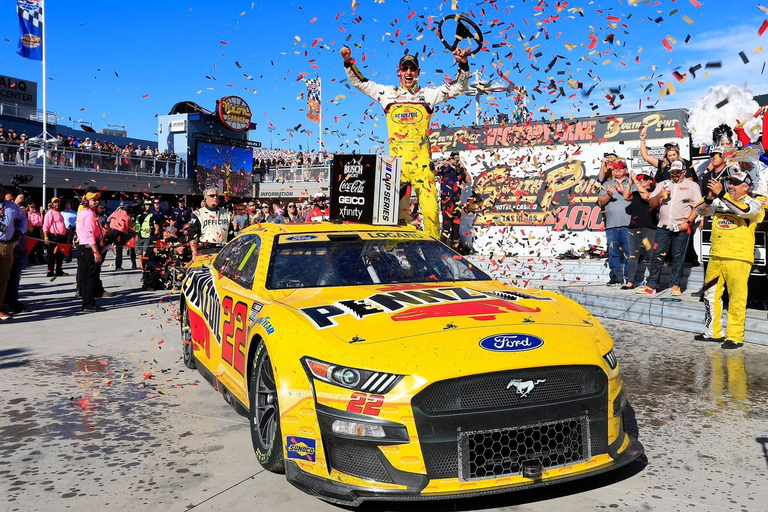 Source

Resultados oficiales de la carrera de NASCAR en Las Vegas:
Official results of the NASCAR race in Las Vegas: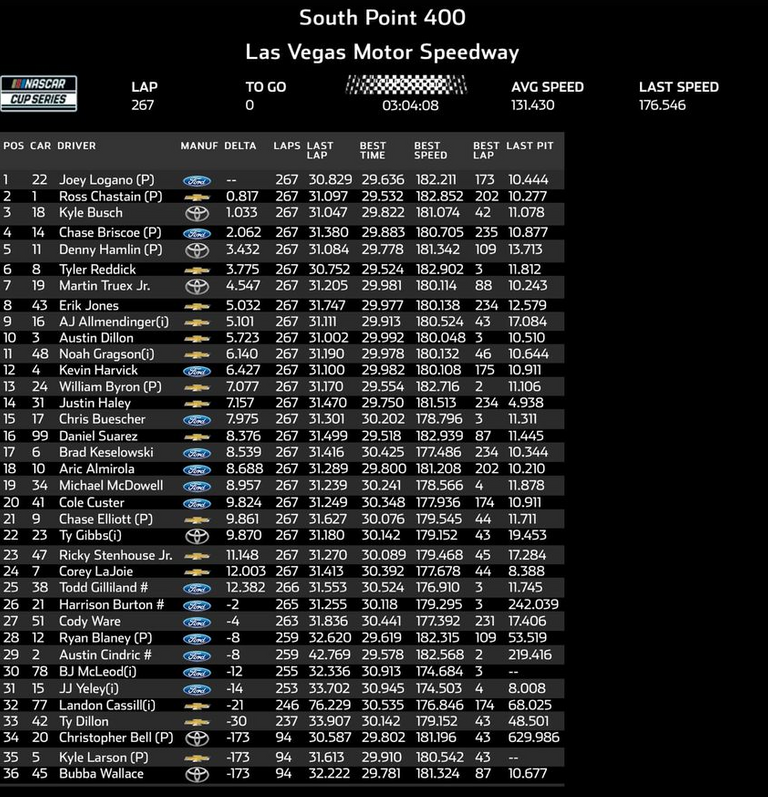 Source
Estado del Campeonato luego del evento
State of the Championship after the event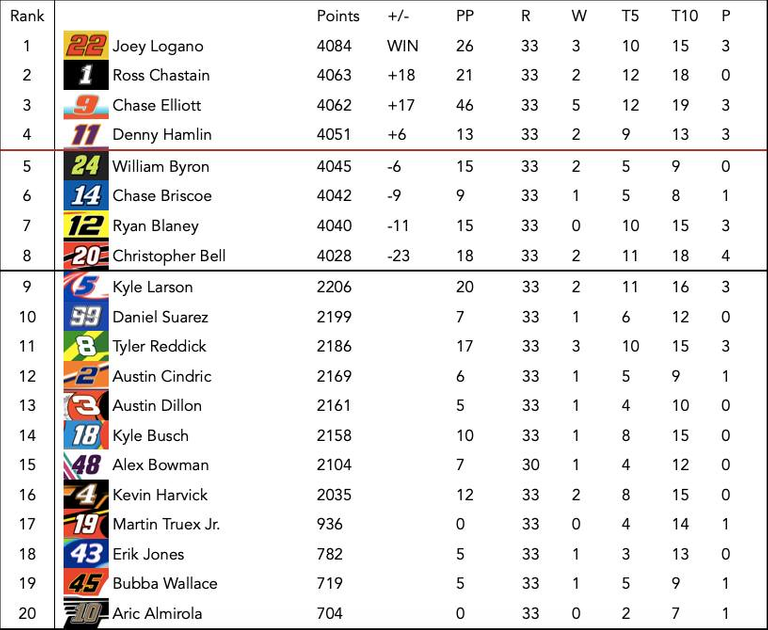 Source

La próxima fecha de la Copa NASCAR Series es la segunda carrera de la ronda de 8 de los playoffs en el óvalo de HOMESTEAD-MIAMI SPEEDWAY, evento que lleva por nombre Dixie Vodka 400 y se correrá el domingo 23 de Octubre de 2022 a las 2:30 pm ET.
The next date of the NASCAR Cup Series is the second race of the Round of 8 playoffs at the HOMESTEAD-MIAMI SPEEDWAY oval, the Dixie Vodka 400, to be held on Sunday, October 23, 2022 at 2:30 pm ET.

Source

Separador de textos tomador del Post fue creado por mi persona en: Canva || Post taker text separator was created by myself at: Canva .
Translated with www.DeepL.com/Translator (free version)
Gracias por su visita. Espero que les haya gustado. // Thank you for your visit. I hope you liked it.
Hasta una próxima oportunidad // Till a next chance
Sin más que decir, se despide de ustedes, su cordial servidor @franz54. // Without further ado, he bids farewell to you, his cordial server @franz54.

---
---