Kyle Busch obtuvo su primera victoria de la temporada 2022 de la NASCAR Cup Series | Kyle Busch scored his first win of the 2022 NASCAR Cup Series season. [Esp-Eng]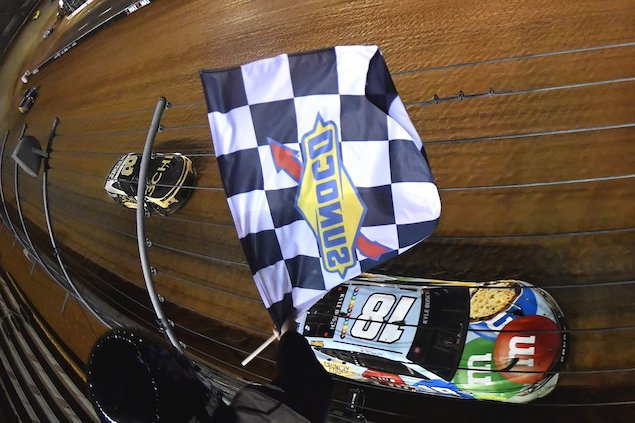 Fuente | Source

Español - English
El piloto del auto toyota #18 del equipo Joe Gibbs Racing obtuvo su primera victoria de la temporada 2022, en un final bastante polémico por un toque entre los autos número #2 de Chase Briscoe y el #8 de Tyler Reddick #8, saliendo beneficiado el piloto oriundo de Las Vegas, Nevadas. Busch había tenido un inicio de temporada bastante bueno pero esto no se reflejado en los resultados final de las anteriores carreras, pero finalmente ya pudo lograr su objetivo y al haber clasificado prácticamente a los playoff, pues ahora se podrá dedicar a entender aún más estos nuevos autos. Esta es la segunda edición de esta carrera llevada a cabo en la pista de tierra de Bristol, que como les mencione en la previa, es un óvalo de un poco más de media milla que tiene un alto peralte, además de que tiene siempre un carril que es mejor que el otro, lo cual produce mucho contacto y más aún en una competición de estas características. La lluvia estuvo presente en la pista lo que ayuda por lo menos a que no hubiese mucho polvo en la carrera pero más sin embargo complico un poco la conducción de los pilotos ya que los autos se deslizaban aún más.
The driver of the #18 Toyota of the Joe Gibbs Racing team obtained his first victory of the 2022 season, in a very controversial finish due to a touch between the #2 car of Chase Briscoe and the #8 of Tyler Reddick #8, benefiting the driver from Las Vegas, Nevada. Busch had a pretty good start to the season but this was not reflected in the final results of the previous races, but finally he was able to achieve his goal and having practically qualified for the playoffs, he will now be able to dedicate himself to understand even more these new cars. This is the second edition of this race held at the Bristol dirt track, which as I mentioned in the previous edition, is an oval of a little more than half a mile that has a high camber, plus it always has one lane that is better than the other, which produces a lot of contact and even more in a competition of these characteristics. The rain was present on the track, which at least helped to keep the dust out of the race, but it did complicate the drivers' driving a bit, as the cars were sliding even more.
---
El cronograma de actividades para esta competición dio inicio con las practicas 1 y la final, donde la primera practica la lideró el piloto Tyler Reddick del auto 8, seguido de Chase Briscoe, Kyle Busch, Justin Haley #31, Kurt Busch #45 para cerrar el top 5, mientras que las siguientes posiciones de esta prueba previa a la carrera y clasificación estuvo ocupadas por Ricky Stenhouse Jr #47, Ross Chastain #1, Todd Gilliland #38, Ty Dillon #42 y Christopher Bell #20 para completar el Top 10. La práctica final de la NASCAR Cup Series en Bristol de Tierra fue liderada por el piloto de la máquina número 11 de JGR, seguido por su compañero de equipo Ky Busch, Todd Gilliland, Tyler Reddick, Christopher Bell, Kyle Larson #5, Joey Logano #22, Justin Haley, Ricky Stenhouse Jr y Brad Keselowski #6 para completar los primeros 10 de esta práctica que duró una hora y donde los pilotos estaban buscando la puesta a punto para la clasificación y en un tramo de la prueba, probando otras cosas para el evento principal.
The schedule of activities for this competition began with practice 1 and the final, where the first practice was led by Tyler Reddick in car 8, followed by Chase Briscoe, Kyle Busch, Justin Haley #31, Kurt Busch #45 to close the top 5, while the following positions of this test prior to the race and qualifying were occupied by Ricky Stenhouse Jr #47, Ross Chastain #1, Todd Gilliland #38, Ty Dillon #42 and Christopher Bell #20 to complete the Top 10. The final practice of the NASCAR Cup Series at Bristol on dirt was led by the driver of the #11 JGR machine, followed by teammate Ky Busch, Todd Gilliland, Tyler Reddick, Christopher Bell, Kyle Larson #5, Joey Logano #22, Justin Haley, Ricky Stenhouse Jr and Brad Keselowski #6 to complete the top 10 of this hour-long practice where drivers were looking to set up for qualifying and in a portion of the test, testing other things for the main event.
---
La pole para esta carrera la logró Cole Couster del auto #41, seguido por Christopher Bell, Tyler Reddick, Chase Briscoe, Kyle Larson, Justin Haley, Ty Dillon, Alex Bowman, Chase Elliott y Joey logano para los primeros 10. El prmimer segmento de esta carrera fue ganado por Kyle Larson, seguido por Ty Dillon, Christopher Bell, Austin Dillon y Kyle Busch para el top 5, mientras que del sexto al décimo quedaron Alex Bowman, Joey Logano, Tyler Reddick, Ryan Blaney y Ricky Stenhouse Jr, quienes lograron puntos de bonificación que van desde 10 puntos hasta 1 que se lleva la posición número 10. En el primer segmento hubieron 3 banderas amarillas, donde la primera fue de competición para que los equipos estudiaran detalladamente el desgaste de los neumáticos y ajustaran la puesta a punto de los autos. La segunda bandera de precaución ondeo en la vuelta 49 por un despiste en la curva 2 del piloto del auto #14 de Chase Briscoe, mientras que la tercera fue en la vuelta 74 por un incidente en la curva 3 del auto 77 de Justin Allgaier la cual al falta tan solo una vuelta para finalizar la etapa, la organización decidió que esta era la bandera que daría por concluida este segmento.
The pole for this race was won by Cole Couster in the #41 car, followed by Christopher Bell, Tyler Reddick, Chase Briscoe, Kyle Larson, Justin Haley, Ty Dillon, Alex Bowman, Chase Elliott and Joey Logan for the top 10. The first segment of this race was won by Kyle Larson, followed by Ty Dillon, Christopher Bell, Austin Dillon and Kyle Busch for the top 5, while sixth through tenth were Alex Bowman, Joey Logano, Tyler Reddick, Ryan Blaney and Ricky Stenhouse Jr, who earned bonus points ranging from 10 points to 1 taking the number 10 position. In the first segment there were 3 yellow flags, where the first was a competition flag for the teams to study tire wear in detail and adjust the set-up of the cars. The second caution flag waved on lap 49 due to an incident in turn 2 of the driver of Chase Briscoe's car #14, while the third was on lap 74 due to an incident in turn 3 of Justin Allgaier's car #77, which with only one lap to go, the organization decided that this was the flag that would conclude this segment.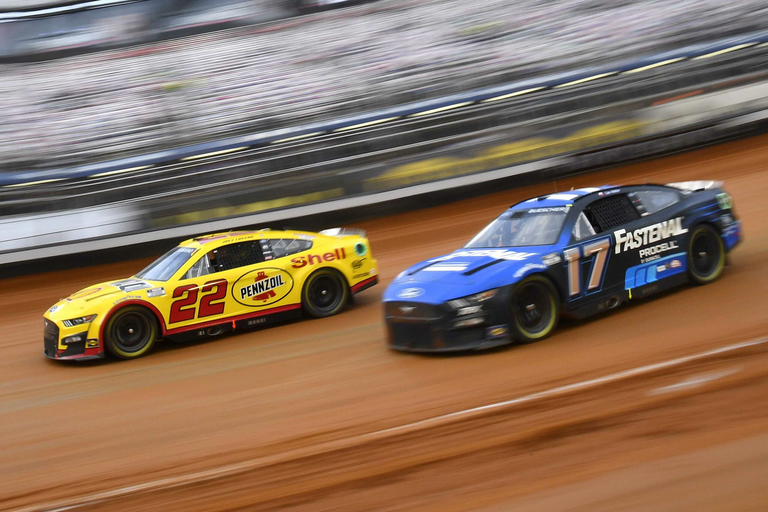 Fuente | Source
El segundo segmento fue ganado por Chase Briscoe del auto #14, seguido por Christhoper Bell, Daniel Suárez #99, Chase Elliott, Kyle Busch, Kyle Larson, Joey Logano, Michael Mcdowell #34, Ryan Blaney y Tyler Reddick, todos ellos habiendo logrado puntos para el campeonato regular, mientras que el vencedor se lleva uno extra para los playoff en caso de clasificarse. En este segmento hubo 6 banderas amarillas, siendo la primera en la vuelta 91 por un despiste del auto 48 de Alex Bowman, mientras que en la vuelta 7 salió otra bandera amarilla por un incidente donde quedaron involucrado los autos números 4 de Kevin Harvick, 7 Corey Lajoie, 16 de Noah Gragson y nuevamente el 48 de Bowman. La siguiente bandera amarilla fue en la vuelta 113 por un contacto entre el auto 3 de Dillon y el 6 de Brad Keselowski, pero en la vuelta 125 salió el auto de seguridad por escombros en la pista. La vuelta 131 fue la quinta bandera de precaución de este segmento, donde en la recta posterior hubo un incidente entre los autos #7, #21 y #23, y para vuelta 150 salió la bandera que dio por finalizado el segmento, dejando los resultados ya mencionados.
The second segment was won by Chase Briscoe in car #14, followed by Christhoper Bell, Daniel Suarez #99, Chase Elliott, Kyle Busch, Kyle Larson, Joey Logano, Michael Mcdowell #34, Ryan Blaney and Tyler Reddick, all of them having scored points for the regular championship, while the winner gets an extra one for the playoffs in case of qualifying. In this segment there were 6 yellow flags, being the first one on lap 91 due to a spin of Alex Bowman's car 48, while on lap 7 there was another yellow flag due to an incident involving Kevin Harvick's car number 4, Corey Lajoie's car number 7, Noah Gragson's car number 16 and Bowman's car number 48 again. The next yellow flag was on lap 113 for contact between Dillon's car 3 and Brad Keselowski's 6, but on lap 125 the safety car came out for debris on the track. Lap 131 was the fifth caution flag of this segment, where on the back straight there was an incident between cars #7, #21 and #23, and by lap 150 the flag came out that ended the segment, leaving the aforementioned results.
---
El tercer segmento y final, donde se disputaron las últimas 100 vueltas tuvo grandes batallas y situaciones destacadas, pero lo más importante fue que en las últimas dos vueltas Chase Briscoe tomo el carril interno de la pista de Bristol la cual el auto se deslizó y lo perdió, llevándose de paso al piloto Tyler Reddick, situación que benefició a Kyle Busch, quien al final resultó ser el ganador de la carrera. En este tercer segmento hubo 5 banderas de precaución, en las vueltas 161, 168,177, 202, 211 que resulto con una bandera roja. En cada una de estas banderas quedaron involucrados varios pilotos, como en la 161 hubo un accidente donde quedaron involucrados los autos #9, #57, #51 y #99, en la 168 fue un incidente del auto #43, mientras que en el giro 177 el auto #38 tuvo un despiste. En general la carrera fue bastante pausada pero hay que tomar en cuenta que tenemos una nueva generación de autos, una pista que es sumamente complicada y más que es de tierra. El piloto Kyle Busch a pesar de que se vio beneficiado por el toque en la últimas dos vueltas por los pilotos ya antes mencionado tuvo una excelente carrera y a pesar de no tener el mejor auto, su victoria fue merecida. Destacar la carrera del mexicano Daniel Suarez quien incluso lideró varios giros.
The third and final segment, where the last 100 laps were disputed, had great battles and outstanding situations, but the most important was that in the last two laps Chase Briscoe took the inside lane of the Bristol track which the car slid and lost it, taking in passing the driver Tyler Reddick, a situation that benefited Kyle Busch, who in the end turned out to be the winner of the race. In this third segment there were 5 caution flags, on laps 161, 168, 177, 202 and 211, which resulted in a red flag. In each of these flags several drivers were involved, as in lap 161 there was an accident involving cars #9, #57, #51 and #99, in lap 168 there was an incident with car #43, while in lap 177 car #38 had a spill. In general the race was quite slow but we have to take into account that we have a new generation of cars, a track that is extremely complicated and even more so because it is a dirt track. Kyle Busch, even though he benefited from a touch in the last two laps by the aforementioned drivers, had an excellent race and even though he did not have the best car, his victory was well deserved. The race of Mexican driver Daniel Suarez, who even led several laps, was outstanding.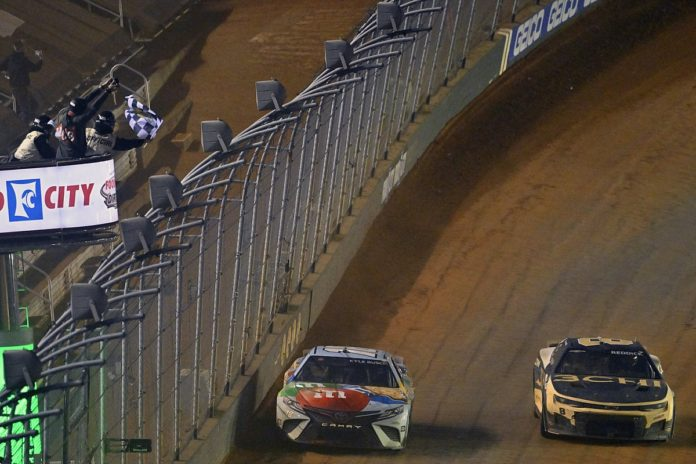 Fuente | Source
Resumiendo un poco esta carrera, la misma tuvo una duración de 2 horas, 7 minutos y 46 segundo, con un promedio de velocidad de 58.690 Mi/H, siendo la última de 8.233 Mi/H. En total fueron 14 banderas de precaución, una de competición, dos para cerrar segmentos e incluyendo dos neutralizaciones por banderas rojas. Los cambios en el liderato de la carrera fueron 12, donde el piloto en lidera la mayor cantidad de giros fue el 8 de Tyler Reddick, seguido por el auto de Daniel Suarez con 64, Chase Briscoe con 59, Kyle Larson con 27, Cule Couster con 1, al igual que Kyle Busch quien tan solo lideró la más importante de todas las vueltas, la última.
Summarizing this race, it lasted 2 hours, 7 minutes and 46 seconds, with an average speed of 58.690 mph, the last one being 8.233 mph. In total there were 14 caution flags, one competition flag, two to close segments and including two neutralizations due to red flags. There were 12 changes in the lead of the race, where the driver leading the most laps was Tyler Reddick's 8, followed by Daniel Suarez's car with 64, Chase Briscoe with 59, Kyle Larson with 27, Cule Couster with 1, as well as Kyle Busch who only led the most important of all the laps, the last one.

RESULTADO FINAL DE LA CARRERA
FINAL RACE RESULT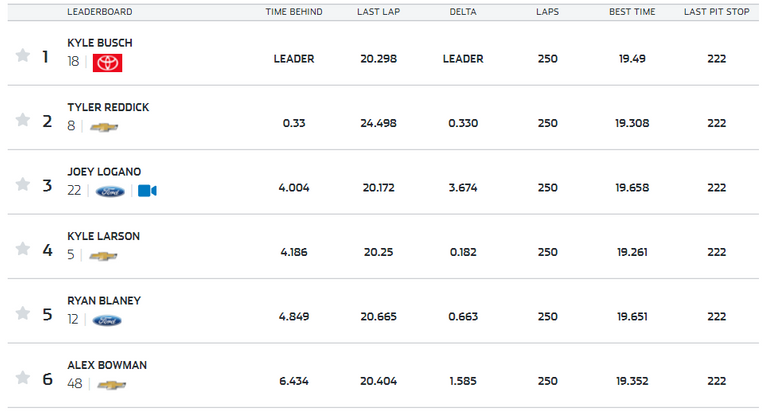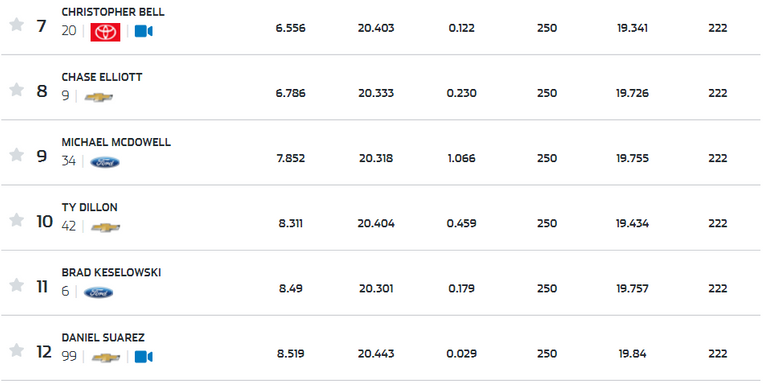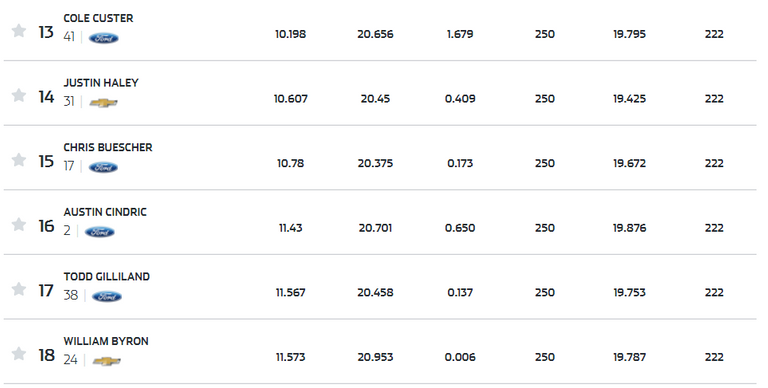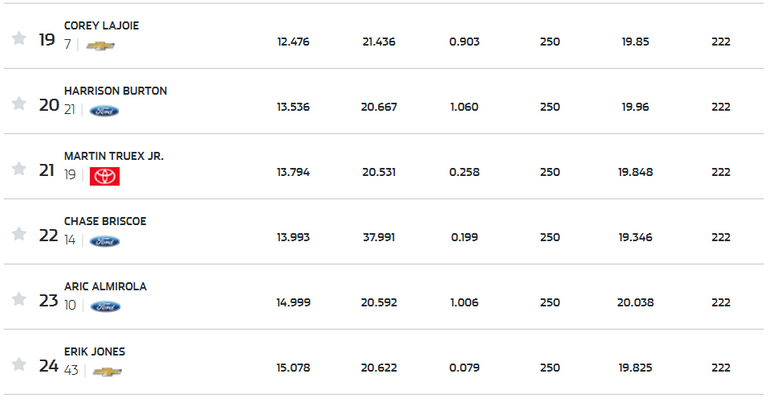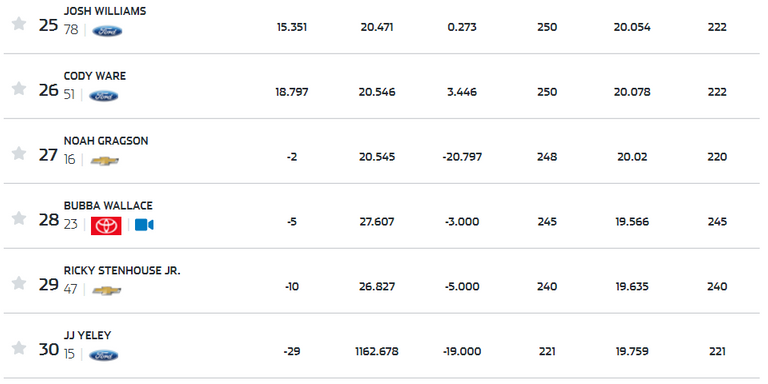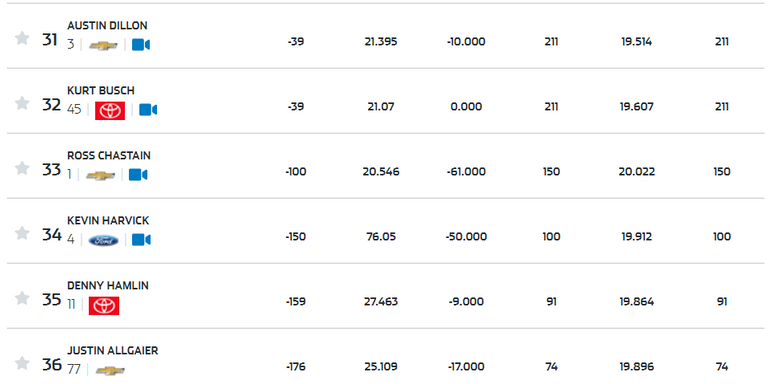 Capture de pantalla de la pagina oficial:
NASCAR

Estado del Campeonato luego del evento
State of the Championship after the event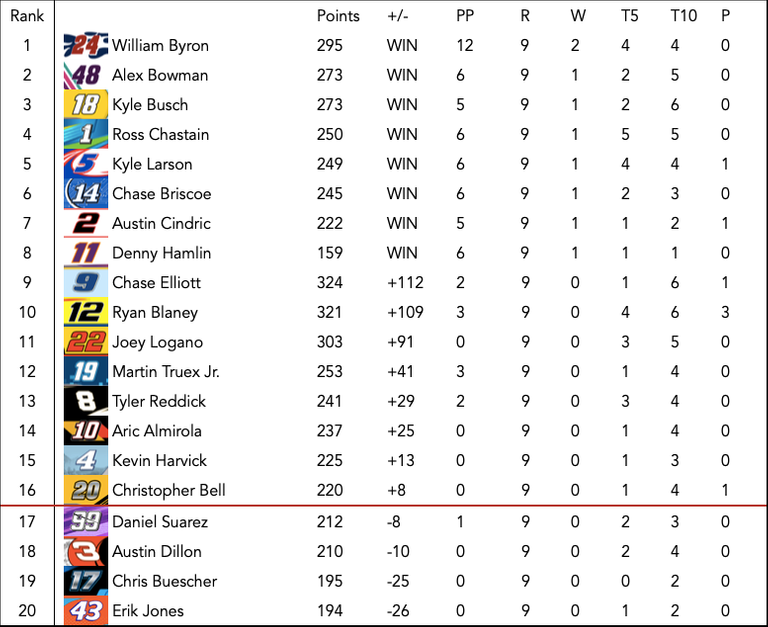 Fuente | Source

La próxima fecha de la NASCAR CUP SERIES es la Geico 500 en el ovalo de TALLADEGA SUPERSPEEDWAY, el domingo 24 de Abril de 2022 (3 PM ET).
The next date for the NASCAR CUP SERIES is the Geico 500 at the TALLADEGA SUPERSPEEDWAY oval on Sunday, April 24, 2022 (3 PM ET).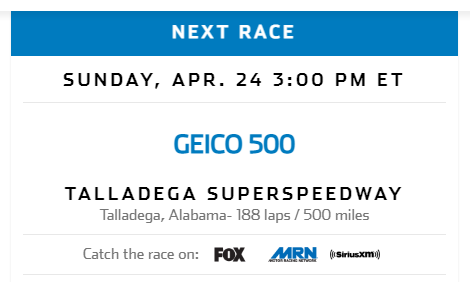 Fuente | Source

Separador de textos tomador del Post // Post taker text separator : Lucho en la pista (RETA A @equipodelta. | @franz54 reta a @equipodelta a Dibujar) Caricatura.
Gracias por su visita. Espero que les haya gustado. // Thank you for your visit. I hope you liked it.
Hasta una próxima oportunidad // Till a next chance
Sin más que decir, se despide de ustedes, su cordial servidor @franz54. // Without further ado, he bids farewell to you, his cordial server @franz54.

---
---