Marc Márquez rompe con su sequía de Poles en Montegi || Marc Márquez breaks his pole drought at Montegi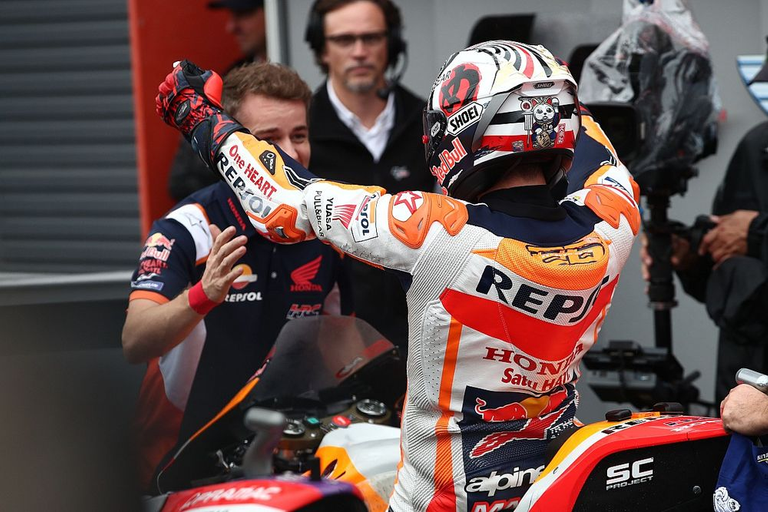 Source

Marc Márquez piloto del equipo oficial Honda de Campeonato Mundial de Motociclismo, MotoGP, logro este sábado su primera pole en Montegi, Japón, desde la lograda en el mismo gran premio en año 2019, es decir, que pasaron 1.071 días para liderar una parrilla de salida para un Gran Premio de las dos ruedas. Márquez mostró todo el talento que posee al lograr esta primera posición en una clasificación que se vio afectada por una torrencial lluvia que incluso debió retrasar la Q2 por las difícil condiciones a la cual se debían enfrentar los pilotos y la seguridad de estos es de vital importancia, siempre es prioridad como la mayoría de las categorías del deporte motor mundial. Hace específicamente una semana les estuvo hablando del regreso de este campeón y la verdad es que me ha sorprendido todo lo que he visto a su regreso y esto me motiva cada vez más para ver como se le da la siguiente temporada, y si realmente va a estar peleando por las primeras posiciones, pero lo más importante es la disputa por el campeonato.
Marc Márquez rider of the official Honda MotoGP World Championship team, MotoGP, achieved this Saturday his first pole position in Montegi, Japan, since the one achieved in the same Grand Prix in 2019, that is to say, it took 1,071 days to lead a starting grid for a Grand Prix of the two wheels. Marquez showed all the talent he has by achieving this first position in a qualifying that was affected by a torrential rain that even had to delay Q2 due to the difficult conditions to which the riders had to face and the safety of these is of vital importance, it is always a priority as most of the categories of world motorsport. Specifically a week ago I was talking about the return of this champion and the truth is that I have been surprised by everything I have seen on his return and this motivates me more and more to see how the next season goes, and if he will really be fighting for the top positions, but the most important thing is the dispute for the championship.
El regreso de Márquez fue la semana pasada en el Gran Premio de Aragón, España, como se los había comentado en mi anterior post, que para comentarles un poco de lo que fue la carrera, Márquez debió abandonar tras un contacto con el líder del campeonato Fabio Quartararo, quien cada vez más ve como el campeonato se va poniendo cerrado luego de tener una ventaja con respecto a sus rivales y la cual pensé que ya el campeón estaba casi decidido, pero allí es donde se cumple el dicho que las carreras se deben correr y cualquier cosa puede pasar. Para especificar un poco Márquez fue tocado en su rueda trasera por el francés, lo cual dejo daños importantes para ambas motos, lo que ocasiono el retiro de la carrera. Según Fabio, el español quien estaba de regreso a la categoría iba muy lento y cambio de trazada, por lo cual no pude evitar el contacto, lo cual Quartararo se encontraba bastante molesto y decepcionado luego de la carrera porque ve cada vez más cerca la perdida de este campeonato tras la moto Yamaha no está en su mejor versión.
The return of Marquez was last week at the Grand Prix of Aragon, Spain, as I had told you in my previous post, which to tell you a little of what was the race, Marquez had to abandon after contact with the championship leader Fabio Quartararo, who increasingly sees how the championship is getting closer after having an advantage over its rivals and which I thought that the champion was almost decided, but that is where the saying that the races must be run and anything can happen is fulfilled. To be more specific, Marquez was touched on his rear wheel by the Frenchman, which left significant damage to both bikes, causing him to retire from the race. According to Fabio, the Spaniard who was returning to the category was going too slow and changed his line, so he could not avoid the contact, which Quartararo was quite upset and disappointed after the race because he sees the loss of this championship getting closer and closer after the Yamaha bike is not in its best version.
Tras este último incidente mencionado me hice la pregunta, ¿Será que realmente Márquez tiene las condiciones para competir? ¿Tiene el rendimiento necesario? La verdad es que luego de la carrera en Aragon pensé que no, que había sido un error apresurar su regreso, pero cada vez queda demostrado que los campeones están iluminados por el dioses y este es el caso de Márquez, quien luego de mucho tiempo logra una vez más una pole y bajo condiciones complicadas como es la lluvia. Pero se debe mencionar que la actuación de Márquez fue buena incluso en los entrenamiento libres donde en la primera Práctica (FP1), logro el sexto lugar con un tiempo de 1'44.656, quedando a casi una décima y media del tiempo logrado por el australiano Jack Miller quien quedo primera con un giro de 1'44.509, mientras que el piloto sensación del momento, el italiano Pecco Bagnaia de Ducati quedo a 28 milésimas del tiempo de Miller. por su parte nunca debemos dejar de mencionar la actuación de Quartararo quien es el líder del campeonato y que quedo tercero a 49 milésimas del tiempo de Jack en esta FP1.
After this last incident I asked myself the question, does Marquez really have the conditions to compete? Does he have the necessary performance? The truth is that after the race in Aragon I thought no, that it was a mistake to rush his return, but each time it is demonstrated that champions are illuminated by the gods and this is the case of Marquez, who after a long time achieves once again a pole position and under complicated conditions such as rain. But it should be mentioned that the performance of Marquez was good even in free practice where in the first Practice (FP1), he achieved the sixth place with a time of 1'44.656, being almost a tenth and a half of the time achieved by the Australian Jack Miller who was first with a lap of 1'44. 509, while the sensation rider of the moment, the Italian Pecco Bagnaia of Ducati was 28 thousandths of Miller's time. For his part we must never fail to mention the performance of Quartararo who is the championship leader and who was third to 49 thousandths of Jack's time in this FP1.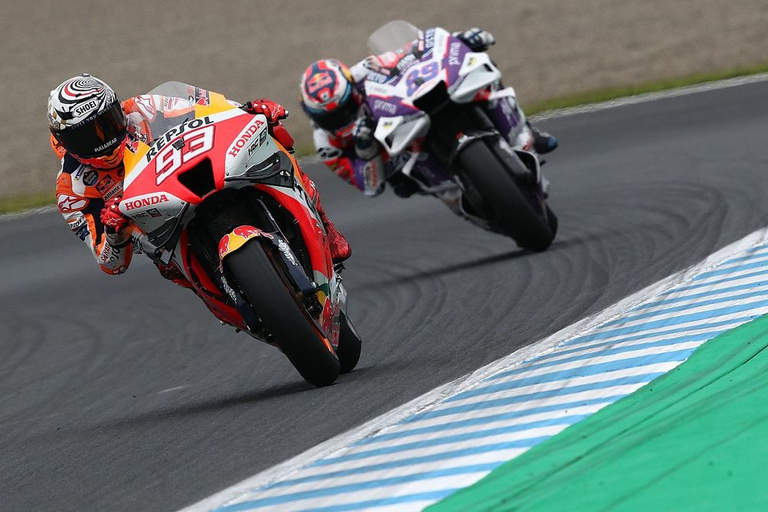 Source

Desde un principio se preveía el rendimiento de Márquez con el piso mojado ya que lidero la FP2 con estas condiciones adversas, al lograr hacer un tiempo de 1'55.232 (149.989 km/h), mientras que Jorge Martín quedo a 144 décimas y muy de cerca Jack Miller quien quedo a 155 décimas de Marc y a 11 milésimas de Martín. Por su parte Pecco Bagnaia quedo en la posición 15, donde lo más probable era que se estaba cuidando para no tener una caída que le causará graves daños a su moto. Fabio Quartararo quedo en la décima posición. Las demás prácticas se tuvieron que cancelar por el paso de un Tifón por la región nipona y donde incluso también estuvo en dudas la realización de la clasificación pero por suerte esta se pudo realizar, dándole una alegría más al piloto de España, Márquez.
From the beginning it was predicted the performance of Marquez with the wet track as he led the FP2 with these adverse conditions, achieving a time of 1'55.232 (149.989 km / h), while Jorge Martin was 144 tenths and very close Jack Miller who was 155 tenths of Marc and 11 thousandths of Martin. Pecco Bagnaia was in 15th position, where he was probably taking care not to have a crash that would cause serious damage to his bike. Fabio Quartararo was tenth. The other practices had to be cancelled due to the passage of a typhoon through the Japanese region and where even the qualifying was in doubt but luckily it could be done, giving one more joy to the Spanish rider, Marquez.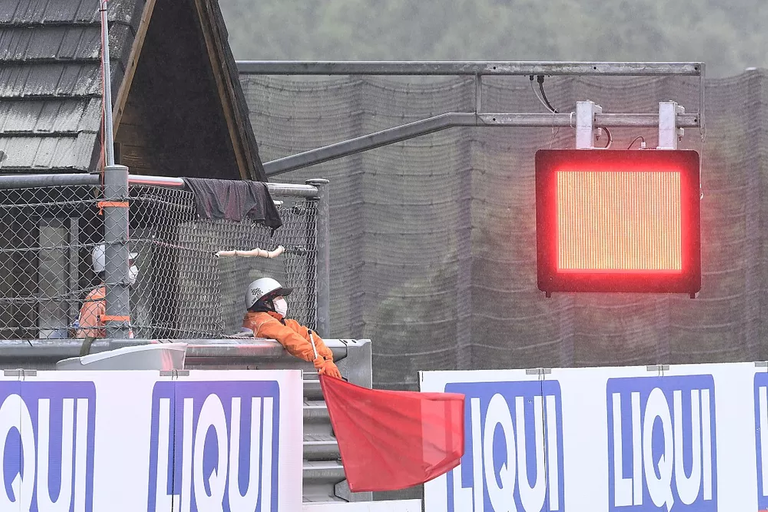 Source
La Q1 se tuvo que esperar un tiempo para que se pudiese disputar, pero por suerte esta se puedo hacer, donde se esperaba que dos pilotos con los mejores tiempos se unieran a la Q2 de esta clasificación para el Gran Premio de Japón en Montegi. Los pilotos que lograron avanzar para la Q2 y poder pelear por la pole fueron Johan Zarco y Jorge Martin, con unos tiempos de 01'55.300 y 01'55.795 respectivamente. Las condiciones del pista estaban muy complicadas donde aún caía algo de lluvia y por momentos se ponía cada vez más intensa, donde los neumáticos eran complicados de calentar debido a que las temperaturas eran de 23° con una humedad del 100%, por lo cual los tiempos de vueltas eran lentos pero al pasar los giros los tiempo eran con mejoras significativas pero nada con la condición en seco.
The Q1 had to wait a while to be disputed, but luckily it could be done, where two riders with the best times were expected to join the Q2 of this qualifying for the Grand Prix of Japan in Montegi. The riders who managed to advance to Q2 and fight for pole were Johan Zarco and Jorge Martin, with times of 01'55.300 and 01'55.795 respectively. The track conditions were very complicated where some rain was still falling and at times it was getting more and more intense, where the tires were difficult to warm up because the temperatures were 23 ° with a humidity of 100%, so the lap times were slow but as the laps passed the times were with significant improvements but nothing with the dry condition.
La lluvia en un momento comenzó a parar o cesar, pero antes de comenzar la Q2 empezó a llover muy fuerte sobre el trazado de Montegi, por lo cual pensé que esta finalmente se suspendería pero por suerte de pudo reiniciar la clasificación pero con condiciones sobre mojado, una condición muy adversas para los pilotos, que en principio pensé que debido a Márquez apenas están regresando, este tal vez si saldría a la pista, pero para mi sorpresa si salió y con muchas ganas de obtener otra pole luego de mucho tiempo, específicamente 3 años, desde la última vez que esta pista había corrido en este circuitos. El mejor tiempo de Márquez que le dio la pole fue de 01'55.214, quien dejo atrás a Johann Zarco a un poco más de 2 décimas. Por su parte Brad Binder, el sudafricano tuvo una excelente clasificación tras lograr el mejor tercer tiempo y lo que le daba partir en la primera línea el día domingo al lado de Márquez y Zarcos. Por su parte los que están peleando el campeonato parte en las posiciones 9 y 12, Quartararo y Bagnaia respectivamente y que si quieren ganar deben remontar.
The rain at one point began to stop or cease, but before starting Q2 began to rain very hard on the Montegi track, so I thought that this would finally be suspended but luckily could restart qualifying but with wet conditions, a very adverse condition for the riders, At first I thought that because Marquez is just coming back, maybe he would go out to the track, but to my surprise he did go out and with a lot of desire to get another pole after a long time, specifically 3 years, since the last time this track had run in this circuit. Marquez's best time that gave him the pole was 01'55.214, who left behind Johann Zarco a little more than 2 tenths. For his part Brad Binder, the South African had an excellent qualifying after achieving the best third time and which gave him to start on the first line on Sunday next to Marquez and Zarco. On the other hand, those who are fighting for the championship start in positions 9 and 12, Quartararo and Bagnaia respectively and if they want to win they must come back.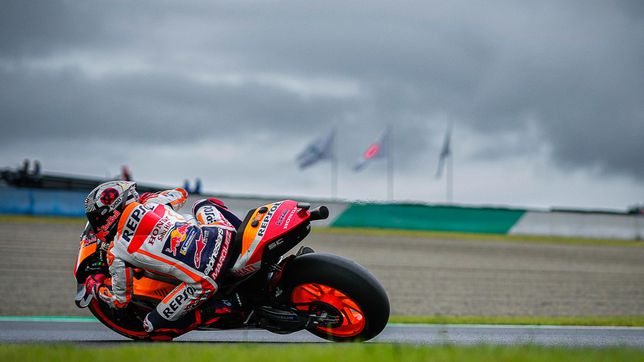 Source
¿Podrá Márquez ganar esta carrera? o ¿Qué otro piloto podría obtener el gano en Montegi? Esto lo sabremos el día domingo en la madrugada hora de Venezuela por la diferencia horaria con Japón. Al parecer se espera que el día sea soleado, así que si esto pasa veremos una carrera muy interesante y con muchas luchas por las diferentes posiciones.
Can Marquez win this race or which other rider could win in Montegi? We will know this on Sunday at dawn Venezuelan time due to the time difference with Japan. Apparently the day is expected to be sunny, so if this happens we will see a very interesting race with many fights for the different positions.

El circuito de Twin Ring Motegi se encuentra ubicado en Japón. El mismo tiene una longitud de 4.8 km (2.98 millas), además de 14 curvas, donde 6 curvas se gira la izquierda y 8 a la derecha. Esto último nos da a deducir que la rueda delantera lo más probable es que sea asimétrica, un poco más Dura en su flanco derecho y más blando en el izquierdo para que la llanta aguante todo la carrera por la alta degradación que puede tener el neumático en la parte derecha al girarse más veces en ese sentido. Veremos cuál es la selección de los equipos para la carrera y esto lo tomaran de acuerdo a lo experimentado en la última práctica antes del evento principal el mismo día domingo. Veremos cómo Marc Márquez el poleman trabaja con los neumáticos que tendrá disponibles para este fin de semana y cual será los compuestos que usen para este domingo que es el día de la carrera. La recta más larga es la que se encuentra entre las curvas 10 y 11 que mide 762 m (2500 ft). Esta es un pista muy complicada y que también posee un óvalo de 2.5 kilómetros donde también solía correr la serie Indycar hace muchos años, pero por un daño en la estructura que si mal no recuerdo causado por un terremoto, la categoría dejo de visitar este gran lugar que es propiedad de Honda.
The Twin Ring Motegi circuit is located in Japan. It has a length of 4.8 km (2.98 miles), in addition to 14 curves, where 6 curves turn left and 8 to the right. The latter leads us to deduce that the front wheel will most likely be asymmetric, a little harder on the right side and softer on the left side so that the tire can withstand the whole race due to the high degradation that the tire may have on the right side when turning more times in that direction. We will see what is the selection of the teams for the race and this will be taken according to what they experienced in the last practice before the main event on Sunday. We will see how Marc Marquez the poleman works with the tires he will have available for this weekend and what compounds he will use for this Sunday which is the race day. The longest straight is the one between turns 10 and 11 which measures 762 m (2500 ft). This is a very complicated track and it also has a 2.5 kilometers oval where the Indycar series used to race many years ago, but due to a damage in the structure caused by an earthquake, the category stopped visiting this great place that is owned by Honda.
---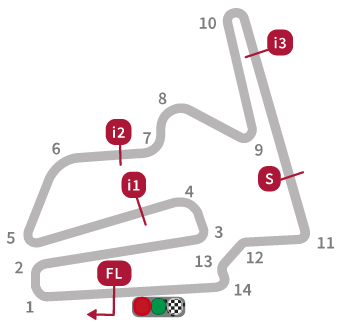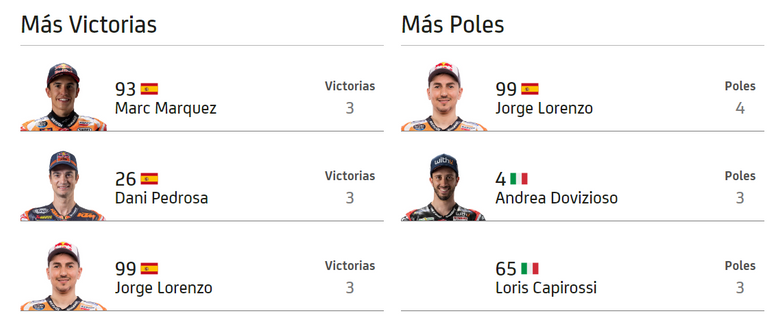 Source

Las estadísticas para completar esta reseña fueron extraídas de la página oficial de || The statistics to complete this review were extracted from the official website of: MotoGP
Separador de textos tomador del Post fue creado por mi persona en: Canva || Post taker text separator was created by myself at: Canva .
Translated with www.DeepL.com/Translator (free version)
Hasta una próxima oportunidad || Till a next chance
Sin más que decir, se despide de ustedes, su cordial servidor @franz54 || Without further ado, he bids farewell to you, his cordial server @franz54.

---
---