NASCAR Race Preview: Autotrader EchoPark Automotive 500 [ESP-ENG]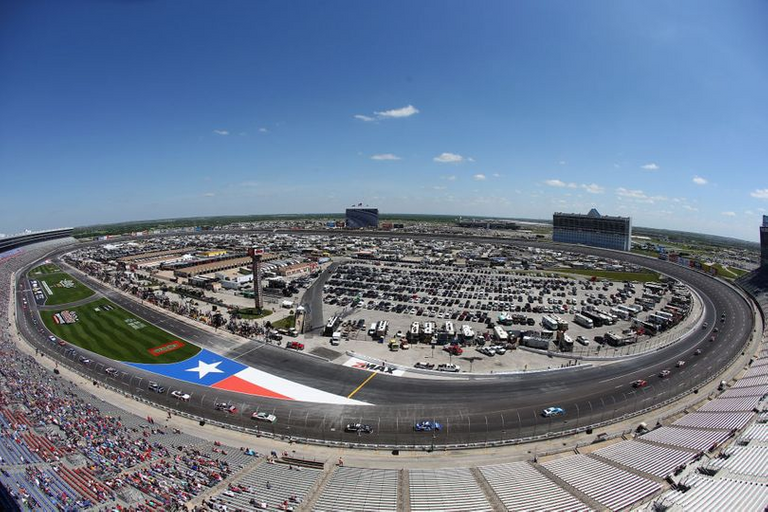 Fuente | Source

Bienvenidos todos a mi blog, en especial a los amantes del deporte, el automovilismo, la comunidad #FullDeportes y lectores en general. Después de mucho tiempo ausente de no poder compartir con ustedes mis pequeños análisis previos sobre las carreras de las divisiones nacionales de NASCAR, además de los análisis pos carreras, todo esto debido a que no tenía conexión de Internet por reparaciones que estaban haciendo en mi zona por parte de la empresa que nos presta servicio, pero bueno espero que la espera haya valido la pena y estoy bastante contento por poder compartir nuevamente con esta comunidad y toda la plataforma #Hive en general.
Welcome everyone to my blog, especially to the lovers of sports, motorsports, the #FullDeportes community and readers in general. After a long time absent of not being able to share with you my little previous analysis on the races of the NASCAR national divisions, in addition to the post-race analysis, all this because I had no Internet connection due to repairs that were being done in my area by the company that serves us, but well I hope the wait was worth it and I am quite happy to share again with this community and the entire #Hive platform in general.
Source
Ahora bien y comenzando con el tema de esta semana y un pequeño análisis de lo que será la carrera de la semana, la cual el evento tiene por nombre Autotrader EchoPark Automotive 500 que se llevará a cabo el día de mañana domingo 16 del presente mes y año, en la pista de TEXAS MOTOR SPEEDWAY, donde serán un total de 334 vueltas, lo que representa 501 millas. Esta será la primera carrera de la ronda de 8 donde se disputaran 4 puestas para la ronda final a una carrera, donde se pelearan el título de pilotos y propietarios de este año. Entre los pilotos clasificados para esta ronda tenemos a KYLE LARSON #5, DENNY HAMLIN #11, MARTIN TRUEX, JR #19, RYAN BLANEY #12, KYLE BUSCH #18, CHASE ELLIOTT #9, JOEY LOGANO #22 y BRAD KESELOWSKI #2, cada uno de ellos con opciones bastante claras de avanzar a la siguiente ronda. La verdad es que está bastante difícil predecir quienes serán los 4 pilotos en pasar a la carrera final por el título, pero en mi opinión será el piloto de la maquina número 5, acompañado por el 18, 19 y 9, sin dejar a un lado alguno de los pilotos de Penske (2, 12 y 22).
Now then and starting with the theme of this week and a small analysis of what will be the race of the week, which the event is named Autotrader EchoPark Automotive 500 to be held tomorrow Sunday 16 of this month and year, on the track of TEXAS MOTOR SPEEDWAY, where they will be a total of 334 laps, representing 501 miles. This will be the first race of the round of 8 where 4 places will be disputed for the final round of one race, where the title of drivers and owners of this year will be fought. Among the drivers qualified for this round we have KYLE LARSON #5, DENNY HAMLIN #11, MARTIN TRUEX, JR #19, RYAN BLANEY #12, KYLE BUSCH #18, CHASE ELLIOTT #9, JOEY LOGANO #22 and BRAD KESELOWSKI #2, each of them with pretty clear options to advance to the next round. The truth is that it is quite difficult to predict who will be the 4 drivers to advance to the final race for the title, but in my opinion it will be the driver of the machine number 5, accompanied by the 18, 19 and 9, without leaving aside any of the Penske drivers (2, 12 and 22).
Fuente | Source
La carrera en sí me parece que será bastante interesante. En esta pista se alcanzan altas velocidad y más ahora cuando en temporadas atrás la pista se repavimento lo cual mejoro el agarre en los neumáticos, por ende mejorando los tiempos. Anteriormente esta pista era más complicada, con baches, falta de agarre por los años de pavimento, pero a pesar de que antes era mucho más difícil y con altos consumos de neumáticos, las carreras eran mucho más interesante para mí, sin embargo no quiere decir que ahora no, porque si lo son, vemos carreras con muchos adelantamiento y tal vez con menos amarillas que en otras épocas.
The race itself seems to me to be quite interesting. On this track you can reach high speeds and even more now when in previous seasons the track was repaved which improved the grip on the tires, thus improving the times. Previously this track was more complicated, with potholes, lack of grip due to the years of pavement, but even though before it was much more difficult and with high tire consumption, the races were much more interesting for me, however it does not mean that now they are not, because if they are, we see races with many overtaking and perhaps with less yellows than in other times.
El píloto que viene como favorito es Kyle Larson #5, quien trae un envión por haber ganado la carrera pasada, además de la gran temporada que esta teniendo con el equipo HENDRICK MOTORSPORTS. Sin embargo no hay que dejar a un lado a los otros contendientes del top 8 de los play-off como Martin Truex Jr #19 y Kyle Busch #18, además de los pilotos de Penske quienes siempre dan batallas en este tipo de pista. Como bien es sabido en NASCAR es una categoría bastante competitiva donde pueden ganar muchos pilotos en un año, donde vemos carreras muy parejas, por ello es el deporte motor más famoso de los Estados Unidos, no solo allá, sino que en cualquier parte del mundo, más que todo en latinoamerica. Esta me parece que será una carrera donde la estrategias jugaran un papel bastante importante, los jefes de equipos deben estar muy atento a lo que este pasando en la carrera y los mecánicos hacer el trabajo perfecto para que los pilotos pueden hacer un mejor trabajo en pista.
The favorite is Kyle Larson #5, who brings a boost for having won the last race, in addition to the great season he is having with the HENDRICK MOTORSPORTS team. However, we must not leave aside the other contenders in the top 8 of the playoffs as Martin Truex Jr #19 and Kyle Busch #18, in addition to the Penske drivers who always give battles in this type of track. As is well known NASCAR is a very competitive category where many drivers can win in a year, where we see very even races, that is why it is the most famous motorsport in the United States, not only there, but anywhere in the world, especially in Latin America. This seems to me that it will be a race where the strategies will play a very important role, the team managers must be very attentive to what is happening in the race and the mechanics must do the perfect job so that the drivers can do a better job on the track.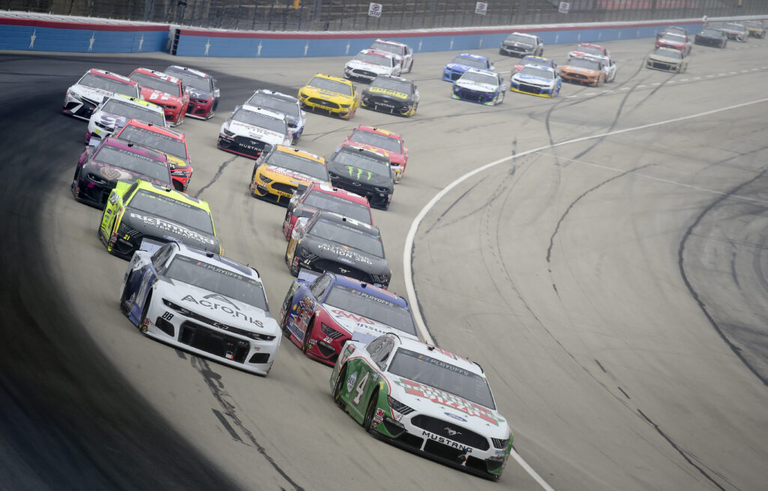 Fuente | Source
En conclusión me parece que esta será una carrera bastante fluida, con pocas banderas amarillas, con una pista con buen agarre y más con el talento que tienen los pilotos de la categoría, sin embargo esto no puede ser así y pueden ocurrir cosas fuera de lo común. Las condiciones de la pista siempre es vital, la temperatura ambiente ya que esto se ve reflejado en el balance de los autos y el desgaste de las llantas. Las diferencias entre autos pueden ser mínimas ya que los autos toman las curvas casi a fondo, más que todo al inicio de cada tanta, ya a medida que los cauchos se van desgastando, esto puede ocasionar que los autos tiendan a subir o deslizarse un poco más de lo común, por ello tanto los pilotos deben esta muy atento al comportamiento del auto para así trasmitir la información al jefe de equipo para que este de la orden y los mecánicos puedan actuar en la paradas en los pits.
In conclusion it seems to me that this will be a fairly fluid race, with few yellow flags, with a track with good grip and more with the talent that the drivers of the category have, however this can not be so and things out of the ordinary can happen. The track conditions are always vital, the ambient temperature as this is reflected in the balance of the cars and tire wear. The differences between cars can be minimal since the cars take the curves almost flat out, especially at the beginning of each corner, and as the tires wear out, this can cause the cars to tend to climb or slide a little more than usual, therefore the drivers must be very attentive to the behavior of the car in order to transmit the information to the team leader so that he can give the order and the mechanics can act in the pit stops.

Estado del Campeonato después de 26 carreras de 36.
Championship status after 32 races out of 36.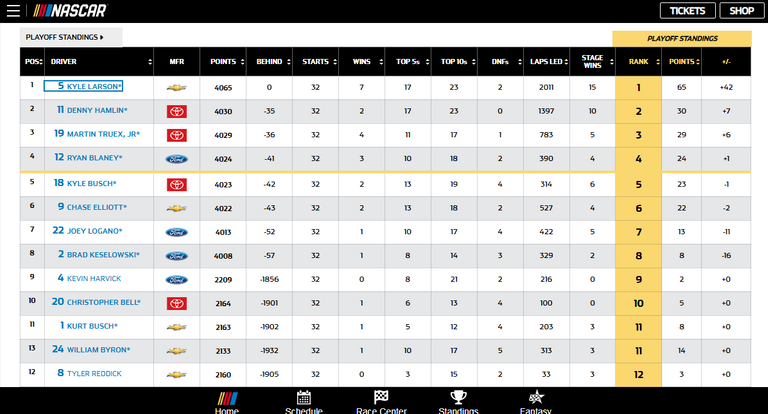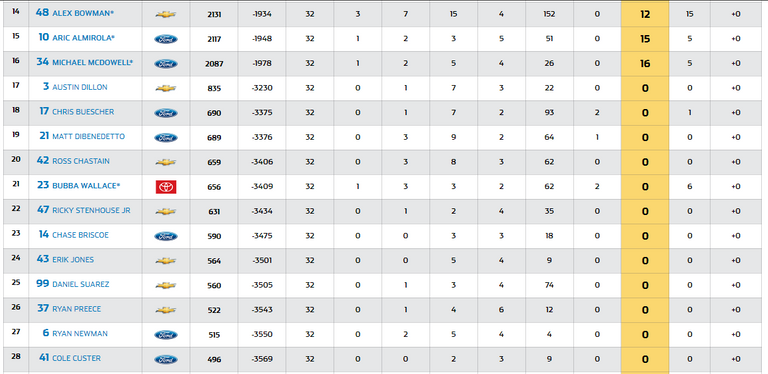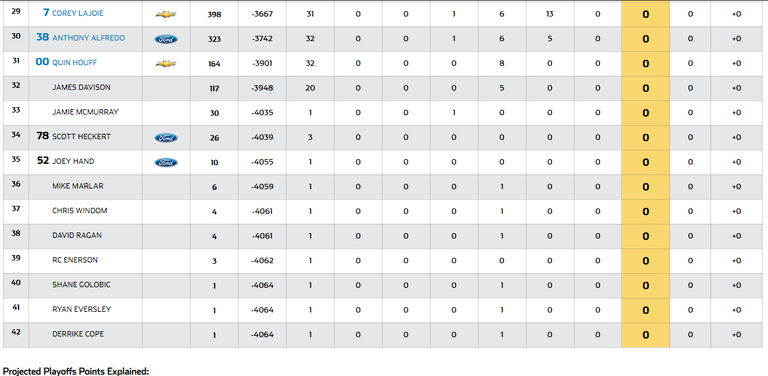 Fuente | Source
Lista de Entrada de pilotos para el evento
List of pilots for the event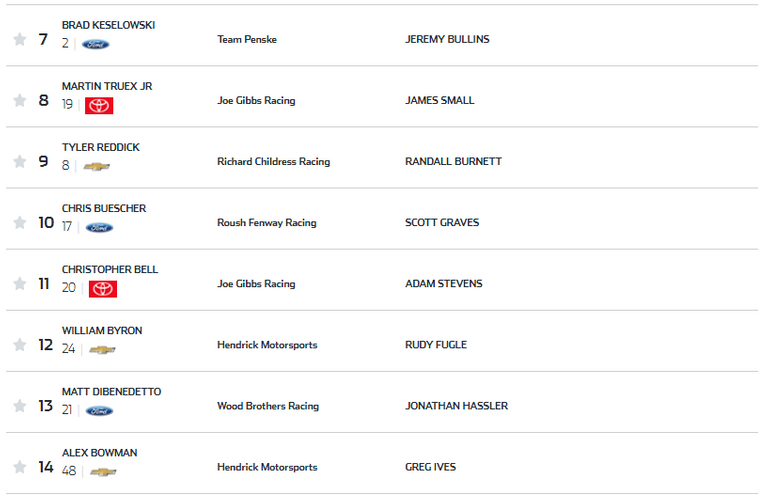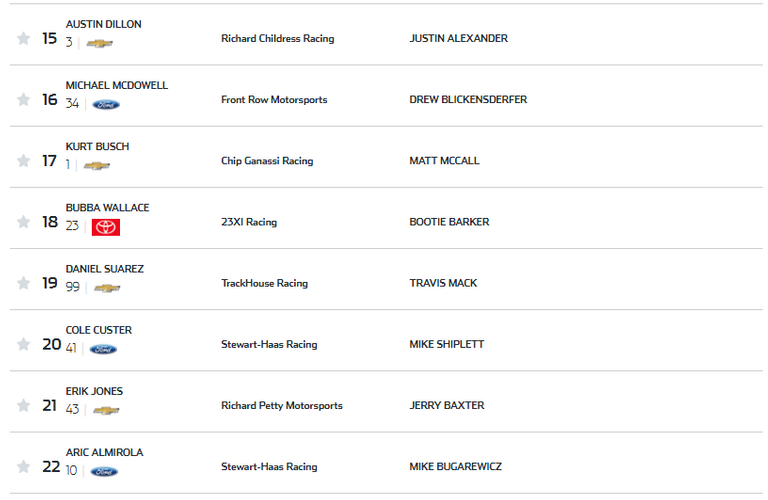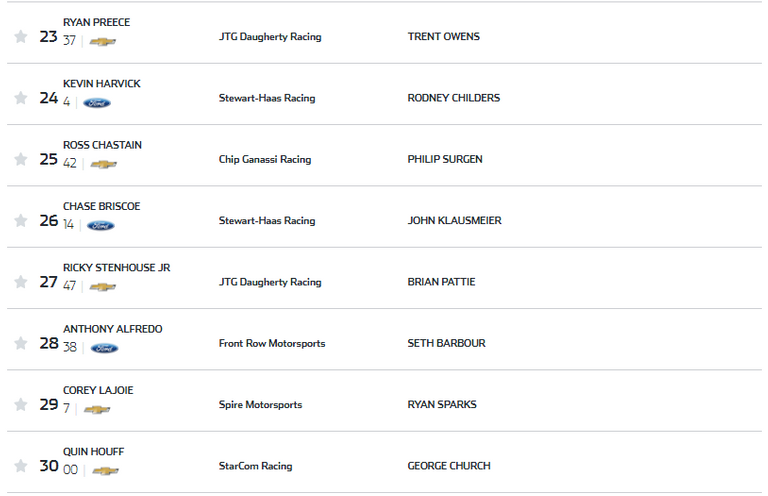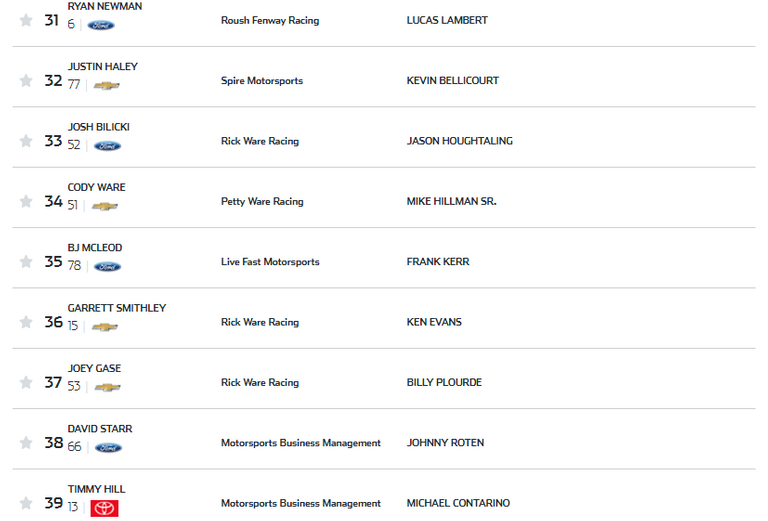 Fuente | Source

Información del evento: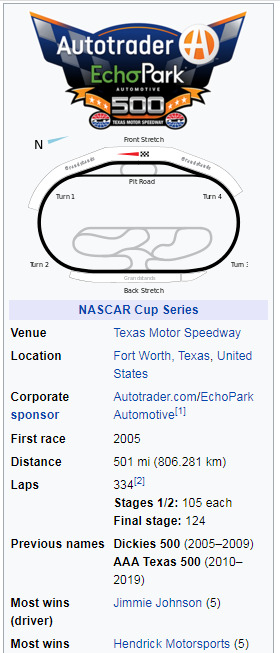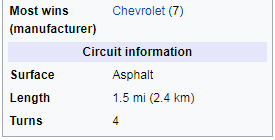 ENGLISH
Source

Información del Fin de semana:
NASCAR Cup Series:
Carrera: Autotrader EchoPark Automotive 500
Pista: Texas Motor Speedway
Fecha: Domingo, 17 de octubre de 2021
Vueltas: 334 (105-105-124)
Hora: 2:00pm
Eliminatorias: Carrera 1 de los octavos de final
Estadísticas de la pista:
Ganador de 2020: Kyle Busch
2020 Pole-sitter: Kevin Harvick
Líder de victorias en activo: Kyle Busch (4)
Líder activo del Top 5: Kyle Busch (14)
Líder activo del Top 10: Kurt Busch & Kevin Harvick (23)
Líder activo de la Pole: Kurt Busch (3)
Activo Mayor número de vueltas lideradas: Kyle Busch (1,049)
Activo Mejor Promedio de las 5 últimas: Kevin Harvick (6.2)
Activo Mejor promedio de los últimos 10: Kevin Harvick (5.4)
Weekend Information:
NASCAR Cup Series:
Race: Autotrader EchoPark Automotive 500

Track: Texas Motor Speedway

Date: Sunday, October 17th, 2021

Laps: 334 (105-105-124)

Time: 2:00pm

Playoffs: Race 1 of the Round of 8
TRACK STATISTICS:

2020 Winner: Kyle Busch

Active wins leader: Kyle Busch (4)

Active Top 5 leader: Kyle Busch (14)

Active Top 10 leader: Kurt Busch & Kevin Harvick (23)

Active Pole Leader: Kurt Busch (3)

Active Most Laps Led: Kyle Busch (1,049)

Last 5 Best Active Average: Kevin Harvick (6.2)

Active Best Average of the last 10: Kevin Harvick (5.4)
Source of information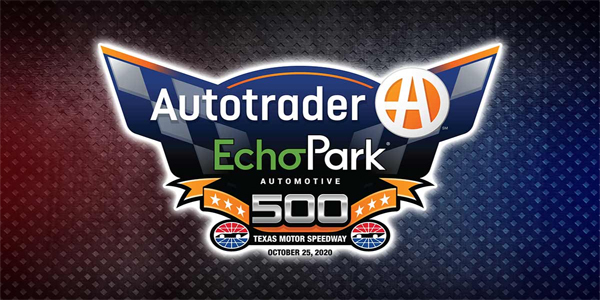 Fuente | Source

Separador de textos tomador del Post // Post taker text separator : Lucho en la pista (RETA A @equipodelta. | @franz54 reta a @equipodelta a Dibujar) Caricatura.
Gracias por su visita. Espero que les haya gustado. // Thank you for your visit. I hope you liked it.
Hasta una próxima oportunidad // Till a next chance
Sin más que decir, se despide de ustedes, su cordial servidor @franz54. // Without further ado, he bids farewell to you, his cordial server @franz54.

---
---