Previa de la carrera de la serie de la copa NASCAR: AdventHealth 400 en Kansas Speedway [ESP-ENG]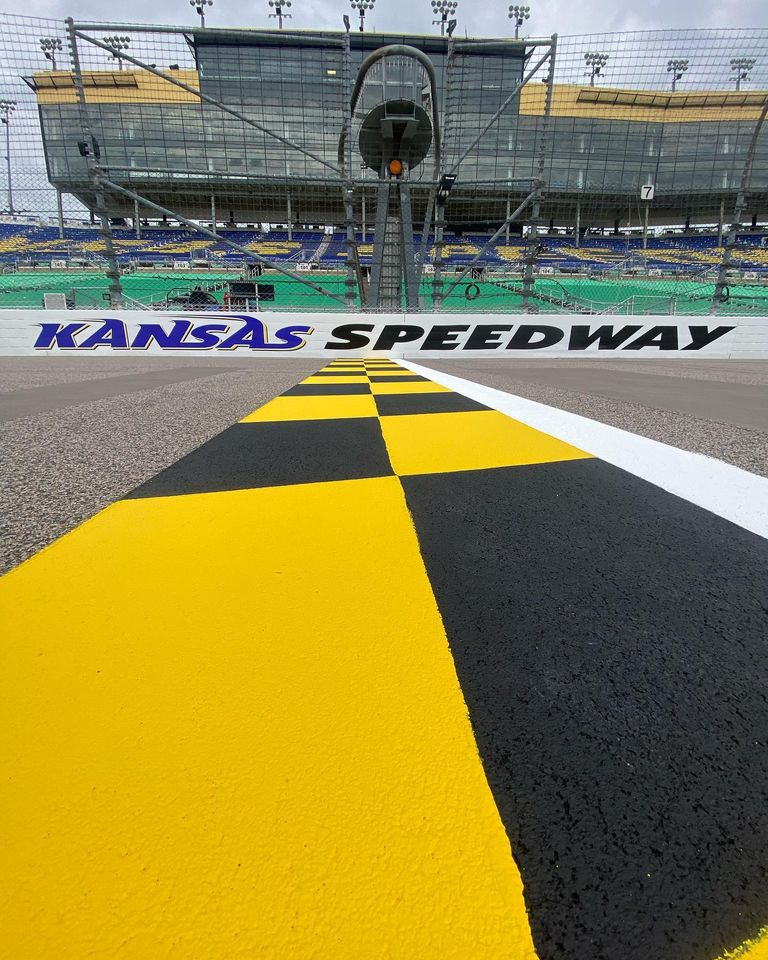 Source

Cada vez falta menos para llegar a la mitad de carrera del campeonato regular de la serie de la copa NASCAR, que en total son 26 carreras, a parte de las 10 que compone lo que son las eliminatorias donde conoceremos quien será el campeonato de este 2023 de la categoría. Lo cierto es que este domingo 07 de Mayo de 2023, a las 3:00pm ET de los Estados Unidos, se estará disputando lo que es la fecha 11 del campeonato. La carrera lleva por nombre AdventHealth 400 y se correrá en el óvalo de Kansas Speedway. Luego de la carrera de la semana pasada en Dover, que también se conoce como la milla monstruosa, donde resultó ganador Martin Truex Jr., logrando su primera victoria de la temporada, tanto para sus números personales, como para su equipo Joe Gibbs Racing (JGR). Ahora bien, ¿Quién será el ganador de esta semana en la AdventHealth 400 en el óvalo de Kansas? esto y mucho más se los trataré de responder en esta reseña de la previa a esta competencia.
It is getting closer and closer to reach the halfway point of the regular NASCAR Cup Series championship, which in total are 26 races, apart from the 10 races that make up what are the playoffs where we will know who will be the champion of this 2023 of the category. The truth is that this Sunday, May 7, 2023, at 3:00pm ET in the United States, what is the 11th date of the championship will be disputed. The race is called AdventHealth 400 and will be run at the Kansas Speedway oval. After last week's race at Dover, also known as the Monster Mile, where Martin Truex Jr. won, achieving his first victory of the season, both for his personal numbers and for his team Joe Gibbs Racing (JGR). Now, who will be the winner of this week's AdventHealth 400 at the Kansas oval? I will try to answer this and much more in this preview of the competition.
---
Kansas Speedway es un óvalo estadounidense de 1.500 millas (2.414 km), por lo cual es considerada una pista intermedia, que son las que mayormente componen en calendario de NASCAR. este escenario es de superficie de asfalto, que posee 4 curvas que cada una de ellos tienen un peralte progresivo de entre 17 y 20 grados de inclinación, mientras que el tri-óvalo donde se encuentra la recta principal (línea de meta) tiene un peralte progresivo de 9 a 11 grados. Por otro lado tenemos la recta posterior que su inclinación es de tan solo 5°. Este es uno de los óvalos de NASCAR que se abrieron más recientemente, ya que la primera carrera fue en el año 2021 y se ha corrido aquí hasta el presente, sin ninguna interrupción. Este escenario tiene una capacidad para los fanáticos de aproximadamente 48.000 asientos. Todos estos datos, según la página oficial de NASCAR.
Kansas Speedway is an American oval of 1,500 miles (2.414 km), so it is considered an intermediate track, which are those that mostly make up the NASCAR calendar. This scenario is asphalt surface, which has 4 curves that each have a progressive camber of between 17 and 20 degrees of inclination, while the tri-oval where the main straight (finish line) has a progressive camber of 9 to 11 degrees. On the other hand we have the back straight that its inclination is only 5°. This is one of the most recently opened NASCAR ovals, since the first race was in 2021 and has been run here until the present, without any interruption. This venue has a capacity for fans of approximately 48,000 seats. All this data, according to NASCAR's official website.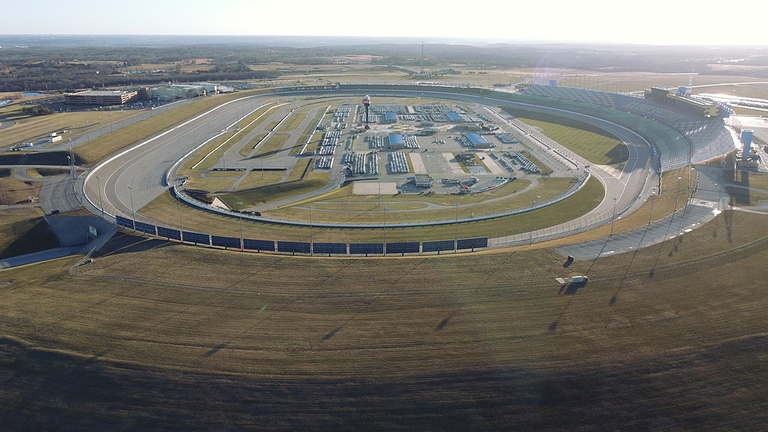 Source
El primer ganador en esta pista fue Jeff Gordon con su auto chevy 24 del equipo Hendrick Motorsports, que para los que no conocen, Gordon es un piloto de autos stock, que logro 4 campeonatos (1995, 1997, 1998, 2001) en la serie de la copa NASCAR, además que posee un total de 93 victorias, siendo uno de los pilotos con mayor número de victorias de la categoría. Realmente este fue un piloto bastante fenomenal, una referencia de la categoría de las últimas décadas junto a Jimmie Johnson. Gordon fue un piloto prodigio, que logro las todas las victorias inaugurales de las pistas que se abrieron más recientemente en las competencias, al menos cuando estaba activo y en su mejor momento, ya que actualmente está retirado de las competiciones.
The first winner at this track was Jeff Gordon with his chevy 24 of the Hendrick Motorsports team, which for those who do not know, Gordon is a stock car driver, who achieved 4 championships (1995, 1997, 1998, 2001) in the NASCAR Cup Series, in addition he has a total of 93 victories, being one of the drivers with the highest number of victories in the category. He was really a phenomenal driver, a reference of the category in the last decades together with Jimmie Johnson. Gordon was a prodigy driver, who achieved all the inaugural victories of the tracks that opened more recently in the competitions, at least when he was active and in his best moment, since he is currently retired from the competitions.
La mayor cantidad de números de victorias de Kansas Speedway está en manos de 5 pilotos, de las cuales 3 están aún activos. Estos pilotos con más victoria en la pista de carrera de esta semana son Jeff Gordon, Jimmie Johnson, Kevin Harvick, Denny Hamlin y Joey Logano. Otro dato importante es la vuelta más rápido de este escenario en la serie de la copa NASCAR, que es la serie de la cual estamos hablando en esta previa de la competencia ya mencionada. Kevin Harvik es quien obstante el giro más rápido en clasificación, logrando una vuelta de 27.304 (197 773 mph), esto en octubre de 2014. Por otro lado en 2012 Denny Hamlin batió el récord de vuelta. Estas giros se mejoraron ya que en 2012 fue cuando se reconfiguró la pista y se reasfalto la misma, ya que anteriormente era mucho más complicado el escenario, había mucho más abrasión, por lo cual los neumáticos se desgastaban más, cosa que no pasa en la actualidad, todo depende del compuesto que nos traiga la empresa proveedora de llantas, GoodYear. Debo confesar que Kansas Speedway no es de mis escenarios favoritos, las carreras me parecen un poco tediosas, pero como todo fanático, cada carrera me apasiona, lo importante es disfrutar de la competencia.
The most Kansas Speedway win numbers are held by 5 drivers, 3 of which are still active. These drivers with the most wins at this week's race track are Jeff Gordon, Jimmie Johnson, Kevin Harvick, Denny Hamlin and Joey Logano. Another important fact is the fastest lap of this stage in the NASCAR Cup Series, which is the series we are talking about in this preview of the aforementioned competition. Kevin Harvik is who nevertheless the fastest lap in qualifying, achieving a lap of 27.304 (197 773 mph), this in October 2014. On the other hand, in 2012 Denny Hamlin beat the lap record. These laps were improved since in 2012 was when the track was reconfigured and resurfaced, since previously it was much more complicated the scenario, there was much more abrasion, so the tires wore more, which does not happen today, it all depends on the compound that brings us the tire supplier company, GoodYear. I must confess that Kansas Speedway is not one of my favorite venues, the races seem a little tedious to me, but like any fan, I am passionate about each race, the important thing is to enjoy the competition.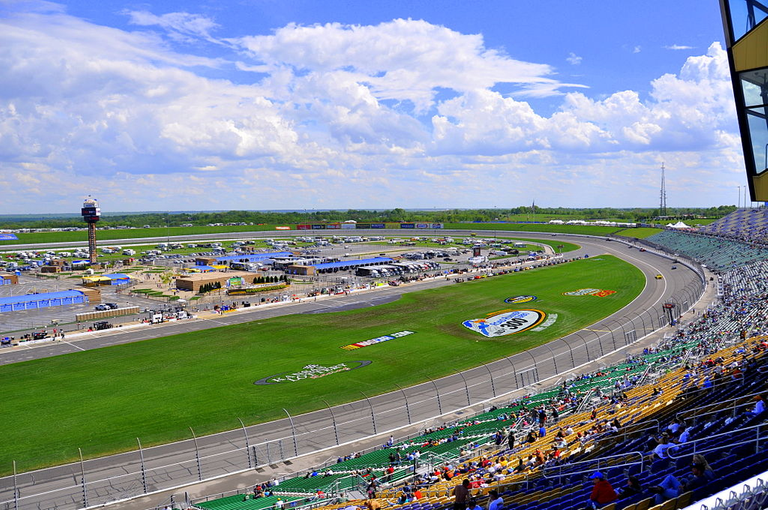 Source
Kurt Busch fue el piloto que gano la carrera del año pasa en Kansas, piloto que actualmente está retirado, por lo cual no podrá revalidar su triunfo, así que tendremos un nuevo ganador. Christopher Bell fue quien se quedó con la pole en el 2022. El piloto del equipo Joe Gibbs Racing del auto 20 suele ser muy rápido en la clasificación, además de también ser un conductor muy constante en las carreras, es uno de los más puntos ha acumulado en la temporada, además de tener una victoria lograda en la presente temporada. Denny Hamlin, Kevin Harvick y Joey Logano son entre los pilotos activos, los que más victorias poseen con un total de 3 cada uno, dato que se lo había comentado anteriormente, ya que incluso son los que más victorias tiene en este escenario. ¿Por qué tan pocas victorias? como les mencioné, Kansas es de los escenarios más reciente, siendo la primera carrera en 2001, mientras que hay otras pistas que tienen mucho más tiempo de actividad. En cuanto a pole, el piloto que más posee es Kevin Harvick con 5, al menos de los pilotos activos. Mencionar que esta será la última temporada de Harvick en la serie de la copa NASCAR, se retira de las carrera para ser comentarista de una cadena especialista en NACAR.
Kurt Busch was the driver who won last year's race in Kansas, a driver who is currently retired, so he will not be able to revalidate his triumph, so we will have a new winner. Christopher Bell won the pole in 2022. The Joe Gibbs Racing driver of car 20 is usually very fast in qualifying, besides being a very consistent driver in the races, he is one of the most points he has accumulated in the season, besides having a victory achieved this season. Denny Hamlin, Kevin Harvick and Joey Logano are among the active drivers, the ones who have more victories with a total of 3 each, a fact that I had mentioned before, since they are even the ones who have more victories in this scenario. Why so few victories? As I mentioned, Kansas is one of the most recent scenarios, being the first race in 2001, while there are other tracks that have much more time of activity. As for pole positions, the driver with the most is Kevin Harvick with 5, at least of the active drivers. It is worth mentioning that this will be Harvick's last season in the NASCAR Cup Series, as he is retiring from racing to become a commentator for a specialized NACAR network.
¿Quién es el favorito para quedarse con la victoria? entre los pilotos que tiene mayor posibilidad está Joey Logano del auto 22 Ford del equipo Penske. Pienso que Logano será uno de los favoritos y la razón principal es la potencia del motor ford, siempre destaca en esta pista por las altas velocidades que se alcanzan en Kansas Speedway, aunque sabemos que no es un factor tan determinante, ya que también una buena puesta a punto, con una buena aerodinámica es un factor de alto valor. Tener una puesta punto para tandas largas es vital ya que creo que la carrera será bastante fluida y es que los últimos años ha sido así y no como en el pasado donde habían varios banderas de precaución. Igual todas las competencias son distintas, veremos cómo se va dando la competencia. William Byron y Chase Elliott son otros de mis favoritos para quedarse con el gane de la AdventHealth 400. Por otro lado tenemos a Kyle Busch, piloto que ya posee dos ganes en lo que va de la temporada e irá en búsqueda de su tercer triunfo para ser el más ganador del campeonato. El caballo negro es Kevin Harvick, piloto que posee grandes números en Kansas pero no está pasando por su mejor momento.
Who is the favorite to win the race? Among the drivers who have the best chance is Joey Logano in the 22 Ford of the Penske team. I think Logano will be one of the favorites and the main reason is the power of the Ford engine, he always stands out in this track because of the high speeds that are reached in Kansas Speedway, although we know that it is not such a determining factor, since a good set up, with good aerodynamics is also a factor of high value. Having a set-up for long runs is vital because I think the race will be quite fluid and the last few years it has been like that and not like in the past where there were several caution flags. All the competitions are different anyway, we will see how the competition goes. William Byron and Chase Elliott are my other favorites to win the AdventHealth 400. On the other hand we have Kyle Busch, driver who already has two wins so far this season and will be looking for his third victory to become the most winning driver in the championship. The dark horse is Kevin Harvick, driver who has great numbers in Kansas but is not going through his best moment.
El sábado es cuando comienzo la actividad en pista en cuanto a la serie de la copa NASCAR se refiere, porque para este fin de semana esta de descanso la Xfinity Series (Segunda división de NASCAR), pero la serie de las camionetas también correrá en la misma pista que la serie mayor. El sábado será la practica libre, donde los pilotos tendrán 45 minutos para girar, para colocar la puesta a punto para la clasificación que se da seguida de este entrenamiento. La práctica es a la 5:05pm ET y la clasificación es a la 5:50pm. La clasificación es a dos rondas, donde la primera se divide en dos con la mitad de los pilotos inscritos, los mejores 5 de cada una avanzan a la ronda final. La carrera es el domingo 07 de Mayo, donde el total de vueltas que deben dar son 267, divididas en los tres habituales etapas, siendo la primera a 80 vueltas, la segunda a 85 y la tercera y final a los últimos 102 giros, donde conoceremos quien será el ganador de la AdventHealth 400 en Kansas Speedway y quien se llevará el trofeo, y la bandera a cuadras para su casa.
Saturday is when the NASCAR Cup Series activity will start on track, because this weekend the Xfinity Series (NASCAR's second division) will be off, but the truck series will also race on the same track as the main series. On Saturday will be the free practice, where the drivers will have 45 minutes to spin, in order to set up for the qualifying that follows this practice. Practice is at 5:05pm ET and qualifying is at 5:50pm. Qualifying is two rounds, where the first round is split in two with half of the drivers entered, the top 5 in each round advancing to the final round. The race is on Sunday May 07, where the total laps to be completed are 267, divided into the usual three stages, being the first 80 laps, the second 85 laps and the third and final 102 laps, where we will know who will be the winner of the AdventHealth 400 at Kansas Speedway and who will take the trophy, and the flag to blocks for home.
---
It's Race Week!#AdventHealth400 | 🎟 https://t.co/wR8EvrCwJ0 pic.twitter.com/XwHGae7HDM

— Kansas Speedway (@kansasspeedway) May 1, 2023

Lista de Entrada de pilotos para el evento
Driver Entry List for the event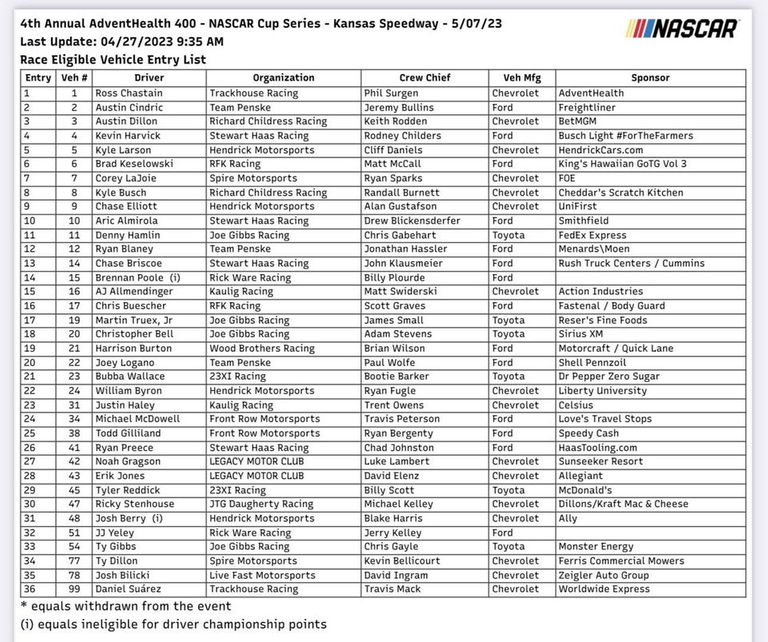 Source

Información del Fin de semana: NASCAR Cup Series
Carrera: AdventHealth 400
Pista: Kansas Speedway
Fecha: Domingo, 7 de mayo de 2023
Vueltas: 267 (80-85-102)
Hora: 3:00 pm
Nota: 12/36 carreras del campeonato 2023 de la serie de la Copa NASCAR
---
Estadísticas de la pista:
Ganador de 2022: Kurt Busch
2022 Pole-sitter: Christopher Bell
Líder de victorias en activo: D. Hamlin, K. Harvick y J. Logano (3)
Líder activo del Top 5: Kevin Harvick (12)
Líder activo del Top 10: Kevin Harvick (19)
Líder activo de la Pole: Kevin Harvick (5)
Activo Mayor número de vueltas lideradas: Kevin Harvick (949)
Activo Mejor Promedio de las 5 últimas: Martin Truex Jr. (6.6)
Activo Mejor promedio de los últimos 10: Martin Truex Jr. (6.8)
Fuente
Weekend Information: NASCAR Cup Series
Race: AdventHealth 400
Track: Kansas Speedway
Date: Sunday, May 7th, 2023
Laps: 267 (80-85-102)
Time: 3:00 pm
Note: Note: 12/36 races of the 2023 NASCAR Cup Series Championship.

Track statistics:

2022 Winner: Kurt Busch
2022 Pole-sitter: Christopher Bell
Active Win Leader: D. Hamlin, K. Harvick & J. Logano (3)
Active Top 5 Leader: Kevin Harvick (12)
Active Top 10 Leader: Kevin Harvick (19)
Active Pole Leader: Kevin Harvick (5)
Active Most Laps Led: Kevin Harvick (949)
Active Best Last 5 Avg.: Martin Truex Jr. (6.6)
Active Best Last 10 Avg.: Martin Truex Jr. (6.8)

Source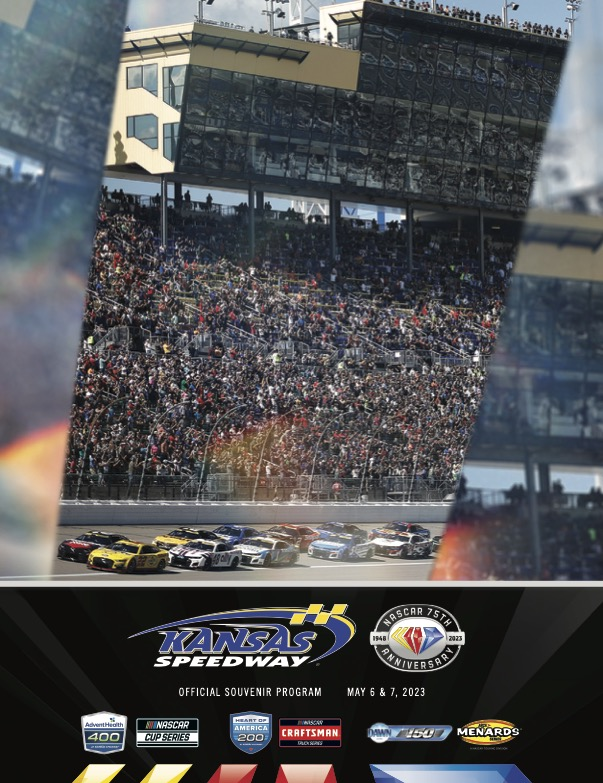 Source

Separador de textos tomador del Post fue creado por mi persona en: Canva || Post taker text separator was created by myself at: Canva.
Translated with www.DeepL.com/Translator (free version)
Gracias por su visita. Espero que les haya gustado. // Thank you for your visit. I hope you liked it.
Hasta una próxima oportunidad // Till a next chance
Sin más que decir, se despide de ustedes, su cordial servidor @franz54. // Without further ado, he bids farewell to you, his cordial server @franz54.

---
---