Previa de la carrera de NASCAR Cup Series en el circuito de Indianapolis Motor Speedway (Road Course) || NASCAR Cup Series Race Preview at Indianapolis Motor Speedway (Road Course) [Esp || Eng]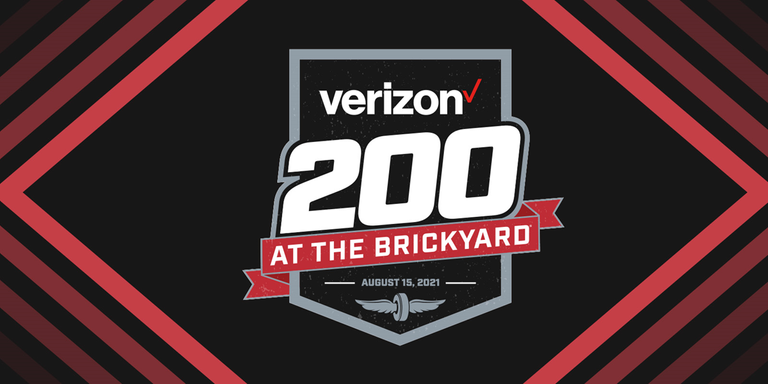 Source

Verizon 200 at The Brickyard es el nombre oficial de la competición de la NASCAR Cup Series que se estará llevando a cabo este domingo en el circuito de Indianapolis Speedway. Esta es la fecha 22 de campeonato regular de 26 y se carrera el 31 de Julio del presente mes y año, lo que significa que cada vez quedan menos para que este finalice y por fin se dé comienzo a los playoff, donde verdaderamente se estará luchando por el título de pilotos y equipos de este año 2022. Hasta el momento tenemos a 14 pilotos asegurados en los playoffs por lograr al menos una victoria en la temporada regular, en la cual 16 son los que clasifican a la siguiente etapa, es decir, que tan solo quedan dos cupos. De no ganar un piloto que aún no lo haya hecho, estos puestos se determinan por las posiciones en el campeonato por puntos, donde en el puesto 15 esta Ryan Blaney con una ventaja de 105 puntos con el puesto 17, mientras que Martin Truex Jr es quien está en la posición 16 y hasta el momento es el último clasificado con una ventaja de 83 puntos con respecto a Kevin Harvick quien ocupa la posición 17. Luego de la anterior carrera que un principio había dejado como ganador a Denny Hamlin pero por unas irregularidades en su auto, este fue descalificado, al igual que Kyle Busch quien había terminado en la segunda posición, mientras que Chase Elliott quien cruzó la meta en el tercer lugar y sin liderar una sola vuelta, se llevó el triunfo, algo que paso a la historia en la categoría.
Verizon 200 at The Brickyard is the official name of the NASCAR Cup Series competition that will be held this Sunday at the Indianapolis Speedway. This is the 22nd date of the 26 regular championship and the race will take place on July 31 of this month and year, which means that there are less and less time left to finish and finally start the playoffs, where we will be fighting for the drivers and teams title of this year 2022. So far we have 14 drivers assured in the playoffs for achieving at least one victory in the regular season, in which 16 are those who qualify to the next stage, that is, there are only two places left. If a driver who has not won yet does not win, these positions are determined by the positions in the championship by points, where in the 15th position is Ryan Blaney with an advantage of 105 points with the 17th position, while Martin Truex Jr is who is in the 16th position and so far is the last classified with an advantage of 83 points over Kevin Harvick who occupies the 17th position. After the previous race, which had initially left Denny Hamlin as the winner but due to some irregularities in his car, he was disqualified, as was Kyle Busch who had finished in second position, while Chase Elliott, who crossed the finish line in third place and without leading a single lap, took the win, something that went down in history in the category.
¿Qué nos espera esta carrera?
What does this race have in store for us?
La verdad es que alrededor de este evento hay mucha expectativa, no solo por el estado de campeonato y como concluya este, sino que es muy importante esta carrera ya que muchos de los pilotos quieren ganar, incluso derrotar a sus compañeros de equipos, ya que como es bien sabido NASCAR no hay ordenes de equipo, o bueno en realidad muy poco se han dado los casos y los que sí, han recibido sanciones severas por parte de los comisarios y encargados de la Serie. Otras de las interrogantes que siempre se debe abordar es el ¿Quién puede ser el ganador de la carrera? El principal favorito sin lugar a dudas es Chase Elliott, y como si es el actual líder del campeonato y ganador de la última carrera a pesar de las circunstancias en que se dio. Además Elliott no solo ha logrado victoria, sino que cuando no lo hizo quedo en el segundo lugar, tanto así que lo logró hasta en 5 carreras consecutivos, algo que nos dice que es el piloto con mejores estadísticas y quien mejor rendimiento está teniendo en la temporada. Kyle Larson es otro de los pilotos que se espera un muy resultado y porque no que repita la victoria del año 2021. Tyler Reddick es mi tercer piloto que le pongo la ficha para ganar en esta carrera, a pesar de no estar en los 5 mejores con posibilidades, pero por su últimos resultados llega de buena manera.
The truth is that around this event there is a lot of expectation, not only for the state of the championship and how it concludes, but it is very important this race because many of the drivers want to win, even defeat their teammates, because as is well known NASCAR there are no team orders, or actually very few cases have occurred and those who have, have received severe penalties by the stewards and those in charge of the Series. Another question that must always be addressed is who can be the winner of the race? The main favorite is undoubtedly Chase Elliott, and as if he is the current championship leader and winner of the last race despite the circumstances in which it took place. In addition Elliott has not only achieved victory, but when he did not, he was in second place, so much so that he did it in 5 consecutive races, something that tells us that he is the driver with the best statistics and who is having the best performance in the season. Kyle Larson is another driver who is expected to have a great result and why not repeat the victory of the year 2021. Tyler Reddick is my third driver that I put the chip to win in this race, despite not being in the top 5 with possibilities, but for his latest results comes in a good way.
Ahora bien, analizando un poco la localización donde se estará disputando esta carrera, que es Indianapolis Motor Speedway (Circuito) es un trazado de superficie de asfalto y ladrillo, que tiene una longitud de 2,439 millas (3,925 kilómetros). La misma tiene 14 curvas, donde es importante mencionar que también se usar partes del óvalo, específicamente la recta principal y la curva dos, lo que hace que este trazado sea bastante complicado. La pista es bastante complicada, más que todo en la entrada de la 1 ya que al llegar a esta, los coches vienen con una lata velocidad por la gran recta principal que posee que es bastante larga y frenos de los autos sufren bastante, esto mismo se da entre las curvas 6 y 7. Este además posee curvas de alta velocidad, pero también otras que no son nada fácil de tomar. El desgaste de los neumáticos es un factor de suma importancia, así que los equipos deben estar muy atento a esto. Esta localidad posee un total de 400.000 puestos para los fanáticos, lo cual llenar todo es un poco complicado, tan solo que se esté corriendo las 500 de Indy, evento en la cual se da que todas las entradas son agotadas. Este es una de los óvalos y trazados más antiguos del deporte motor, incluso el más importante que abrió sus puertas en el año 1909. Aquí se dan las carreras más importantes como la ya mencionada Indy 500, las carreras de NASCAR que para el año pasado se pasó de correr en óvalo al circuito interno.
Now, analyzing a little the location where this race will be held, which is Indianapolis Motor Speedway (Circuit) is a layout of asphalt and brick surface, which has a length of 2.439 miles (3.925 kilometers). It has 14 turns, where it is important to mention that parts of the oval are also used, specifically the main straight and turn two, which makes this layout quite complicated. The track is quite complicated, especially at the entrance of turn 1, because when arriving to it, the cars come with a high speed due to the great main straight that it has, which is quite long and the brakes of the cars suffer a lot, the same happens between turns 6 and 7. This also has high speed curves, but also others that are not easy to take. Tire wear is a very important factor, so the teams must be very attentive to this. This location has a total of 400,000 seats for the fans, which is a little complicated to fill, just because it is running the Indy 500, an event in which all the tickets are sold out. This is one of the oldest ovals and tracks in motorsports, even the most important one, which opened its doors in 1909. The most important races are held here, such as the aforementioned Indy 500 and the NASCAR races, which last year changed from an oval to an indoor track.
La vuelta más rápida en esta pista la logró Chase Briscoe con su auto Ford Mustang GT NASCAR en la edición de año pasado con un tiempo de 1:30.176 segundos. Recordar que el circuito de Indianapolis se unió al calendario el año pasado, lo que significa que apenas esta es la segunda carrera que se ha dado acá, lo que nos dice que esta no tiene mucha historia. El ganador de la carrera anterior fue AJ Allmendinger quien era piloto invitado en aquella ocasión y quien este año también va a participar, así que también es una de los favoritos para llevarse este evento este año. El ganador de la Pole de año pasado fue el piloto del equipo Hendrick Motorsports William Byron, quien es compañero de Elliott y Larson. Esto es lo bueno de NASCAR, que varios pilotos tienen posibilidades de ganar y no como pasa en otras que uno o dos equipos son los que realmente puede pelear entre ellos por el gane, incluyendo sus pilotos.
The fastest lap on this track was achieved by Chase Briscoe with his Ford Mustang GT NASCAR car in last year's edition with a time of 1:30.176 seconds. Remember that the Indianapolis Motor Speedway joined the calendar last year, which means that this is only the second race that has taken place here, which tells us that this one doesn't have much history. The winner of the previous race was AJ Allmendinger who was a guest driver on that occasion and who will also participate this year, so he is also one of the favorites to win this event this year. Last year's pole winner was Hendrick Motorsports driver William Byron, who is a teammate of Elliott and Larson. This is the great thing about NASCAR, that several drivers have a chance to win and not like in other NASCAR races where one or two teams are the ones that can really fight each other for the win, including their drivers.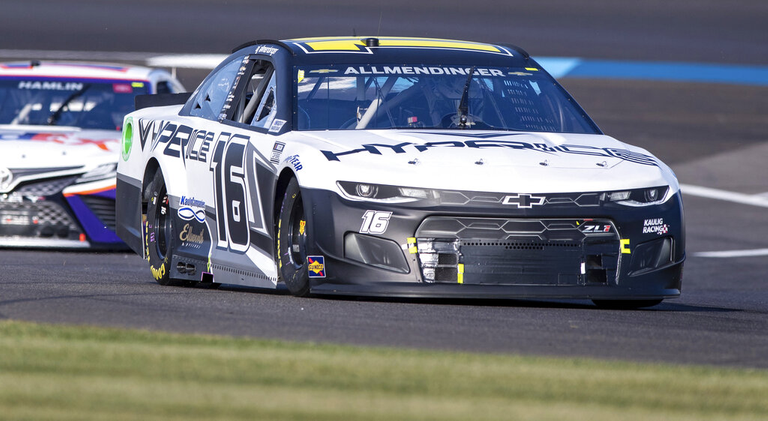 Source
La importante práctica libre es el día sábado, que relevante para los equipos ya que tan solo tienen una data previa por la visita de año pasado, pero debido a estos nuevos autos que se están estrenando este año, el trabajo debe ser mucho más duro para que los equipos pongo sus autos a punto tanto para la clasificación como la carrera. La clasificación se disputará el mismo día sábado, poco tiempo después de culminar los entrenamientos, donde esta va a ser con dos etapas con la mitad de los inscritos y los mejores 5 de cada una de ellas pasan a la ronda final, quienes pelearan por la pole. La carrera es el día domingo 31 de Julio de 2022 a las 2:30pm tiempo del este de los Estados Unidos, donde se estarán dando 82 vueltas al circuitos en total y como tenemos acostumbrado, esto es a etapas (15-20-47), siendo la más corta la primera y la más larga tercera donde se determina realmente quien será el ganador. La estrategia es de vital importancia, por lo cual los equipos deben estar muy atentos a los acontecimientos para determinar en qué momento parar o no a sus pilotos. Lo normal es que sea de tres a 4 paradas, siendo la primera opción la mejor, pero también va a depender del consumo de combustible y las banderas amarillas que se den, que al ser un circuito, estas no son tanta como en un óvalo.
The important free practice is on Saturday, which is relevant for the teams since they only have a previous data from last year's visit, but due to these new cars that are being released this year, the work must be much harder for the teams to get their cars ready for both the qualifying and the race. Qualifying will be held on Saturday, shortly after the end of practice, where there will be two stages with half of the registered drivers and the best 5 of each stage will go to the final round, who will fight for the pole position. The race is on Sunday, July 31, 2022 at 2:30pm Eastern time of the United States, where 82 laps will be given to the circuit in total and as we are used to, this is in stages (15-20-47), being the shortest the first and the longest third where it is really determined who will be the winner. The strategy is of vital importance, so the teams must be very attentive to the events to determine at what moment to stop or not to stop their pilots. The normal is three to four stops, being the first option the best, but it will also depend on fuel consumption and yellow flags that are given, which being a circuit, these are not as much as in an oval.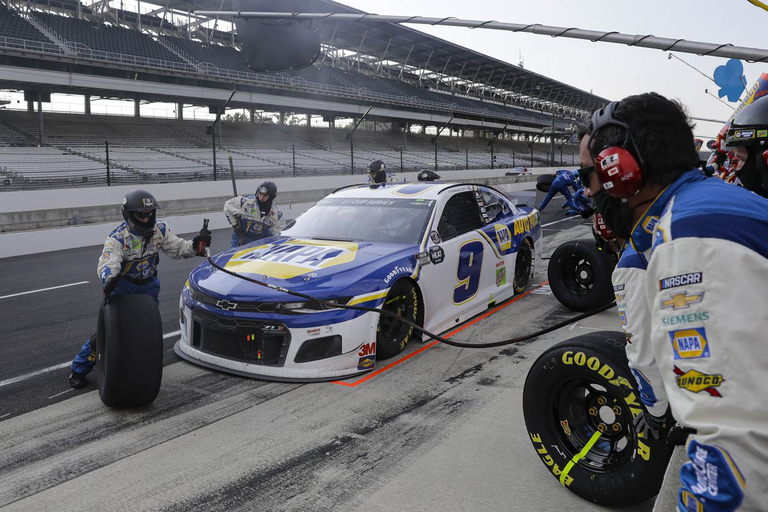 Source

Horario del fin de semana de la carrera | Race Weekend Schedule:
https://twitter.com/IMS/status/1552327903425224710?s=20&t=niUisIbdjtlTaQ7NNprzIw
Fuente | Source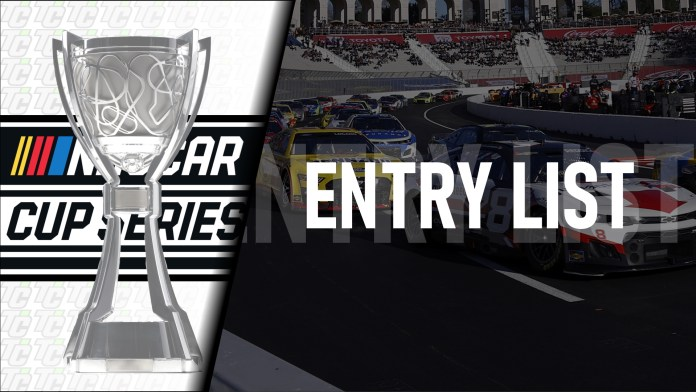 Source
Lista de Entrada de pilotos para el evento
Driver Entry List for the event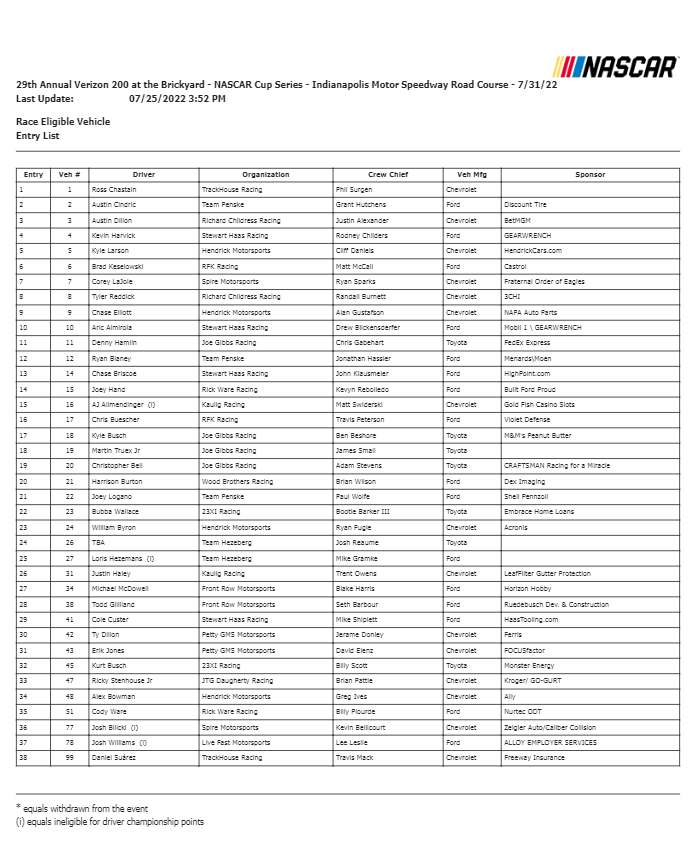 Source

Estado del Campeonato luego de 21 fechas de 36
Championship status after 21 dates of 36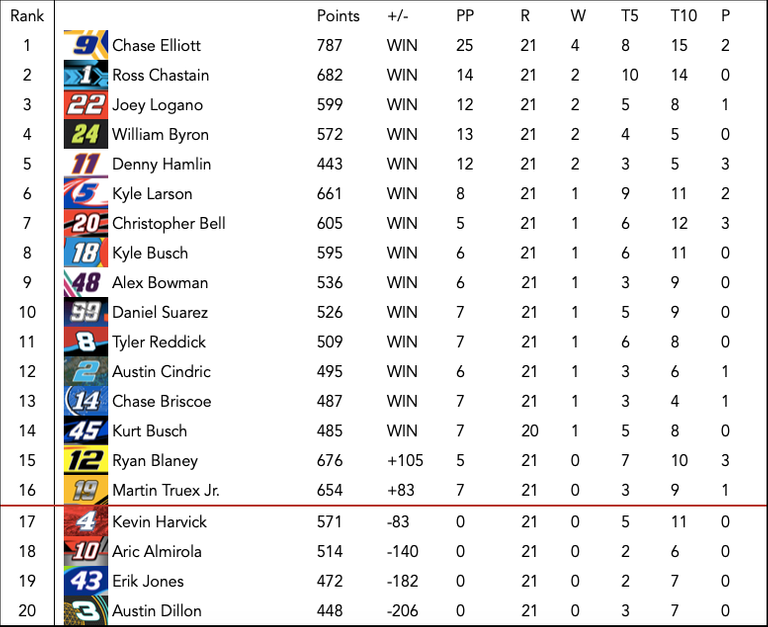 Source
Aún falta la actualización luego de la descalificación de los autos 11 y 18 en la anterior carrera.
Still missing the update after the disqualification of cars 11 and 18 in the previous race.

Información del Fin de semana: NASCAR Cup Series
Carrera: Verizon 200 at The Brickyard
Pista: Indianapolis Motor Speedway (circuito de carretera)
Fecha: Domingo, 31 de julio de 2022
Vueltas: 82 (15-20-47)
Hora: 2:30 pm
---
Estadísticas de la pista:
Ganador de 2021: AJ Allmendinger
2021 Pole-sitter: William Byron
Líder de victorias en activo: AJ Allmendinger (1)
Líder activo del Top 5: 4 Conductores (1)
Líder activo del Top 10: 8 Conductores (1)
Líder activo de la Pole: William Byron (1)
Activo Mayor número de vueltas lideradas: Kyle Larson (28)
Activo Mejor Promedio de las 5 últimas: AJ Allmendinger (1.0)
Activo Mejor promedio de los últimos 10: AJ Allmendinger (1.0)
Fuente
Weekend Information: NASCAR Cup Series
Race: Verizon 200 at The Brickyard
Track: Indianapolis Motor Speedway (Road Course)
Date: Sunday, July 31st, 2022
Laps: 82 (15-20-47)
Time: 2:30 pm

Track statistics:

2021 Winner: AJ Allmendinger
2021 Pole-sitter: William Byron
Active Win Leader: AJ Allmendinger (1)
Active Top 5 Leader: 4 Drivers (1)
Active Top 10 Leader: 8 Drivers (1)
Active Pole Leader: William Byron (1)
Active Most Laps Led: Kyle Larson (28)
Active Best Last 5 Avg.: AJ Allmendinger (1.0)
Active Best Last 10 Avg.: AJ Allmendinger (1.0)

Source

Resumen de la carrera NASCAR Cup: Verizon 200 en la Brickyard || NASCAR Cup Race Recap: Verizon 200 at the Brickyard

Separador de textos tomador del Post fue creado por mi persona en: Canva || Post taker text separator was created by myself at: Canva.
Translated with www.DeepL.com/Translator (free version)
Gracias por su visita. Espero que les haya gustado. // Thank you for your visit. I hope you liked it.
Hasta una próxima oportunidad // Till a next chance
Sin más que decir, se despide de ustedes, su cordial servidor @franz54. // Without further ado, he bids farewell to you, his cordial server @franz54.

---
---