Previa de la carrera: NASCAR Cup Series Championship | Race preview: NASCAR Cup Series Championship [ESP-ENG]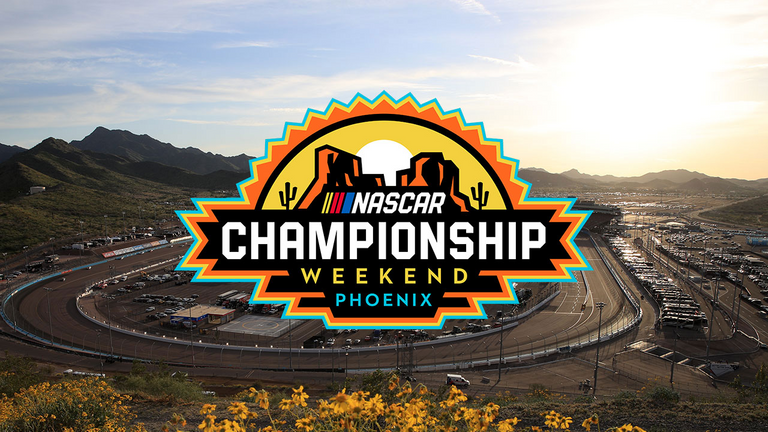 Fuente | Source

Bienvenidos todos a mi blog, en especial los amantes de las carreras, la comunidad #FullDeportes y los lectores en general. En la pista de PHOENIX RACEWAY este domingo 7 de Noviembre a las 3 PM ET se llevará a cabo la última carrera de la temporada de NASCAR Cup Series, que se denomina la ronda de 4 de campeonato, porque a la misma clasifican 4 pilotos y quien termine por delante en la carrera sin contar los puntos de bonificación, es quien se coronará campeón de la temporada 2021 de la Categoría. Como les mencioné en mi anterior post, los 4 clasificado para esta ronda de la serie fueron Kyle Larson #5 y Chase Elliott #9 de Hendrick Motorsports en representación de la marca Chevy, además de Denny Hamlin #11 y Martin Truex Jr #19 de Joe Gibbs Racing marca Toyota. En esta previa se la voy a dedicar más a el análisis de lo que están peleando el campeonato y quien yo creo que ganará la carrera, y es que le doy una ficha a que es uno de estos 4 pilotos.
Welcome everyone to my blog, especially racing fans, the #FullSports community and readers in general. At the PHOENIX RACEWAY track this Sunday, November 7 at 3 PM ET the last race of the NASCAR Cup Series season will take place, which is called the championship round of 4, because 4 drivers qualify for it and whoever finishes ahead in the race without counting bonus points, is who will be crowned champion of the 2021 season of the Category. As I mentioned in my previous post, the 4 qualified for this round of the series were Kyle Larson #5 and Chase Elliott #9 of Hendrick Motorsports representing the Chevy brand, plus Denny Hamlin #11 and Martin Truex Jr #19 of Joe Gibbs Racing Toyota brand. In this preview I am going to dedicate it more to the analysis of what are fighting for the championship and who I think will win the race, and I give a chip to one of these 4 drivers.
Mi principal favorito para llevarse este campeonato y carrera es Kyle Larson, sin embargo no se puede descartar a otros pilotos, a su compañero de equipo Elliott quien es el vigente campeón de la temporada 2020, además de Martin Truex quien ya se ha quedado con el título de piloto de esta serie. En cambio Denny Hamlin no se ha consagrado pero creo que es el que lo tiene más difícil de los 4, además que debemos tomar él cuenta el altercado de la carrera pasada con Alex Bowman y esto puedo hacer que sus aspiraciones al título se vean un poco afectadas, pero si les soy sincero es quien quiero que sea gane esta carrera y se quede con el título, debido a los años que tiene luchando por él y es tiempo que lo logre, más allá de la excelente temporada de Larson y los buenos números y carreras que ha mostrado esta temporada. En fin yo lo hecho en las carreras anteriores no cuenta, el trabajo lo deben hacer en este evento y cada uno de los equipos deben dar el todo por el todo para que todo lo hecho en la temporada regular y en los playoffs haya valido la pena.
My main favorite to win this championship and race is Kyle Larson, however we can not rule out other drivers, his teammate Elliott who is the reigning champion of the 2020 season, in addition to Martin Truex who has already won the title of driver of this series. On the other hand Denny Hamlin has not been consecrated but I think he is the one who has it more difficult of the 4, plus we must take into account the altercation of the last race with Alex Bowman and this can make his title aspirations are a little affected, but if I'm honest I want him to win this race and keep the title, because of the years he has been fighting for it and it is time to achieve it, beyond the excellent season of Larson and the good numbers and races he has shown this season. Anyway, what was done in the previous races does not count, the work must be done in this event and each one of the teams must give their all so that everything done in the regular season and in the playoffs has been worth it.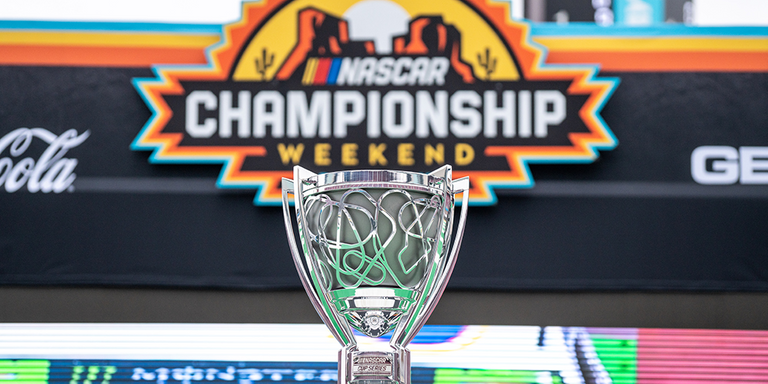 Fuente | Source
Kyle Larson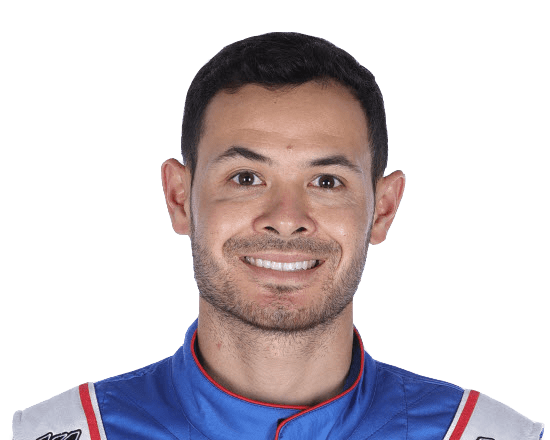 Fuente | Source
Kyle Larson es un piloto de la maquina Número 5 de Hendrick Motorsports, quien es el principal candidato al título y quien he tenido las mejores estadísticas esta temporada. Dicho piloto llega a esta final con 9 victoria en 35 carreras, 19 tops 5, 25 tops 10, 2474 vueltas lideradas, 17 segmentos de carreras ganados y tan solo 2 retiros. En cuanto a los números de Larson esta pista de PHOENIX RACEWAY tiene que ha participado en 14 carreras, donde su mejor resultado es un segundo lugar, específicamente obtenido en 2017, además que tiene 5 tops 5 y 8 tops 10, mientras que el promedio de arrancadas es de 7.3 y el de finalización es de 11.6, lideró un total de 72 vueltas en estos 14 inicio con tan solo un abandono por problemas en su motor en 2017.
Kyle Larson is a driver of the Hendrick Motorsports Number 5 machine, who is the main candidate for the title and who has had the best statistics this season. He comes into this finale with 9 wins in 35 races, 19 top 5s, 25 top 10s, 2474 laps led, 17 race segments won and only 2 retirements. As for Larson's numbers this PHOENIX RACEWAY track has that he has participated in 14 races, where his best result is a second place, specifically obtained in 2017, in addition he has 5 tops 5 and 8 tops 10, while the average starts is 7.3 and the average finish is 11.6, he led a total of 72 laps in these 14 starts with only one retirement due to engine problems in 2017.
Chase Elliott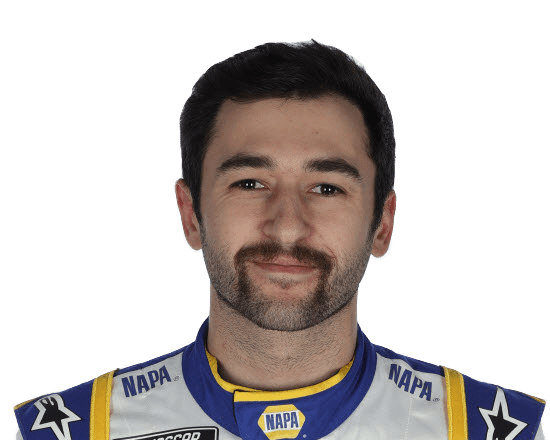 Fuente | Source
Chase Elliott es piloto de Hendrick Motorsports del auto número 9. Dicho piloto fue el campeón de la temporada pasada 2020, ha tenido una buena temporada y es mi segundo favorito a pelear el titulo en esta carrera. En lo que va de temporada a alcanzado 2 ganes en 35 inicios, con 14 tops 5 y 20 tops 10, 858 vueltas lideradas, 6 etapas ganadas y tan solo 2 retiros. En cuanto a sus estadísticas en Phoenix Raceway tenemos que ha iniciado 11 carreras, siendo su mejor resultado el primer lugar en la final de la temporada pasada que le dio el titulo que ya les mencione, además que tiene 4 tops 5 y 7 tops 10, un promedio de arrancada de 4.7 y de finalización de 11.2 con 402 vueltas lideradas y un abandono por un accidente en la primera carrera de 2019.
Chase Elliott is the Hendrick Motorsports driver of the number 9 car. This driver was last season's 2020 champion, has had a good season and is my second favorite to fight for the title in this race. So far this season he has 2 wins in 35 starts, 14 top 5's and 20 top 10's, 858 laps led, 6 stage wins and only 2 retirements. As for his stats at Phoenix Raceway we have that he has started 11 races, being his best result the first place in the final of last season that gave him the title that I already mentioned, plus he has 4 top 5 and 7 top 10, an average start of 4.7 and average finish of 11.2 with 402 laps led and one retirement due to an accident in the first race of 2019.
Martin Truex Jr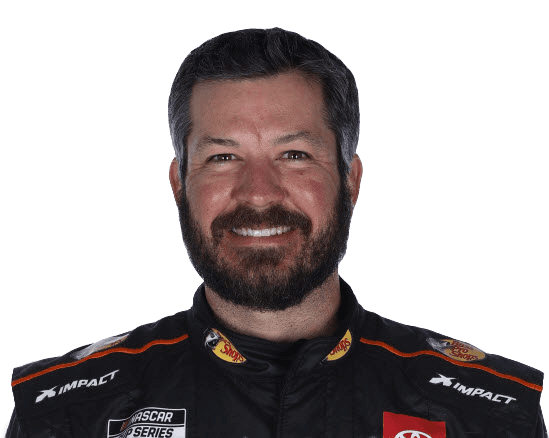 Fuente | Source
Martin Truex Jr representa al equipo Joe Gibbs Racing Toyota en conducción del coche número 19. En esta temporada Truex Jr tiene 4 victorias en 35 inicios de carreras, 12 tops 5 y 19 tops 10, 793 vueltas lideradas y 5 victorias de etapas. Entre las estadísticas de Truex en Phoenix tenemos que ha iniciado 31 carreras, donde logró una victoria en la primera carrera de este año, con 5 tops 5 y 13 tops 10, un promedio de inicios de 11.9 y de posición final de carrera de 15.4, con 187 vueltas lideradas, donde no termino las carreras en 4 ocasiones, en 2008, 2012, 2016 y 2020, siendo el piloto con más abandono entre los 4 que están luchando por el título esta temporada.
Martin Truex Jr. represents the Joe Gibbs Racing Toyota team driving the No. 19 car. This season Truex Jr. has 4 wins in 35 career starts, 12 top 5's and 19 top 10's, 793 laps led and 5 stage wins. Among Truex's stats in Phoenix we have that he has started 31 races, where he achieved a victory in the first race of this year, with 5 tops 5 and 13 tops 10, an average starts of 11.9 and final race position of 15.4, with 187 laps led, where he did not finish the races in 4 occasions, in 2008, 2012, 2016 and 2020, being the driver with more abandonment among the 4 that are fighting for the title this season.
Denny Hamlin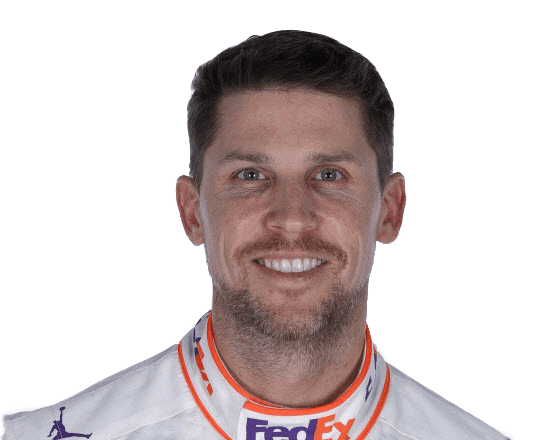 Fuente | Source
Denny Hamlin es compañero de Truex en Joe Gibbs Racing, conduce el auto Toyota número 11. Entre las estadísticas de esta piloto esta temporada tenemos que en 35 inicios ha logrado 2 victorias, 18 tops 5 y 24 tops 10, 1502 vueltas lideradas, 10 etapas ganadas y ningún abandona en lo que va de temporada. En esta pista Hamlin tiene 32 inicios, el que más lo ha hecho de los 4, además que tiene 2 ganes en esta pista, siendo la última en 2019, el promedio de arrancada es de 9.8 y el de finalizar las carreras en esta pista de 10.8, además 854 vueltas lideradas y un solo abandono en su historia en este ovalo por un choque.
Denny Hamlin is Truex's teammate at Joe Gibbs Racing, he drives the Toyota car number 11. Among the statistics of this driver this season we have that in 35 starts he has achieved 2 wins, 18 top 5 and 24 top 10, 1502 laps led, 10 stages won and no retirements so far this season. In this track Hamlin has 32 starts, the one who has done it more of the 4, also he has 2 wins in this track, being the last one in 2019, the average start is 9.8 and the average of finishing races in this track is 10.8, also 854 laps led and only one abandonment in his history in this oval due to a crash.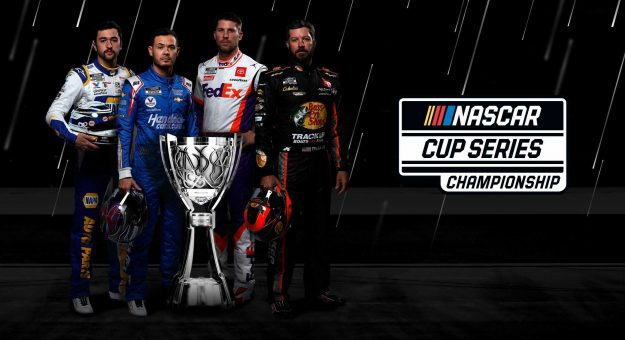 Fuente | Source
En cuanto a este evento el número de vueltas es de 312 divididos en tres segmentos como normal suele suceder, la cual dicho segmento son el primero a 75, el segundo 115 y el final a 122 vueltas. Una pista que es una de mis favoritas que NASCAR visita anualmente en el calendario y desde la temporada pasada es la última carrera del calendario y quien define al ganador porque por muchos años fue HOMESTEAD-MIAMI SPEEDWAY, un ovalo intermedio que nos daba mucho emoción también las carreras pero por decisión de la categoría, la pista de mudo para el desierto de Phoenix y me pareció que fue una decisión bastante acertada, por lo menos por lo momentos. La pista suele ser complicada, con curvas bastante difícil de tomar, pero creo que esta carrera los primeros dos segmentos van a ser bastante fluidos y sin muchos incidentes en la pista, ya en tercero es diferentes ya que los pilotos se ponen más agresivos y más cuando se acaba la temporada.
As for this event the number of laps is 312 divided into three segments as usual usually happens, which are the first segment to 75, the second 115 and the final 122 laps. A track that is one of my favorites that NASCAR visits annually on the calendar and since last season is the last race of the calendar and who defines the winner because for many years was HOMESTEAD-MIAMI SPEEDWAY, an intermediate oval that gave us much excitement also races but by decision of the category, the track moved to the desert of Phoenix and I thought it was a pretty good decision, at least for the moment. The track is usually complicated, with curves quite difficult to take, but I think this race the first two segments will be quite fluid and without many incidents on the track, and in the third is different because the drivers get more aggressive and more when the season is over.

Estado del Campeonato después de 35 carreras de 36.
Championship status after 35 races out of 36.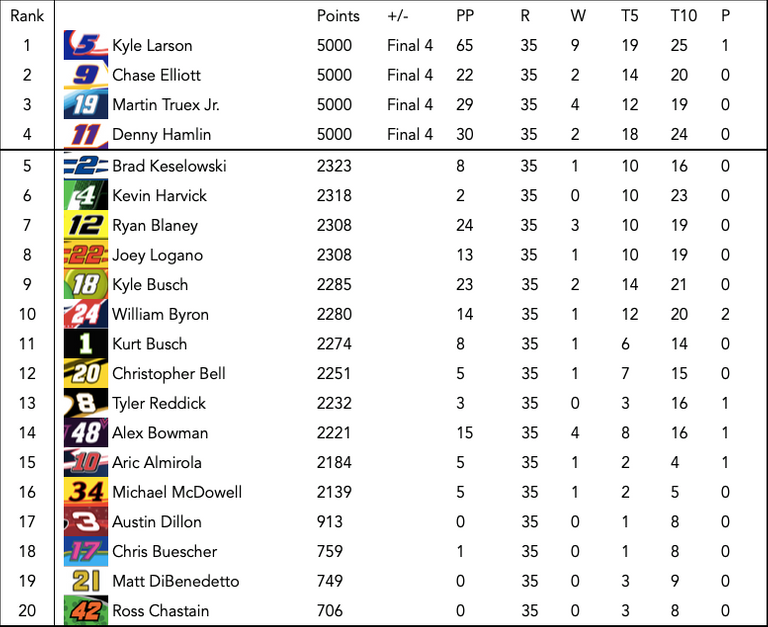 Fuente | Source

Fuente | Source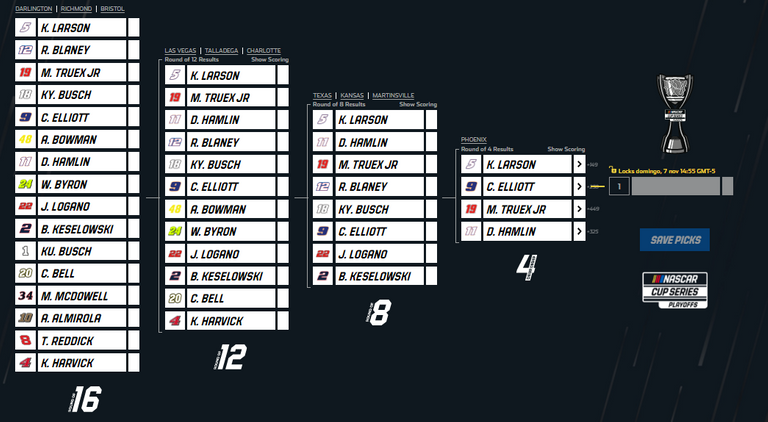 Fuente | Source
Lista de Entrada de pilotos para el evento
List of pilots for the event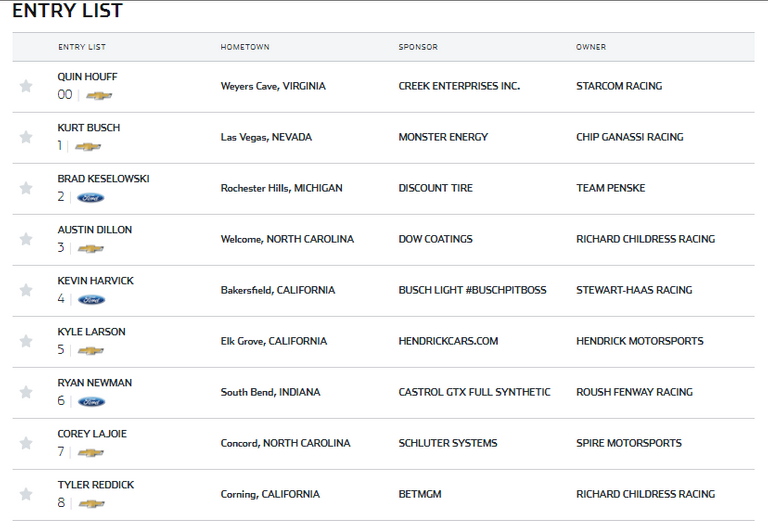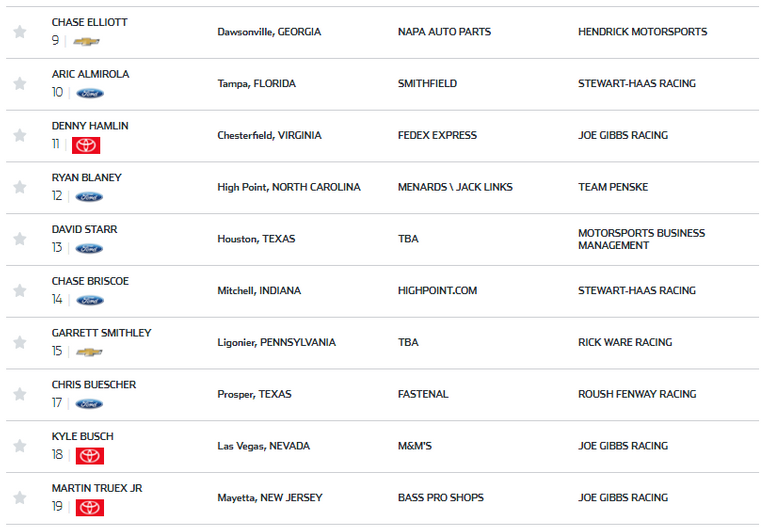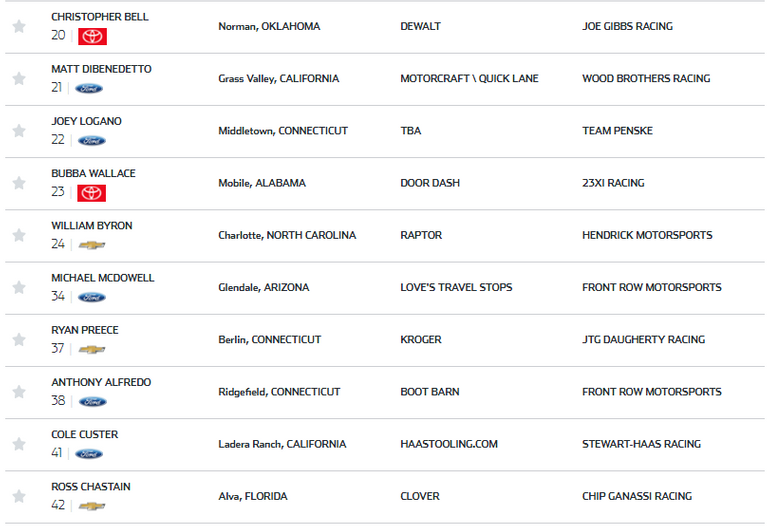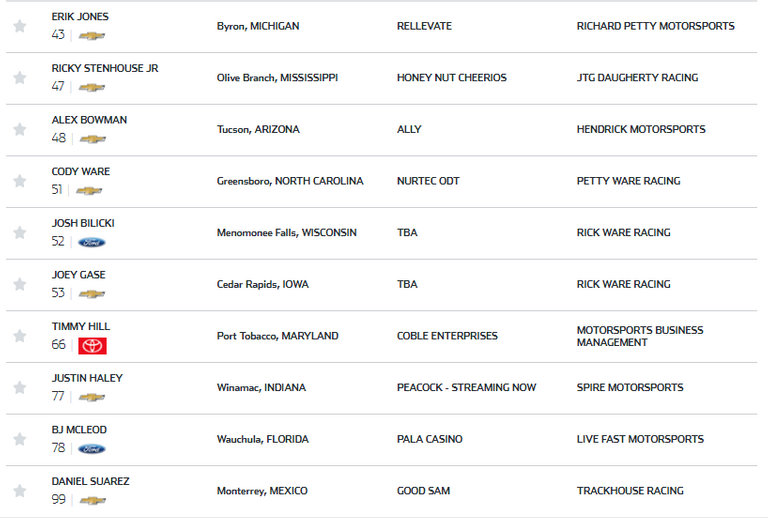 Fuente | Source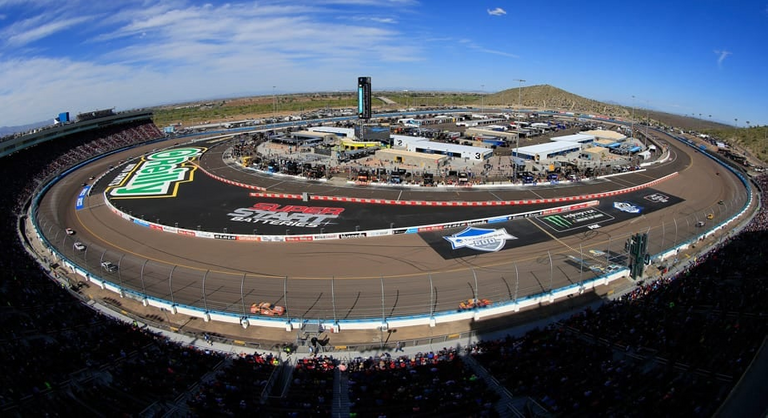 Fuente | Source
Información del evento
Información del Fin de semana:
NASCAR Cup Series:
Carrera: Season Finale 500
Pista: Phoenix Raceway
Fecha: Domingo, 7 de Noviembre de 2021
Vueltas: 312 (75-115-122)
Hora: 2:00pm
Eliminatorias: Carrera del Campeonato
Estadísticas de la pista:
Ganador de 2020: Chase Elliott
2020 Pole-sitter: Chase Elliott
Líder de victorias en activo: Kevin Harvick (9)
Líder activo del Top 5: Kevin Harvick (18)
Líder activo del Top 10: Kevin Harvick (26)
Líder activo de la Pole: Kyle Busch & Ryan Newman (4)
Activo Mayor número de vueltas lideradas: Kevin Harvick (1,662)
Activo Mejor Promedio de las 5 últimas: Joey Logano (5.0)
Activo Mejor promedio de los últimos 10: Kevin Harvick (5.0)
Weekend Information:
NASCAR Cup Series:
Race: Finale 500
Track: Phoenix Raceway
Date: Sunday, November 7th, 2021
Laps: 312 (75-115-122)
Time: 3:00pm
Playoffs: Championship Race
TRACK STATISTICS:
2020 Winner: Chase Elliott
Active wins leader: Kevin Harvick (9)
Active Top 5 leader: Kevin Harvick (18)
Active Top 10 leader: Kevin Harvick (26)
Active Pole Leader: Kyle Busch & Ryan Newman (4)
Active Most Laps Led: Kevin Harvick (1,662)
Last 5 Best Active Average: Joey Logano (5.0)
Active Best Average of the last 10: Kevin Harvick (5.0)
Source of information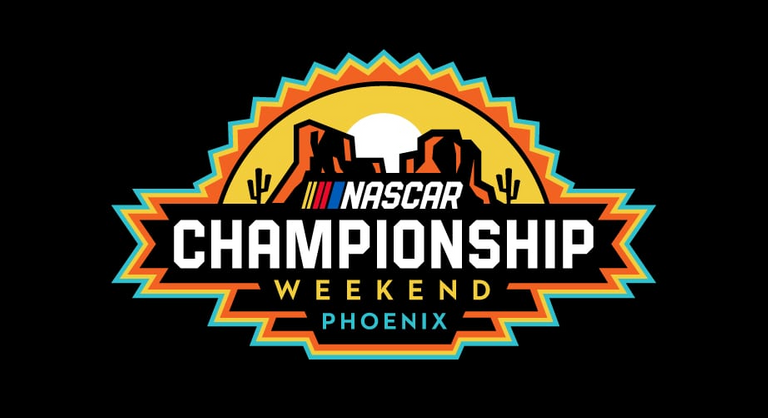 Fuente | Source
Fuente | Source

Información y estadística para complementar esta publicación fueron obtenidas de NASCAR y Otras fuentes
Information and statistics to supplement this publication were obtained from NASCAR and Other sources .
Separador de textos tomador del Post // Post taker text separator : Lucho en la pista (RETA A @equipodelta. | @franz54 reta a @equipodelta a Dibujar) Caricatura.
Gracias por su visita. Espero que les haya gustado. // Thank you for your visit. I hope you liked it.
Hasta una próxima oportunidad // Till a next chance
Sin más que decir, se despide de ustedes, su cordial servidor @franz54. // Without further ado, he bids farewell to you, his cordial server @franz54.

---
---