Previa de la primera carrera en circuito permanente de la temporada de la NASCAR CUP Series en Sonoma Raceway | Preview of the first NASCAR CUP Series permanent road race of the season at Sonoma Raceway [Esp-Eng]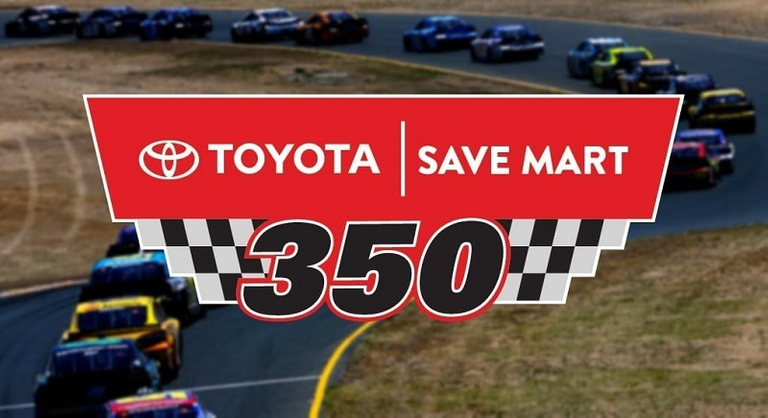 Fuente | Source

Este domingo 12 de Junio de 2022 a las 4pm ET de los EE.UU ser llevará acabo la carrera de la NASCAR CUP Series en el circuito permanente de Sonoma Raceway, donde dicho evento tiene por nombre Toyota / Save Mart 350. Este es la primera carrera de la temporada en circuito con estos nuevos autos de la séptima generación, siendo esta un trazado de los mejores que podemos ver, ya que es una de las carreras más tradicionales que la categoría, ya que si bien recientemente se han agrado nuevos circuitos pero estos son mixtas, ya que usan partes del óvalo, que conoce como carreras ROAD. Se espera que esta sea una carrera llena de emociones, con grandes luchas entre los pilotos más experimentados, pero también los novatos están realizando un excelente trabajo, dejando bien en alto la nueva generación de conductores, que son tanto el presente como el futuro de la serie, y porque no, pronto algunos de ellos pueden convertirse en los pilotos referencia y nuevos campeones de NASCAR. En años pasados los equipos siempre traían pilotos expertos en circuitos para correr estos eventos y se veía notablemente que tenían una ventaja con respecto a los pilotos que corren a tiempo completo, pero con el pasar del tiempo esto ha ido cambiando e incluso los pilotos que se destacan en óvalo, también lo hacen en circuito.
This Sunday, June 12, 2022 at 4pm ET in the U.S. will be held the NASCAR CUP Series race at the permanent circuit of Sonoma Raceway, where this event is called Toyota / Save Mart 350. This is the first race of the season in circuit with these new cars of the seventh generation, being this one of the best tracks we can see, as it is one of the most traditional races that the category, although recently new circuits have been added but these are mixed, as they use parts of the oval, known as races ROAD. This is expected to be a race full of emotions, with great fights between the most experienced drivers, but also the rookies are doing an excellent job, leaving high the new generation of drivers, who are both the present and the future of the series, and why not, soon some of them may become the reference drivers and new NASCAR champions. In past years the teams always brought drivers who were experts in circuits to race these events and it was noticeable that they had an advantage over the drivers who race full time, but over time this has been changing and even the drivers who stand out on the oval, also do so on the circuit.
---
Analizando un poco el trazado de Sonoma Raceway que es el circuito en la cual se estará la carrera este domingo, lo más importante en destacar es que este trazado fue abierto en el año 1968, que además tiene una longitud de 2.385 miles (3.838 km), siendo su superficie de asfalto con un total de 12, que para este año se han hecho algunos cambios en la pista para mejorar el espectáculo de la competición, donde según los organizadores se ha tomado en cuenta la opinión de los pilotos y de los fanáticos. El cambio realizado como se puede ver en la imagen que comparto con ustedes es que se elimina la curva 6 y el CARRUSEL (que conformaba las curvas 6 y 6A), y ahora se ha agregado nuevamente lo que se conocer cómo CHUTE, que va desde la curva 4A hasta la 7, lo cual esta configuración está de vuelta porque por lo analizado con este trazado hay una mayor cantidad de adelantamientos, a lo cual los fanáticos de la categoría están realmente acostumbrado. Este fin de semana no solo estará corriendo la máxima división, sino que también la NASCAR Camping World Truck Series (camionetas).
---
Analyzing a little the layout of Sonoma Raceway which is the circuit in which the race will be this Sunday, the most important thing to note is that this track was opened in 1968, which also has a length of 2.385 miles (3.838 km), being its asphalt surface with a total of 12, which for this year have made some changes to the track to improve the spectacle of the competition, where according to the organizers has taken into account the opinion of the drivers and fans. The change made as you can see in the image that I share with you is that turn 6 and the CARRUSEL (which made up turns 6 and 6A) are eliminated, and now has been added again what is known as CHUTE, which goes from turn 4A to 7, which this configuration is back because by the analyzed with this layout there is a greater amount of overtaking, which the fans of the category are really used to. This weekend not only the top division will be racing, but also the NASCAR Camping World Truck Series (trucks).
En este circuito no solo participan las series nacionales de NASCAR, sino que también otras como la Indycar Series y la IMSA. El tiempo más rápido para una carrera de NASCAR fue hecho por Kyle Larson el 22 de Junio de 2019 en la clasificación para este mismo evento de este ese año haciendo un tiempo cronometrado de 1:34.598, mientras que para la carrera el récord lo posee William Byron, logrado 23 de Junio de 2019 con un tiempo de 1:37.194. En este circuito se ven muchos adelantamientos, sin embargo y por lo visto a lo largo de todos estos años que tengo viendo la categoría, además de lo probado en un simulador de carrera de NASCAR, la curva donde hay la mayor cantidad de sobrepasos es las curvas 4A, 7A y la 11, siendo la 11 la ideal por las frenadas bruscas donde los pilotos la alargan un poco para pasar a los contrarios, pero estos siempre depende de la habilidad de los pilotos y del conocimiento que tengan en los datos obtenidos en carreras anteriores y en las prácticas que siempre realizan.
Not only NASCAR national series participate in this circuit, but also others such as the Indycar Series and IMSA. The fastest time for a NASCAR race was made by Kyle Larson on June 22, 2019 in qualifying for this same event of this that year making a timed time of 1:34.598, while for the race the record is held by William Byron, achieved June 23, 2019 with a time of 1:37.194. In this circuit you see many overtaking, however and from what I have seen throughout all these years that I have watching the category, in addition to the tested in a NASCAR race simulator, the curve where there are the most overtaking is the 4A, 7A and 11, being the 11 the ideal by the sharp braking where the drivers lengthen it a little to pass the opponents, but these always depends on the skill of the drivers and the knowledge they have in the data obtained in previous races and in the practices that they always perform.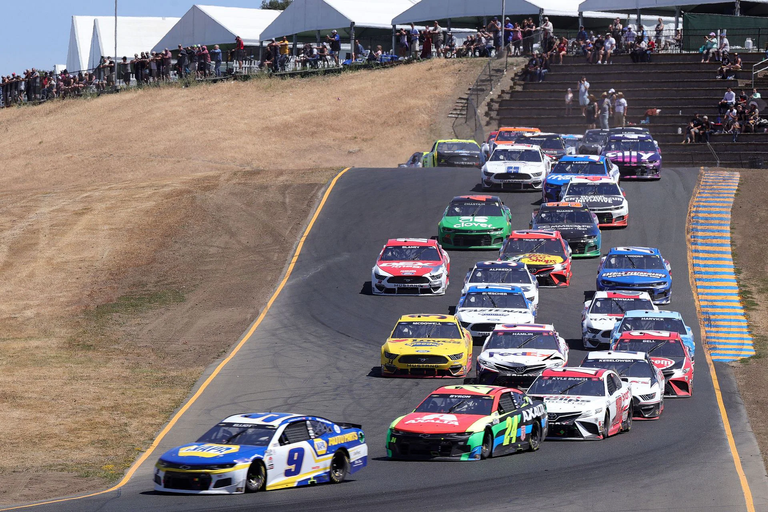 Fuente | Source
El circuito a cómo podemos apreciar en algunos de las imágenes es un poco complicada para los pilotos ya que tiene muchas elevaciones, además de algunos puntos ciegos donde los piloto no ven nada y van a fondo, todo depende de la distancia que se encuentre con el otro pilotos. Este es un trazado muy bonito e interesante, que como les dije una de las cosas más espectaculares son las elevaciones que tiene, los pilotos deben estar muy atentos y tener diferentes referencia en la pista para no pasarse y llevarse al coche que se encuentre adelante. Tanto la pole como la carrera de la temporada 2021 se la llevo el piloto de Hendrick Motorsports, Kyle Larson con su auto número 5 que más adelante se alzaría con el campeonato, plasmando así una buena temporada, siendo el piloto más ganador, razón por la cual creo que es el piloto que parte como favorito, más allá de que otros pilotos destaquen en estadísticas como el piloto activo con más victorias que están en manos de Martin Truex Jr con 3 y las pole también con 3 pero logradas por Larson. Kurt Busch es el piloto con más top 5 y 10, entre los conductores activos. Otro piloto que le pongo una ficha es Kyle Busch, quien en las últimas carreras ha culminado en la segunda posición y no ha podido lograr el gane, pero esta puede ser su oportunidad.
The circuit as we can see in some of the images is a little complicated for the drivers because it has many elevations, plus some blind spots where the pilot does not see anything and go flat out, it all depends on the distance you are with the other pilots. This is a very nice and interesting track, and as I said, one of the most spectacular things is the elevations it has, the drivers must be very attentive and have different references on the track so as not to overtake and take the car in front of them. Both the pole and the race of the 2021 season were taken by the Hendrick Motorsports driver, Kyle Larson with his car number 5, who later would win the championship, thus showing a good season, being the most winning driver, reason why I think he is the driver who starts as favorite, beyond that other drivers stand out in statistics as the active driver with more victories that are in the hands of Martin Truex Jr. with 3 and the pole also with 3 but achieved by Larson. Kurt Busch is the driver with more top 5 and 10, among the active drivers. Another driver that I put a chip is Kyle Busch, who in the last races has finished in the second position and has not been able to win, but this could be his opportunity.
La actividad en pista para la NASCAR Cup Series comienza el día sábado con la práctica libre, seguida de la clasificación que determina la parrilla de inicio para la carrera del día domingo. EN los últimos dos años la carrera se había reducido a 90 vueltas, por el cambio del trazado y la incorporación del carrusel, la pista era más larga y por ende debían reducir un poco la longitud de la competición, pero para este año vuelven las tradicionales 110, para completar la distancia del evento. Estas 110 vueltas a su vez están divididas como tenemos acostumbrados en tres segmentos, siendo el primera a 25, el segundo a 30 y el tercero (que determina el ganador de la carrera) a las últimas 55 vueltas. La estrategia siempre va a depender de la circunstancias y del rendimiento del combustible, además de los neumáticos, pero esto va a depender de las banderas amarillas, donde siempre los equipos aprovechan para ingresar a sus pilotos para hacer los cambios necesarios en la puesta a puntos de los coches, claro que en las partes donde están permitidas, además de reabastecer de combustible y cambiar los neumáticos, que siempre esto ayuda a mejorar la estabilidad de los pilotos. En algunas carreras el ahorro de combustible ha sido vital y este año puede que no se la excepción.
Track activity for the NASCAR Cup Series begins on Saturday with free practice, followed by qualifying which determines the starting grid for Sunday's race. In the last two years the race had been reduced to 90 laps, due to the change of the layout and the incorporation of the carousel, the track was longer and therefore had to reduce a little the length of the competition, but for this year the traditional 110 laps are back, to complete the distance of the event. These 110 laps are divided as we are used to in three segments, being the first one at 25, the second one at 30 and the third one (which determines the winner of the race) at the last 55 laps. The strategy will always depend on the circumstances and the performance of the fuel, in addition to the tires, but this will depend on the yellow flags, where the teams always take the opportunity to enter their drivers to make the necessary changes in the set-up of the cars, of course in the parts where they are allowed, in addition to refuel and change the tires, which always helps to improve the stability of the drivers. In some races fuel saving has been vital and this year may not be the exception.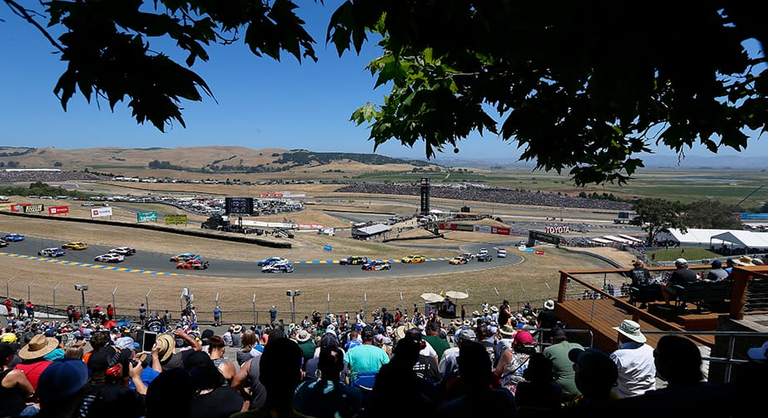 Fuente | Source
---
Horario del fin de semana de la carrera | Race Weekend Schedule:
Sábado | Saturday: Practice (4:30pm, FS2)
Sábado | Saturday: Qualifying (5:30pm, FS2)
Domingo | Sunday: Race (4:00pm, FS1)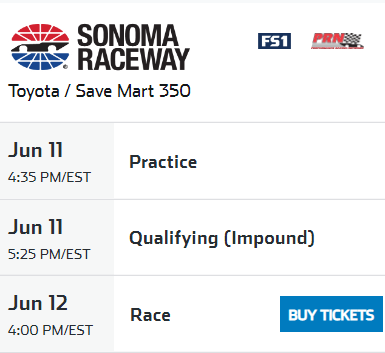 Fuente | Source
---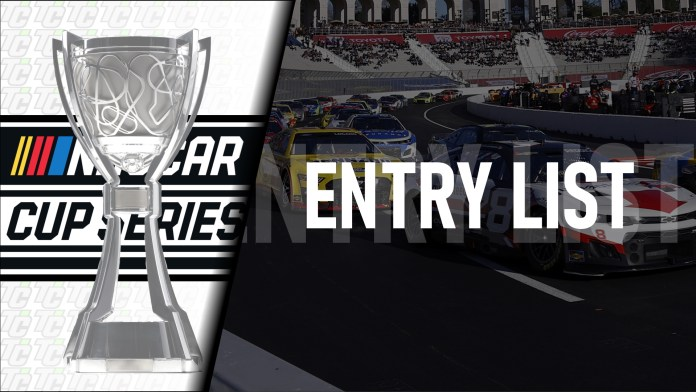 Fuente | Source
Lista de Entrada de pilotos para el evento
Driver Entry List for the event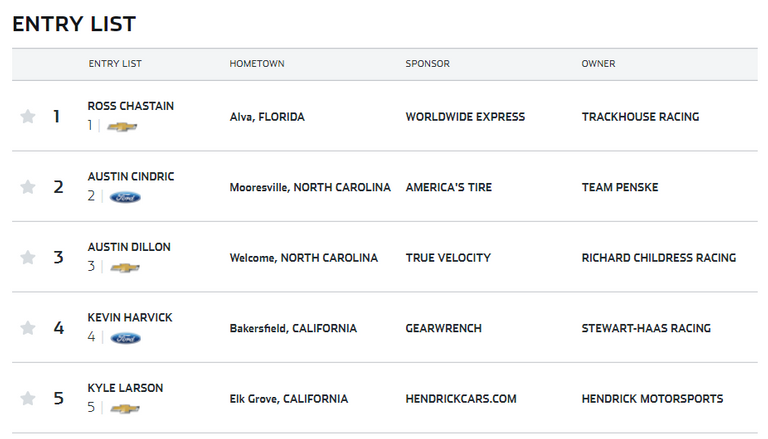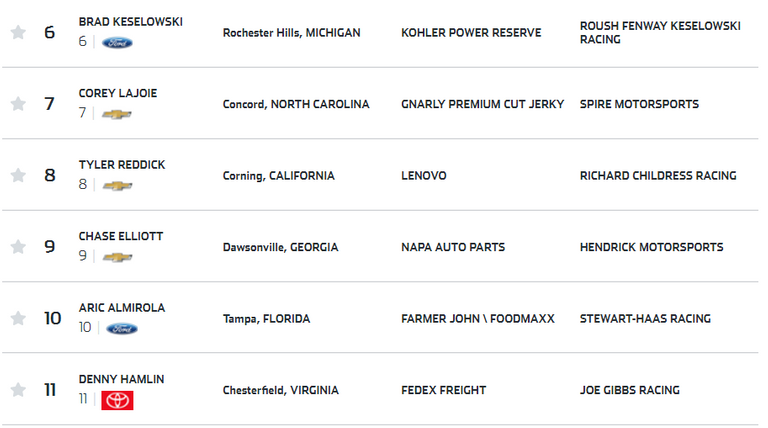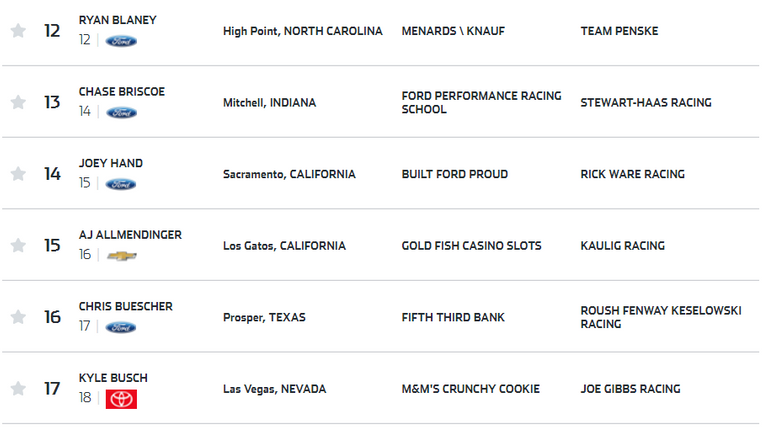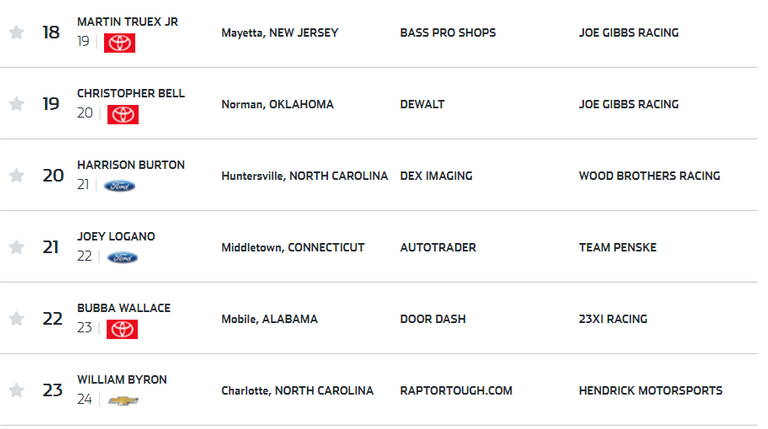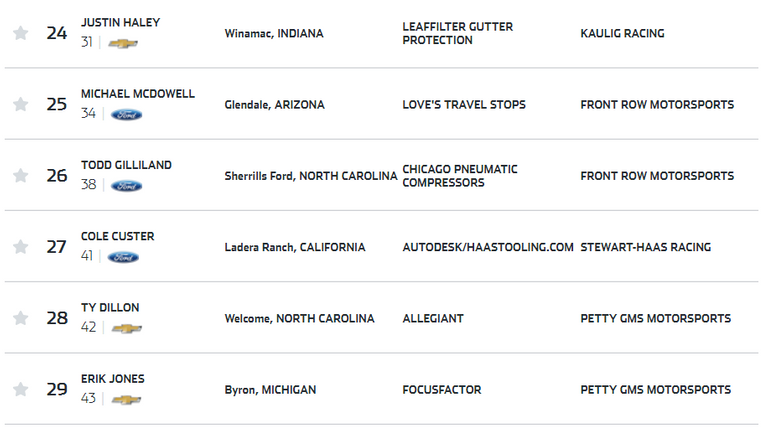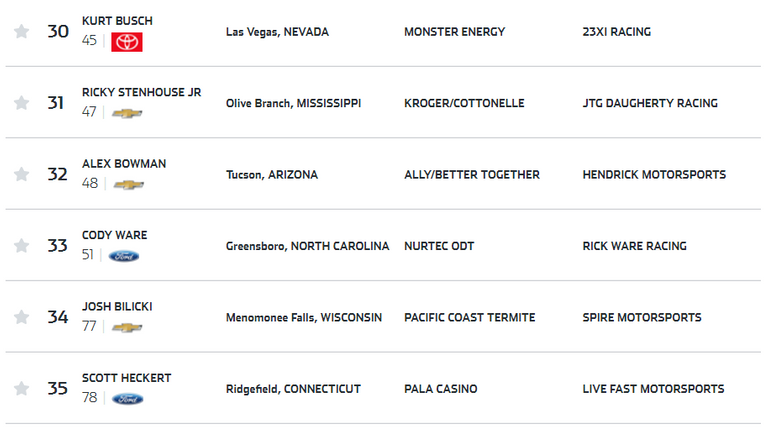 Fuente | Source

Estado del Campeonato luego de 15 fechas de 36
Championship status after 15 dates of 36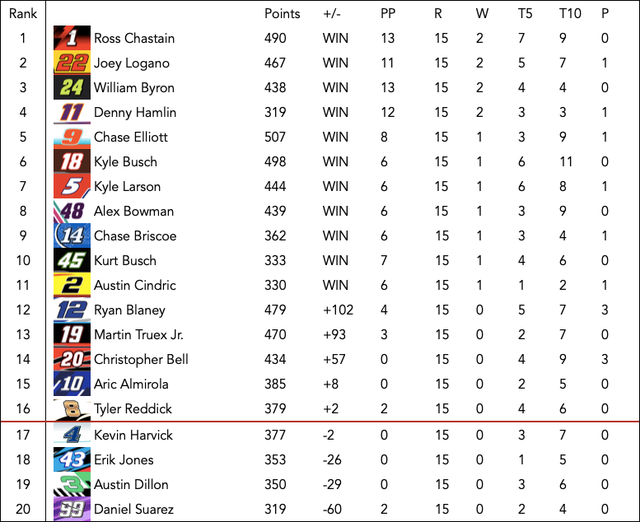 Fuente | Source

Información del Fin de semana: NASCAR Cup Series
Carrera: Toyota / Save Mart 350
Pista: Sonoma Raceway
Fecha: Domingo, 12 de Junio de 2022
Vueltas: 100 (25-30-55)
Hora: 4:00 pm
---
Estadísticas de la pista:
Ganador de 2021: Kyle Larson
2021 Pole-sitter: Kyle Larson
Líder de victorias en activo: Martin Truex Jr. (3)
Líder activo del Top 5: Kurt Busch (7)
Líder activo del Top 10: Kurt Busch (11)
Líder activo de la Pole: Kyle Larson (3)
Activo Mayor número de vueltas lideradas: Martin Truex Jr. (213)
Activo Mejor Promedio de las 5 últimas: Kyle Busch (4)
Activo Mejor promedio de los últimos 10: Kurt Busch (6.4)
Weekend Information: NASCAR Cup Series
Race: Toyota / Save Mart 350
Track: Sonoma Raceway
Date: Sunday, June 12th, 2022
Laps: 110 (25-30-55)
Time: 4:00 pm

Track statistics:

2021 Winner: Kyle Larson
2021 Pole-sitter: Kyle Larson
Active Win Leader: Martin Truex Jr. (3)
Active Top 5 Leader: Kurt Busch (7)
Active Top 10 Leader: Kurt Busch (11)
Active Pole Leader: Kyle Larson (3)
Active Most Laps Led: Martin Truex Jr. (213)
Active Best Last 5 Avg.: Kyle Busch (4)
Active Best Last 10 Avg.: Kurt Busch (6.4)

Source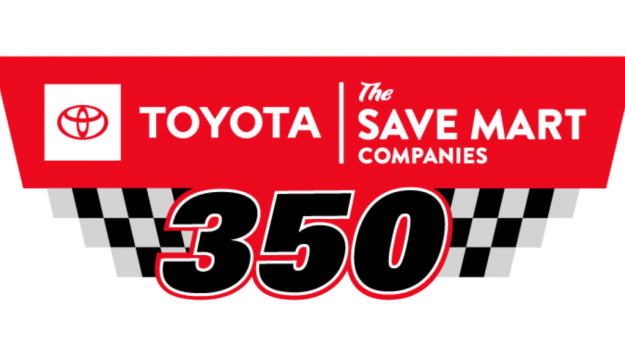 Fuente | Source

Separador de textos tomador del Post // Post taker text separator : Lucho en la pista (RETA A @equipodelta. | @franz54 reta a @equipodelta a Dibujar) Caricatura.
Gracias por su visita. Espero que les haya gustado. // Thank you for your visit. I hope you liked it.
Hasta una próxima oportunidad // Till a next chance
Sin más que decir, se despide de ustedes, su cordial servidor @franz54. // Without further ado, he bids farewell to you, his cordial server @franz54.
Translated with www.DeepL.com/Translator (free version)

Fuente | Source

---
---