Tyler Reddick gana una caótica carrera de la copa de la serie NASCAR en el circuito de las Américas || Tyler Reddick wins a chaotic NASCAR Cup Series race at Circuit of the Americas.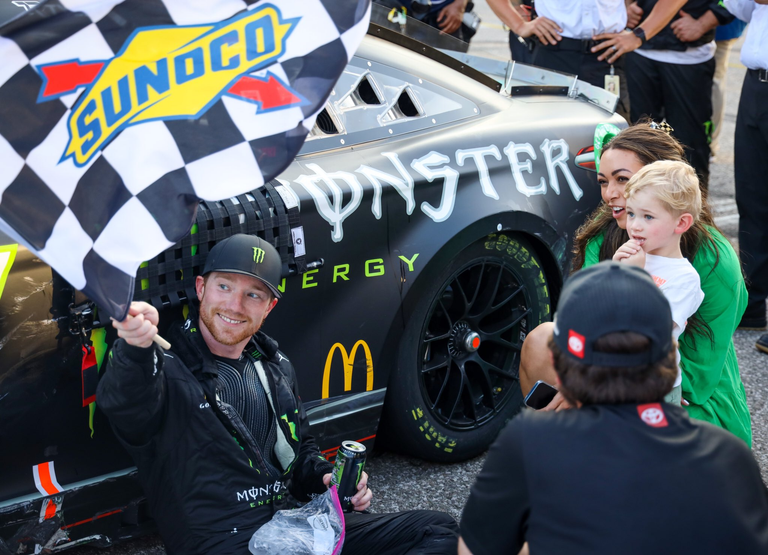 Source

Tyler Reddick, piloto del auto 45 del equipo 23XI Racing (equipo de Michael Jordan y Denny Hamlin) ganó una caótica carrera en el circuito de las Américas, en Austin, Texas. A diferencia de las últimas carreras de la serie de la copa NASCAR, donde casi no se presentaban banderas de precaución por incidentes, pero en la primera competencia en circuito, las cosas fueron bastante distintas, se vio como varios de los pilotos se vieron perjudicados por consecutivas banderas de precaución al final del tercer segmento. Los detalles de la carrera, se los describiré más adelante. Lo cierto es que Reddick logra su primera victoria de la temporada, tras pasar a este equipo, ya que en la anterior temporada este corría para Richard Childress Racing, pero al este firmar anticipadamente con otro equipo (Joe Gibbs Racing) antes que finalizará su contrato y tras la llegada de Kyle Busch, la organización RCR decidió prescindir de sus servicios. Pero por suerte sabemos la calidad de piloto que es y eso quedo demostrado en esta carrera.
Tyler Reddick, driver of car 45 of the 23XI Racing team (Michael Jordan and Denny Hamlin's team) won a chaotic race at the Circuit of the Americas in Austin, Texas. Unlike the last races of the NASCAR Cup Series, where there were almost no caution flags for incidents, but in the first race on the circuit, things were quite different, as several drivers were affected by consecutive caution flags at the end of the third segment. I will describe the details of the race later. The truth is that Reddick achieved his first victory of the season, after joining this team, since in the previous season he raced for Richard Childress Racing, but when he signed early with another team (Joe Gibbs Racing) before the end of his contract and after the arrival of Kyle Busch, the RCR organization decided to dispense with his services. But luckily we know the quality of driver he is and that was demonstrated in this race.
---
🏁HAVE A DAY @TylerReddick!

The @23XIRacing fends off the field to win the #EchoParkGP at @NASCARatCOTA! pic.twitter.com/dzPHfVf8G6

— NASCAR (@NASCAR) March 26, 2023
---
Entorno a esta carrera había muchas expectativas, no solo por ser la primera carrera en un circuito, y más siendo la COTA, sino que también se esperaban participación de importantes pilotos, como son Jimmie Jonhson (7 veces campeón de la serie de la copa NASCAR), Jordan Taylor (piloto campeón de la IMSA), además de Kimi Räikkönen (campeón de F1 en 2007) y Jeson Button (campeón de la F1 en 2009). Estos últimos al ser ex pilotos de la Fórmula 1, las miradas estaban puestas en estos dos. Kimi ya había corrido el año pasado en una carrera en el Glen, otro circuito la cual suele correr NASCAR, a bordo del auto 91 del equipo Trackhouse Racing Team, quienes tienen un proyecto en la cual traen a pilotos de envergaduras del otras categorías para que vengan a participar en la serie, tan solo en circuito. La participación de Button estuvo liga a la carrera que tendrá en las 24 horas de Le Mans 2023, como les había mencionado en el post de la previa de esta Gran Premio de Automoción de EchoPark. La la carrera estuvo llena de muchos fanáticos que la pasaron muy bien durante todo el fin de semana. A pesar de las banderas de precaución, pienso que de igual manera fue una buena carrera.
There were many expectations surrounding this race, not only because it was the first race in a circuit, and more so being the COTA, but also because important drivers were expected to participate, such as Jimmie Johnson (7 times champion of the NASCAR Cup Series), Jordan Taylor (IMSA champion driver), as well as Kimi Räikkönen (F1 champion in 2007) and Jeson Button (F1 champion in 2009). The latter being former Formula 1 drivers, the eyes were on these two. Kimi had already raced last year in a race at the Glen, another NASCAR track, aboard the 91 car of the Trackhouse Racing Team, who have a project in which they bring important drivers from other categories to participate in the series, only on the track. Button's participation was linked to the race he will have in the 2023 24 Hours of Le Mans, as I had mentioned in the EchoPark Automotive Grand Prix preview post. The race was filled with many fans who had a great time throughout the weekend. Despite the caution flags, I thought it was still a good race.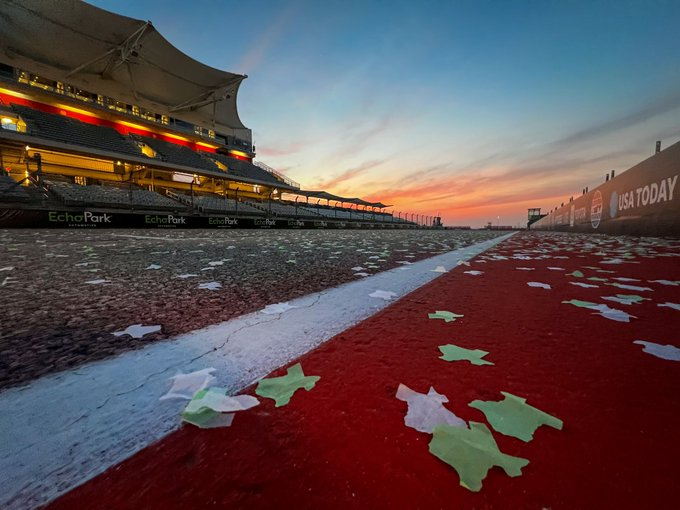 Source
Antes de la carrera se disputaron lo que el entrenamiento libre y la clasificación. La única práctica libre previo a el evento principal fue liderada por Tyler Reddick, quien en 18 vueltas que dio, hizo un mejor tiempo de 2:12.016 segundos, seguido por Kyle Larson quien quedo a un poco más de medio segundo, mientras que el tercer lugar fue para Ross Chastain que quedó a más de 6 décimas del mejor tiempo de Reddick. El top 10 de esta práctica la completo Kyle Busch, Daniel Suárez, Michael Mcdowell, Austin Cindric, Bubba Wallace, Joey Logano (ganador de la anterior carrera en Atlanta) y Jordan Taylor. Por otro lado la pole en la clasificación fue lograda por William Byron, un piloto que suele ser muy rápido en las clasificaciones, pero no solo eso, si no que ha tenido buenas carreras en la presente temporada. El piloto más rápido en la primera ronda fue Tyler Reddick, pero el impulso no le bastó para batir el tiempo de Byron quien en la segunda ronda hizo un tiempo de 2:10.760, para quedarse con la primera posición, mientras que Tyler fue el segundo.
Before the race, free practice and qualifying were held. The only free practice prior to the main event was led by Tyler Reddick, who in 18 laps did a best time of 2:12.016 seconds, followed by Kyle Larson who was a little more than half a second behind, while third place went to Ross Chastain who was more than 6 tenths of a second behind Reddick's best time. The top 10 of this practice was completed by Kyle Busch, Daniel Suarez, Michael Mcdowell, Austin Cindric, Bubba Wallace, Joey Logano (winner of the previous race in Atlanta) and Jordan Taylor. On the other hand, the pole in qualifying was achieved by William Byron, a driver who is usually very fast in qualifying, but not only that, he has had good races this season. The fastest driver in the first round was Tyler Reddick, but the momentum was not enough to beat Byron's time, who in the second round did a time of 2:10.760, to take the first position, while Tyler was second.
El primer segmento de esta carrera fue a 15 vueltas. En esta etapa la primera bandera de precaución fue en la vuelta 3 hasta a la 5, causada por un incidente en lo que quedaron involucrados Brad Keselowski #6, Chris Buescher #17, Todd Gilliland #38, Ty Dillon #77 y Jimmie Johnson #84. Esto ocurrió entre las curvas 19 y 20, es decir, en el tramo antes de la recta principal. La segunda bandera de precaución fue en la vuelta 13 y como faltaba poco para cerrar el segmento, el mismo terminó con esta neutralización. Finalmente la etapa se la quedó William Byron, seguido por Austin Cindric, A.J. Allmendinger, Alex Bowman, Ross Chastain, Daniel Suárez, Kyle Busch, Jordan Taylor, Christopher Bell y Ryan Preece. Este segmento fue bastante rápido, a pesar de estas dos neutralizaciones, fue muy emocionante y con mucho lucha dentro de la punta, brindando un gran espectáculo al público.
The first segment of this race was 15 laps. In this stage the first caution flag was on lap 3 through 5, caused by an incident involving Brad Keselowski #6, Chris Buescher #17, Todd Gilliland #38, Ty Dillon #77 and Jimmie Johnson #84. This occurred between turns 19 and 20, i.e. the stretch before the main straight. The second caution flag was on lap 13 and as there was little time left to close the segment, it ended with this neutralization. Finally the stage was won by William Byron, followed by Austin Cindric, A.J. Allmendinger, Alex Bowman, Ross Chastain, Daniel Suarez, Kyle Busch, Jordan Taylor, Christopher Bell and Ryan Preece. This segment was quite fast, despite these two neutralizations, it was very exciting and with a lot of fighting in the lead, providing a great show to the public.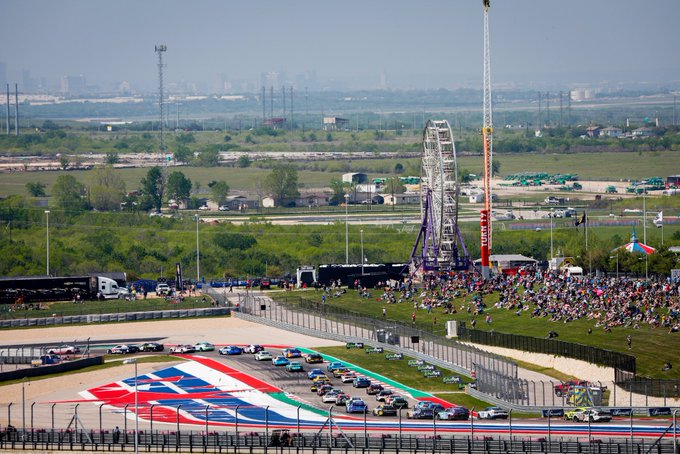 Source
El segundo segmento fue muy limpio, ningún accidente que obligará a la salida del coche de seguridad, tan solo aquella acompaña de la acostumbrada bandera a cuadros verde para cerrar la etapa. El ganador de este segmento fue Tyler Reddick, seguido por su ex compañero de equipo Austin Dillon, Michael McDowell, Kevin Harvick, Chris Buescher, Ricky Stenhouse Jr., Kyle Larson, Erik Jones, Chase Briscoe y Noah Gragson. El primer segmento no fue el mejor para Reddick, no por tener un mal auto, sino que realmente fue por simplemente una coincidencia y que estaba haciendo su carrera, muy calmado y sin presión ya que sabía que contaba con uno de los mejores auto de la carrera, que era bastante rápido tanto en tandas cortas, como en las largas. Por algo se llevó este segundo segmento donde no hubo una bandera amarilla y los pilotos debieron pasar en pits bajo bandera verde.
The second segment was very clean, no accident that forced the safety car to leave, only the one accompanied by the usual green checkered flag to close the stage. The winner of this segment was Tyler Reddick, followed by his former teammate Austin Dillon, Michael McDowell, Kevin Harvick, Chris Buescher, Ricky Stenhouse Jr., Kyle Larson, Erik Jones, Chase Briscoe and Noah Gragson. The first segment was not the best for Reddick, not because he had a bad car, but it was really just a coincidence and he was doing his race, very calm and without pressure because he knew he had one of the best cars of the race, which was quite fast in both short and long runs. There was a reason why he took this second segment where there was no yellow flag and the drivers had to pit under green flag.
Las últimas 38 vueltas de esta carrera estuvo muy batallada, ya aquí los pilotos dieron el todo, por ello fue donde se dio tantos incidentes. En la vuelta 42 fue la primera bandera de precaución de este segmento y la 5 de carrera (recordar que dos fueron para concluir los primeros dos segmentos), siendo esta por escombros en la curva 9. El pase de la suerte fue para Ryan Blaney, quien recuperó de esta manera la vuelta con respecto a los líderes. En la vuelta 58 fue Brad Keselowski se quedó estacionado con su auto 6 en la curva número 7. Otro piloto en quedar estacionado en la pista y con lo cual debió salir el coche de seguridad, fue Ross Chastain, esto en la curva 1. A falta de dos vueltas para el final y Reddick liderando la carrera, salió otra bandera de precaución por escombros, por lo cual este evento se debió ir a dos tiempo extra, allí fue donde empezó el caos, muchos pilotos tocándose, saliendo de la trazada, por lo cual muchos de los candidatos salieron perjudicado, lo mismo pasó con varios de los pilotos que estaban haciendo especialmente esta evento. Finalmente Reddick pudo mantener la presión y quedarse con esta importante victoria.
The last 38 laps of this race were very hard fought, and here the drivers gave their all, which is why there were so many incidents. On lap 42 was the first caution flag of this segment and the 5th of the race (remember that two were to conclude the first two segments), being this one for debris in turn 9. The lucky pass went to Ryan Blaney, who thus regained the lap over the leaders. On lap 58, Brad Keselowski parked his car 6 in turn 7. Ross Chastain was the other driver to be parked on the track, which forced the safety car to leave the track, in turn 1. With two laps to go and Reddick leading the race, another caution flag came out for debris, so this event had to go to two overtimes, that's where the chaos started, many drivers touching each other, leaving the track, so many of the candidates were hurt, the same happened with several of the drivers who were doing especially this event. Finally Reddick was able to keep the pressure and take this important victory.
---
This ain't his first rodeo, y'all. 🏁@TylerReddick wins at @COTA!#EchoParkGP | #NASCARatCOTA pic.twitter.com/by55xF2FQq

— NASCAR at COTA (@NASCARatCOTA) March 26, 2023
---
Jenson Button tuvo una magnifica carrera la cual tengo que destacar, se vio bastante rápido en la práctica y en la carrera. Lo mismo pienso de Jordan Taylor, quien es un piloto campeón de la IMSA, donde los autos son bastante pesados como NASCAR, así que llegó con una ventaja con respecto a los otros pilotos. Kimi, el hombre de hielo antes de la última bandera de precaución venía entre los 4 primeros pilotos, pero con los incidentes que se suscitaron, este quedo perjudicado, haciendo un trompo que lo alejó de un buen resultado. Kimi quedó en la posición 29, mientras que Button finalizó en la posición 18 y Taylor culminó en la posición 24. Una gran carrera de estos tres pilotos, aunque el resultado final no lo refleje así. Por otro lado Jimmie Jonhson no tuvo suerte y quedó involucrado en el primer incidente que lo dejó fuera de la carrera. Esta fue la segunda carrera del retirado piloto 7 veces campeón, que está haciendo una temporada parcial con algunas carreras.
Jenson Button had a great race which I have to point out, he looked pretty fast in practice and in the race. The same I think of Jordan Taylor, who is an IMSA champion driver, where the cars are quite heavy like NASCAR, so he came in with an advantage over the other drivers. Kimi, the iceman before the last caution flag was in the top 4 drivers, but with the incidents that occurred, he was damaged, making a spin that kept him away from a good result. Kimi finished in 29th position, while Button finished in 18th position and Taylor finished in 24th position. A great race for these three drivers, although the final result did not reflect it. On the other hand, Jimmie Johnson was unlucky and was involved in the first incident that left him out of the race. This was the second race of the retired 7 times champion driver, who is having a partial season with some races.
La EchoPark Automotive Grand Prix en el circuito de las América tuvo una duración de 3 Horas, 30 Minutos y 32 Segundos. Siendo 10 el total de banderas de precaución, dos para cerrar el segmento. 72.886 MPH fue la última velocidad más rápida del líder Reddick, quien tuvo un margen de victoria de 1.411 segundos con respecto a Kyle Busch quien finalizó segundo en esta carrera. La cantidad de cambios en liderato fue de 16, entre 7 pilotos, que pasar ser la carrera en circuito, me parece que fue una muy buena cantidad. El que más lideró fue el ganador Tyler Reddick con 41, seguido por William Byron con 28, Austin Cindric con 2, Chris Buescher, Daniel Suárez, Joey Logano y Christopher Bell quienes lidero una vuelta cada uno. Una carrera bien merecida por Tyler Reddick, quien lideró las prácticas, tuvo una buena clasificación que lo posicionó en la primera línea, además de haber ganado el segundo y el tercer segmento final.
The EchoPark Automotive Grand Prix at the Circuit of the Americas lasted 3 Hours, 30 Minutes and 32 Seconds. There were 10 total caution flags, two to close the segment. 72.886 MPH was the last fastest speed of the leader Reddick, who had a victory margin of 1.411 seconds over Kyle Busch who finished second in this race. The number of lead changes was 16, between 7 drivers, which, being a circuit race, I think was a very good number. The one who led the most was the winner Tyler Reddick with 41, followed by William Byron with 28, Austin Cindric with 2, Chris Buescher, Daniel Suarez, Joey Logano and Christopher Bell who led one lap each. A well deserved race for Tyler Reddick, who led the practices, had a good qualifying that positioned him in the first line, besides winning the second and third final segment.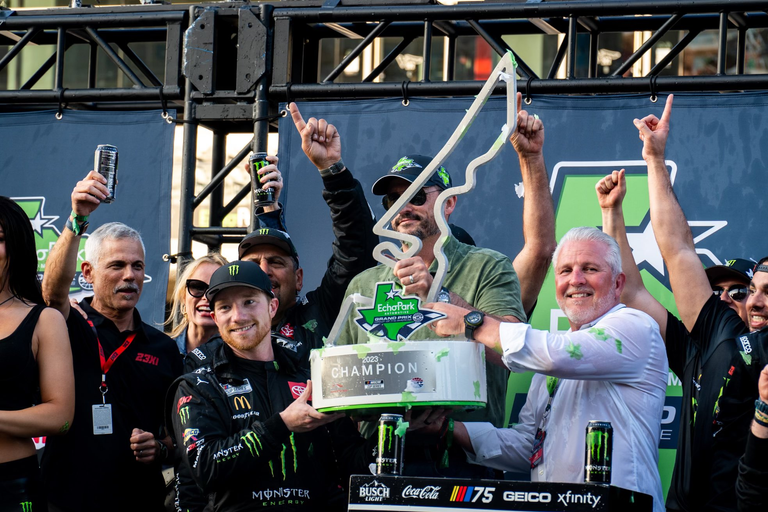 Source
La próxima cita de la serie de la copa NASCAR es en el óvalo de RICHMOND RACEWAY. Evento que lleva Toyota Owners 400,siendo 400 vueltas el número de giros a dar para completar 300 millas. Este evento se disputará el domingo 2 de abril de 2023 a las 3:00pm ET de los Estados Unidos. Una carrera que no nos podemos perder, así que atentos.
The next date of the NASCAR Cup Series is at the RICHMOND RACEWAY oval. Event that carries Toyota Owners 400,with 400 laps being the number of laps to complete 300 miles. This event will be held on Sunday, April 2, 2023 at 3:00pm ET in the United States. A race not to be missed, so stay tuned.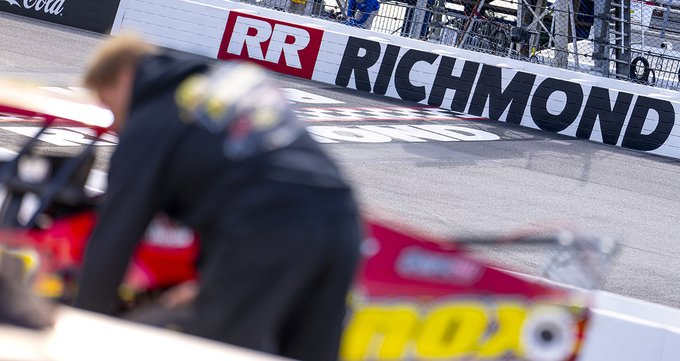 Source

Resultados de la carrera EchoPark Automotive Grand Prix en el Circuito de las Américas (COTA)
Results of the EchoPark Automotive Grand Prix race at the Circuit of the Americas (COTA)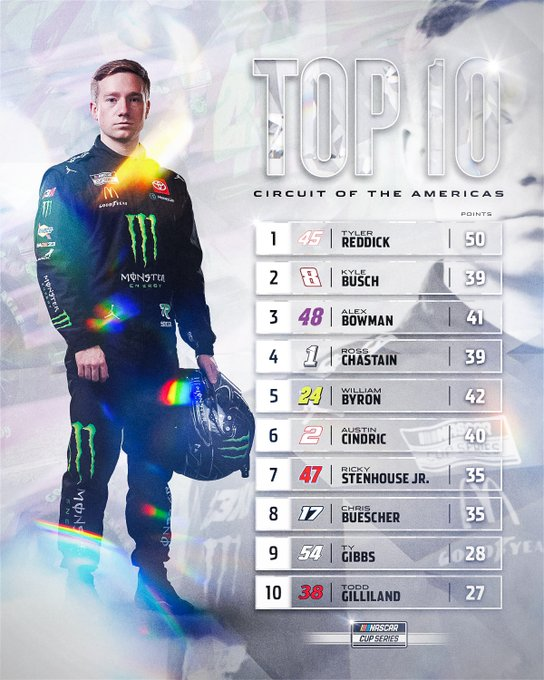 Source
Estado del campeonato luego de la carrera EchoPark Automotive Grand Prix en la COTA
Status of the championship after the EchoPark Automotive Grand Prix race at COTA.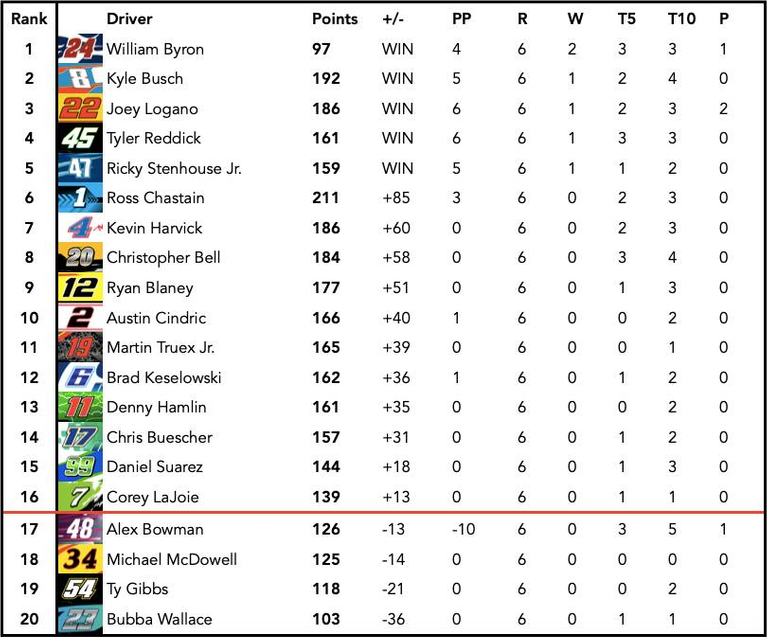 Source
---

Source

Separador de textos tomador del Post fue creado por mi persona en: Canva || Post taker text separator was created by myself at: Canva.
Translated with www.DeepL.com/Translator (free version)
Gracias por su visita. Espero que les haya gustado. // Thank you for your visit. I hope you liked it.
Hasta una próxima oportunidad // Till a next chance
Sin más que decir, se despide de ustedes, su cordial servidor @franz54. // Without further ado, he bids farewell to you, his cordial server @franz54.

---
---