Tyler Reedick logra una sensacional victoria en Texas | Tyler Reedick scores sensational win in Texas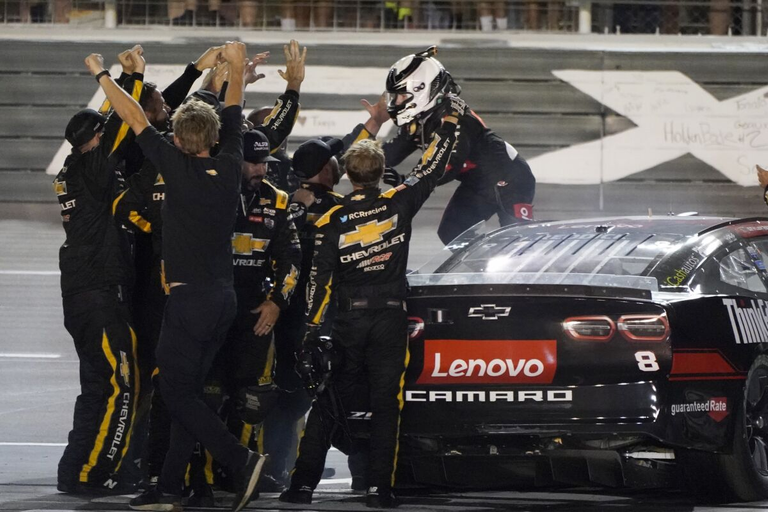 Source

El piloto Tyler Reddick del auto 8 de equipo Richard Childress Racing se impuso en la primera carrera de 3 de la ronda de 12 de las eliminatorias de la Copa NASCAR, siendo esta la tercera de la temporada y la primera de estos playoffs pero que realmente no le sirve de mucho ya que la semana pasada quedo eliminado de toda aspiración al título, tras quedar entre los 4 últimos del campeonato luego de las tres competiciones de la anterior ronda de 16. Reddick tiene un contrato vigente para correr con este equipo en el año 2023, ya que en el 2024 pasará a competir con otro equipo, algo que se anunció este mismo año y que produjo un malestar dentro del equipo. Pero en los últimos días se dio la información y anuncio oficial de que Kyle Busch se uniría con el equipo de Richard Childress para el próximo año en el auto 8 de Reddick lo cual nos hace plantear ¿Qué pasará con Reddick en el año 2023? Pues debemos esperar a ver qué es lo que realmente va a pasar con este piloto que está en la máxima división desde el 2020 y que se espera que sea una de los pilotos insignias de la serie.
Driver Tyler Reddick of the Richard Childress Racing team's car 8 won the first of 3 races in the round of 12 of the NASCAR Cup Series playoffs, the third of the season and the first of these playoffs, but it doesn't really do him much good since last week he was eliminated from any title aspirations after finishing in the bottom 4 of the championship after the three races of the previous round of 16. Reddick has a current contract to race with this team in 2023, since in 2024 he will move to compete with another team, something that was announced earlier this year and that caused uneasiness within the team. But in recent days the information and official announcement that Kyle Busch would join Richard Childress' team for next year in Reddick's car 8, which makes us wonder what will happen with Reddick in 2023? Well, we must wait to see what is really going to happen with this driver who has been in the top division since 2020 and is expected to be one of the flagship drivers of the series.
Ahora bien analizando un poco lo que fue la carrera en Texas que se disputó este domingo, quiero comenzar a comentar un poco lo que fue la actuación del ganador Reddick tanto en la práctica libre, como en la clasificación. En el único entrenamiento que se disputo en todo el fin de semana Tyler Reddick logró hacer el mejor segundo tiempo, por detrás de Austin Dillon. Reddick logro un tiempo de 28.796 segundos (Velocidad promedio en el giro más rápido de 187.526 mph), quedando a tan solo 28 milésimas de segundo del tiempo de Dillon que fue de 28.778 (187.643 mph). El top 10 de esta práctica libre lo completaron Alex Bowman, Alex Bowman, Joey Logano, Erik Jones, William Byron, Ryan Blaney, Bubba Wallace, Brad Keselowski y Kyle Larson. Todos estos ordenados desde la posición 3 a la 10. En la clasificación Tyler Reddick logró el mejor cuarto tiempo, mientras que la primera línea para la carrera estuvo formada por Brad Keselowski quien logro la pole y Joey Logano quien quedo como el segundo más rápido de esta qualy.
Now, analyzing a little bit what was the race in Texas that took place this Sunday, I want to begin to comment a little bit about the performance of the winner Reddick both in free practice and in qualifying. In the only practice that was disputed throughout the weekend Tyler Reddick managed to make the best second time, behind Austin Dillon. Reddick achieved a time of 28.796 seconds (average speed in the fastest lap of 187.526 mph), only 28 thousandths of a second behind Dillon's time of 28.778 (187.643 mph). The top 10 of this free practice was completed by Alex Bowman, Alex Bowman, Joey Logano, Erik Jones, William Byron, Ryan Blaney, Bubba Wallace, Brad Keselowski and Kyle Larson. All of these in order from position 3 to 10. In qualifying Tyler Reddick achieved the best fourth time, while the first line for the race was formed by Brad Keselowski who achieved the pole and Joey Logano who was the second fastest of this qualifying.
El primer segmento donde se correrían las primeras 115 vueltas tuvo su primera bandera amarilla en la vuelta 40 que fue causada por Martin Truex Jr quien perdió su auto en la curva 4, abrigando a la primera salida del coche de seguridad a la pista. El piloto Kyle Busch continuo con su mala racha en Texas tras perder su auto y chocarlo contra la pared y lo traigo a colación ya que Reddick tuvo una fantástica carrera mientras que Busch dio abandonar, y este último es quien le quito su asiento para la próxima temporada. ¿Se arrepentirá Richard Childress? No lo creo que sea así ya que Busch es un piloto experimentado que le dará el salto de calidad a este equipo el próximo año, pero de todas manera cualquier cosa puede pasar, así que hay que estar atento a cada una de las noticias que se nos den en la temporada 2023 de la Copa NASCAR.
The first segment where the first 115 laps would be run had its first yellow flag on lap 40 which was caused by Martin Truex Jr who lost his car in turn 4, prompting the first safety car to come out onto the track. Kyle Busch continued his bad streak in Texas after losing his car and crashing it into the wall and I bring this up since Reddick had a fantastic race while Busch gave up, and the latter is the one who took his seat for next season. Will Richard Childress regret it? I don't think so since Busch is an experienced driver that will give this team a jump in quality next year, but anyway anything can happen, so we must be attentive to each of the news that will be given to us in the 2023 NASCAR Cup season.
Otra de los acontecimientos importantes que se dieron en este primer segmento de la carrera fue que el piloto Christopher Bell del equipo Joey Racing se fue contra el muro en la curva 1, causa por una pinchadura en unos de sus neumáticos, inconveniente que vieron muchos de los contendientes al título de la anterior ronda y esta vez le toco a este piloto. Bell fue el primera en avanzar a esta ronda de 12 de las eliminatorias y era uno de los pilotos con mejor rendimiento, allí que les mencionó este incidente dentro de los más importante de la carrera. Alex Bowman fue otro contendiente que tuvo problemas en este primer segmento, perdiendo su auto en el giro 7 en la tan problemática curva 4 donde se dieron la mayoría de los incidentes. Finalmente esta primera etapa fue ganada pro Kyle Larson, seguido entre los primeros 10 por Denny Hamlin, Joey Logano, Daniel Suárez, Ross Chastain, William Byron, Ricky Stenhouse Jr, Brad Keselowski, Austin Cindric y Michael Mcdowell. El ganador de la carrera Tyler Reddick no logró finalizar entre los primeros 10 del segmento.
Another important event that occurred in this first segment of the race was that the driver Christopher Bell of Joey Racing team went against the wall in Turn 1, caused by a flat tire, a problem that saw many of the contenders for the title of the previous round and this time it was this driver's turn. Bell was the first to advance to this round of 12 of the heats and was one of the best performing drivers, so he mentioned this incident as one of the most important of the race. Alex Bowman was another contender who had problems in this first segment, losing his car in turn 7 in the very problematic turn 4 where most of the incidents occurred. Finally this first stage was won by Kyle Larson, followed in the top 10 by Denny Hamlin, Joey Logano, Daniel Suarez, Ross Chastain, William Byron, Ricky Stenhouse Jr, Brad Keselowski, Austin Cindric and Michael Mcdowell. Race winner Tyler Reddick failed to finish in the top 10 of the segment.
Luego de finalizado este primer segmento todos los lideres aprovecharon a entrar en los boxes por neumáticos nuevos y llenar el tanto de combustible a tope para realizar una ronda completa de carrera bajo bandera verde de ser necesario. Ricky Stenhouse Jr. y Michael Mcdowell fueron los que salieron de primero y segundo respectivamente luego de estas paradas en pits. El segundo segmento dio comienzo con las próximas 105 vueltas, es decir, que el segmento sería hasta el giro 210. En este segundo segmento Christopher Bell tuvo problemas nuevamente con unos de sus neumáticos, lo cual le provocó otro trompo, esto ocurrió en el giro 137. Los contendientes de estas eliminatorias tuvieron problemas nuevamente como es el caso de Kyle Larson quien su equipo no apretó bien una de sus llantas tras una parada, lo cual tuvo que volver a entra en el giro 176, mientras que por otro lado Chase Elliott quien es uno de los favoritos para el título choca en la recta principal lo cual lo afecta en el campeonato, pero por suerte aún está dentro de los 8 que avanzan a la siguiente ronda. En este segmento se dieron otras neutralizaciones pero estoy destacando donde quedaron involucrados los pilotos más importante, aquellos que estan peleando este campeonato de NASCAR. El ganador del segmento fue Ryan Blaney, mientras que el ganador de la carrera Tyler Reddick finalizó en la posición 16 nuevamente, quedando fuera por etapa consecutiva de los mejores diez.
After the end of this first segment all the leaders took the opportunity to pit for new tires and fill the car with full fuel for a full round of the race under green flag if necessary. Ricky Stenhouse Jr. and Michael Mcdowell were the first and second respectively after these pit stops. The second segment started with the next 105 laps, that is, the segment would be until lap 210. In this second segment Christopher Bell had problems again with one of his tires, which caused him to spin again, this happened in lap 137. The contenders of these eliminations had problems again as is the case of Kyle Larson who his team did not tighten well one of his tires after a stop, which had to re-enter in turn 176, while on the other hand Chase Elliott who is one of the favorites for the title crashed in the main straight which affects him in the championship, but luckily he is still within the 8 that advance to the next round. In this segment there were other neutralizations but I am highlighting where the most important drivers were involved, those who are fighting for this NASCAR championship. The winner of the segment was Ryan Blaney, while the winner of the race Tyler Reddick finished in the 16th position again, being out of the top ten for consecutive stages.
El tercer segmento de esta carrera se debió parar por unos 53 minutos aproximadamente, por la llegada de la lluvia y tormenta eléctrica a Texas Motor Speedway. Además que en este tercer y segmento final se dio una polémica luego de una neutralización causada por Martin Truex Jr., donde luego de ondear la bandera amarilla el piloto William Byron toco a Denny Hamlin, causando que este perdiera su auto, por lo cual Hamlin quedo muy disgustado a pensar de haber finalizado la carrera en la posición 10, haciendo fuerte declaraciones del chico del equipo de Hendrick Motorsports. Tyler Reddick tomo la punta a falta de 54 vueltas, perdiendo la punta en una ocasión pero por suerte se pudo recuperar y llevarse esta importante victoria. Tal vez esta no fue la mejor carrera de Reddick pero lo más sensacional de todo fue que no pudo quedar entre los 10 primeros segmentos, pero poco a poco fue avanzando hasta tomar la punta que le dio su tercera bandera a cuadros de la temporada.
The third segment of this race had to be stopped for approximately 53 minutes due to the arrival of rain and thunderstorms at Texas Motor Speedway. Also in this third and final segment there was a controversy after a neutralization caused by Martin Truex Jr., where after waving the yellow flag the driver William Byron touched Denny Hamlin, causing him to lose his car, for which Hamlin was very upset to think of having finished the race in the 10th position, making strong statements from the Hendrick Motorsports team guy. Tyler Reddick took the lead with 54 laps to go, losing the lead on one occasion but luckily he was able to recover and take this important victory. Perhaps this was not Reddick's best race, but the most sensational of all was that he could not finish in the top 10, but little by little he advanced until he took the lead that gave him his third checkered flag of the season.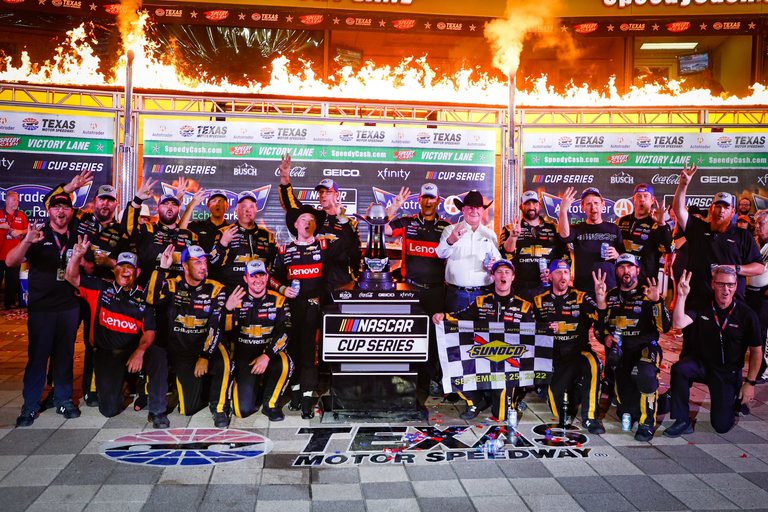 Source
En general esta carrera fue muy neutralizada ya que hubo en total 17 banderas de precaución, aunque en total le mencioné solo algunas de las que tuvieron más relevancia en la carrera y donde quedaron involucrados los pilotos que están participando en esta ronda de 12 de las eliminatorias de la serie. Lo que si es que la carrera estuvo bastante peleada con 36 cambios en el liderato. El piloto en liderar la mayor cantidad de vueltas fue el ganador Tyler Reddick con 70, mientras que Chase Elliott quien se vio afectado en esta carrera fue el mejor segundo con 44 y William Byron con 42 fue el mejor tercera en liderar esta carrera en Texas. Otra detalle importante que no se debe pasar por alto es el hecho de lo que va de eliminatorias no ha ganado una carrera un piloto que este dentro de los contendientes, ya que Reddick quedo eliminado en la pasada ronda de 16 en la anterior carrera.
In general this race was very neutralized as there were a total of 17 caution flags, although in total I mentioned only some of those that had more relevance in the race and where the drivers who are participating in this round of 12 of the series playoffs were involved. What is true is that the race was quite hard fought with 36 changes in the lead. The driver to lead the most laps was the winner Tyler Reddick with 70, while Chase Elliott who was affected in this race was the best second with 44 and William Byron with 42 was the best third to lead this race in Texas. Another important detail that should not be overlooked is the fact that so far in the playoffs no driver has won a race that is among the contenders, as Reddick was eliminated in the last round of 16 in the previous race.

Estado del Campeonato luego del evento
State of the Championship after the event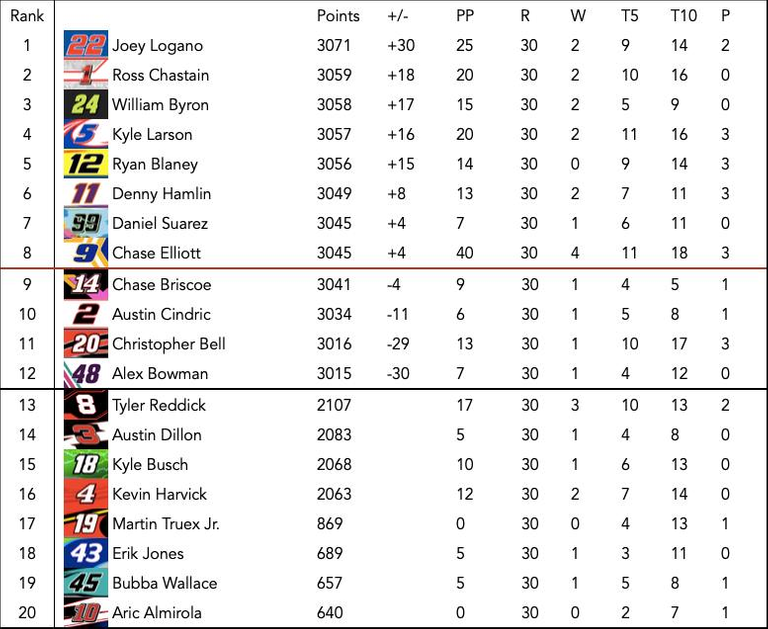 Source
Joey Logano tomo la punta de este campeonato al ser uno de los pilotos más constante que ha tenido estas eliminatorias. Los pilotos Christopher Bell y Alex Bowman fueron los afectados tras esta carrera en Texas y por el momento está quedando fuera de avanzar a la ronda de 8. A pesar del incidente de Chase Elliott aún mantiene la posición 9 así que debe tener cuidado en las próximas carreras sino quiere quedar fuera y porque no, asegurar su pase con una victoria. El mexicano Daniel Suárez cada vez sorprendiendo más y hasta el momento manteniéndose 7 en el campeonato y quien diría que uno de los pilotos más subestimados esta hasta el momento dentro de los que podrían avanzar y tener la oportunidad del título.
Joey Logano took the lead of this championship by being one of the most consistent drivers that has had these playoffs. The drivers Christopher Bell and Alex Bowman were affected after this race in Texas and for the moment are out of advancing to the round of 8. Despite the incident of Chase Elliott he still holds the 9th position so he must be careful in the next races if he does not want to be left out and why not, secure his pass with a victory. The Mexican Daniel Suarez is surprising more and more and so far he is still 7th in the championship and who would say that one of the most underestimated drivers is so far among those who could advance and have a chance at the title.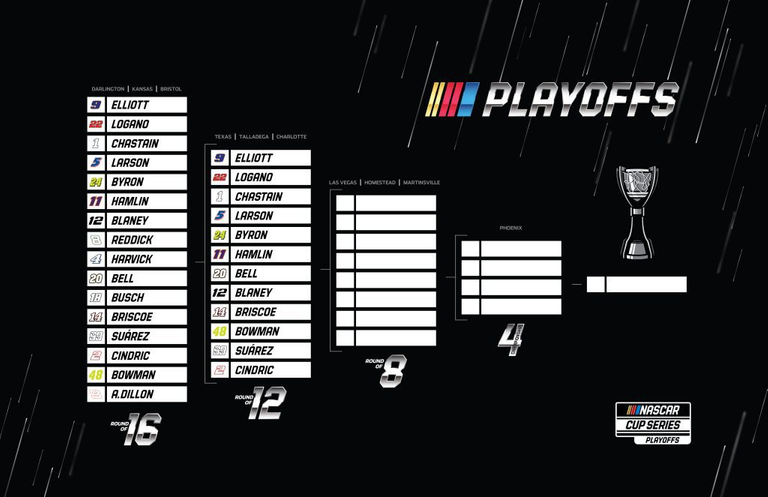 Clasificados para los playoffs 2022 || Qualifiers for the 2022 playoffs

Líderes de la temporada en las diferentes estadísticas
Leaders of the season in the different statistics

Source
WINS
| Pilotos | |
| --- | --- |
| 9 - Chase Elliott | 4 |
| 8 - Tyler Reddick | 3 |
| 5 - Kyle Larson | 2 |
| 1 - Ross Chastain | 2 |
| 22 - Joey Logano | 2 |
| 4 - Kevin Harvick | 2 |
| 24 - William Byron | 2 |
| 11 - Denny Hamlin | 2 |
| 20 - Christopher Bell | 1 |
| 18 - Kyle Busch | 1 |
TOPS 5
| Pilotos | |
| --- | --- |
| 9 - Chase Elliott | 11 |
| 5 - Kyle Larson | 11 |
| 1 - Ross Chastain | 10 |
| 20 - Christopher Bell | 10 |
| 8 - Tyler Reddick | 10 |
| 22 - Joey Logano | 9 |
| 12 - Ryan Blaney | 9 |
| 4 - Kevin Harvick | 7 |
| ​11 - Denny Hamlin | 7 |
| 99 - Daniel Suarez | 6 |
TOPS 10
| Pilotos | |
| --- | --- |
| 9 - Chase Elliott | 18 |
| 20 - Christopher Bell | 17 |
| 1 - Ross Chastain | 16 |
| 5 - Kyle Larson | 16 |
| 4 - Kevin Harvick | 14 |
| 12 - Ryan Blaney | 14 |
| 22 - Joey Logano | 14 |
| ​8 - Tyler Reddick | 13 |
| 18 - Kyle Busch | 13 |
| ​19 - Martin Truex Jr. | 13 |
POLES
| Pilotos | |
| --- | --- |
| 9 - Chase Elliott | 3 |
| 12 - Ryan Blaney | 3 |
| 5 - Kyle Larson | 3 |
| 20 - Christopher Bell | 3 |
| 11 - Denny Hamlin | 3 |
| 22 - Joey Logano | 2 |
| 8 - Tyler Reddick | 2 |
| 19 - Martin Truex Jr. | 1 |
| 2 - Austin Cindric | 1 |
| 14 - Chase Briscoe | 1 |
LAPS LED
| Pilotos | |
| --- | --- |
| 9 - Chase Elliott | 763 |
| 24 - William Byron | 713 |
| 18 - Kyle Busch | 624 |
| 1 - Ross Chastain | 585 |
| 19 - Martin Truex Jr. | 543 |
| 22 - Joey Logano | 538 |
| 12 - Ryan Blaney | 457 |
| 8 - Tyler Reddick | 439 |
| 20 - Christopher Bell | 417 |
| 11 - Denny Hamlin | 392 |
AVERAGE FINISH
| Pilotos | |
| --- | --- |
| 9 - Chase Elliott | 11.8 |
| 5 - Kyle Larson | 13.6 |
| 12 - Ryan Blaney | 13.7 |
| 22 - Joey Logano | 13.8 |
| 20 - Christopher Bell | 14.1 |
| 1 - Ross Chastain | 14.2 |
| 4 - Kevin Harvick | 14.8 |
| 19 - Martin Truex Jr. | 14.9 |
| ​2 - Austin Cindric | 15.7 |
| 48 - Alex Bowman | 16.1 |
Fuente | Source

La próxima fecha de la NASCAR CUP SERIES es la segunda carrera de la ronda de 12 de los playoffs en el óvalo de Talladega Superspeedway, evento que lleva por nombre YellaWood 500 y se correrá el domingo 02 de Octubre de 2022 a las 2:00 pm ET.
The next NASCAR CUP SERIES date is the second race of the Round of 12 playoffs at the Talladega Superspeedway oval, the YellaWood 500, which will be held on Sunday, October 2, 2022 at 2:00 p.m. ET.

Source

Separador de textos tomador del Post fue creado por mi persona en: Canva || Post taker text separator was created by myself at: Canva .
Translated with www.DeepL.com/Translator (free version)
Gracias por su visita. Espero que les haya gustado. // Thank you for your visit. I hope you liked it.
Hasta una próxima oportunidad // Till a next chance
Sin más que decir, se despide de ustedes, su cordial servidor @franz54. // Without further ado, he bids farewell to you, his cordial server @franz54.

---
---