Can evolutions in sport be stopped? Golf is trying to do so!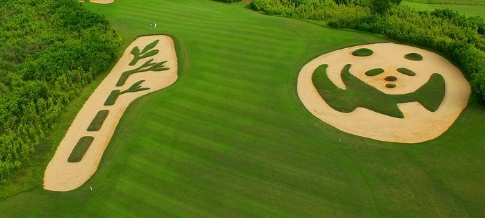 Last year we did have a lot of fuss in the golf world around the LIV golf tour. This year is about the balls!
Yep, you did read it correctly balls!
What's the problem?
Like we can see in all sports, the human kind evolves and get better, stronger, faster, smarter and so on. Just take a look at the world records in track and field! 20 years we couldn't have imagined that a person could sprint the 100 meters in less than 10 seconds! And believe it or not, it is not unthinkable that we will ever break 9 seconds!
While we do have on one side the human kind evolving, also the material used by the humans are evolving! We do invent things which do make our life easier and our performances in sport better! If we look at the 100 meter dash, not only the evolution of human body does makes us see World record after world record broken, but it also has to do with the track and shoes.
One significant change has been the shift from cinder tracks to synthetic tracks. Cinder tracks were made of crushed brick or cinders and were commonly used in the early 20th century. However, they were uneven and provided less traction, making them less efficient for athletes. Synthetic tracks made of materials like rubber and polyurethane were introduced in the 1960s and have continued to improve over time. These tracks are more durable, provide better traction, and have a more consistent surface, allowing athletes to run faster.
Another change has been the introduction of specialized track shoes, which have lightweight materials and provide better grip and support than traditional shoes. These shoes can also help to reduce the energy lost during the foot strike, which allows for a more efficient transfer of energy to the ground, leading to faster running times.
But back to golf!
A same evolution is going on in the golf sport. When hitting a golf ball more or less 3 aspects are important for the distance:
the swing itself
the speed of the clubhead
the spin of the ball (the more a ball spins, the more resistance it will have in the air)
Golf coaches and trainers have a better understanding of the mechanics of the golf swing and how to optimize a golfer's technique to generate more power. For example, golfers are now using their bodies more efficiently to generate more clubhead speed and hit the ball further. But also golfers are now placing more emphasis on physical fitness and training, which has led to stronger, more flexible golfers who are able to generate more power in their swings. This is more or less the evolution of human kind.
Of course we can't rule out the evolution in the clubs and drivers, which does have also a significant impact. But let's focus for now on the golf ball itself.
The golf ball
Modern golf balls are designed to maximize distance by reducing spin and increasing ball speed off the clubface. They are made with advanced materials and design features that provide better aerodynamics, leading to less drag and more distance.
For example, many modern golf balls have a softer and larger core, which allows for more energy transfer upon impact with the clubface. The outer layer of the ball, known as the cover, is also made with advanced materials such as urethane or surlyn, which help to increase ball speed and reduce spin.
The dimple pattern on the surface of the ball is also important for maximizing distance. Modern golf balls have a more advanced dimple pattern, which helps to reduce drag and improve the ball's aerodynamics, resulting in longer shots.
In addition, some golf ball manufacturers have developed specific ball designs for different swing speeds and player types. For example, some balls are designed to provide more spin for players who need it, while others are designed for players who generate a lot of clubhead speed and require less spin to maximize distance.
The problem
Okay we know now that regardless of why, the golfer a hitting a ball much further! Why is this a problem?
When golf courses are designed and build an average distance is taking into mind. This is important to make the course more challenging and tougher. Think about the placement of sand traps, curves, water and so on!
Also it is taking into consideration what the average length of a par 3, 4 and 5 has to be!
Due to the fact that most PGA players are hitting further, lot's of these obstacles can be ignored. If we are talking about a sand trap, they could be moved and this is done on some courses on the PGA tour. It is harder to change the layout of a golf course.
At some courses they do try to increase the length of the holes, but that isn't possible anywhere. Which does becomes problematic. A par 4 hole suddenly sometimes feels like a par 3, there are green which are reachable for the PGA players with a drive. Par 5 holes, become too easy because most players can reach the green in 2!
While an average players also will see some increased length in his drives, a par 4 will still be a par 4 for them and a par 5
will stay a par 5!
How is the USGA trying to solve this problem?
The USGA has rules regarding the performance characteristics of golf balls, such as their initial velocity and overall distance. Golf ball manufacturers must ensure that their products meet these requirements in order for them to be used in USGA-sanctioned events.
The USGA mandates that balls can only fly a certain distance (290 meters, with more or less a 3 meter tolerance) under the prescribed conditions. If
This is tested by a swing robot. They do hit the ball with a clubhead speed of 192 km/h, a launch of 10 degrees and a 2520 RPM. When a new golf ball flies to far, it does get unconfirmed and can't be used in USGA games.
Because they want the player to hit less further, the could change these metrics, resulting in a shorter ball flight. The new test metrics would be 202km/h, a launch of 11 degrees and 2200 RPM. This would decrease the allowed flight with roughly 5%.
Now idea is this would be a good solution. In track the 100 meters just does stay 100 meters, a basketball ring isn't place higher because the players can jump higher and so on.
Cheers,
Peter
---
---