Interesting day at the masters!
Today will be an interesting day. The first day of a golf tournament can give you an indication but rarely the leader after day 1 will take the cup! Like they say: You can't win a golf tournament on the first dat, but you can loose it.
85 players will try to make the cut. The cut at the masters is simple, the top 50 players and ties will play the weekend and earn some money. The other will be left behind empty handed. But hey they did play the masters.
Some already know that making the cut will be nearly impossible, while others are almost sure that they will survive the cut. But those do want to keep their score good enough to be in contention at Sunday.
What will make it really interesting is that the weather forecast isn't exactly sunny. By the looks the day will start rainy, with the rain chance decreasing as the day progresses.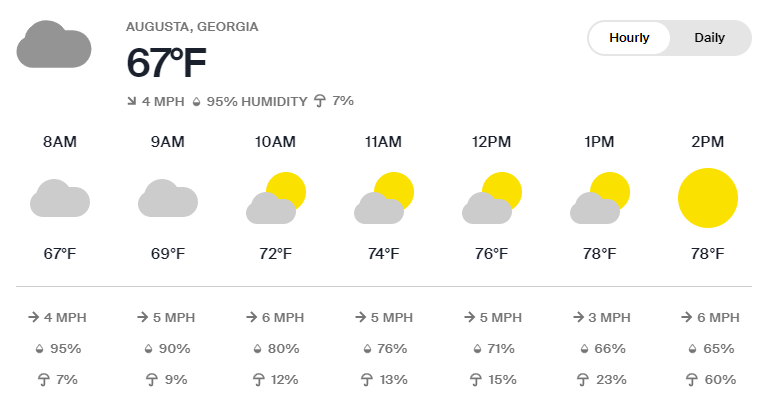 I do think that this will give the late starters some advantage. At least only weather wise.
When you are an early starter and around the cut line, you just have to play your best round and hope that your score will be good enough. Late starters do have a better view which score they do need to score, which does put extra pressure on the players. Lots of cuts where missed due to a missed put at the last hole. You aren't only putting to make the weekend, but also to earn a pay check and Fedex cup and world ranking points. So a 1 foot put could feel like a 5 foot put!
It is expected that the cut will be around +3, but with the weather in mind, this could shift to +4 or maybe even +5.
Most will be interested to see if Tiger makes the cut or not. He is currently playing +2, so he probably will need a par round or better. While this isn't the Tiger anymore like the old days, every golf fan has to admit that a tournament with or without Tiger is a complete different tournament.
Curious if the only Belgian player, Pieters will make the cut. I do fear the he will miss the cut. Starts the day at +2, but in my opinion he his mental strenght isn't good enough and it looks like the move to the LIV tour wasn't very good for his game!
Cheers,
Peter
---
---