Tedesco's first national selection for the Belgian team! Not really impressed and some very strange decisions!
After the World Cup, Belgium did appoint a new head coach. And today was the first time he had to make his first selection known to the public. I was a little bit looking forward to this and was curious if finally a fresh wind would blow. For sure after Martinez who was selecting the same players over and over again regardless of form or match rhythm.
But I was wrong.
Now I am the first one to admit that he probably has a better view on things, but some things just can't be right!
First let me tell that I am a Genk fan and that Genk currently is the proud leader of the Belgian competition. We do have a left winger (Tresor) in the squad with the best statistics of all competitions in Europe with 7 goals and 18 assists. Beside that the captain of Genk, Heynen, is a central midfielders who, according to the analysts, is playing great!
This is something important to take into mind, when reading the rest of the article. I had hope that they finally would get what they did deserve! A call up for the national team!
Also he made some brave decisions by leaving Witsel and Mertens at home! Kudos for that!
The Selection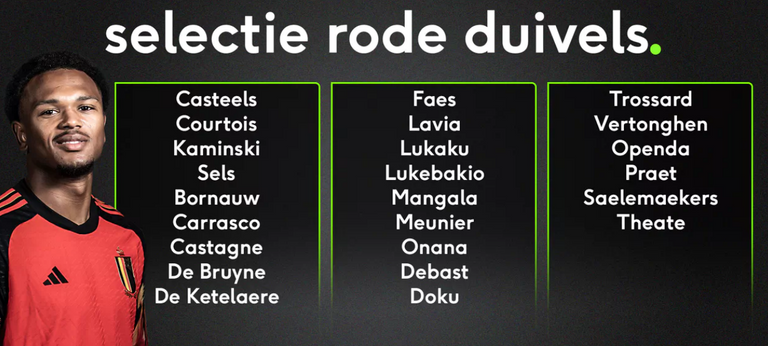 I don't have any big questions, nor concerns in the defensive department. One could argue that player x or y would have deserved a selection a little bit more than another player. But I can live with the this. I would have liked Dendoncker getting another selection, because he never did disappoint!
Midfielders
Here we go!
No questions about De Bruyne, Onana and Lavia. Great picks, no doubt about it!
Carrasco, a doubtful selection in my opinion, but that is more a personal thingy. Something you don't like the style of a player which is the case here!
Saelemakers, switching between the starting 11 and the bench at AC Milan. Missed a selection for the World Cup due to an injury. I don't have anything against him. Not a bad pick.
We are getting to the strange selections!
Mangala: Playing for Nottingham. Yep Premier League team. Regardless of form he can be assured to get a selection. That seems the way how Tedesco creates his selection! I even wonder if he did say him play! Strange decision, but it can get worse!
Preat: plays at Leicester. I guess he is the first one the coach picks to start on the bench. So the match rhythm is questionable. For me personally a huge surprise that he got a selection. Heynen does deserve a selection much more than he does. Tedesco claims that even sitting on the bench in the Premier League is much more important for him to being the captain and leader of Genk. Regardless of form or anything else. Still not the worse choice of the coach. It is getting worse!
Okay we do need another midfielders. Let's see who we do pick. We have a player in form but playing in Belgium. Mmh, that doesn't feel right. Don't we have somewhere a player, signed at a team in a bigger league, who could use some minutes. Preferably someone who doesn't even get's a spot on the bench. It would be great if he did play at least 90 minutes this calendar year, preferable with the youth team!
Yippy, we do have such a player! Meunier!
Way better than a player in form. We could use him to send a signal to everyone who didn't get a selection and was hoping on one. Giving them the message that it never will happen! We don't mind how many assist you did give, how many goals you scored, if you are in form or not. I just care about the name of the club you do have a contract with!
Attackers
Here I do agree with some selections like Trossard, Lukaku (while not in the best form of his life), Openda and Lukebakio.
A **Doku **in form always would be at the squad. The problem with Doku is that he is very injury prone. It has been more than a month ago, that he was able to complete the 90 minutes. And he did got another injury a week ago against Marseille. So why would you select him. Let him get better. The chances that he will play in the upcoming two games of the Belgium squad are slim and if he gets fit, it would be too dangerous! Than just let him know that without injury he would have gotten a selection and did give this one to Tresor! But no, Tedesco decided otherwise! He now says that on Monday he will get a medical check-up, which he probably will not pass, and than a reserve player would be called up! What?
Let's finish with De Ketelaere. Here we do have a player who really isn't in form. Glued to the bench at AC Milan, used as sub in the last 10 or so in the game. Due to pressure always making the wrong decision at the moment! While I do like him and hope that he will succeed at AC Milan, I really do. He doesn't deserve a selection at the moment. Tedesco says, that De Ketelaers could profit from a different atmosphere to get his confidence back!
So does he see the national team as some mindfulness for players? While stating earlier that he is here to win?
Some quotes of Tedesco during his press conference:
It is important that we now select players who perform at their top level.
Really? Meunier, De Ketelaere, Praet, Mangala?
We didn't look at age. It depends on the form and the preparedness of the players.
uhu?
About Praet
He may be a substitute at Leicester, but when he comes on the pitch he is always very focused.
Strange selection criteria! Maybe I also can get a selection, I am also always focused!
We're not here to have fun, we're here to win.
We will see how things will evolve! But maybe, he wasn't the best choice as national coach of Belgium!
Cheers,
Peter
---
---