The Challenge of Being a Fan: Analyzing Tedesco's Selection for the Belgian National Football Team
As a fan of the Belgian National team, I've been keeping an eye on their new coach, Tedesco. Being a national coach isn't an easy job, with the association and the entire country watching your every move and decision. Everyone has an opinion on your choices, and they're quick to label them as either good or bad. It seems like every paper, TV show, and podcast is analyzing every aspect of the coach's performance. Imagine that not only all your colleges are analyzing everything you do. From getting coffee to doing your work, analyzing if an exclamation mark would have suited the sentence better a period. And that the intranet of the company would be full of analysis of the employees!
Last Friday, Tedesco announced his first selection for the team, and it caused quite a stir. Players and clubs were insulted, and some analysts were in disbelief. But what most people don't realize is that the coach has a certain style of football in mind, and he selects players who will fit that style. Even if the outside world disagrees with his choices, he's the one who knows best.
I must admit, I was initially among the skeptics. But over the past week, it's become clear that Tedesco likes the Red Bull academy playing style, which means high pressure, fast and swift players. This was evident when Doku had to leave the basecamp with an injury and was replaced by Bakayoko instead of Tresor. It was surprising at first, but Bakayoko probably fits Tedesco's playing style better than Tresor, who isn't as aggressive on the pitch. Tedesco probably wants a pretty direct playing style, while Tresor sometimes takes too much time.
The start of a new era!
What's intriguing is that we have no idea what tactic Tedesco will use. For the past 6 years, it was easy because Martinez played with only 3 defenders regardless of the opponent. But will Tedesco continue with this, or will he use a more suitable 4-player defense? Most people expect him to start with 4 defenders, like most coaches from the Red Bull Academy.
As a fan, it's tough to judge what lineup Tedesco will use, but it's also interesting. I've been trying to create a lineup that comes close to what he'll use in the upcoming game against Sweden.
Defense
There's no doubt that Courtois will start as the goalie, but who will play in front of him? Vertonghen will likely be the leader of the defense with all his experience, but who will play beside him? The newspapers believe it will be Bornauw, but I'm not so sure. It could also be Faes or even Debast, but I don't follow the Bundesliga, so I have no clue about their performances. Personally, I prefer Faes. On the back, I'd play Teathe on the left and Castagne on the right.
Midfield
2 positions can be easily filled in. Onana as Defensive midfielder and Debruyne as attacking midfielder. To make it a little bit easier for myself, I will add the wingers to the offense. With one striker and 2 wingers, I only need to fill in one more midfieler.
I do wonder if Tedesco want more security and play with an extra defensive midfielder or does want to have more offensive intentions and add a offensive midfielder beside De Bruyne.
Looking at our bench, we have Lavia, Praet, Mangala, and De Ketelaere. If Tedesco wants an extra block in midfield, Lavia is a good option. However, it might be too soon to bring him in, and Onana's playing style tends to result in yellow cards, making Lavia an excellent substitute. Additionally, I believe Lavia and Onana are the future, so playing them together would be interesting to try.
Praet and Mangala are not options I consider, so the other choice is De Ketelaere. Although I like him, he is out of form, and his current performance does not justify a position in the starting 11. Therefore, my choice for the final midfield position is Lavia.
Offense
As I consider the offense for our team, I know that Lukaku, despite his current lack of form and confidence, is a must-start at striker. That leaves two winger positions to be filled. I believe that Trossard is a must have, for sure with his recent form shown at Arsenal. While he prefers to play from the left, he also could be placed on the right. It all depends who will play as other winger. If this will be Carasco, Trossard will move to the right.
But he also could opt for Saelemakers, Lukebakio or even Bakayoko on the right. Bakayoko has been called up as a replacement for the injured Doku, but I don't think he's a viable choice for the starting lineup. That leaves us with Saelemakers and Lukebakio. Personally, I prefer Saelemakers over Lukebakio. Now the question is whether to move Trossard to the right or keep him on the left.
With his current form he should be played at this preferred position, moving Carrasco to the bench and lining up Saelemakers.
This would give this starting 11!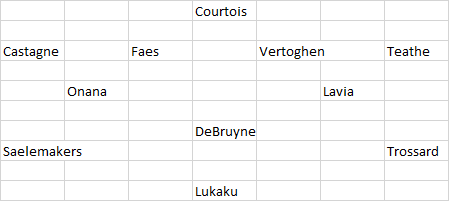 I do wonder if this even comes close to the starting 11 Tedesco has in his mind!
We will see!
Cheers,
Peter
---
---