Formula 1 - Canadian GP - Drag Racing And Comebacks!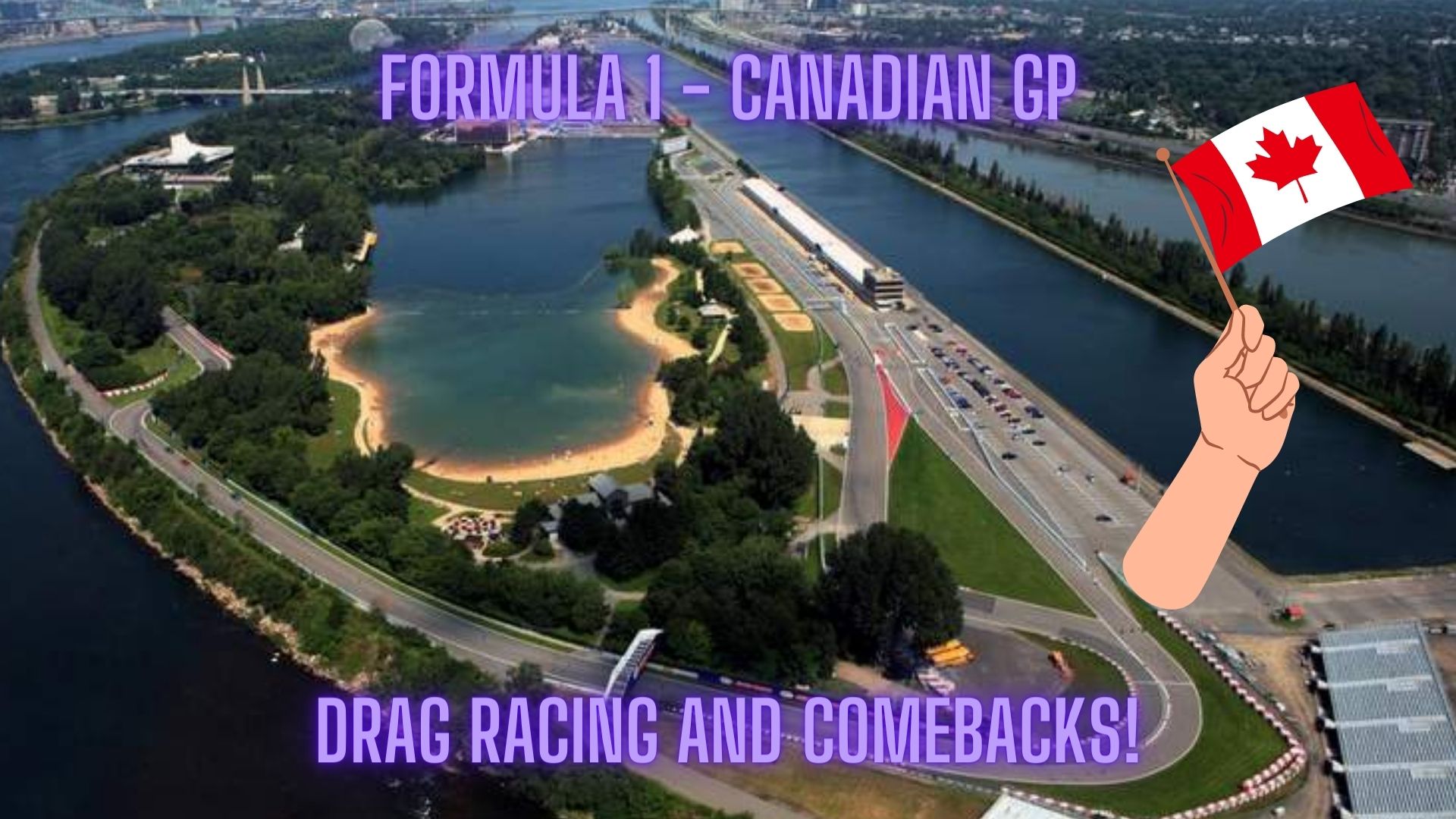 A new weekend, a new race! This time we are in Canada and I honestly can not wait to see the next round of this championship. Will Leclerc manage to get into points after changing his engine and starting from the last row? Will Checo pressure Max in the championship and provoke some tension in the Red Bull team? Will Mick Schumacher finally be able to score his first points in Formula One? All of these questions will hopefully be answered during the Canadian Grand Prix.
Not only that but after the last GP in Baku a lot of drivers had issues and complains with their backs. The reason for this was the porpoising effect which makes the cars literally jump on fast straights. This is not only painful for the drivers but also very dangerous dynamically wise. The great discussion point is that some teams are suffering more from this effect which is why they want a regulatory change (Mercedes). The other teams, such as Ferrari and Red Bull, are strictly against these changes as they do not suffer from this problem and see it as attempt by Mercedes to get back into the championship. According to some witnesses there was some bad blood spilled in a managers meeting which sounds very spicy!
With that being said, this weekend might be very interesting and this is why we will talk about the qualifying in the race once again. To wrap up this article we will also talk about the future roadmap of this championship and some personal thoughts as well!
Qualification – Chaotic Surprises!
First things first: The rain king got his pole. During the wet qualifying Max Verstappen managed to get yet another pole position in his career. This will set him up very comfortably for this race because both of his closest rivals are starting further back. Charles Leclerc will start from the last row because he had the aforementioned engine change. Max's teammate Perez will start from P13 because he crashed during Q2 and could not recover anymore.
This means that the first time in this season, there will be another driver other than Red Bull or Ferrari starting in the Top 3. The question was now: Who is it gonna be? The answer was very surprising and also very nice for long term Formula One fans. Fernando Alonso managed to place his Alpine onto the second position and therefore into the first row! This is why many people are hoping for yet another podium placement for the Spaniard or even a surprising win?
There were further surprises down the road! Both of the Haas cars managed to place in P5 and P6 which is a very solid performance by both drivers. With this being said, I really hope that Mick Schumacher will continue his rising form as there were rumors that his team chef wanted to remove him from the cockpit before the last race in Baku. It will be a big opportunity for him to get his first points in his Formula One and I think that many fans want to see that as well. It will not change the fact that he is still in the shadows of his teammate Kevin Magnussen but it will for sure help him in his ongoing career.
Last but not least we need to talk about Aston Martin and Mercedes. While both are lacking behind their expectations for this year, it looks like both are starting to pick up the pace on the track. Aston Martin had a very promising performance during Free Practice but bottled the Qualifying completely. There is still some hope to get the points on the track but it will be difficult. On the other side: Mercedes managed to qualify in P4 and P8 with Hamilton being in P4. This means that the king seems to be back in town and will try to put George Russel back into his number two driver place.
The Race -70 Laps of Racing
It was one of the most interesting races in this season and maybe even of the past years. It all started like expected, Max got the better start and was able to defend his pole position. Behind him Alonso was able to defend against Sainz and the order styed more or less the same. It stayed like that not for long. Already in lap 9 Perez hat to give up his car because of a gearbox/ engine failure. This certainly was not good news for the Mexican who was putting the leading driver, Max, under pressure in the championship. Many people used this opportunity to pit, which would also ultimately mean that these cars would need to pit a second time alter in the race.
By this point both Mercedes drivers managed to find their way up to P4 and P5 while Leclerc managed to climb up to P13. Schuhmacher was able to stay in P8 which would have been a very comfortable position to stay in. Unfortunately for him, he suffered a very similar failure as Perez. This means that he is not getting any points in another race yet again. By the end of the yellow flag period, Leclerc managed to get up to P7! Max was still leading the race followed by Sainz and Hamilton, why Alonso was slowly getting dragged to the back.
The real drama started to unfold around lap 44. This is when Verstappen decided to make his second stop. He pitted for another hard tire compound which meant that he would finish the race on these tires. This meant that he was now behind Sainz and even Hamilton, which he overtook fairly quickly. Max was around 9 seconds behind Sainz and the hunt was on. What was not expected is that Tsunoda would crash his car while going out of the pit lanes! This meant a Safety car period which allowed many drivers a very faovrable pit stop, including Sainz and both Mercedes drivers who were now all sitting behind Max who did not stop as his tires were already only 6 laps old.
The Safety car Period took around 6 laps which brings us to the restart in lap 55. The order was as follows: Verstappen, Sainz, Hamilton, Russel, Ocon, Alonso, Leclerc. It was a showdown and one of the most interesting restarts so far. Both Mercedes had a very good pace making them contenders for the win, as well as Sainz who had the fresher tires compared to Max. The first few laps the Mercedes drivers could keep up but after DRS was enabled it resulted in a battle between the red Bull and the Ferrari driver. For over 10 laps Sainz tried his best to overtake Verstappen. During all of these laps he was in striking distance and always under one second behind. This meant that every time these drivers would hit the main straight, the Ferrari pilot would have a speed advantage of over 21 km/h. But even with this advantage he was not able to overtake Max.
While in the top nothing changed, Leclerc managed to fight his way up to 5th place which would feel like a win given the circumstances of this race. With these points he certainly will regain hope for the rest of the season and not give up the World Title yet. On a very positive note, we have to talk about Lewis Hamilton as well who managed to get another podium in the form of third place. He could finally show his teammate who is the boss in the ring and silence some of his critics regarding his motivation.
Conclusion
This race left me very thrilled! While the top cars were the same once again, the performances of the cars did not vary too much. It was very tense and interesting right until the end and I don't think we ever saw a race the last few years where the last 15 laps were decided all within a one second gap. It really looks like the new changes are paying off and doing what they were expected to do: Making the sport more interesting again.
Looking onto the next races, it will be the British Silverstone that will be visited next. In this race the British drivers in the person of George Russel, Lewis Hamilton and Lando Norris want to give their home audience something to celebrate. Furthermore, Ferrari will have new hope of competitiveness since they managed to get another podium and a great new engine for Leclerc. Like mentioned in other articles: This season has still some life in it and can be changed fairly quickly, especially when the upgrade season comes around.
Published by ga38jem on
Sports Talk Social
On 19th June 2022
---
---