Formula 1 - Hungarian GP - Verstappen's Mastercalss & Clean Racing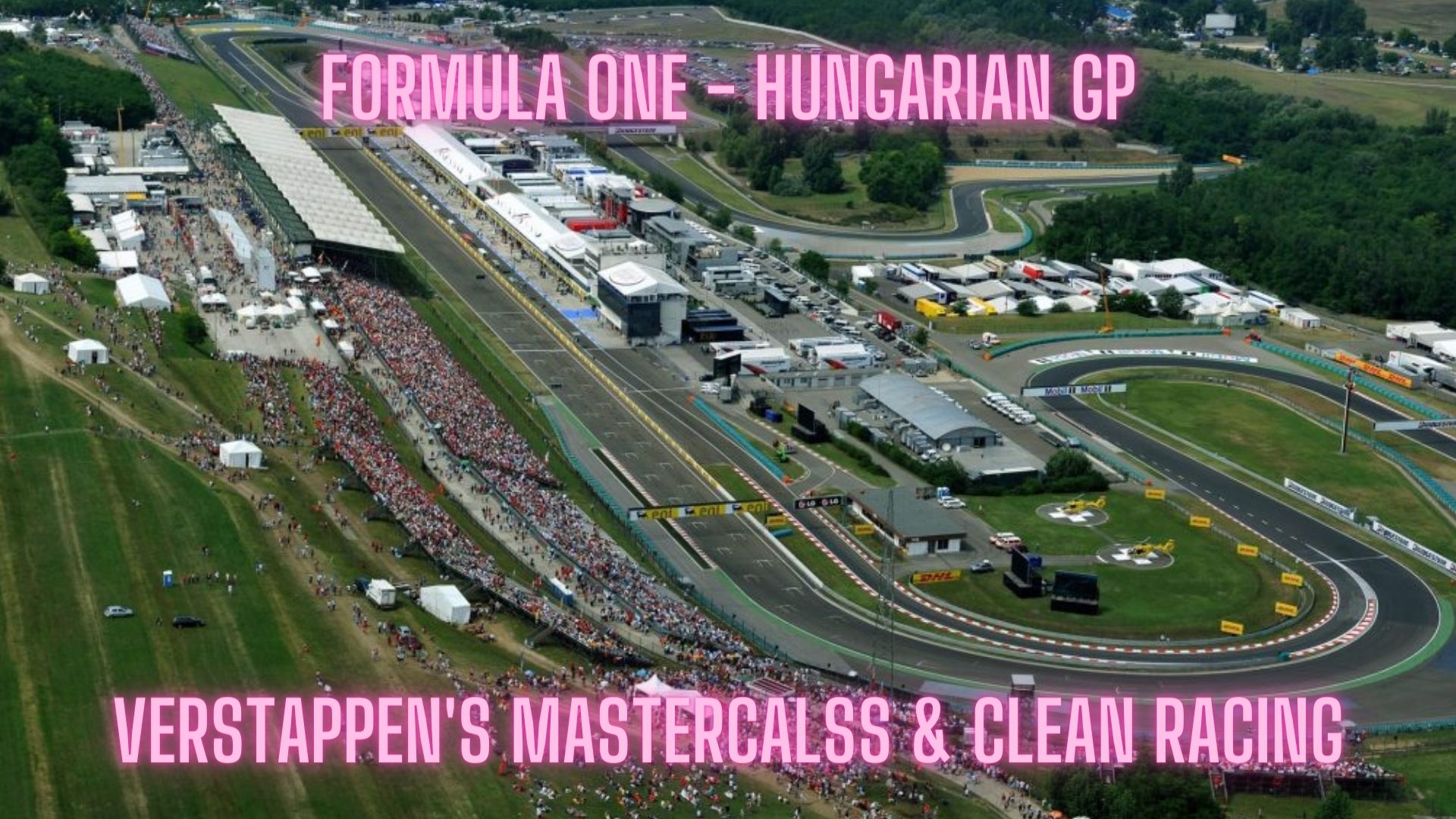 Last race before the summer break! This time we are racing in Hungary and boy what a week it was. One of the fan favorites announced that he will retire from this sport after this current season: Sebastian Vettel will leave Formula One and it will be a very sad moment when it finally happens. On the other hand, there are already now some rumors that he might come back such as Kimi and Alonso did. Until then it will be very interesting who will be replace him in the Aston Martin cockpit. As we all know, Aston Martin does not have a great car this season. Therefore, they will be struggling to put a real super star into the cockpit. The biggest name that is being told is Daniel Ricciardo but he still has one year left with McLaren.
Anyways, we are in the here and now and the race in Hungary will be an interesting one again. Some stories need to be told such as: Will Max Verstappen be able to extend his championship lead even more, or can Charles Leclerc get back into the race in a very important point of the season. If so, Verstappen might go into the summer break with a bad feeling. Furthermore, it will be interesting whether Vettel will keep on fighting or whether he already has given up for this season and tries to enjoy his last races. Last but not least, it will be interesting to see whether Mercedes can continue their solid performances and maybe even get a race win this time around?
Qualifying – Red Bull's Problems & Merc Resurrection
The qualifying was very different this time around. In the backfield we did not see any big changes or surprises. Unfortunately, Vettel managed only to qualify in P18 but his teammate also only managed to get P14. I just think the car of Aston Martin is not really there yet in this season. Further up the grid we are seeing the first surprises. Both Red Bull drivers are starting from P11 and P10. While Perez was not able to qualify for Q3, Verstappen had power engine issues during Q3 and was not able to put in a solid time.
As expected, both Ferraris were able to perform very well yet again, getting P2 and P3. The interesting part about this is that Sainz got P2 and Leclerc only P3. This put certainly pressure onto the championship contender who is looking to make up for his mistake in the last race. But if those two drivers are starting from P2 & P3. Who is on pole in this race? Well, this might be surprising but George Russell was able to snatch this valuable position! Not only that but his teammate Lewis Hamilton will start only from P7 showing that the Russell is definitely on a similar level as Lewis Hamilton already! Another surprise is that Lando Norris managed to get into P4 which is yet again an amazing performance by the young Brit!
It will be very interesting to see whether George will be able to defend his position against the two Ferraris. Furthermore, I am very interested to see whether Verstappen can make up for his engine problems and gain some positions back. All in all, a great race is about to take place and I will try to enjoy every last bit of it because it will be the last one for about a month!
The Race – Verstappen's Masterclass and Ferrari's Mistakes
The race had great potential for Ferrari and Leclerc to get back into the championship fight! Verstappen had to start from P10 and both Ferraris only had a struggling Mercedes of George Russel in front of them. Well, what seemed to be a great race for Ferrari turned once again very sideways for them! The start was as expected. Russel managed to secure P1 and all the drivers kept their position more or less. There were some minor overtakes but nothing worth mentioning except that Verstappen already got into P6 by the end of Lap 7.
Traditionally, the Hungarian Grand Prix is not known for having a lot of overtakes but with the new ruleset and cars, it seemed to be a very interesting race going on. Both Ferraris were able to put some pressure on Russel who on his side was able to defend against attacks very heroically. The attacks began around lap 27 and he was able to hold his position until lap 31 when Leclerc was finally able to overtake him. With this fighting Leclerc destroyed a lot of his tires and was not able to drive the same pace as he would before. Still he was leading very comfortably with Russel and Sainz behind him. By this point Verstappen already managed to fight his way up to P4.
Until this point, everything went in Ferrari's way! The cars were looking sharp and the drivers were looking very comfortable. This strategy was working until around lap 45. This is when Leclerc had to pit again and because he only have driven on mediums before, he had to change to either hards or softs. Because the race had still over 20 laps to go, the strategists decided to switch to a hard compound tire: Big mistake! When Leclerc came out of the box he was immediately falling back and had no grip in his tires. He never felt comfortable with it and was overtaken by Verstappen not once but twice. Not because Max lapped him but because he allowed himself to spin and make a 360 in the middle of the race.
With this maneuver the race win for Leclerc was out of sight and the same goes for Sainz. Here, the crew pitted him on soft tires in lap 50. This was equally a bad mistake as soft tires can not last that long. The Spaniard was trying everything to at least get into the podium places but he was just outpaced by the smarter Mercedes strategy. So who was able to win this interesting race? Max Verstappen was in the end the winner that nobody expected! Despite his bad starting position and some minor mistakes during the race, he was able to show his masterclass and bring his car into first place.
What is more interesting is that Mercedes just confirms their better understanding for their car now. They managed to get another double podium with Lewis Hamilton in P2 and George Russel in P3. While they have little chances to get into the championship race again. It will certainly be very interesting to see whether some upgrades during the summer break can help them putting some more performance on the track. Sainz and Leclerc finished in P4 and P6 while Perez split both Ferraris in P5. A very strong tenth place was Sebastian Vettel to get, underlining that he is not done yet with his F1 career.
Conclusion
Going into the summer break, it is very clear that Verstappen has a great advantage going into the second part of the season. He has a 80 points lead over Leclerc and there should be black magic happening for him not to win this championship. On the other hand, the race for second place is a very interesting one! P2 to P6 is only divided by 32 points which is a very tight and interesting battle there.
Furthermore, if we look at the constructor's championship Red Bull is around 100 points in front of Ferrari. This again is a very solid lead. What is more intriguing is that Mercedes has only 30 points difference to Ferrari and with their current form and momentum, they are certainly looking to take over the second place and they might even get into the constructor's fight for the title again. It will all depend on how well they will improve their cars in the summer break and how much they might invest in this season still.
Published by ga38jem on
Sports Talk Social
On 31st July 2022
---
---