Formula One - Australian GP - Interesting Start & Chaotic Ending!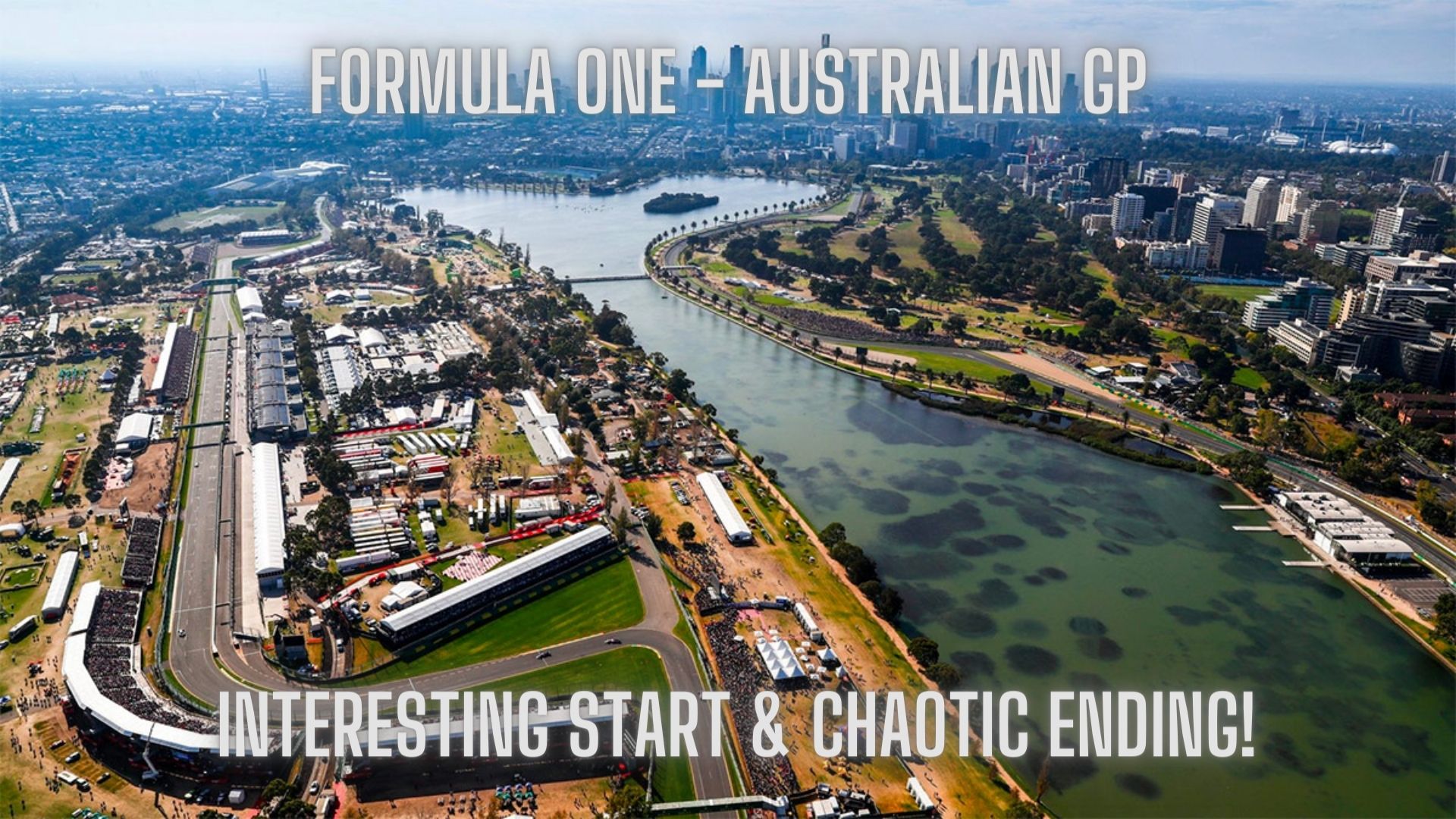 We are racing once again! This time in the Good Old Down Under. It is the third racing weekend this season and we have already a bit of drama going on! The first two races were one by the both Red Bull drivers. It seems to be another Red Bull dominant season but will it stay that way? There are already rumors going around that Checo is reaching out for the title and is definitely ready to battle Max. But I am assuming that this is not what the Red Bull bosses would like to see. Furthermore, it will be interesting to see whether Mercedes can get their car competitive again and also whether Aston Martin can continue their good run with Fernando Alonso. Last but not least, I am interested to see whether teams like McLaren can finally find some pace in their car or if this season will continue to be a nightmare.
Qualifying – Perez's Nightmare & Merc's Good Old Times
If we look at the qualifying we can not help but notice the biggest upset so far. Perez will start from P20. According to his team boss Christian Horner he was having a very bad weekend so far. Definitely not what you want to hear as a driver who is also getting pressured by the reserve driver and fan favorite Daniel Ricciardo. After locking up and going off track the Mexican was not able to bring his car on track again and will therefore start from the last position. With him Bottas, Sargeant, Zhou and Piastri went out in the first round of qualifying. It seems like the rookies are still struggling to keep up the pace.
The trend continues as in Q2 Nyck de Vries was only able to get P15. Furthermore, Magnussen, Norris, Tsunoda and Ocon had to leave qualifying. It looks like another horrific weekend for McLaren who are disappointing in this season once again. This leaves us with 10 drivers left. The most surprising one is definitely Alex Albon who managed to qualify in P8 with his Williams. He is joined by Gasly in P9 and Nico Hülkenberg in P10! The first seven places are distributed between the top teams (minus Perez).
As expected Max Verstappen was able to get the pole position. It is very interesting to see both Merc cars behind him! It looks like the Australian track might bring some great lap times into Mer's favor. Behind the top 3 we are seeing Fernando Alonso once again, followed by Sainz, Stroll and Leclerc. Seeing that Mercedes can keep up on a single lap can gibe some hope for this specific race. It will be therefore very interesting to see how the start goes tomorrow!
The Race – Interesting Start & Chaotic Ending!
The start to the race was promising as Russel overtook Max straight away in turn 1! After that even Hamilton overtook the championship leader making it a Mercedes 1&2! All of this happened while Leclerc went off the track finishing his race not even a lap in. It was a very interesting start since it was the first time in the season that the red Bull cars were not leading the race. While one of them got overtaken by both Merc cars the other one was fighting to get back into the race from last position.
It looked like a very suspenseful race until lap 7 when Alex Albon lost control and crashed his car. This was a start to part one of chaos and carnage. Mercedes reacted to this crash and pitted Russel with the plan of giving him an advantage in the long run. Well, it did not go as planned because shortly after his pit stop the red flags were waved. This resulted in Russel being stuck in P7 now and a lost tire advantage since everyone was allowed to switch tires now.
After the restart the three race leaders were Hamilton, Verstappen and Alonso. In lap 12 Verstappen showed off the superiority of his car by overtaking Lewis Hamilton with ease (also with the help of DRS). In the meantime Russel was able to fight back into P4. Unfortunately for him, his race ended shortly after. The Brit go bad luck with his engine that caught fire. Very unlucky for him and Mercedes. While all of this was happening Perez was able to successfully navigate his rocket ship of a car into P9.
After these few rounds of carnage and chaos, the race calmed down. We were able o see some great battles and risky overtakes. All of this continued until carnage part 2 started in lap 55. What happened you might ask. Well, Magnussen managed to crash into a wall and lose his left rear wheel completely. This again resulted in a red flag which brought the pressure back on to the race leader. The restart would have Verstappen in P1, followed by Hamilton and Alonso. This was the best chance for either of them to take their first race win of the season with only two laps to go!
What happened afterwards was just madness. With the knowledge in mind that the race will only go for another 2 laps, many drivers took the first turns as all of nothing! While many were hoping to see some great fights over the course of the next laps, all we got was chaos for a few tuns. Straight after the start, Max and Hamilton were able to get away rather smoothly. Behind them Carlos Sainz turned Alsono while both Alpines crashed into each other. Due to the crazy amount of debris the third and final red flag was waved!
The race ended with a Safety car outlap with the drivers keeping their restart positions. This meant that the podium consists of Verstappen, Hamilton and Alonso. The three are followed by Stroll and Perez. A very surprising end to the race experienced McLaren as they finished in P6 and P8, getting some great points for their team.
Outlook
All in all this race was pretty crazy in my opinion. Especially the ending was definitely chaotic. All teams will now have the time to debrief as there will be a 4 weeks break to the racing circus. It was definitely nice to see Mercedes at great strength again. The question is now whether it was only track related or whether the drivers started to understand the car even better. I highly doubt that there were big upgrades into play. Furthermore, it was nice to see that the Red Bulls are not completely invincible, although they won it in the end again, I definitely can see some great races to come. Especially if the situation between the both Red Bull drivers escalated, it will open up for other teams to get some points there!
Published by ga38jem on
LeoFinance
On 2nd April 2023
---
---