Harlem Globetrotters World Tour, a fun old-retro game but with some details - EN/ES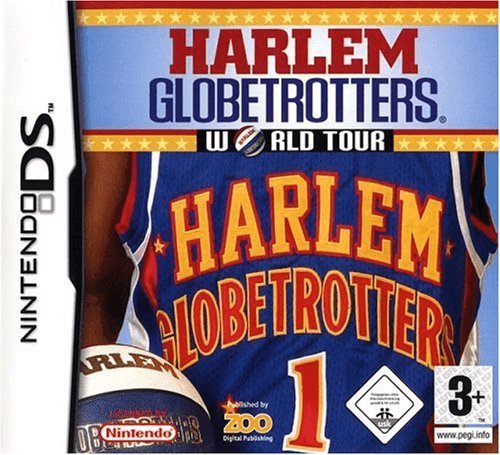 Source
One of the few sports games for NDS that I liked
I was never a 100% fan of consoles, but there was a time when I lived with my dad and since he didn't have a PC, obviously I needed something to play yes or yes since I came from home very used to playing on PC, that's when he gave me my first NDS, specifically, it was a burgundy Nintendo DS XL, I still remember it with a lot of love... By the way, from time to time I see it, I sold it to my teacher at school to her son, from time to time comes to visit my house and her 11-year-old son brings her, she still keeps it as new (thank god, I didn't expect it XD).
Well, the DS games were pretty shit, I enjoyed some of them too much, but after a while, you got bored and needed others, I remember that in my city they sold R4 memories with many games, of course, it was something pirated and much cheaper than buy game by game, obviously I bought one of those memories and to my surprise, this game came there, I had never played basketball, I wasn't even interested in those moments (right now I'm much less interested), since I didn't have any NBA games downloaded Well, I started to investigate (in the DS browser) about what this was, I saw some videos on YouTube and god, I was fascinated to see them play, it was then when I met the Harlem Globetrotters.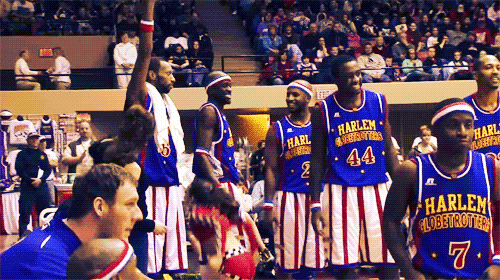 Source
I had never known this quirky and fantastic way to play basketball, I loved it and started playing it on my DS, I was too happy to explain haha. I remember the entry perfectly, something too simple and really went to the point, it gave you the possibility to create your profile and that's it, you went directly to play. There were several types of games, I always chose the World Tour, after that you chose the place where you wanted your team to be from, I don't remember which one it was XD, and finally your players, there are two in total, you can be guided by their statistics and thus you will create your "perfect team".
The beginning was just like in their real matches, a referee and 4 players ready to do the sickest tricks in the fucking world XD. The referee threw the ball up and you had to fight for it, I always lost the ball but it wasn't something that important, the important thing was after starting, knowing how to function and not missing shots stupidly, it's the key to being a good player of this kind of sports.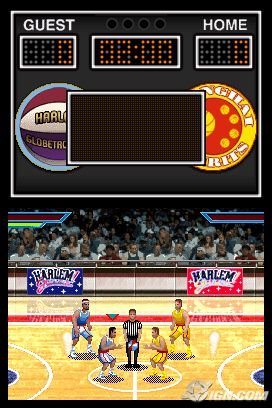 Source
The first thing that catches my attention is the graphics, and yes, they even impress me now that I notice them with more maturity XD, it was strange that an NDS game would look like that, it literally looks like a retro game, but it doesn't matter, never Let's judge a book by its cover. The animations and movements are also basic, I would die to get my hands on that game and teach them, but no... I mean, it reminds me a lot of the retro physics we all know, they're not that bad, but they don't stand out too much either...
A theme that caught my attention a lot is its colors, the game is very colorful and does not tire the eyes, rather it gives liveliness to the simple game of basketball, although it is not that simple... And yes, here we can run, dribble, jump, and bounce the ball fast, slow or normal, we can do tricks, feints, etc. It is literally a great basketball game and very complete, perfectly following the great freestyle style of the Harlem Globetrotters.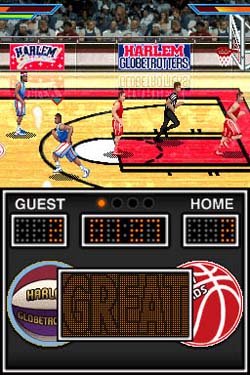 Source
Between all the good and bad, I want to start with the good. This game is fun, every time we choose the World Tour (for example), a tournament is created and forces us to win, we can configure the CPU difficulty and apart from that, we can invite other friends who also have the game and play a 2v2. The game mechanics are fun, we can do tricks, yes, not as exaggeratedly good as in real life, but to hesitate for a while, once you master the controls you think you're the fucking master in the game... The others game modes are fun too, they complement each other a lot...
The bad things are some, for example, the soundtrack is sadly disgusting, I mean, are you playing an exciting basketball game, or are you at a fucking funeral? Damn, music is useless, I'd rather hurt my ears listening to Christian music than that crap XD. I think the animations in the game lacked a lot, they are very poor and for a game that came out relatively in a "3D" era, the game seems made with the feet of the developers.
It's still fun, something different for sports games, and without a doubt, it's a game that I would play again because it's quite competitive, believe it or not, the AI ​​is quite good and it challenges you more and more. In customization we can play a lot with it, change our players, and uniform color and even choose a shield for our team, it is undoubtedly a good game despite everything. Thank you for reading this far!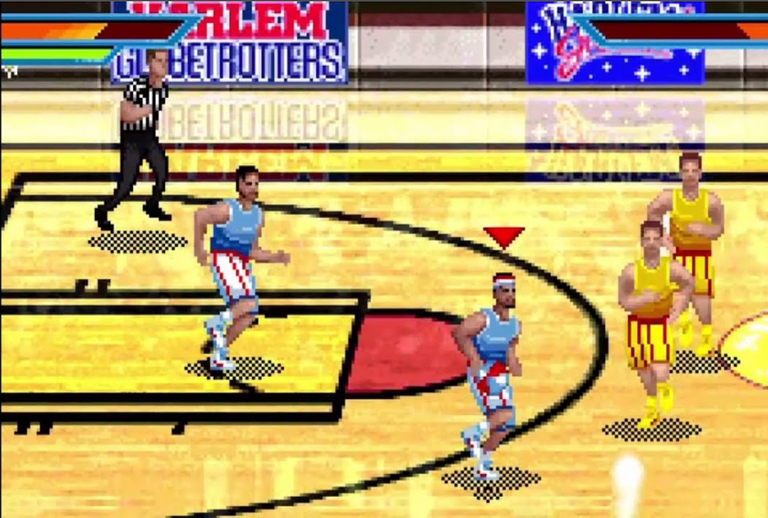 Source
---
Español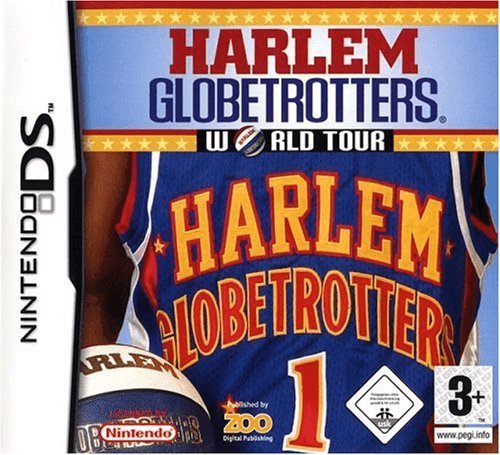 Source
Uno de los pocos juegos deportivos para NDS que me gustó
Yo nunca fui fan al 100% de las consolas, pero hubo una época en la que vivía con mi papá y pues el no tenía PC, obviamente yo necesitaba algo para jugar sí o sí, ya que yo venía de mi casa muy acostumbrado a jugar en PC, fue entonces cuándo me regaló mi primer NDS, específicamente fue una Nintendo DS XL color vinotinto, aún la recuerdo con mucho amor... Por cierto, de vez en cuando la veo, se la vendí a mi profesora de la escuela para su hijo, de vez en cuándo viene a visitar a mi casa y su hijo de 11 años la trae, aún lo mantiene como nuevo (gracias a dios, no me lo esperaba XD).
Bueno, los juegos de DS eran bastante mierda, yo disfruté demasiado algunos, pero luego de un tiempo te aburrías y necesitabas de otros, recuerdo que en mi ciudad vendían las memorias R4 con muchos juegos, claro, era algo pirata y mucho más barato que comprar juego por juego, obviamente compré una de esas memorias y con mi sorpresa venía este juego allí, nunca había jugado al básquet, ni siquiera me interesaba en esos momentos (ahora mismo me interesa mucho menos), como no tenía ningún juego de NBA descargado pues me puse a investigar (en el navegador del DS) sobre que era esto, ví algunos videos en YouTube y dios, me fascinó verlos jugar, fue en ese entonces cuándo conocí a los Harlem Globetrotters.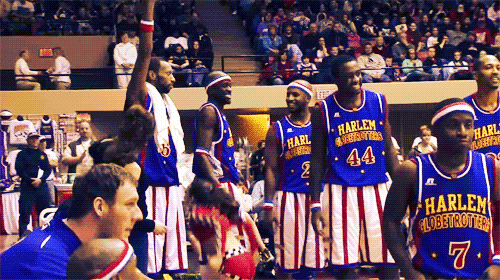 Source
Nunca había conocido esta peculiar y fantástica forma de jugar al basquetbol, me encantó y empecé a jugarlo en mi DS, era demasiado feliz para explicarlo jaja. Recuerdo perfectamente la entrada, algo demasiado sencillo y realmente iba al grano, te daba la posiblidad de crear tu perfil y listo, ibas directamente a jugar. Existían varias modalidades de juegos, yo siempre escogía la World Tour, luego de eso escogías el sitio de dónde querías que fuese tu equipo, yo no recuerdo cual era XD, y por último tus jugadores, son dos en total, puedes guiarte por sus estadísticas y así crearás tu "equipo perfecto".
El comienzo era justo como en sus partidos reales, un arbitro y 4 jugadores listos para hacer los trucos mas enfermos del puto mundo XD. El arbitro lanzaba la pelota hacia arriba y debías luchar por ella, yo siempre perdía la pelota pero no era algo tan relevante, lo importante era luego de empezar, saber desenvolverse y no fallar tiros estúpidamente, es la clave para ser un buen jugador de este tipo de deportes.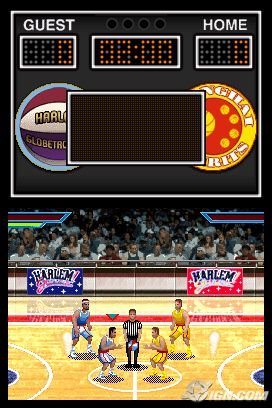 Source
Lo primero que llama la atención son los gráficos, y sí, hasta a mi mismo me impresionan ahora que los noto con mayor madurez XD, era extraño que un juego de NDS se viera así, literalmente parece un juego retro, pero no importa, nunca juzguemos a un libro por su portada. Las animaciones y movimientos también son básicos, moriría por tener ese juego en mis manos y enseñarles, pero no... O sea, me recuerda mucho a las físicas retro que todos conocemos, no son tan malas, pero tampoco destacan demasiado...
Un tema que me llamaba bastante la atención son sus colores, el juego es muy colorido y no cansa a la vista, más bien le da vivacidad al simple juego de basquet, aunque, no es tan simple... Y sí, aquí podemos correr, driblar, saltar, rebotar rápido, lento o normal el balón, podemos hacer trucos, fintas, etc. Es literalmente un gran juego de basquet y muy completo, siguiendo perfectamente el gran estilo freestyle de los Harlem Globetrotters.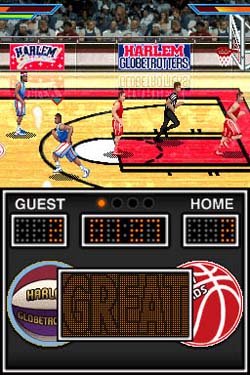 Source
Entre todo lo bueno y malo, quiero empezar con lo bueno. Este juego es divertido, cada vez que elegimos el World Tour (por ejemplo), se crea un torneo y nos obliga a ganar, podemos configurar la dificultad del CPU y aparte, podemos invitar a otros amigos que también tengan el juego y jugar un 2v2. Las mecánicas del juego son divertidas, podemos hacer trucos, eso sí, no tan exageradamente buenos como en la vida real, pero si para vacilar un rato, una vez que dominas los controles te crees el puto amo en el juego... Los otros modos de juego son divertidos también, complementan bastante...
Las cosas malas son algunas, por ejemplo, la banda sonora tristemente es un asco, o sea, estas jugando un partido de basquet emocionante o estás en un maldito funeral? Joder, la música no sirve para nada, prefiero dañar mis oídos escuchando música cristiana que esa porquería XD. Creo que le faltó mucho a las animaciones del juego, son muy pobres y para ser un juego que salió relativamente en una época "3D", el juego parece hecho con los pies de los desarrolladores.
Aún así es divertido, algo distinto para juegos deportivos, y sin duda es un juego que volvería a jugar porque es bastante competitivo, aunque no lo crean la IA es bastante buena y te reta cada vez más. En personalización podemos jugar bastante con ello, cambiar nuestros jugadores, color de uniformes y hasta elegir un escudo para nuestro equipo, es sin duda buen juego a pesar de todo. Gracias por leer hasta aquí!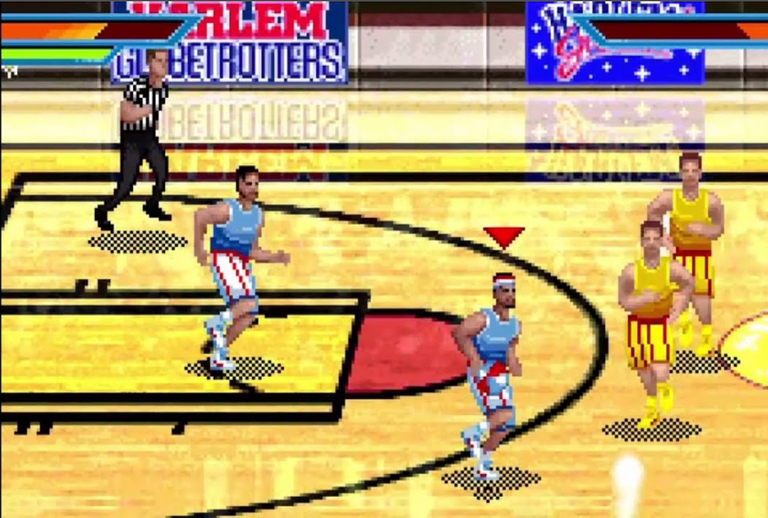 Source
---
---