Paseo Bicentenario y Complejo deportivo "José Guillén Araque", un lugar para el deporte y el esparcimiento en La Victoria / The Paseo Bicentenario and the "José Guillén Araque" sports center, a place for sports and recreation in La Victoria
¡Saludos hivers! Hoy los llevaré a pasear a un lugar donde personas de todas las edades puedan ir y disfrutar de un día de esparcimiento al aire libre. Este lugar se encuentra en la avenida Bicentenaria de La Victoria en el estado Aragua y es conocido como Paseo Bicentenario o Paseo de la Juventud.
Hello hivers! Today I will take you for a walk to a place where people of all ages can go and enjoy a day of recreation in the fresh air. This place is located on Avenida Bicentenaria in La Victoria in the state of Aragua and is known as Paseo Bicentenario (Bicentennial walk) or Paseo de la Juventud (Youth walk).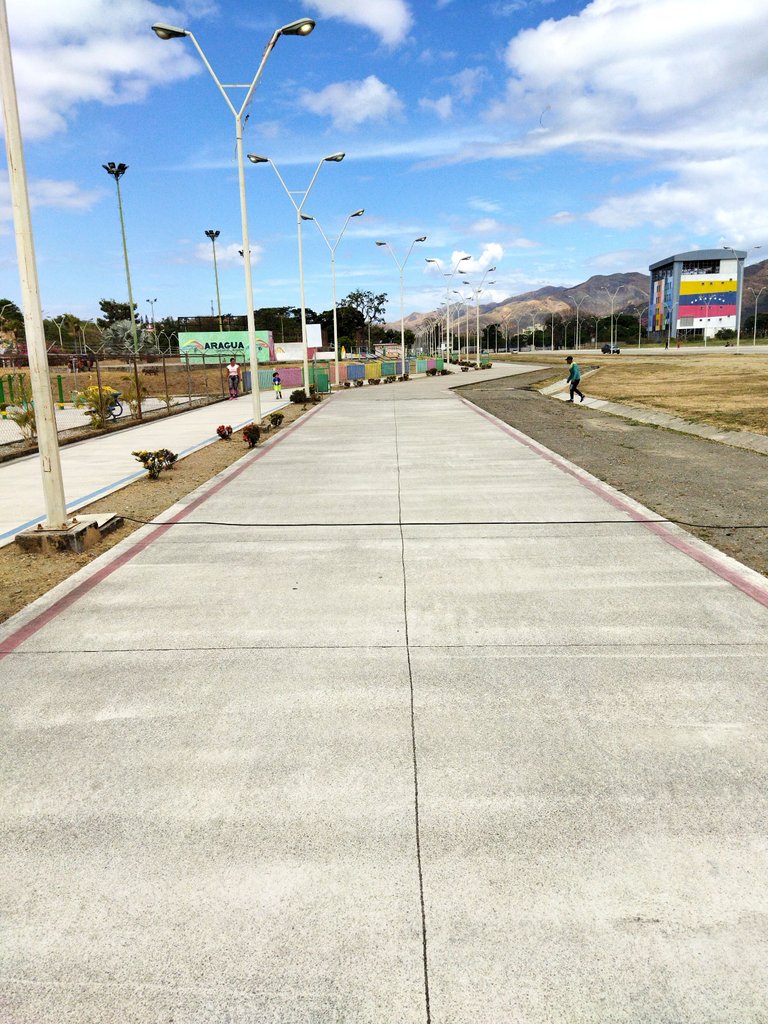 El Paseo Bicentenario fue inaugurado el 12 de febrero del 2014 en conmemoración de los 200 años de la Batalla de La Victoria, una de las más importantes para la gesta independentista. Tiene una extensión de 480 metros de largo y 30 metros de ancho y está ubicado justo en la entrada sur de la ciudad, al lado del peaje y de la sede del CONAS (Comando Nacional Anti extorsión y Secuestro). Desde el año 2015 cuenta con el complejo deportivo "José Guillén Araque", el mismo comprende caminerías, parque infantil, fuente de soda, pista de skate, ciclo vías, máquinas para ejercicios y varias canchas para la práctica de deportiva.
The Bicentennial Walk was inaugurated on February 12, 2014 in commemoration of the 200th anniversary of the Battle of La Victoria, one of the most important for the independence struggle. It is 480 meters long and 30 meters wide and is located right at the southern entrance to the city, next to the toll booth and the CONAS (National Anti-Extortion and Kidnapping Command) headquarters. Since 2015, it has had the "José Guillén Araque" sports complex, which includes walkways, a playground, a cafe and ice-cream shop, a skate park, cycle paths, exercise machines, and several fields for practicing sports.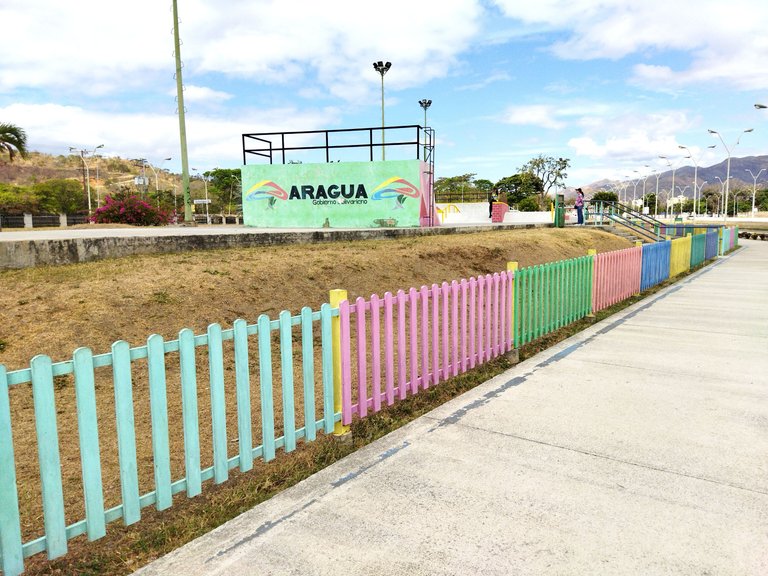 El complejo deportivo "José Guillén Araque" comprende un espacio de 48 mil metros cuadrados y aparte de los espacios ya mencionados tiene una pista de trote de 850 metros, una ciclo vía de 750 metros y dos canchas de usos múltiples. También cuenta con dos módulos de baños públicos y dos módulos para personas con diversidad funcional, un completo sistema de iluminación y estacionamiento para 150 vehículos. Estos espacios son administrados por la empresa Cincatesa adscrita a la Secretaría Sectorial del Poder Popular para el Comercio y Desarrollo Económico del Gobierno Bolivariano de Aragua, mientras que el mantenimiento y resguardo esta a cargo de la Guardia Patrimonial y la Policía de Aragua.
The "José Guillén Araque" sports complex comprises a space of 48 thousand square meters and, apart from the spaces already mentioned, it has an 850-meter jogging track, a 750-meter cycle path and two multipurpose courts. It also has two modules for public restrooms and two modules for people with functional diversity, a complete lighting system, and parking for 150 vehicles. These spaces are managed by the Cincatesa company attached to the Sectoral Secretariat of People's Power for Trade and Economic Development of the Bolivarian Government of Aragua, while the maintenance and protection is in charge of the Patrimonial Guard and the Police of Aragua.
Acompáñenme a conocerlo. Fui un domingo en la mañana así que había muy poca gente.
Come with me to visit and meet this place. I went on a Sunday morning so there were very few people.
Parque de ejercicios: en este espacio al aire libre hay máquinas para ejercitar todo el cuerpo, brazos, abdominales y piernas. Lamentablemente a algunas máquinas les falta mantenimiento porque están dañadas o les falta alguna pieza.
Exercise Park: In this outdoor space there are machines to exercise the whole body, arms, abs and legs. Unfortunately, some machines lack maintenance because they are damaged or some part is missing.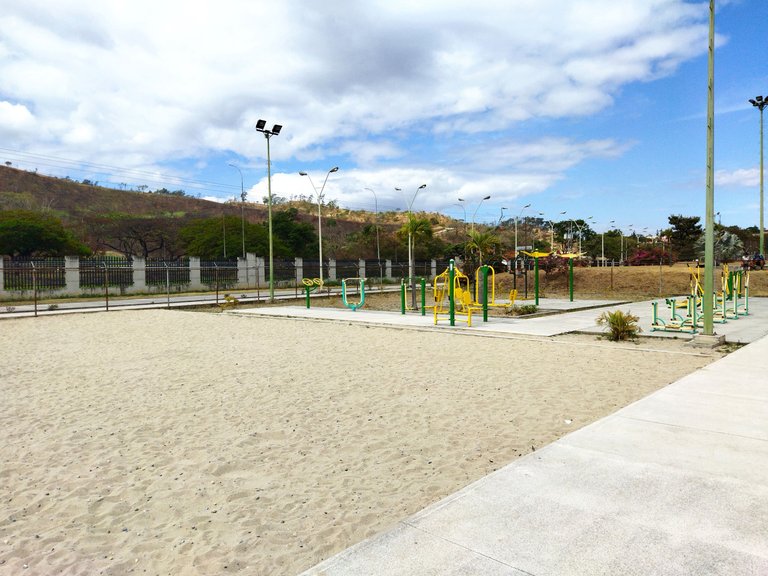 Junto a este gimnasio al aire libre hay un gran foso con arena de playa / Next to this open-air gym is a large moat with beach sand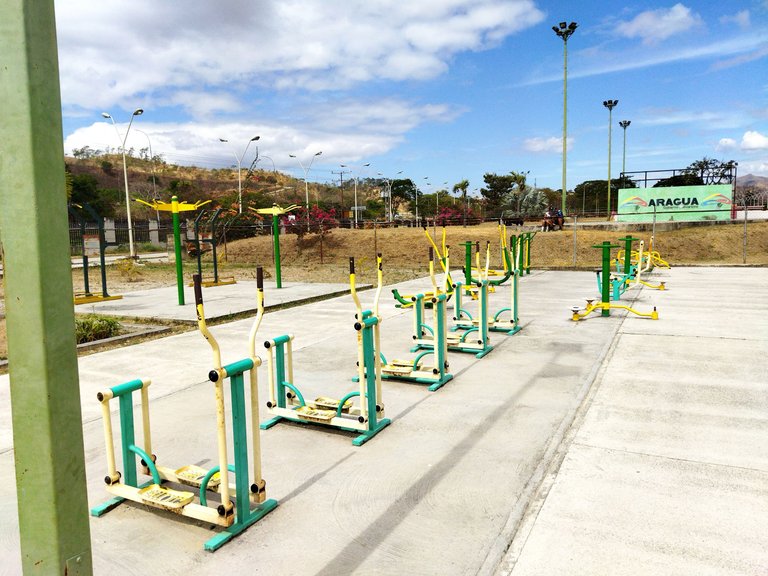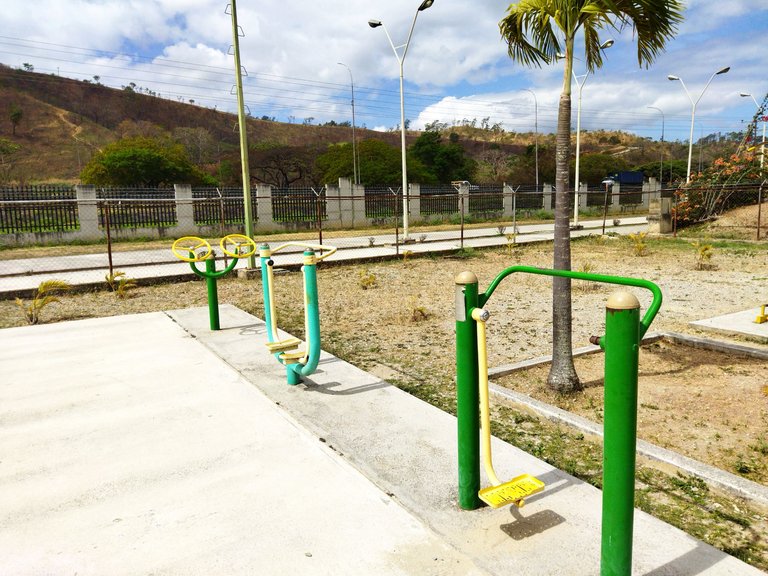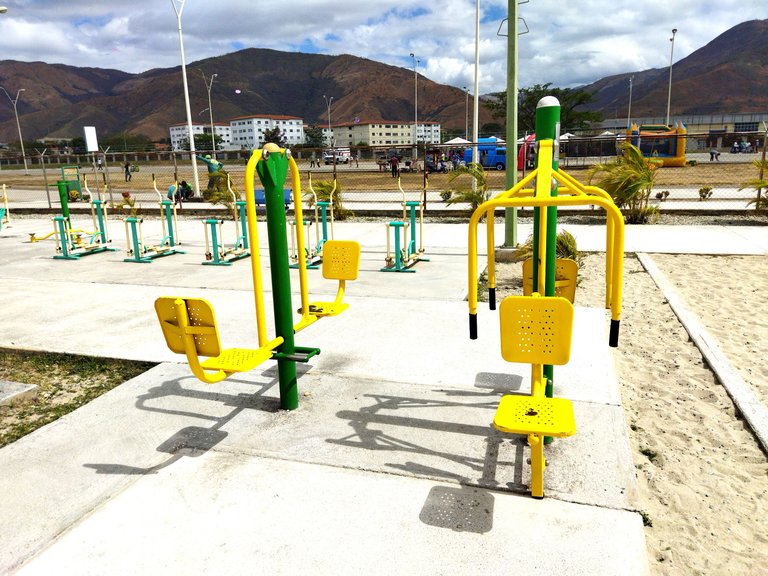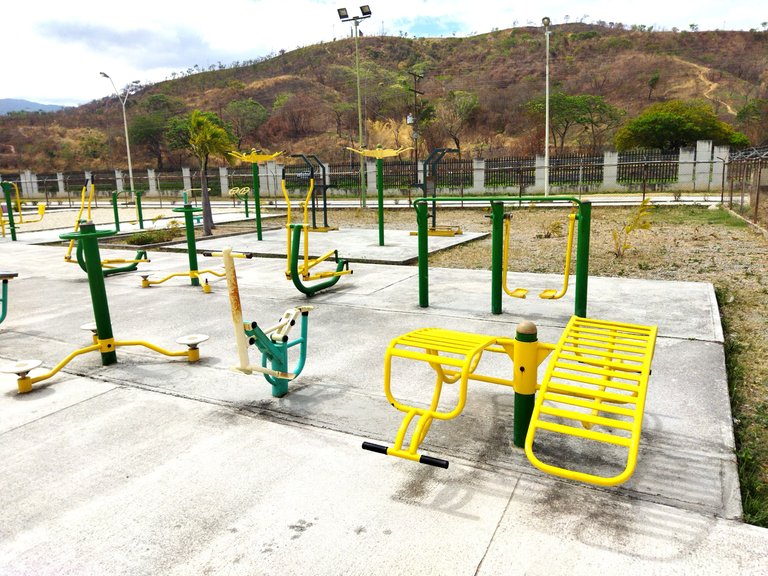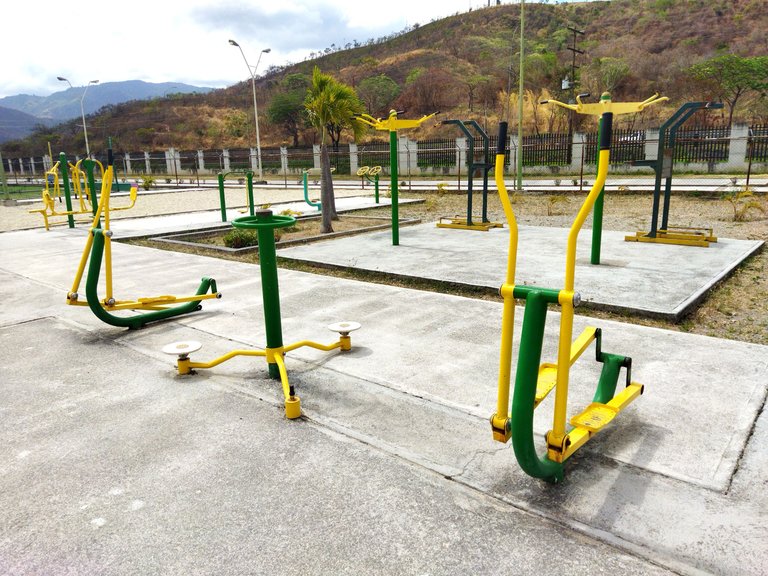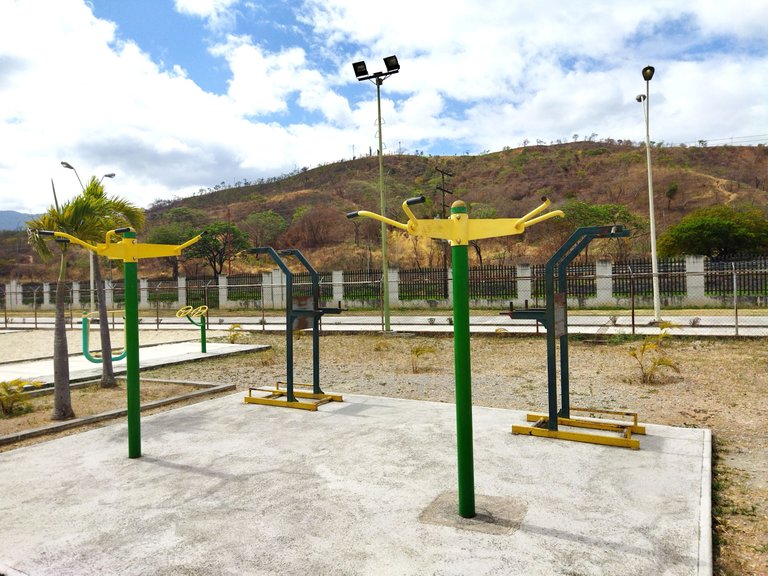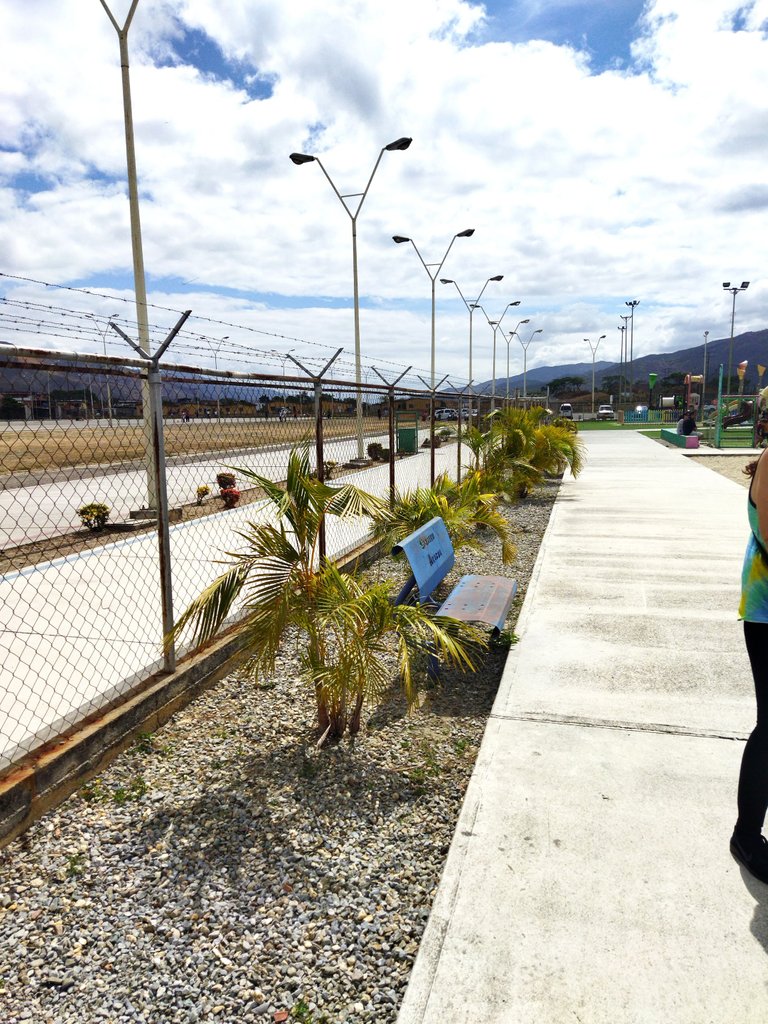 El que no quiere hacer ejercicios simplemente se sienta aquí a mirar a los que si se ejercitan jajaja / Those who don't want to exercise just sit here to watch those who do exercise hahaha
Parque infantil: cuanta con unos bonitos espacios para que los niños se diviertan.
Playground: It has some beautiful spaces for children to have fun.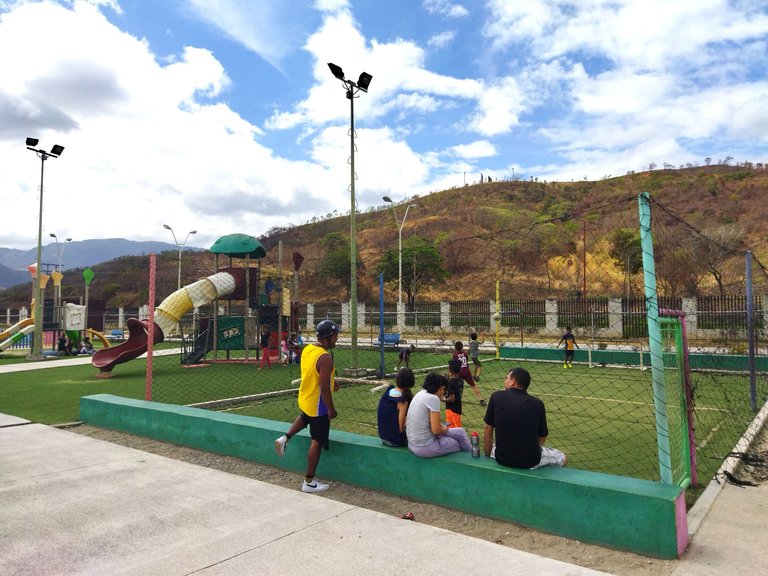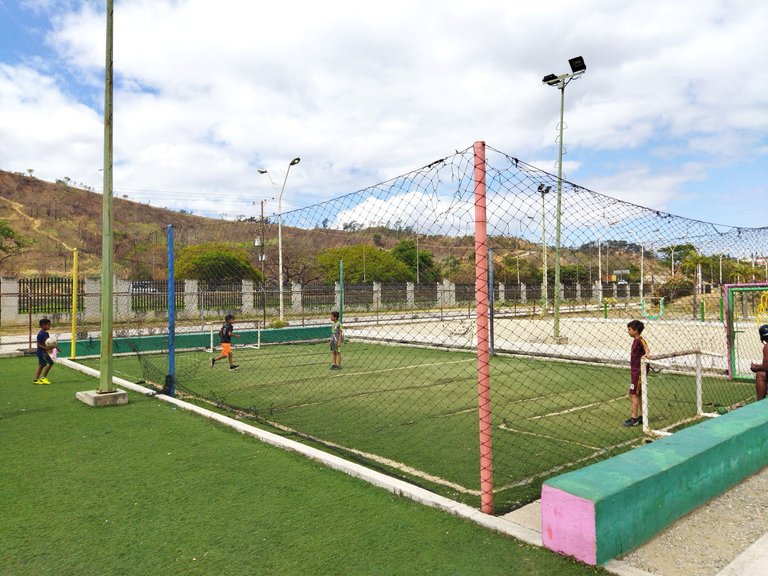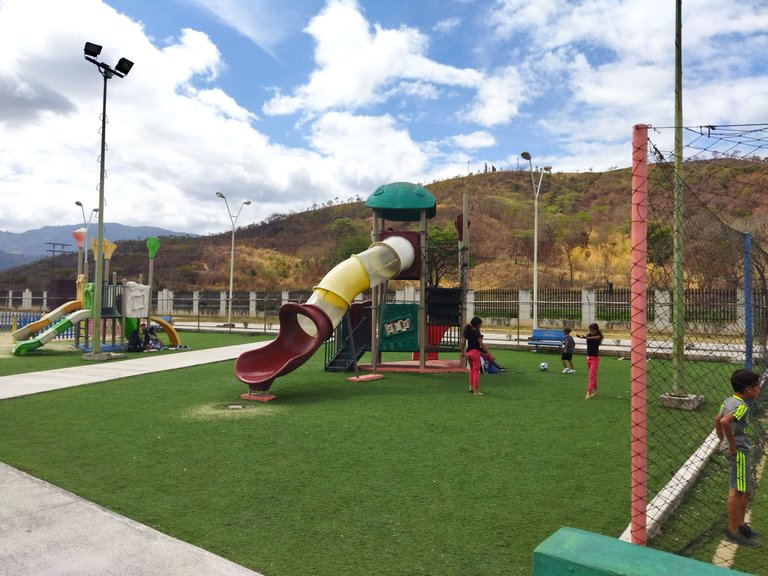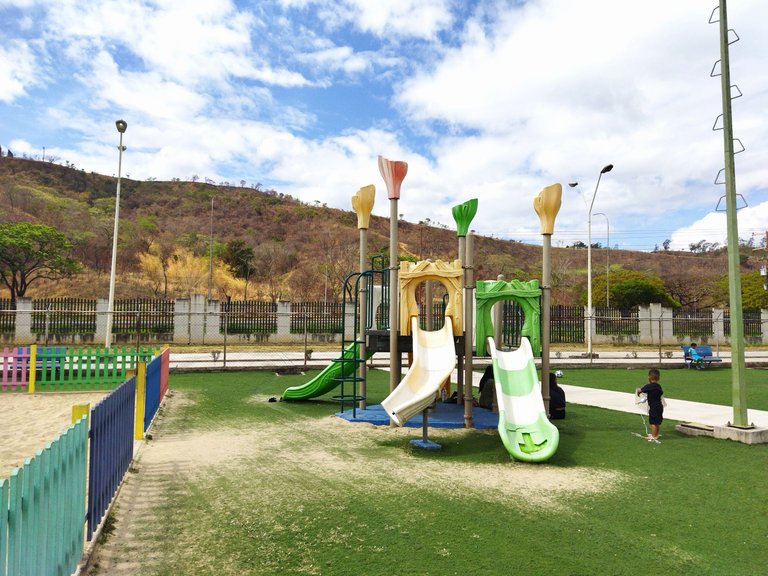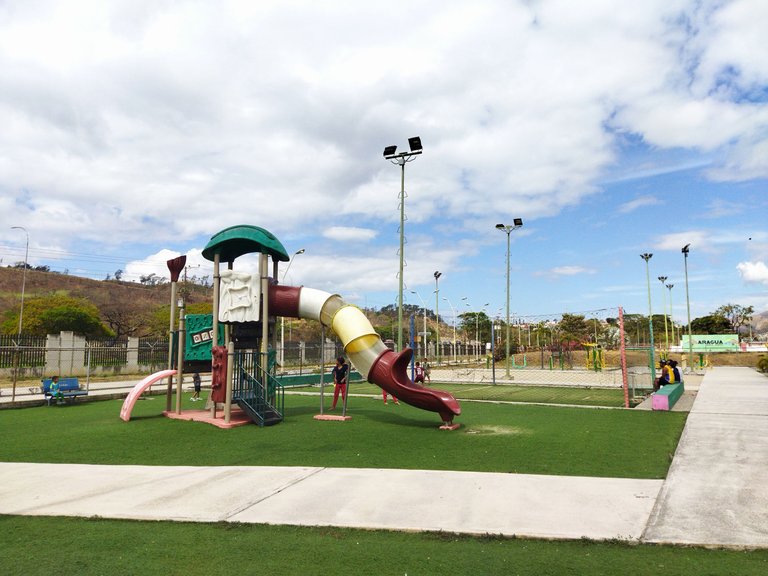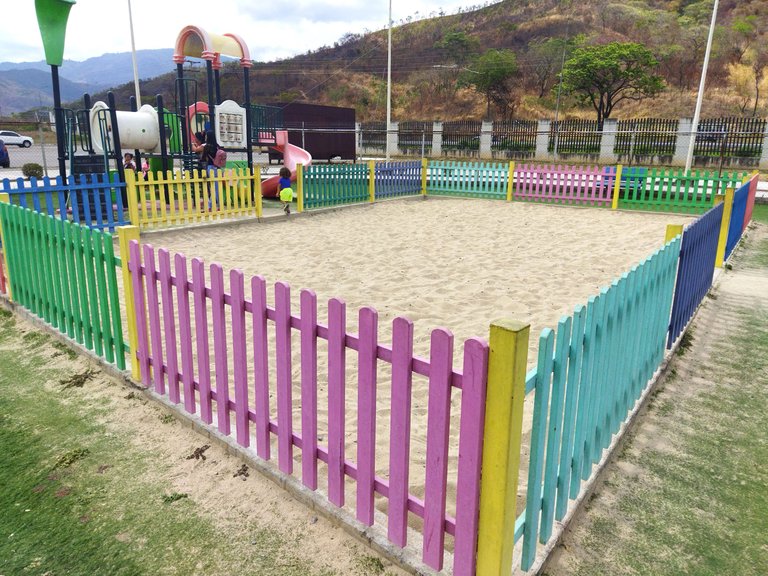 Esto se ve muy divertido 😁 / This looks really fun 😁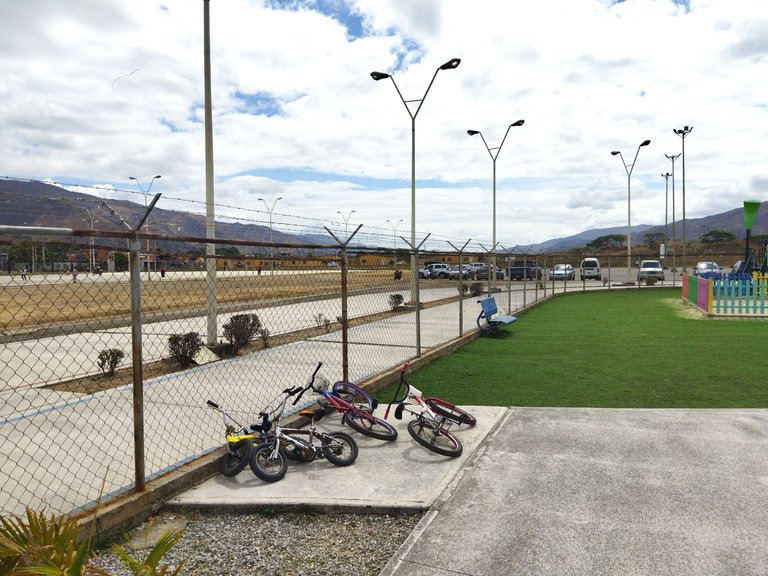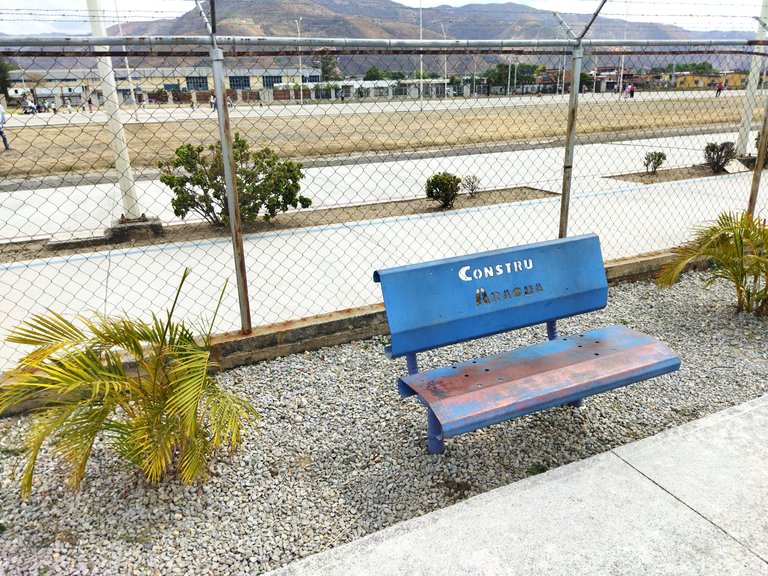 Pista de skate:
en mi ciudad hay varias pistas improvisadas de skate que los mismos patineteros han ido haciendo en sus calles y urbanizaciones usando rampas y rieles de equilibrio, algunos son temporales, los ponen para practicar y al terminar los vuelven a guardar.
Skate track: In my city there are several improvised skate tracks that the skateboarders themselves have been making in their streets and urbanizations using ramps and balance rails, some are temporary, they put them to practice and when they finish they put them away again.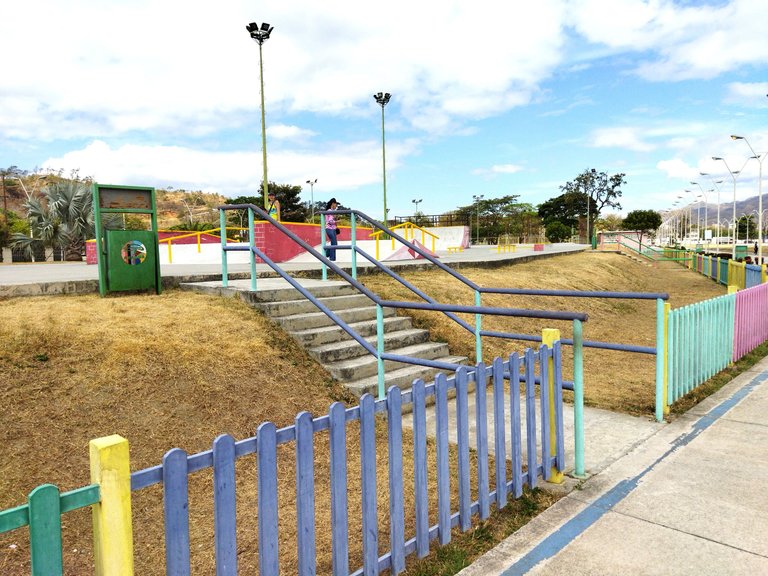 Entrada a la pista de skate 🛹 / Entrance to the skate track 🛹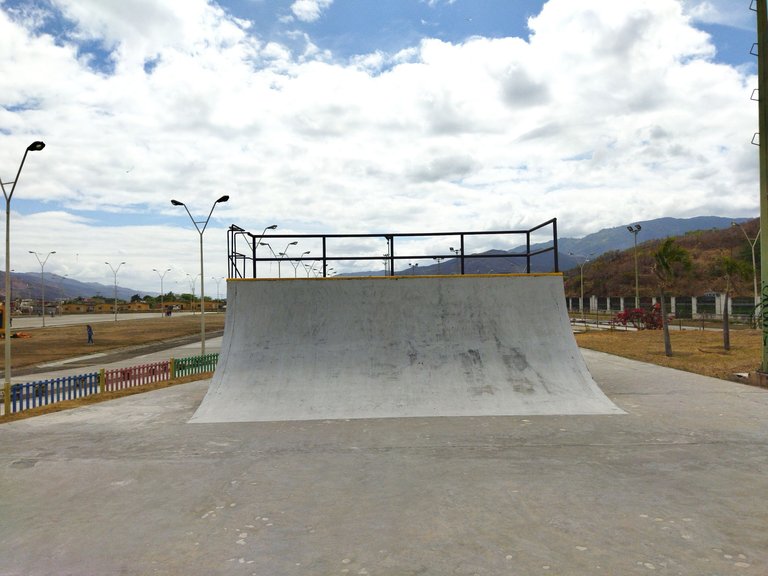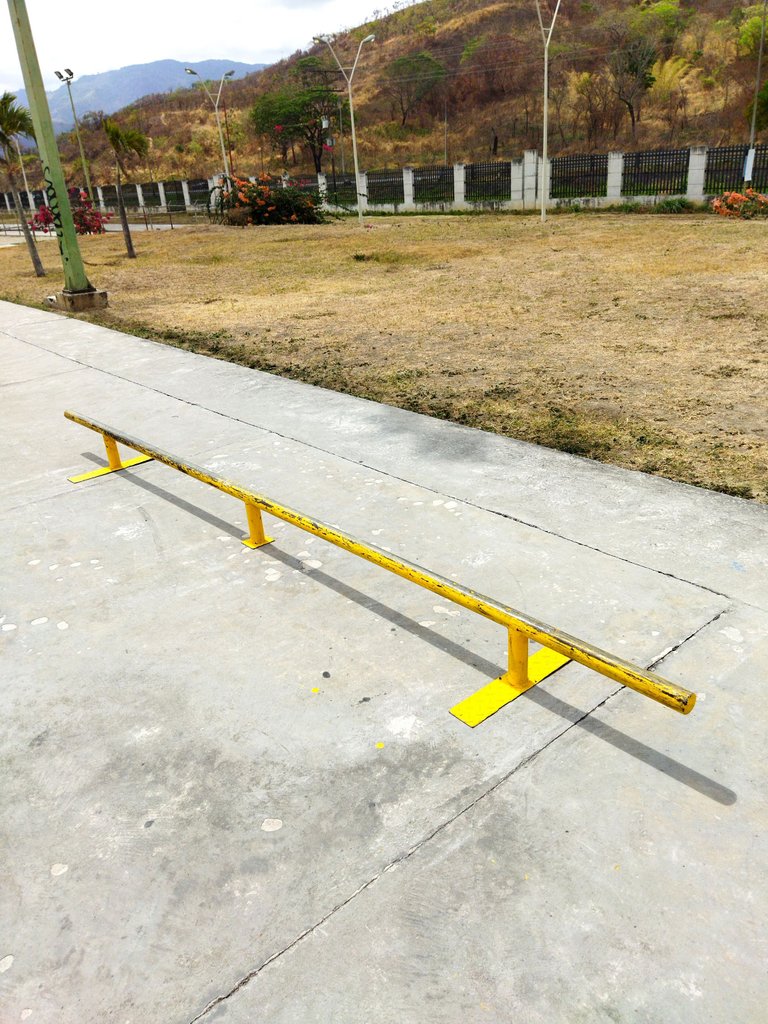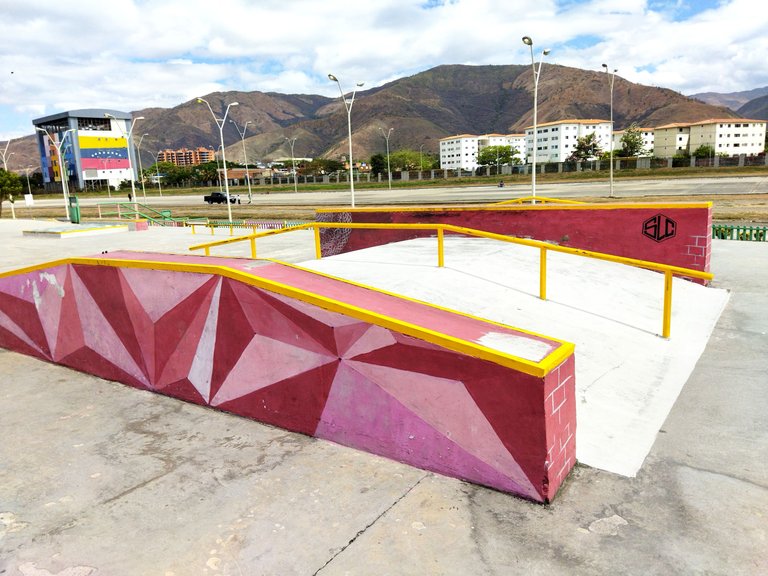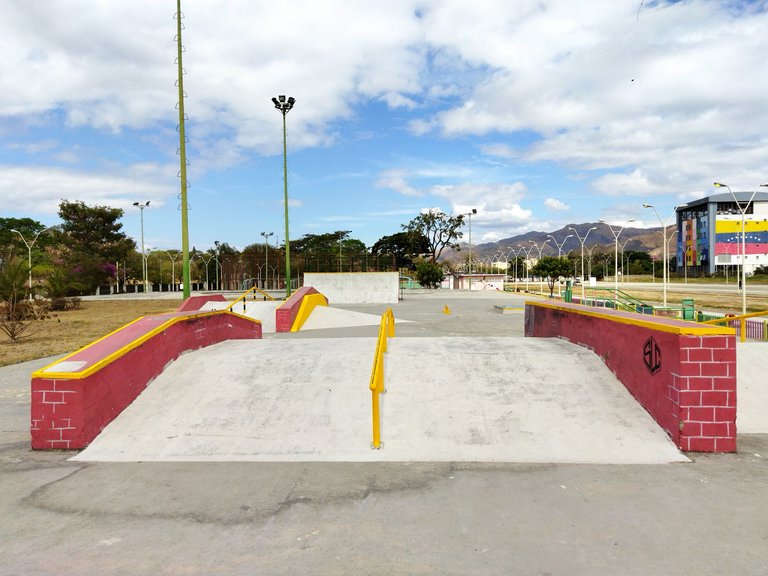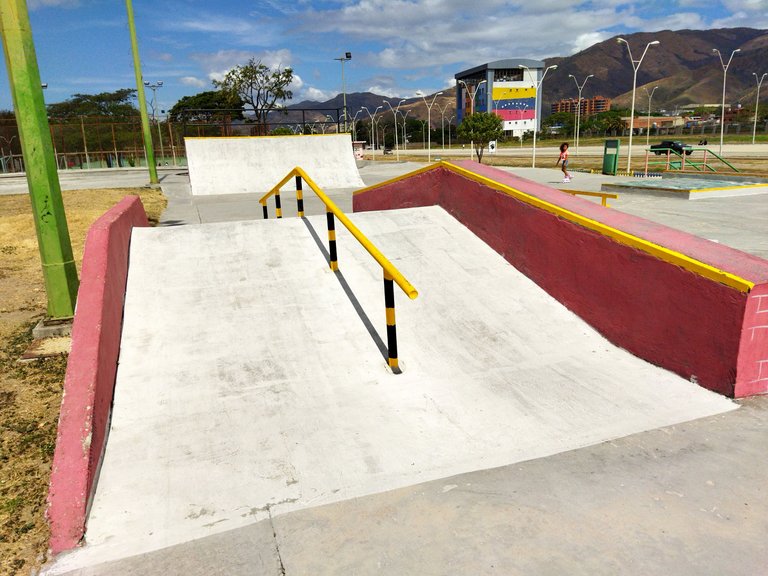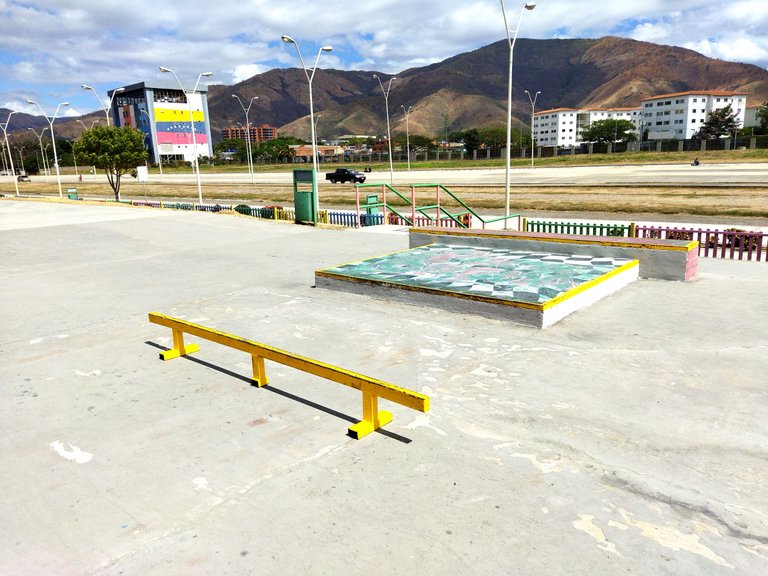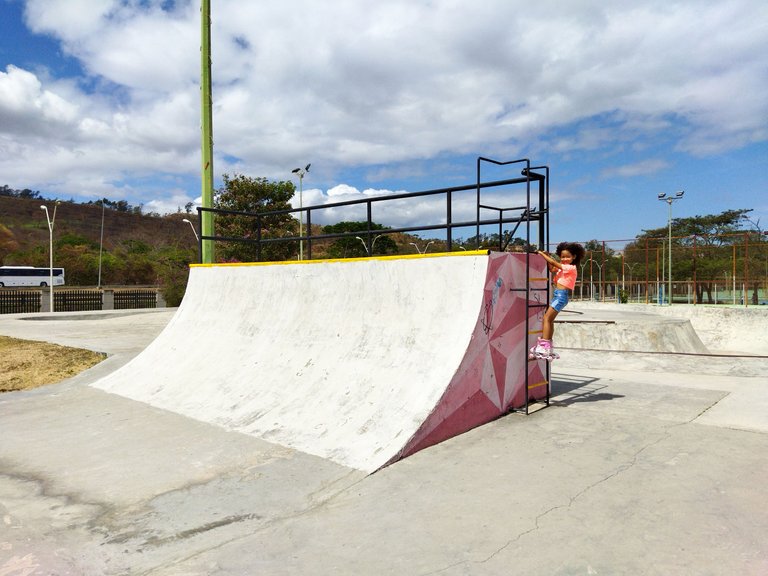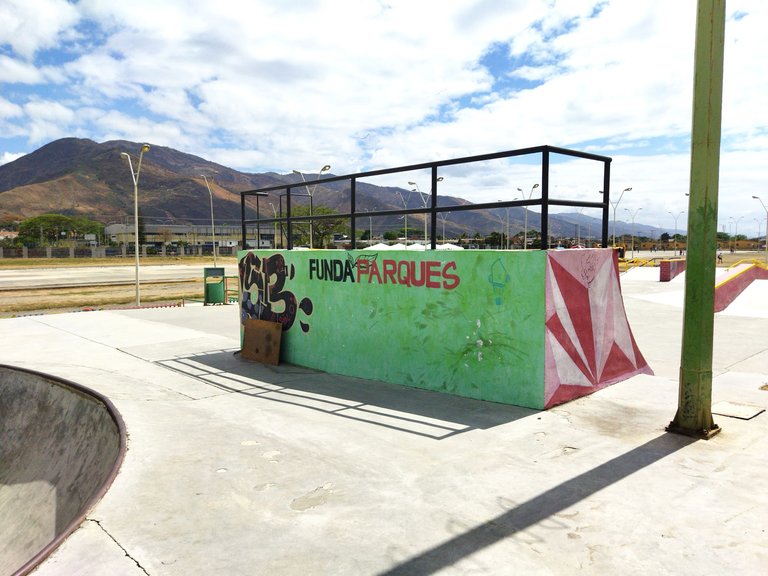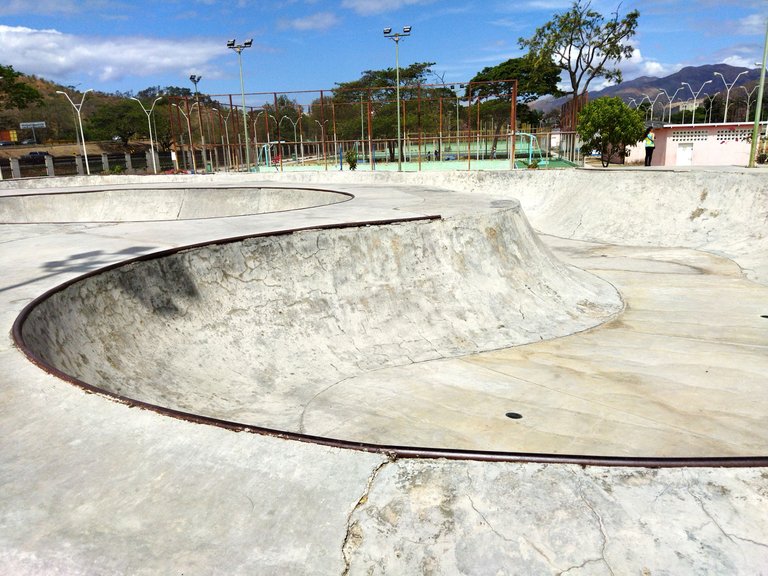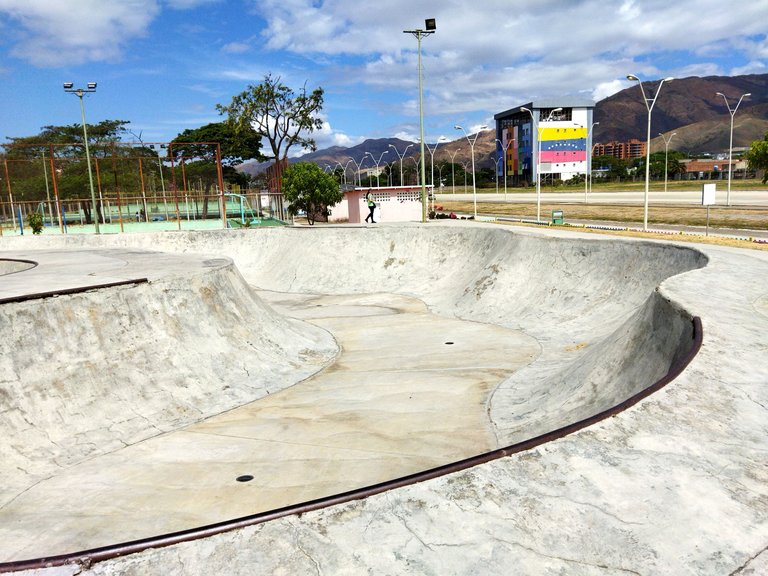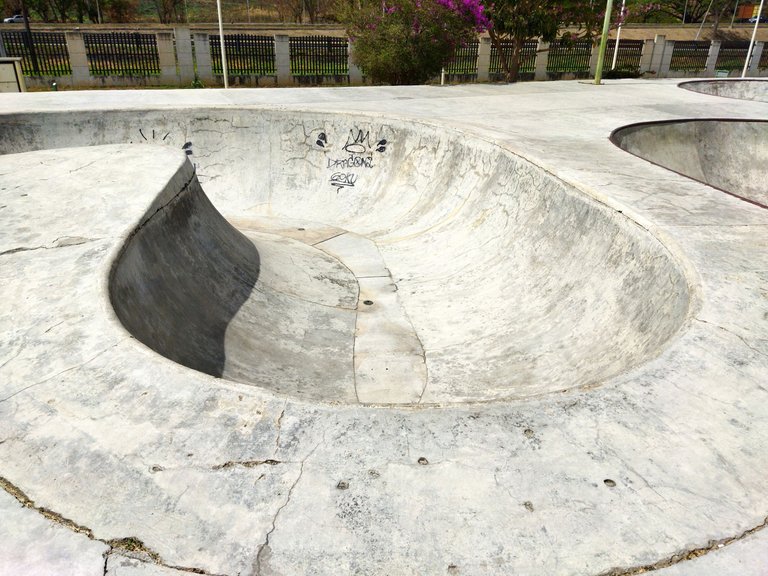 Se ve realmente intimidante lanzarse con una patineta en una de estas fosas 😬 / It looks really intimidating to launch yourself with a skateboard in one of these pits 😬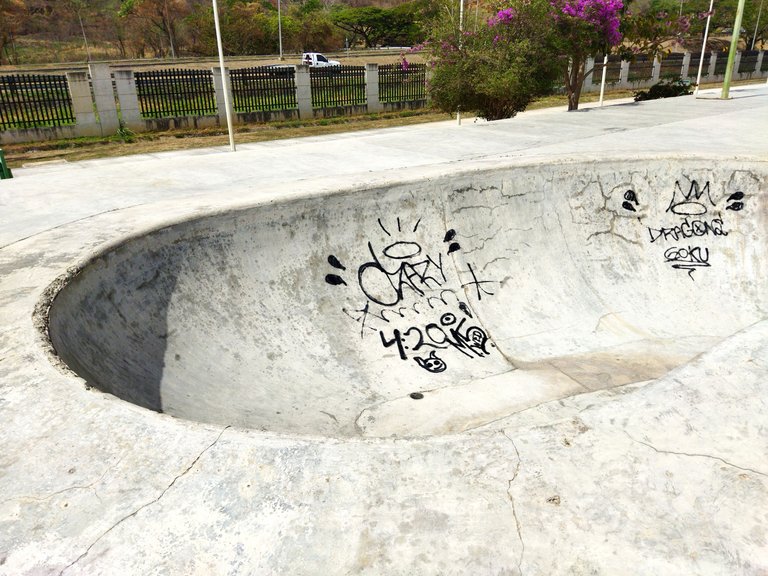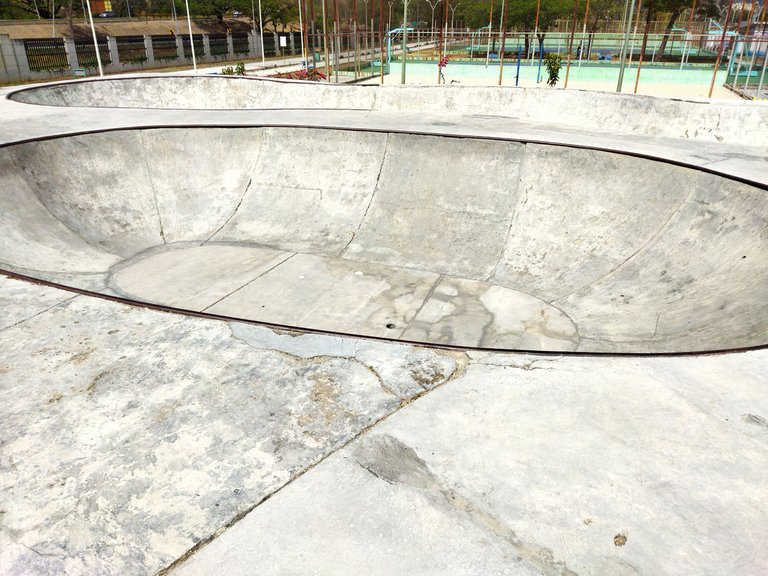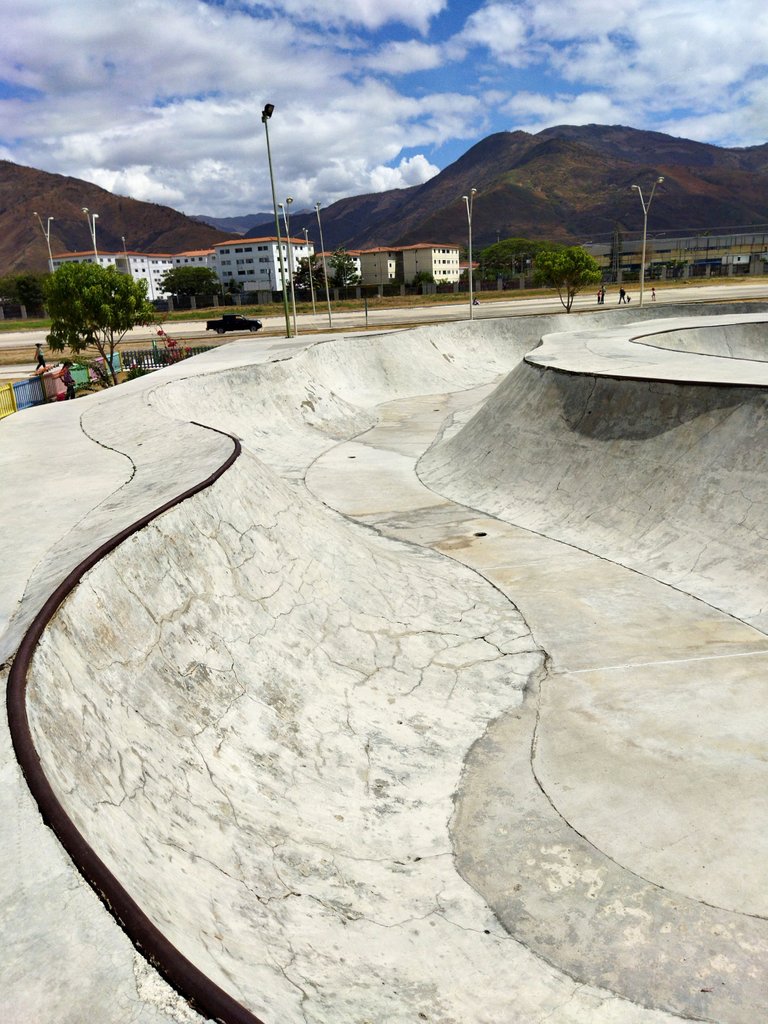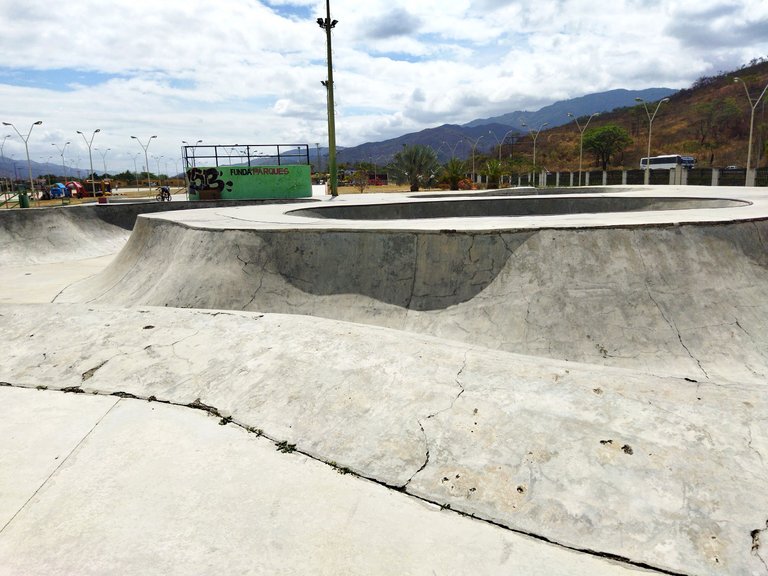 Complejo deportivo: el paseo Bicentenario cuenta con canchas para la práctica de deportes como tenis, baloncesto, fútbol sala y voleibol de playa.
Sports areas: the Bicentennial walk has courts for sports such as tennis, basketball, futsal and beach volleyball.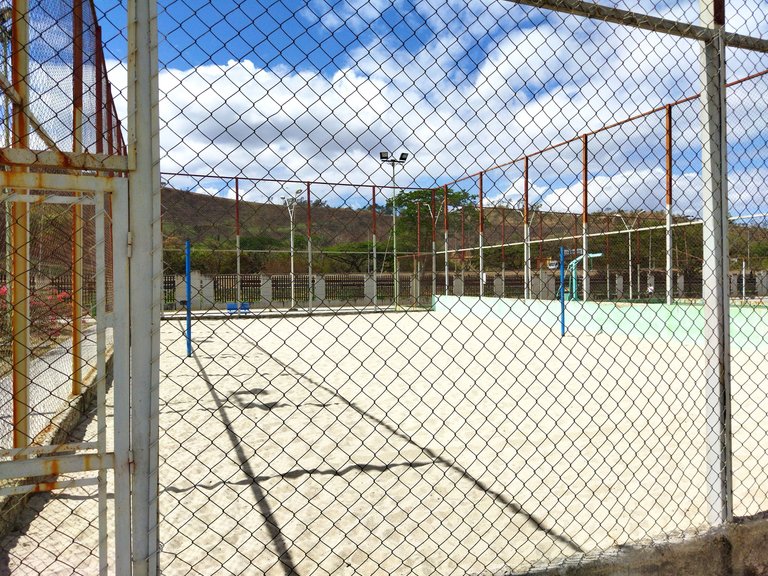 Cancha de voleibol de playa 🏐/ Beach voleyball court 🏐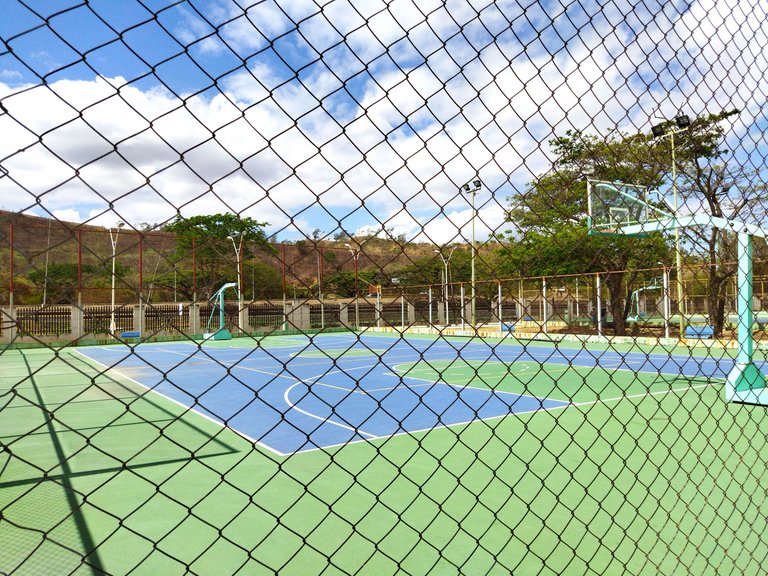 Baloncesto 🏀 / Basketball 🏀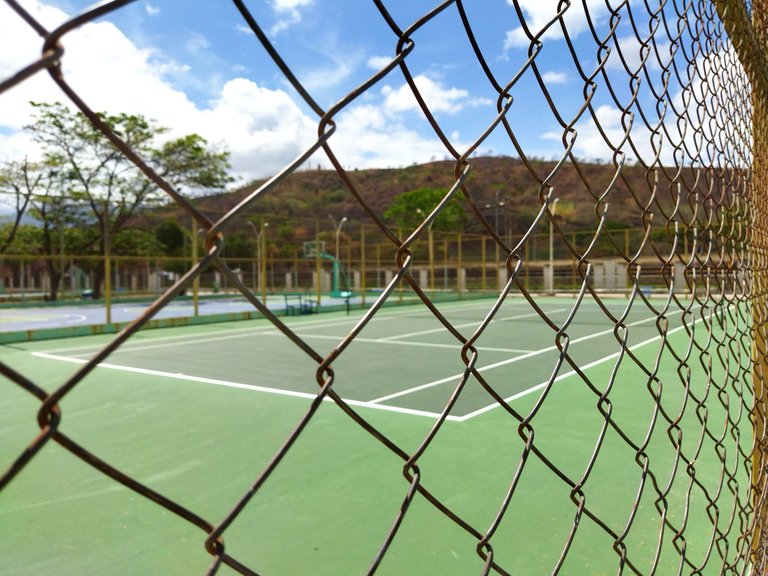 Tenis 🥎/ Tennis 🥎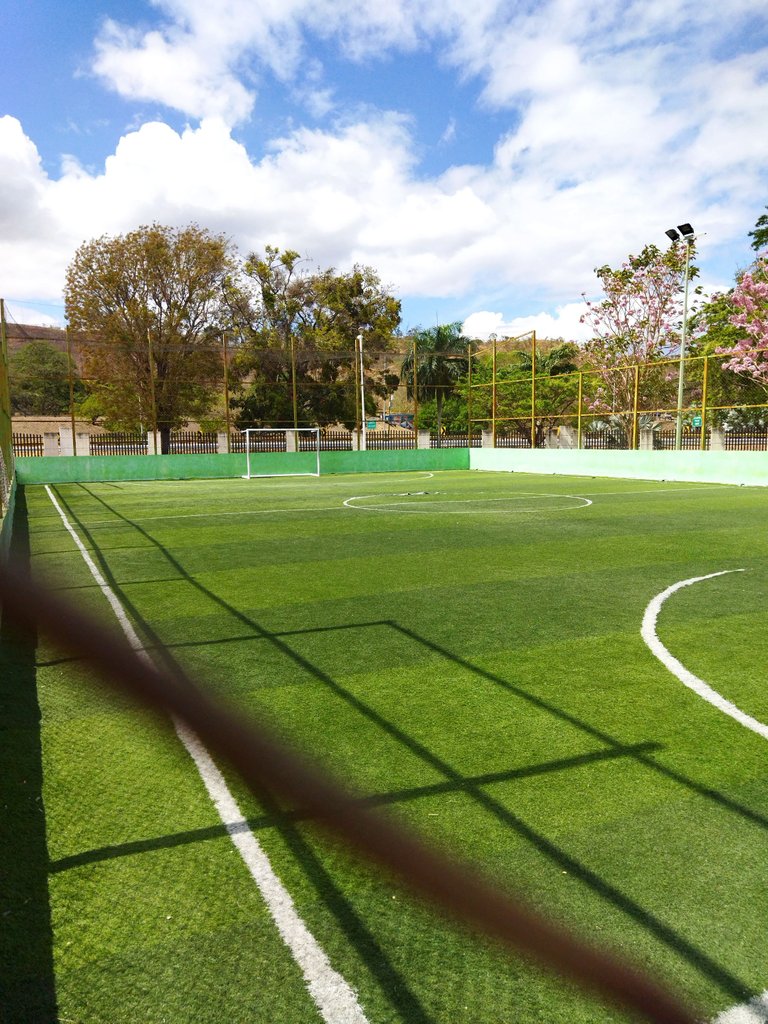 Cancha de fútbol sala ⚽/ Futsal court ⚽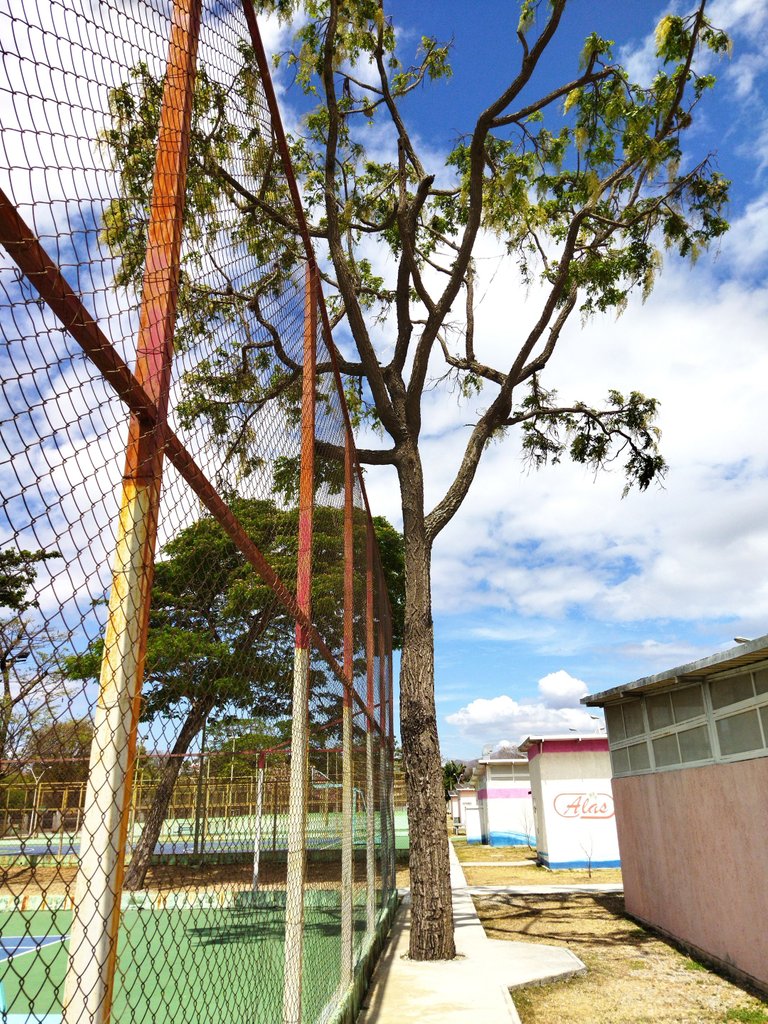 Algunas otras áreas / Some other areas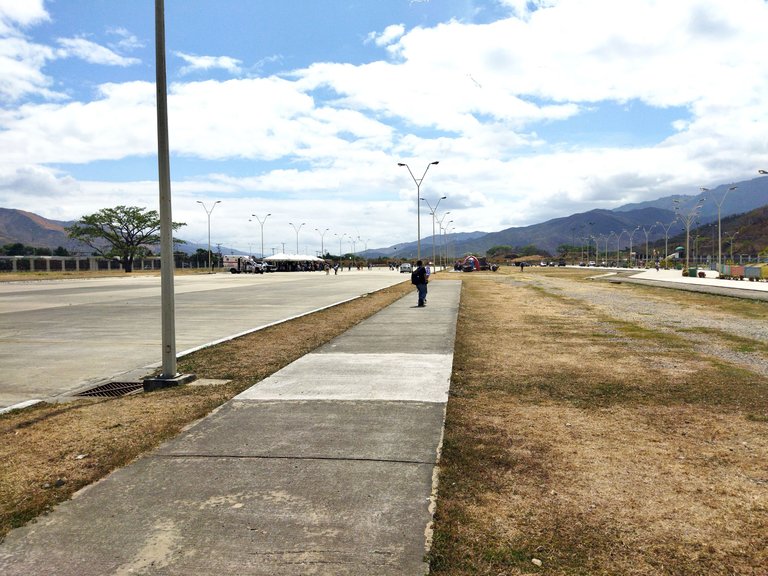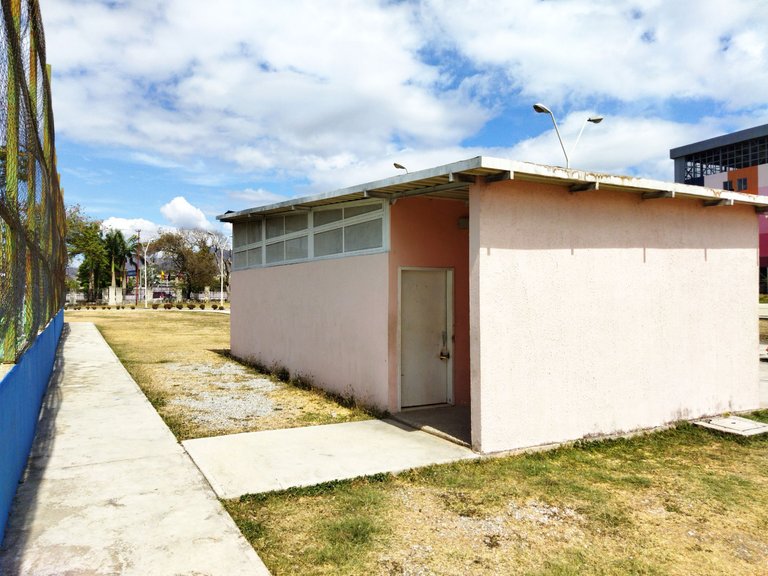 En esta casita hay un policía y también te dan información, olvidé preguntar el horario del uso de las canchas 🤦🏻‍♀️ / In this little house there is a policeman and they also give you information, I forgot to ask for the courts use schedule 🤦🏻‍♀️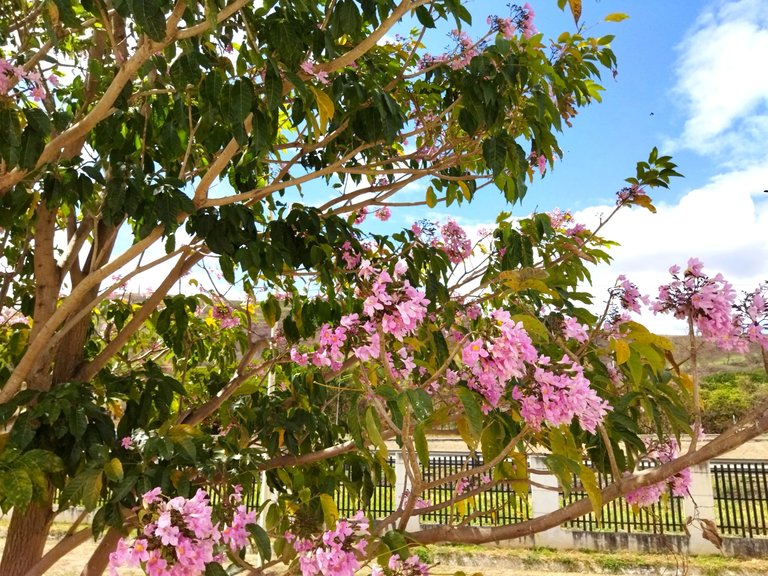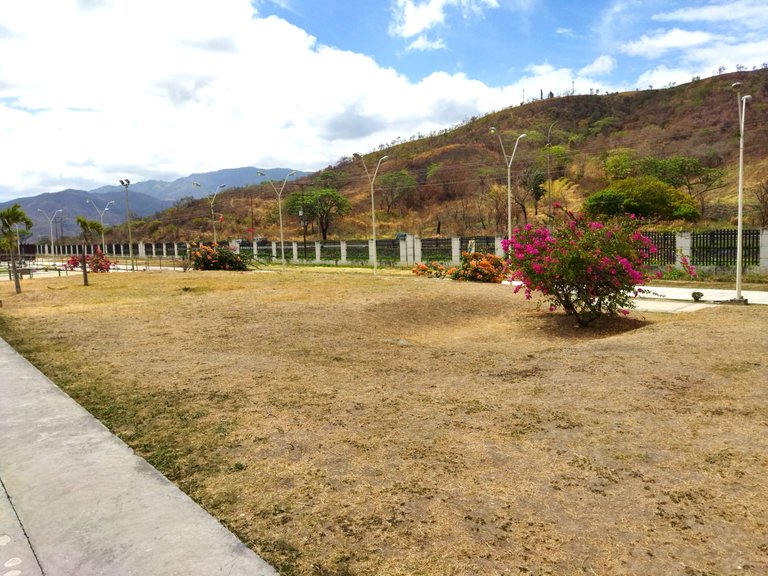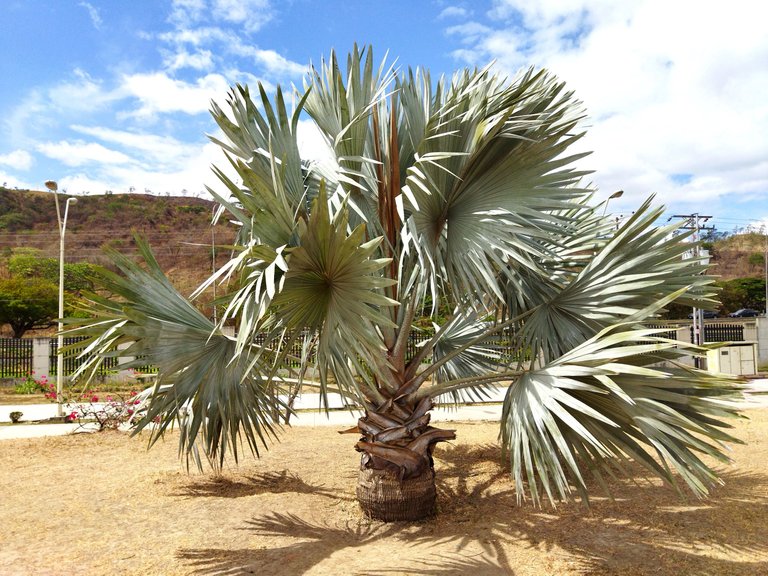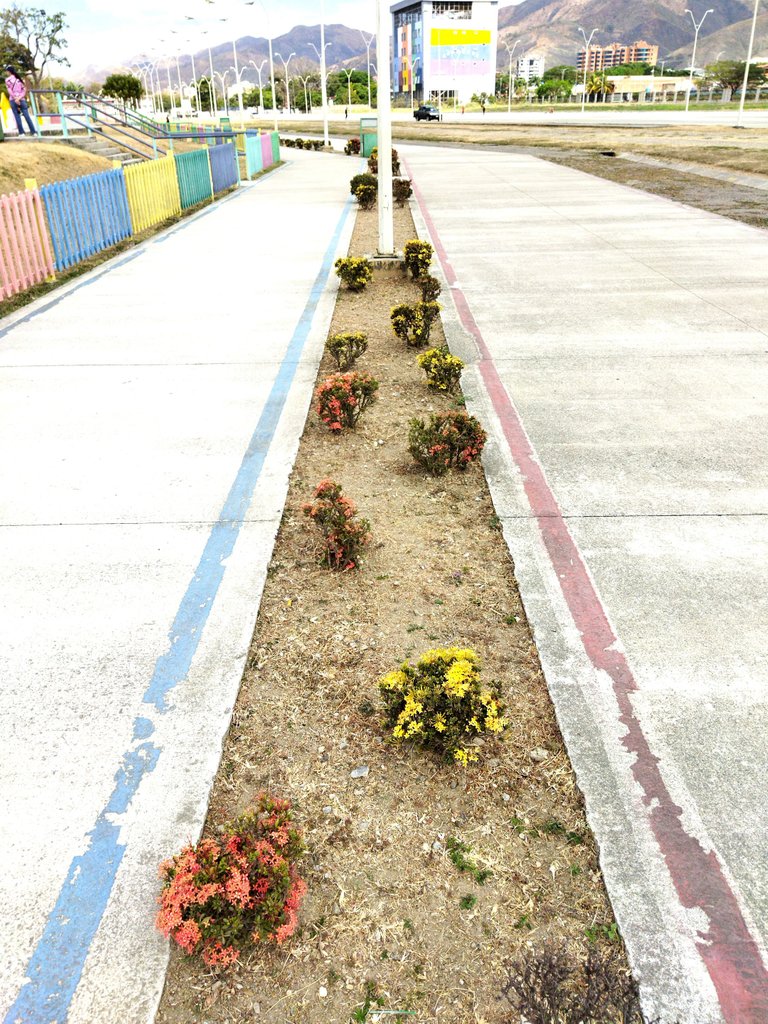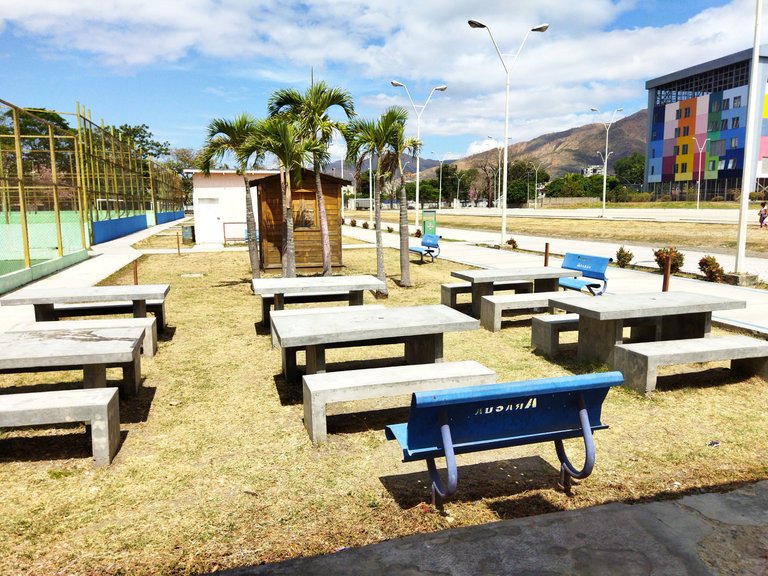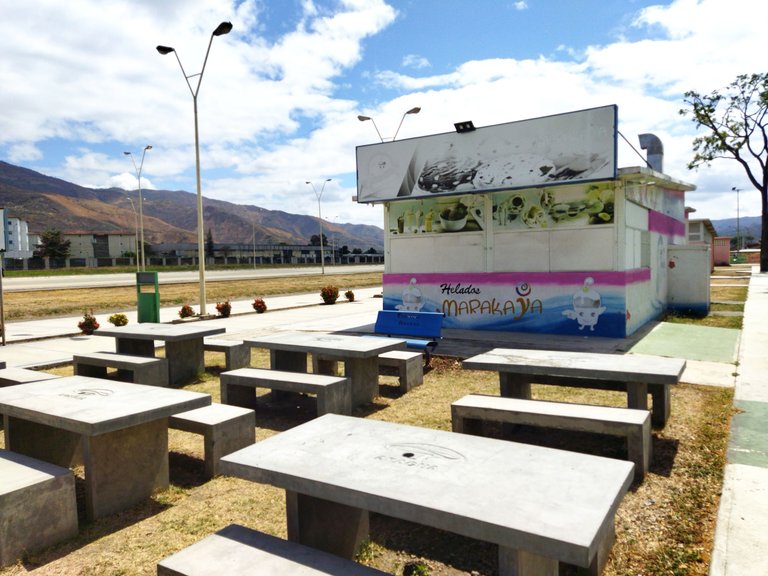 Heladería 🍨/ Ice-cream shop 🍨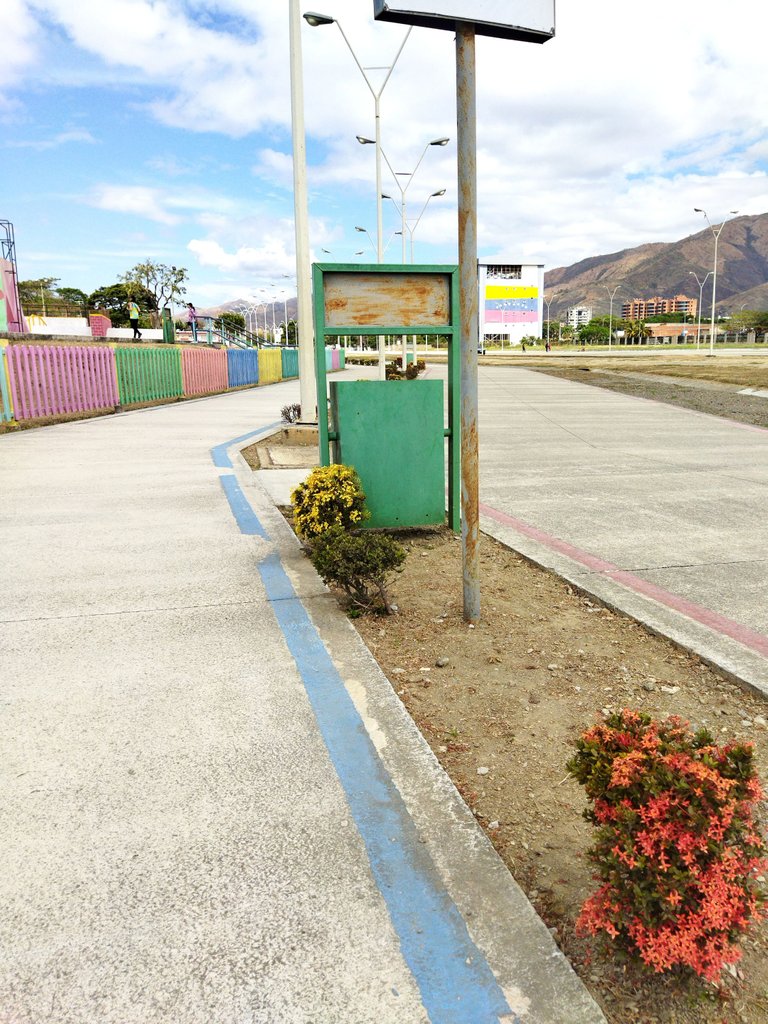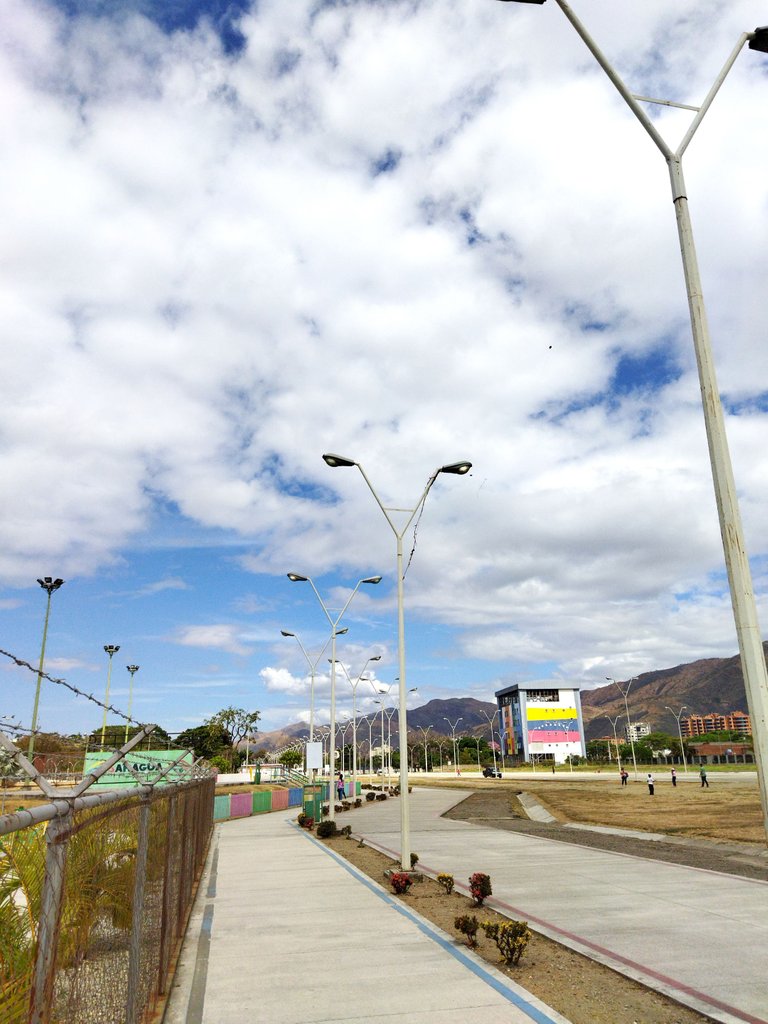 El Paseo Bicentenario es un lugar con un gran potencial, en sus espacios se realizan grandes eventos como la elección de la reina de la Juventud, exposiciones de autos, actividades culturales y recreativas, desfiles y conciertos entre muchas más, sin embargo, hacen falta arboles, es una de las cosas que yo le agregaría, muchos arboles de sombra y frutales así como más vegetación, los arboles realmente le darían un aspecto totalmente diferente a este lugar, sería más fresco y mucho más agradable para sus visitantes. La casi ausencia de arboles a lo largo de sus áreas es una de las razones por las cuales la mayoría de las personas que lo visitan van en las tardes cuando el sol no está tan fuerte. Ojalá las autoridades encargadas de este lugar realicen un plan de reforestación y lo llenen de muchos arboles para que la gente pueda sentarse bajo sus sombras a hacer un picnic, leer, conversar, compartir con familiares y amigos o simplemente disfrutar del lugar.
The Paseo Bicentenario is a place with great potential, in its spaces large events such as the election of the Queen of Youth, car exhibitions, cultural and recreational activities, parades and concerts among many others are held, however, trees are needed, it´s one of the things that I would add, many shady and fruit trees as well as more vegetation, the trees would really give a totally different aspect to this place, it would be cooler and much more pleasant for its visitors. The almost absence of trees throughout its areas is one of the reasons why most of the people who visit it go in the afternoons when the sun is not so hot. Hopefully the authorities in charge of this place carry out a reforestation plan and fill it with many trees so that people can sit under their shadows to have a picnic, read, chat, share with family and friends or simply enjoy the place.
Bueno amigos, espero hayan disfrutado de este paseo y los invito a conocerlo. Gracias por su tiempo.
Well friends, I hope you have enjoyed this tour and I invite you to visit it. Thanks for your time.
Todas las fotos fueron hechas y editadas por mi con mi celular Redmi 9T y me pertenecen / All photos were taken and edited by me with my Redmi 9T cellphone and they belong to me
Gracias por leer, compartir, apoyar, votar y comentar.
Hasta la próxima.
¡Miau!
Thanks for read, share, vote and comment. Until next post. Meow!
---
---