Cardio sin saltos. / 🔥❤️🔥Cardio without jumps.
---
Saludos querida comunidad de full deportes, comienzo mi semana activa con una grandiosa rutina llena de cardio; con muchos beneficios para nuestro cuerpo como, fortalecer la resistencia, ayuda al ritmo cardiaco también quemar muchas calorías, en este entrenamiento no requerí de saltos en mi rutina solo movimientos activos y enérgico buenísimo para acondicionar el cuerpo, los invito a ver toda mi rutina completa espero que les guste mi inicio de semana activada con un activo cardio; así que mis amigos acompañeme.
Greetings dear community of full sports, I start my active week with a great routine full of cardio; with many benefits for our body as, strengthen the resistance, helps the heart rate also burn many calories, in this training I did not require jumps in my routine only active and energetic movements very good for conditioning the body, I invite you to see all my complete routine I hope you like my start of week activated with an active cardio; so my friends join me.
---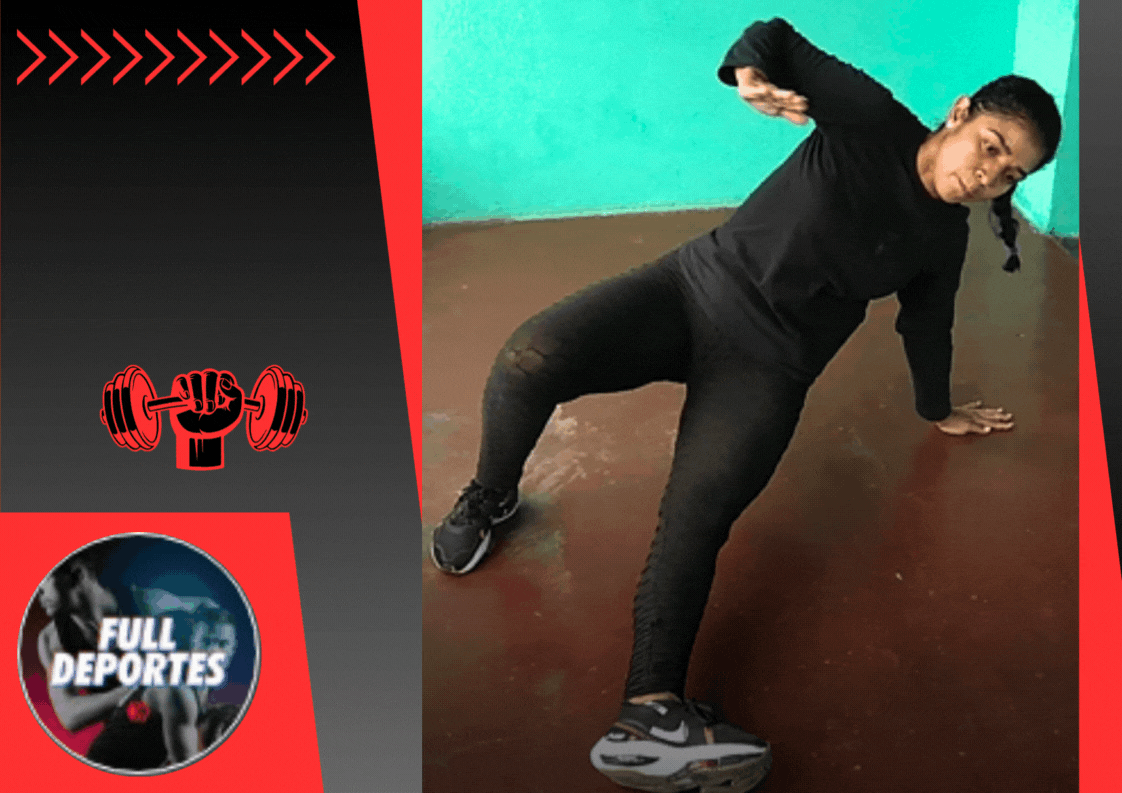 ---

---
Calentamiento./ Heating.
Trote estático con sentadilla./Static jogging with squat
---
En mi calentamiento realice, un breve trote estático combinado con sentadilla; movimiento que me ayuda acondicionar el 100 % de mi cuerpo, lo realice en 2 series de 45 segundos.
In my warm-up I did a short static jog combined with a squat; movement that helps me to condition 100% of my body, I did it in 2 sets of 45 seconds.
---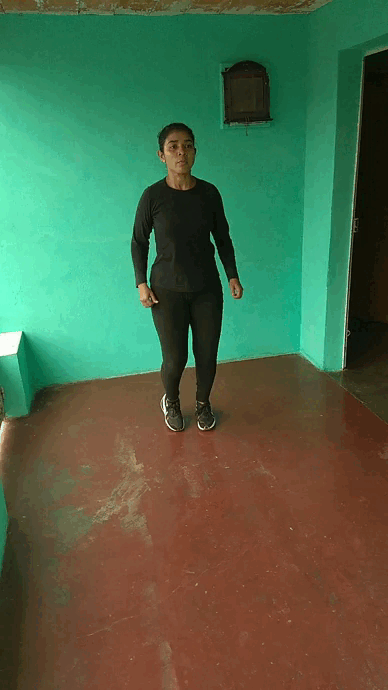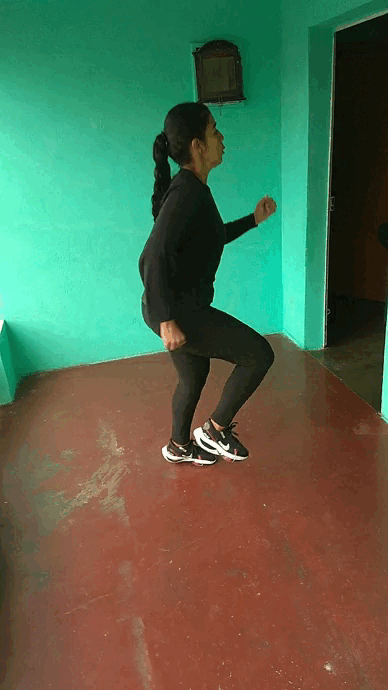 ---

---
Rutina./Routine.
---
Sentadilla + flexión de pierna y elevación en puntilla./ Squat + leg curl and toe raise.
---
Primer ejercicio, movimiento bien intenso que se enfoca en la parte femoral y parte de la pantorrilla, este ejercicio lo realice en 4 series de 30 segundos.
First exercise, very intense movement that focuses on the femoral part and part of the calf, this exercise was performed in 4 sets of 30 seconds.
---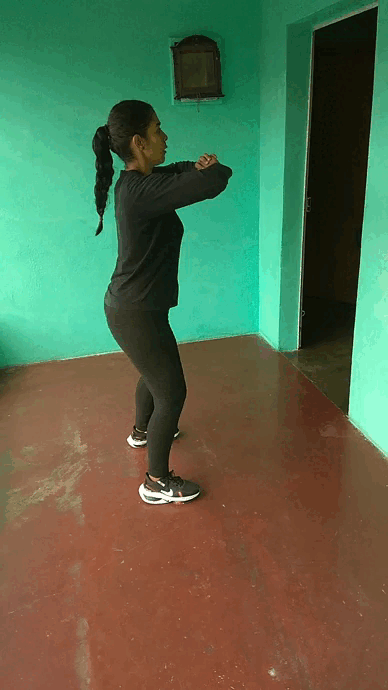 ---
Rotación con toque en los pies./Rotation with touch on the feet.
---
Segundo ejercicio, rotación con toque en los pies, movimiento que trabaja el abdomen, este ejercicio se realiza de manera dinámica, lo realice en 4 series de 30 segundos.
Second exercise, rotation with touch on the feet, movement that works the abdomen, this exercise is performed dynamically, I did it in 4 sets of 30 seconds.
---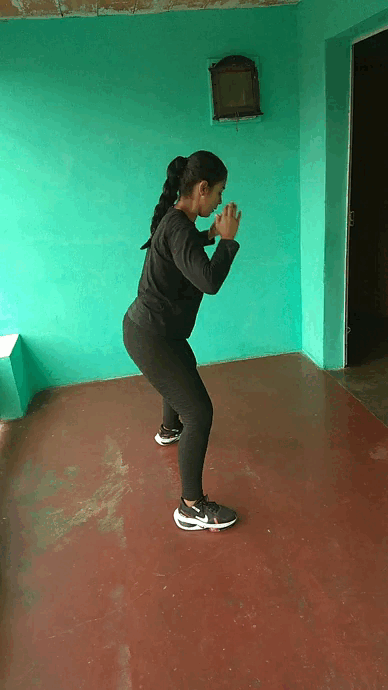 ---
Patada lateral + estocada./Side kick + lunge.
---
Tercer ejercicio; en el siguiente movimiento realicé patada lateral combinado con estocada, este ejercicio es bien activo me ayuda al estiramiento y a su vez fortalecimiento de mi tren inferior, luego repetí el mismo procedimiento en la otra pierna, en 4 series de 30 segundos en cada pierna.
Third exercise; in the following movement I performed a side kick combined with a lunge, this exercise is very active and helps me to stretch and strengthen my lower body, then I repeated the same procedure on the other leg, in 4 sets of 30 seconds on each leg.
---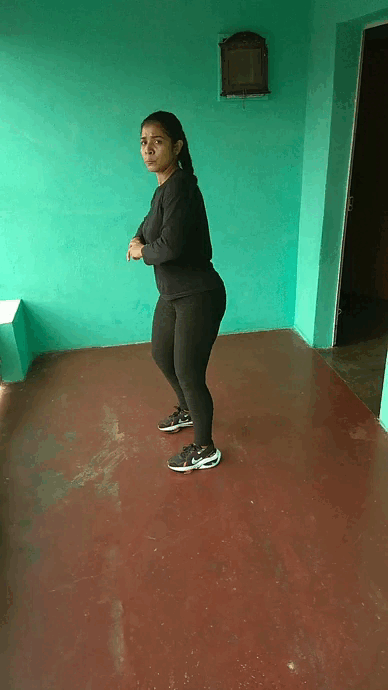 ---
Plancha alta + flexión entrecruzada de piernas./High plank + criss-cross leg curl.
---
Cuarto ejercicio, realice una plancha alta con flexión entre cruzado de piernas, en este movimiento hay que mantener el abdomen bien comprimido y tener mucha estabilidad al momento de realizar las flexiones entrecruzadas de piernas, lo realice en 4 series de 30 segundos.
Fourth exercise, perform a high plank with flexion between crossed legs, in this movement you have to keep the abdomen well compressed and have a lot of stability when performing the flexion between crossed legs, perform it in 4 sets of 30 seconds.
---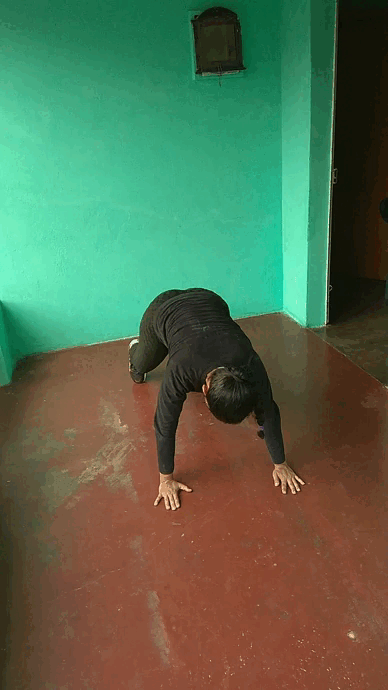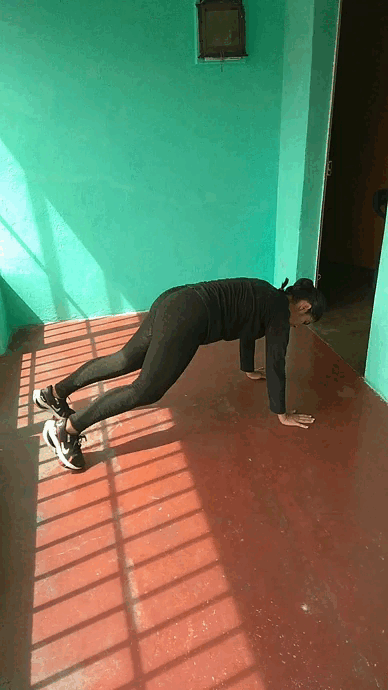 ---
Estiramiento de piernas de forma lateral./Lateral leg stretches.
---
Quinto ejercicio; realice estiramiento de piernas de forma lateral, este último movimiento es muy dinámico me ayuda a fortalecer a parte de mis piernas, se enfoca un poco en mis brazos y espalda, lo realice en 4 series de 30 segundos.
Fifth exercise; perform lateral leg stretching, this last movement is very dynamic and helps me to strengthen my legs, it focuses a little on my arms and back, I performed it in 4 sets of 30 seconds.
---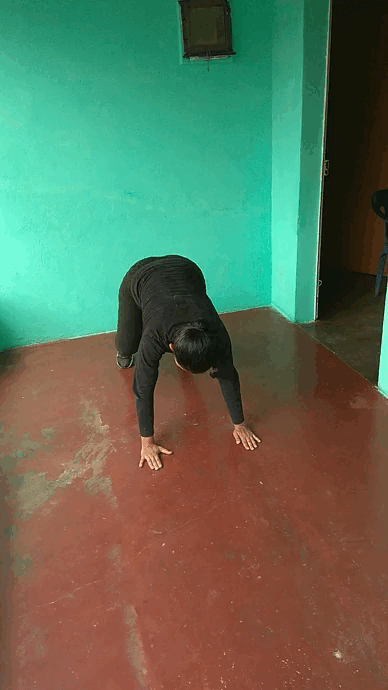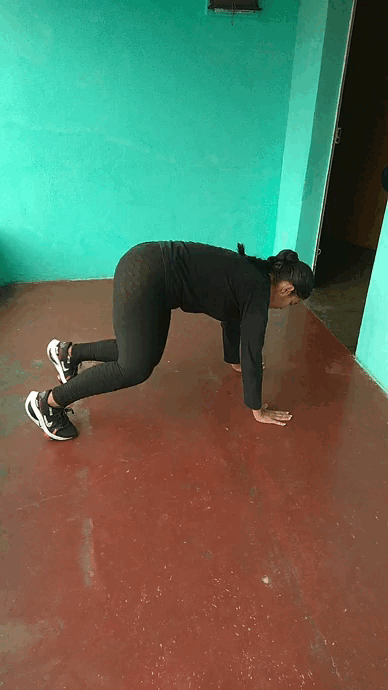 ---

---
Fue un placer compartir esta extraordinaria rutina, llena de cardio intenso para acondicionar y fortalecer la resistencia, estos movimientos los realice en 4 series de 30 segundos cada uno; añadiendo un breve calentamiento a esta rutina para así calentar bien mis músculos y evitar lesiones, calambres entre otras, como siempre les indico que en cada entrenamiento que se realice para cuidar y mantener una vida saludable hay que combinarlo con una buena alimentación balanceada de frutas, verdura , fibras, carbohidratos y proteínas, bueno mis amigos espero que les guste mucho sin decir más nos vemos en otra ocasión.
It was a pleasure to share this extraordinary routine, full of intense cardio to condition and strengthen the resistance, these movements were performed in 4 sets of 30 seconds each; adding a brief warm-up to this routine in order to warm up my muscles and avoid injuries, cramps among others, as always I indicate that in every training that is performed to care for and maintain a healthy life must be combined with a good balanced diet of fruits, vegetables, fiber, carbohydrates and proteins, well my friends I hope you like it a lot without saying more I'll see you another time.
---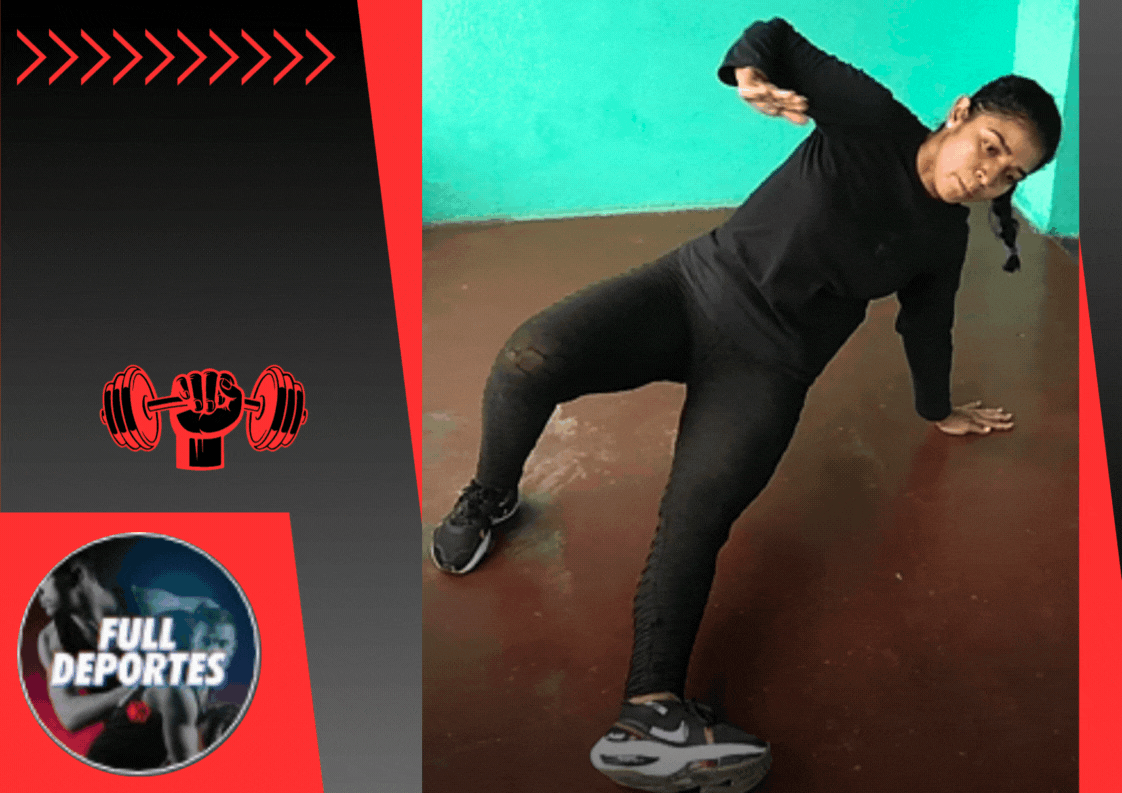 Video realizado desde teléfono Alcatel idol. / Video made from Alcatel idol phone.
Videos convertidos en gifs enlace
Separadores y ediciones hechas en Canva. / Separators and editions made in Canva.
---

---
---