100 Million Down The Drain.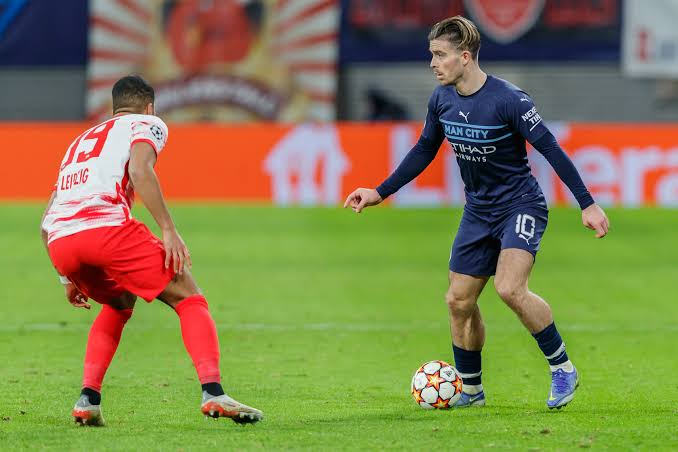 Image Source
---
I know we have been used to how inflated the market is right now, so it's hard to truly judge a player by the value of the inflated market. We have seen how people called the money paid for Harry Maguire a waste due to how terrible his performances were this season for Manchester United but maybe it's the British press, they have a way of hyping average players to stock up their market.
I admired Jack Grealish when he was at Aston Villa and knowing he was a supporter of Manchester United through and through made me wish for him to come to us but after he signed up for Manchester City, in all honesty, I was worried and scared because I felt he would rip every team apart with the help and support he would get from his teammates but he has been playing second fiddle since he joined.
It's easier to say that he is adapting to the new team but it's the same Premier League and knowing the price tag that came with him, I expected him to hit the ground running but he hasn't and that's another flop of the season with that kind of amount, apart from Lukaku for Chelsea.
He was the main man for Aston Villa for as long as I can remember but he wasn't the main man for Manchester City and maybe that played a part in his struggles. Maybe he plays better when the team depends on him but he had to fight that with Riyad Mahrez at Manchester City. Maybe Pep's system isn't what he would have wanted but it doesn't change the fact that he hasn't justified his amount for Manchester City.
In the big games and big moments, you want your marquee signing to be the one to bail you out but in the case of Jack Grealish, after coming on for Manchester City against Madrid, he had the opportunity twice to extend the lead since they are already 1-0 up but he couldn't make it count. You want him in moments like that to have that chance but he just didn't live up to his price tag and his team suffered for it.
I know it's a collective effort and Guardiola is to be blamed just as everyone else too but when you have such a price tag hanging over your head, you are expected to pull magic out of your boots and I would say it's the same problem Paul Pogba had with Manchester United and maybe I would say it's the same that Gareth Bale had with Real Madrid even though he has more than paid his dues for Real Madrid.
Imagine the moments Gareth Bale came through for Real Madrid and still, the fans wanted more from him due to his price tag. It's only logical for Paul Pogba and Jack Grealish to be dragged to filth since they haven't even repaid anything and justified their huge price tag. I would say it's another wasted 100 Million for Manchester City since their marquee signing can't even stop them from getting eliminated at the hands of Real Madrid when he had the chances to put the game to bed.
Maybe he would come good for Manchester City next season, we don't know. Maybe he has already lost faith in him, we can never tell because Guardiola only knows what Guardiola knows. With the uncertainty around Sterling, maybe he would keep Jack Grealish for another season and give him the chance to redeem himself or not, we don't know but one thing I know is that Jack Grealish has not justified that huge amount Manchester City coughed out to sign him. If you can't make the fans happy at the time their hopes cling to you, then of what use are you?
100 Million Pounds already looking like a terrible investment and we have to wait and hope that he would justify that by next season or going forward. Another year of dashed hope for Manchester City in the UCL and 100 Million Pounds couldn't save them.
Cheers.
Gingered Up! ❣️
---
---