Upset Master Got Schooled.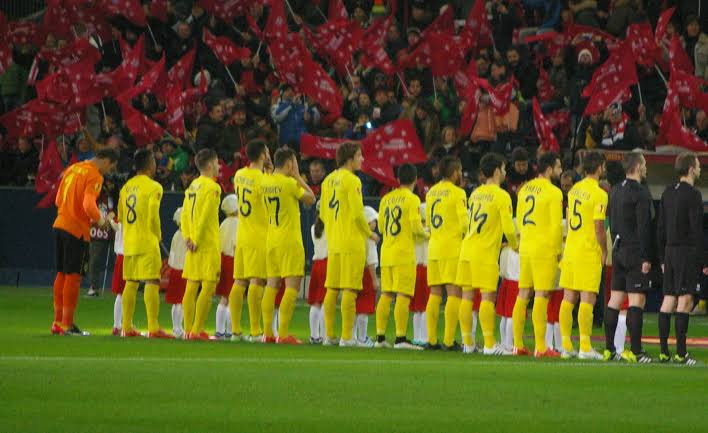 Image Source
---
This is why we love the champions league or let me say football in general due to the rollercoaster of emotions they give. For a minute, I thought the upset master would pull a big one over Liverpool as they have been doing since their Europa League exploit.
Villarreal carved a name for themselves when they won their first-ever trophy after they defeated the favourite, Manchester United and since then, they have been growing stronger and getting the attention they deserved. They dumped Manchester United out of the final by lifting the cup and this season alone, they have dumped out Bayern Munich and Juventus before then. When they scored early and then added the second, I thought for a minute that the upset is on the card if Liverpool won't get their acts together.
Since December last year, Liverpool has only lost 1 in the 28 games they have played which is why I felt Liverpool should win this comfortably but Villareal gave them a run for their money. It was a beautiful goal for the first goal after Dia tapped home into the empty net. Even the pressure from Van Dijk couldn't stop him from scoring. Thiago also had the chance to score after they caught Villarreal at the back but he somehow couldn't find the back of the net which I found shocking.
A controversial moment happened in the game when the former Tottenham player went down inside the box when Alisson tried to close him down but the referee said he had a perfect view of it and waved the penalty appeal away. Liverpool should have known better because they put themselves into that position after they carelessly lost possession and gifted Villarreal the opportunity to attack. I think Liverpool didn't do so much in the first half and they were close to throwing this game away had they not turned up in the second half.
I don't know if it was fatigue or overconfidence that played a part in the first half ripping apart that Villareal gave Liverpool but Liverpool usually does better in situations like this but they were carved open with the second goal after Capoue had the time to himself to cross the ball that Coqueline headed into the back of the net. I couldn't believe my eyes but whatever it is, Liverpool turned up nicely in the second half and they were lucky they still had time to save the game.
They cannot afford to have a bad first half if this game happens to be a final. You can't afford a moment of collapse like that because Villarreal would have been comfortably up by 3-0 and if they have a Mourinho kind of a coach, you can expect them to defend that 3-0 lead like their lives depended on it for the second 45 minutes.
The upset master got overturned and only Liverpool could have done that. Fabinho played his part, Diaz did his bit and Sadio Mane put the game beyond every reasonable doubt to let Villarreal understand that they would never miss the final for anything and there is no upset on the card this time around. I admire the mental strength of Liverpool after they come back from being 2-0 down. It takes a team with belief, character, capacity, vibe and talents to pull what they pulled out and I believe that they can win the UCL regardless of who their opponent would be.
Upset master got schooled but no one would overlook Villareal again, especially with the amazing games they have given us since that Europa League final. The yellow submarines got submerged but they held their head high because they got schooled by a worthy opponent and there is no shame in that.
Cheers.
Gingered Up! ❣️
---
---